Image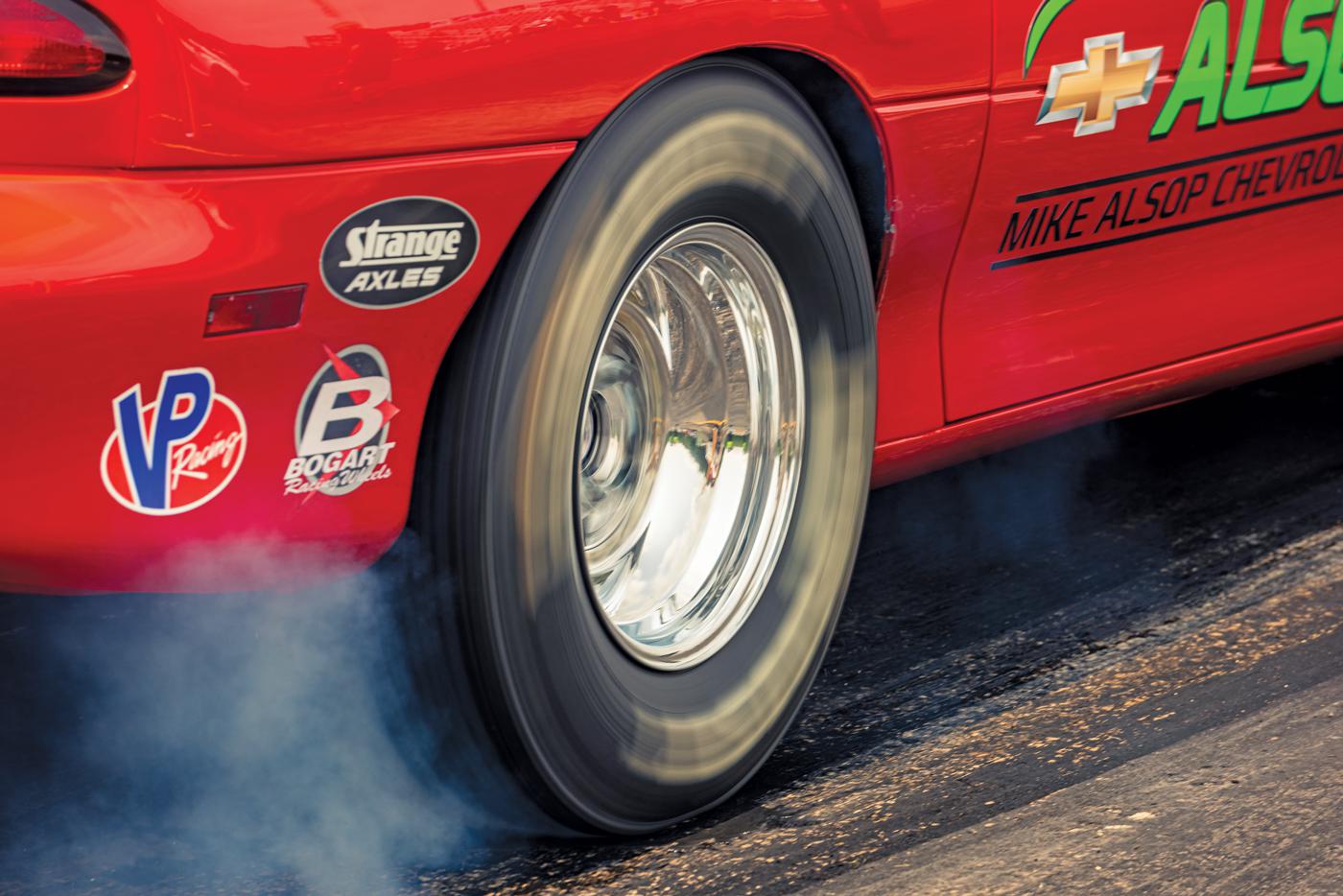 Still rebounding from pandemic-related supply chain and labor issues, race tire manufacturers are working to meet current demand while bringing new product to market.
There's a reason the old adage, "where the rubber meets the road," is explicitly about tires. The saying is all about putting someone's efforts to the test, making them real—and that's exactly a race tire's role. All the powertrain engineering, chassis development, and driver skill in the world won't win a race without the right racing rubber joining them with the track's surface.
As we learned from speaking with various tire companies, developing a new race tire is far more complex than just formulating the next sticky tread compound. "Sometimes in order to be first, you don't have to be fastest," said Justin Fantozzi of Goodyear Racing, Akron, Ohio. "Maybe you have to be the most durable, or you have to make sure you have enough speed and then balance that with the way the vehicle feels in order to make very consistent lap times or passes on the drag strip."
Rising horsepower is an ongoing challenge. "Cars are getting faster and faster, and we need to consider their capabilities," said Cameron Parsons of Toyo Tire USA, Costa Mesa, California. "Take a Nissan GT-R for example. If someone decided to track a modified 800-horsepower car at Road America, Road Atlanta, Daytona, or similar, we need to ensure that our tires perform safely and effectively on road courses and 'rovals' where cars reach up to 180 miles per hour. It's a challenge that comes with the modern sports car market, as we work to meet these power and speed requirements while also meeting the rules of the racing sanctioning bodies."
Adding to the design and engineering challenges are nagging problems left over from the pandemic years.
"I hesitate to call it the 'new normal,' but the realities we face as manufacturers is not changing," said Mike Edmiston of Hoosier Racing Tire, Lakeville, Indiana. "The labor market is generationally tight; we're not seeing a whole lot of relief in that area. We still see supply chain and shipping logistics disruptions. Getting certain materials that were never a problem in the past is now more problematic, and trying to coordinate all the production efforts around that can be incredibly difficult." Plus, "no one in our company has seen this level of material pricing volatility in our entire history. That's made it really challenging, and all the more reason to focus where we can when we can to shore up the supply for the customers."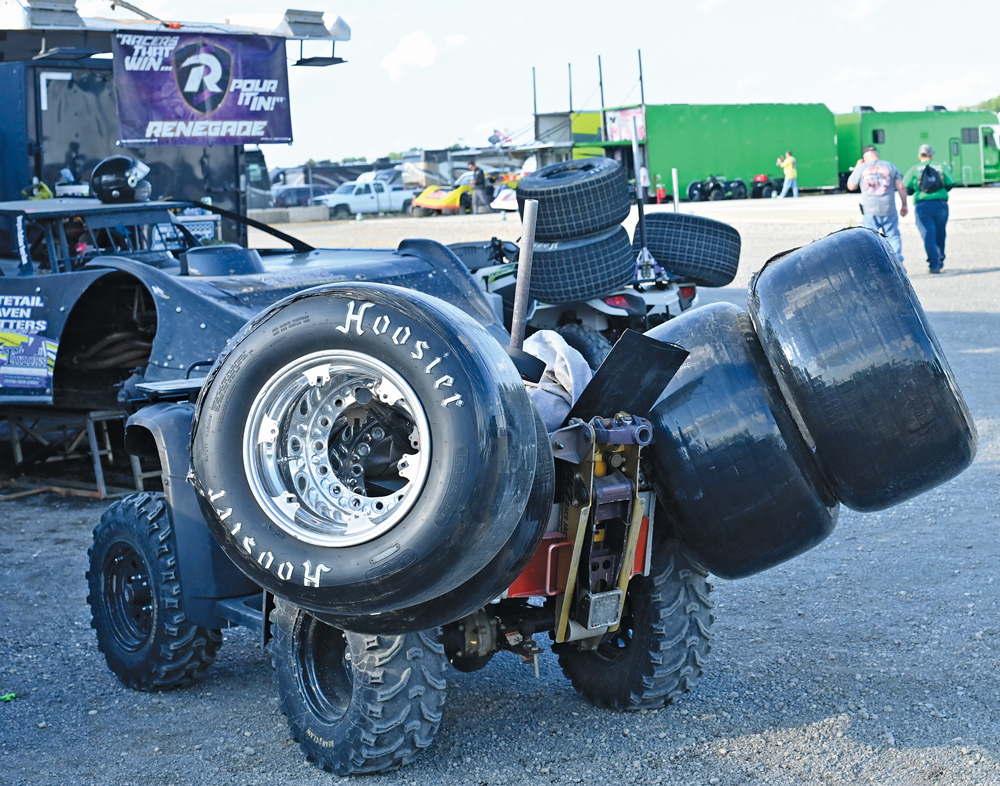 Despite these circumstances, demand continues to grow, and race tires need to evolve to keep pace with increasing horsepower, suspension and aerodynamic developments, and newly popular race disciplines. What follows is a look at new race tire products and emerging trends that are influencing how these makers do business.
National Late Model Tire
Hoosier's new National Late Model Tire (NLMT) program is a direct result of the company's circumstances. "In a nutshell, it's a lot of not only what we're doing but what a lot of other manufacturers are doing as well," Edmiston said.
According to Hoosier, the NLMT program "consolidates Hoosier's current selection of dirt super late model tires to just three 90-inch tires and three 92-inch tires." The new program will enable teams to "carry a lower inventory and will decrease their supply of wheels kept on hand. Another key benefit of the NLMT program focuses on the less aggressive compounds utilized, which should allow teams to consume fewer tires."
"Materials prices have gone through the roof, and getting a consistent supply of textiles has been a problem," Edmiston explained. "So a lot of what we and other manufacturers are doing is trying to automate what we can, so we don't have to rely on the labor as much. We're also trying to reduce complexities where we can, so we can offer the capacity and supply to our customers so they can continue their racing series."
The tires in the NLMT program aren't wholly new, Edmiston pointed out. "They're still using the same materials and the same compounds our customers have demanded in the past. There are just not quite as many options to try. We're using serial production materials that we have been using in our race products for years, but we're selecting certain ones for a strategic purpose to get the supply at a level that is going to satisfy the market."
Hoosier has been developing manufacturing equipment "that hasn't existed, that's not used anywhere else, so we can automate a little bit more and have the capability to build tires that don't consume as much material. All those things work hand-in-hand, and the NLMT is an example of that. But we're working behind the scenes to develop even further in that regard to give us the capability to still meet the performance standards that our customers demand but be able to do that in a way where it's more efficient and consumes fewer of the materials that are much harder to get nowadays."
New UTV Tires, DOT Drag Radial
Atturo Tire Corporation in Waukegan, Illinois, recently released a new line of UTV tires. "That's a very fast-growing segment in off-road racing," observed Michael Mathis, "and a core piece of our marketing of that product will be through sponsorship and contingency programs for a number of off-road racing series."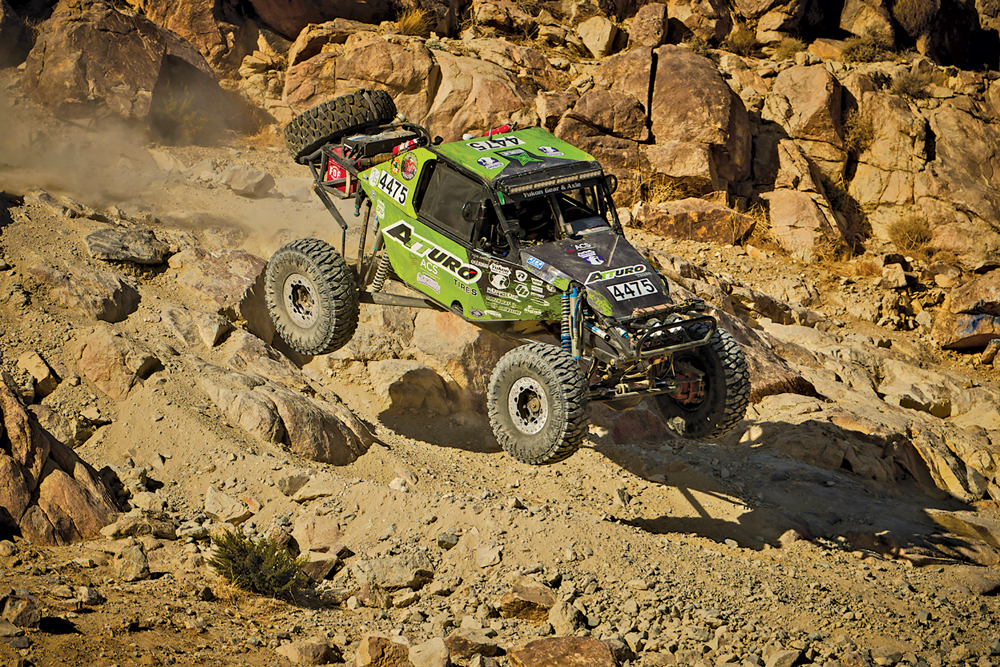 Mathis noted, "The trend we are seeing with UTVs is that they are getting much higher horsepower. They are all 100-plus horsepower, and Polaris just released a vehicle that makes 200 horsepower. They are coming with active live suspension systems on them like you would find on a Ford Raptor. But they are still running on tires that are built for how they were in the 1990s. We are bringing a product to market made like a modern light truck performance tire, with the same type of build equipment, molds, quality control, uniformity standards, and construction type. It has all steel-belt construction, where other UTV tire brands only use nylon. It's a tire that is able to take full advantage of the power and the suspension these machines have. It's stronger, more uniform, and can maintain its contact patch with the ground. It can translate all that feedback through the suspension and let the suspension do its magic."
Atturo also recently released a DOT drag radial "targeted at modern muscle cars—Camaro, Challenger, Charger, Mustang type applications," Mathis said. "We think there's continued opportunity in building out product for those types of owners, the ultra-enthusiast who wants to drive one of these vehicles to and from the drag strip and be able to compete on the same tires that got them there."
Pro Mod Slick
Goodyear has recently released a new Eagle drag slick for Pro Mod racers. "We looked at different points of view for what is available and what isn't and tried to fill the gap," Fantozzi said. When asked what was changed specifically for this class, he said, "the big change was the geometry—that's mold shape, sidewall length, and how it sits on the wheel. We needed to look at the ratio of moving forward versus what the spring rate was. We looked at how it was drawn up, how the sidewall shape is, and that made a big difference. There are some inner workings that we can't talk about that we also were able to change." Initially the tire will be available in one size—36.0x17.0-16—and one compound, "but if necessary, we'll take these learnings and apply them to different sizes," he said. "We spoke to many racers at the PRI Trade Show, and they were very excited to see the new tire coming out for the Pro Mod guys." The new tire "could also have some legs for alcohol Funny Car."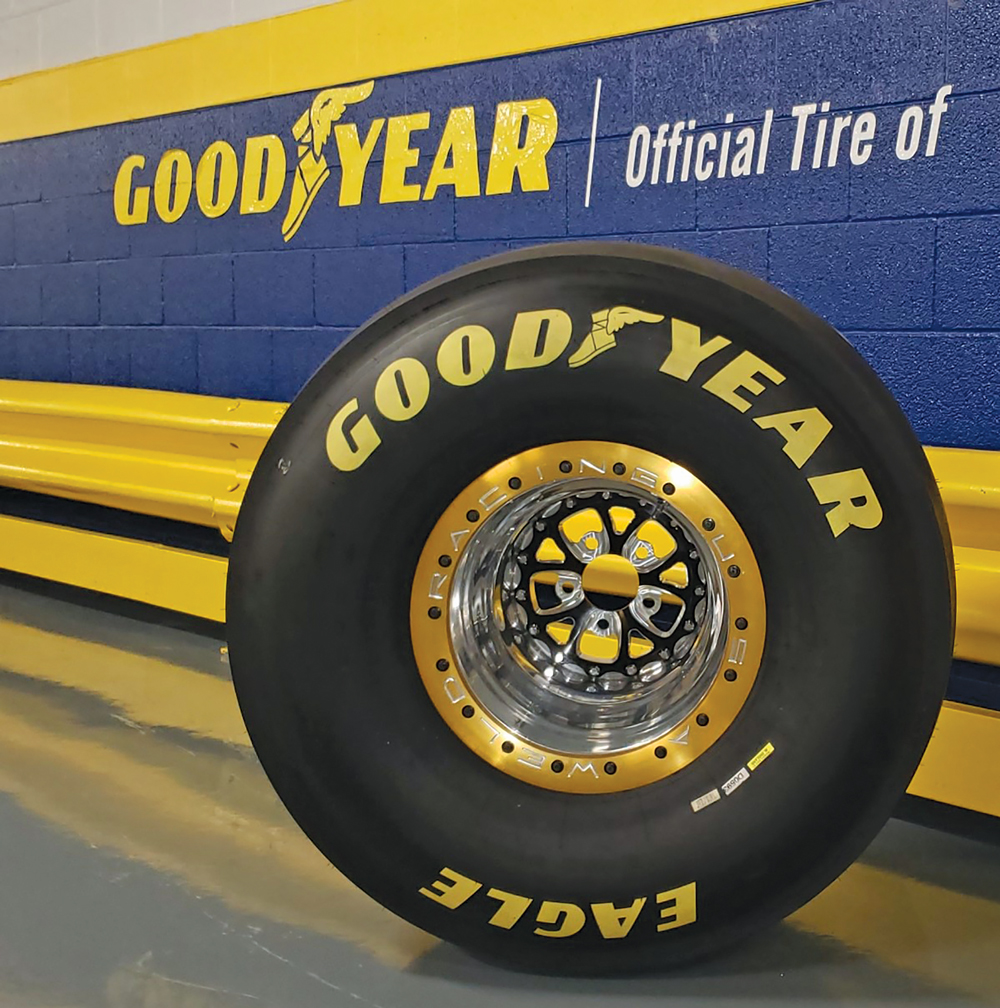 Goodyear is also working with NASCAR and Hendrick Motorsports to develop tires for the Garage 56 project, a NASCAR Camaro ZL1 that will compete at Le Mans this year. When we spoke with Fantozzi he was at Sebring while the car was undergoing testing. He could not reveal much about the tires, only to say that they were "all new" and not a version of an existing race product. "The rules and regulations are different enough from a technology point of view that new was the best approach."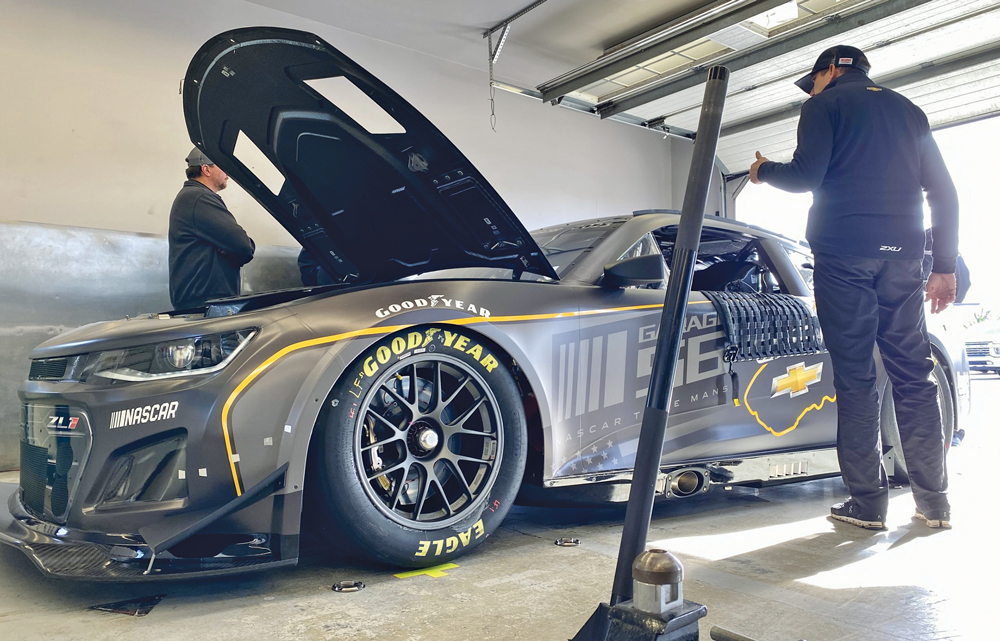 The 200-Treadwear Trend
Parsons said Toyo was currently in the process of developing "a refreshed line of racing tires, some of which we expect to introduce at the next PRI Show." He had no details to share, but he did say the "number-one question we were asked at the PRI and SEMA shows was about 200-treadwear tire options. We've seen this trend pick up over the years. The 200-treadwear market is expanding so much, some manufacturers are trying to make a do-it-all tire, while others are trying to make specialties for autocross, time attack, or endurance racing." He admitted that "it's difficult to make a product that pleases everybody just because of the UTQG rating. Especially because this whole segment is becoming so popular that now there are specialized subcategories within this segment."
When people think of racing tires, "we tend to think of slick tires, but the tires in the street category are the ones that are picking up the most," Parsons added. "I think it's because people want to race on a budget." As an example, a set of dedicated racing slicks "for a race-only Porsche, BMW, or similar, depending on the tire brand, can cost anywhere from $1,800–$3,000. If you're talking the 200-treadwear market, now your cost might be $800–$1,600, and you'll get a lot more life out of the tires.
"People are really thinking about affordability and sustainability," Parsons said. "Drivers don't want to dump all their money on a $20,000 race weekend once a year, when instead they can get together with friends and split a seat for an endurance ride multiple times throughout the year."
Tire Durability
When talking about racing tires, "sustainability" has multiple meanings. On one hand, the term refers to tire durability, "and that's our reputation," Parsons said. "Admittedly, when it comes to a slick race tire, a DOT slick, or a 200-treadwear tire, our tires usually are not the fastest out of the gate. But our tires last better than the competition, and on top of that they come out at a better price point." Toyo's Proxes RR tire, he noted, "holds its performance until it's completely done. With some club racing tires and DOT slick tires, you might get a magic lap in the first laps of the heat cycle, then every lap after that is going to be slower. But with most of our products, especially the RR, you run it and get the same result every time until the tire reaches its end of life. You'll see the performance start to degrade way further into its lifespan instead of early on."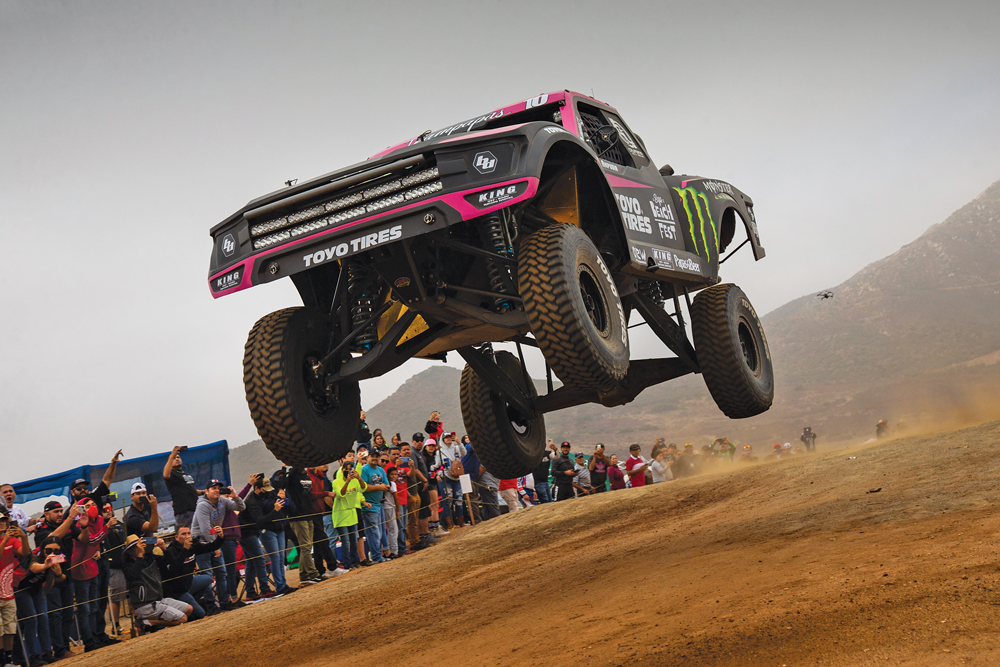 "The key to longevity is how to get multiple heat cycles out of a tire so it continues to repeat over time—how many repeat heat cycles can I get that generate grip in the tire," said Scott Junod of American Racer, Indiana, Pennsylvania. Grip, he explained, comes in two forms: physical grip, or "how the rubber conforms to the surface of the track," and chemical grip. "Certain friction levels generate temperatures in the tread of the tire that melt and activate chemicals in the tread. When you hear a racer talk about a tire 'firing,' that's what that is—when the tire gets warm and all of a sudden creates a noticeable increase in grip. There's this happy medium you have to find where you balance wear, physical grip, and chemical grip, and how that translates to the repeatability of the tire. That's the whole science of what we do."
To make a longer-lasting tire "you have to balance the construction of the tire with the compound in a way that gives them a consistent feel," said Hoosier's Edmiston. "You have to have a more durable compound, but overall the end product still has to be competitive, it has to be confidence inspiring. That is a real challenge from a compounding perspective to give consistent performance within one or two tenths per lap, heat cycle after heat cycle. In the last 10 years or so, we've made more gains and progress in how to achieve those types of properties, but it takes a lot of lab testing, a lot of track testing, and a lot of cooperation with customers and suppliers to make all that happen."
Renewable Materials
Sustainability can also refer to emerging trends in tire materials.
Regarding the materials Goodyear uses, "we look at [sustainability] across all tires," Fantozzi said. "We have a sustainability group, and there's a lot of motion on that." Goodyear has set a goal to have a tire with 100% sustainable materials by 2030. In January, it unveiled a demonstration tire made up of 90% sustainable materials that passed regulatory testing for road use. Among the sustainable materials in the demonstration tire were soybean oil, silica from rice husk waste residue, recycled polyester, pine tree resins, steel with high-recycled content, and four different kinds of carbon black produced from low carbon emissions sources.
"There are sanctioning bodies that are requiring sustainability, but that shouldn't be the reason to do it," Fantozzi continued. "You should be out front looking at it. We want to go fast, and we want to have fun, but we want to make sure that we leave the paddock looking better than when we got there."
The focus on renewable materials and sustainability "is a key driver for Continental AG, which is our parent company," Edmiston said. "We see this as an opportunity to look for ways in which we can utilize renewable materials in our product. We have already performed some trials internally, and there are some materials that are available today in production that we can start using. We want to continue to seek out and evaluate materials incorporating what we can into our products while maintaining and improving the performance of our tires."
Material sustainability can also refer to the ability to procure the materials needed to make a race tire. "There are materials within motorsports that all the manufacturers use in order to get the desired speeds, or get the degradation to hit the right box," Fantozzi said. "If they're single sourced, and that supplier is no longer able to supply for whatever reason, then you need to be out ahead of that, truly recognize that supply can be an issue. If you're single source, then you have to make sure that you de-risk the plan."
"Did we make any substitutions based on raw materials tightness in the market and shortages over the last couple of years? The answer to that is 'no,'" said Junod. "We have not made product substitutions to compensate for not being able to get a raw material. We managed even through the tightness of that, and there were some tough times. Our customers know that, and the industry knows that. We were able to maintain our present specs through that whole process until the raw material supply chain loosened up. We are in a good spot regarding raw materials versus where we were at this time last year."
More Power
When asked how tire makers are responding to increases in power levels and speeds on the track, Edmiston pointed to Hoosier's "extensive history and background of testing. We have test equipment in-house in our lab, so if there's a new application, a new series, or a new car that comes to market, we do extensive speed testing to ensure the integrity of that tire is suitable to the specification of the car. If the materials we have aren't sufficient for that, there are ways we can go to a supplier, work hand-in-hand with them, to develop a material that's stronger."
In Junod's world—"we're in the short-track business," he said of the American Racer brand—"we're not out there trying to build a tire that goes faster. We're trying to build a tire that is very good, very responsive, feels good to the driver, is as safe as it could be, and lasts a while, so they're not going broke buying new tires every time they want to go out. That's our DNA."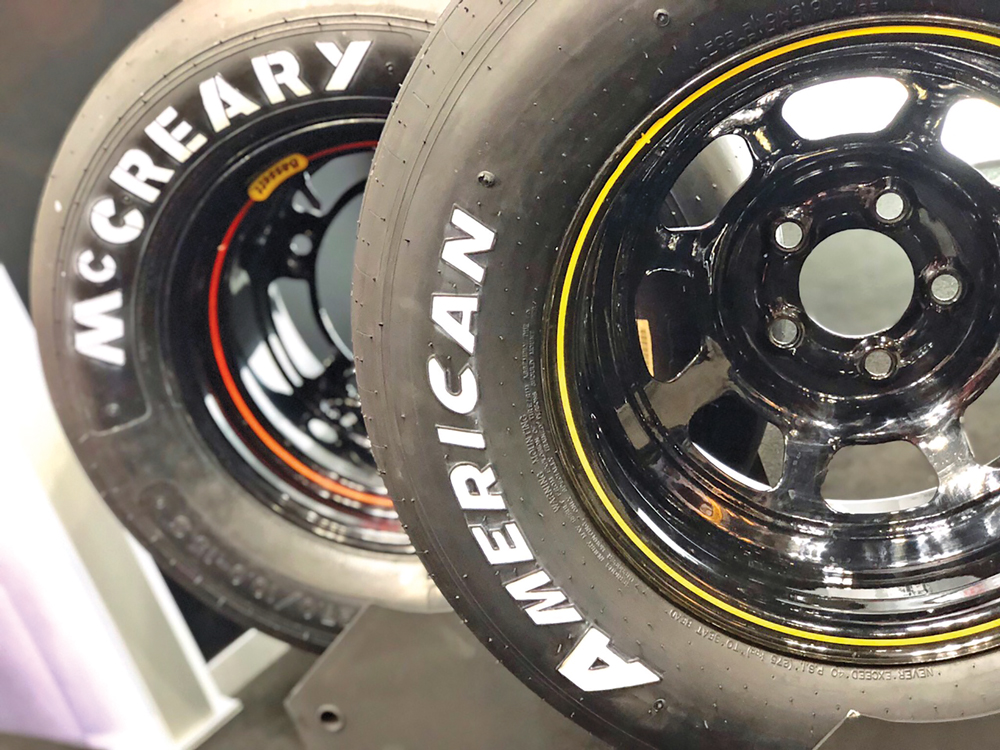 In fact, "I don't know that we're seeing higher speeds," he offered. "Promoters aren't necessarily looking for higher speeds. They're looking for a more competitive show. They're in show business." If anything, "we are often the restrictor plate in the chain of speed," he said, laughing. "It costs money to tech cars. It can be very complicated, with sophisticated rules packages about certain high-horsepower motors. So if a track doesn't have the time, money, or expertise to do all that tech work, it's pretty commonplace for them to say, 'Give me a tire that won't go very fast, so you can only deliver so much horsepower to the race track.' That limits the field, and it levels the field.
"When that's the case, you have to make a tire that's very durable from a casing standpoint, because people are going to try to apply a great deal of torque to the tire, to try to get more speed," Junod said. "Yet the grip levels are going to be such that they're not necessarily going to be able to do that, but you still have to engineer the tire to take that kind of pounding."
SOURCES
American Racer
americanraceronline.com
Atturo Tire Corporation
atturo.com
Goodyear Racing
racegoodyear.com
Hoosier Racing Tire
hoosiertire.com
Toyo Tire USA Corporation
toyotires.com