Business Profile: Legacy Motorworks
Image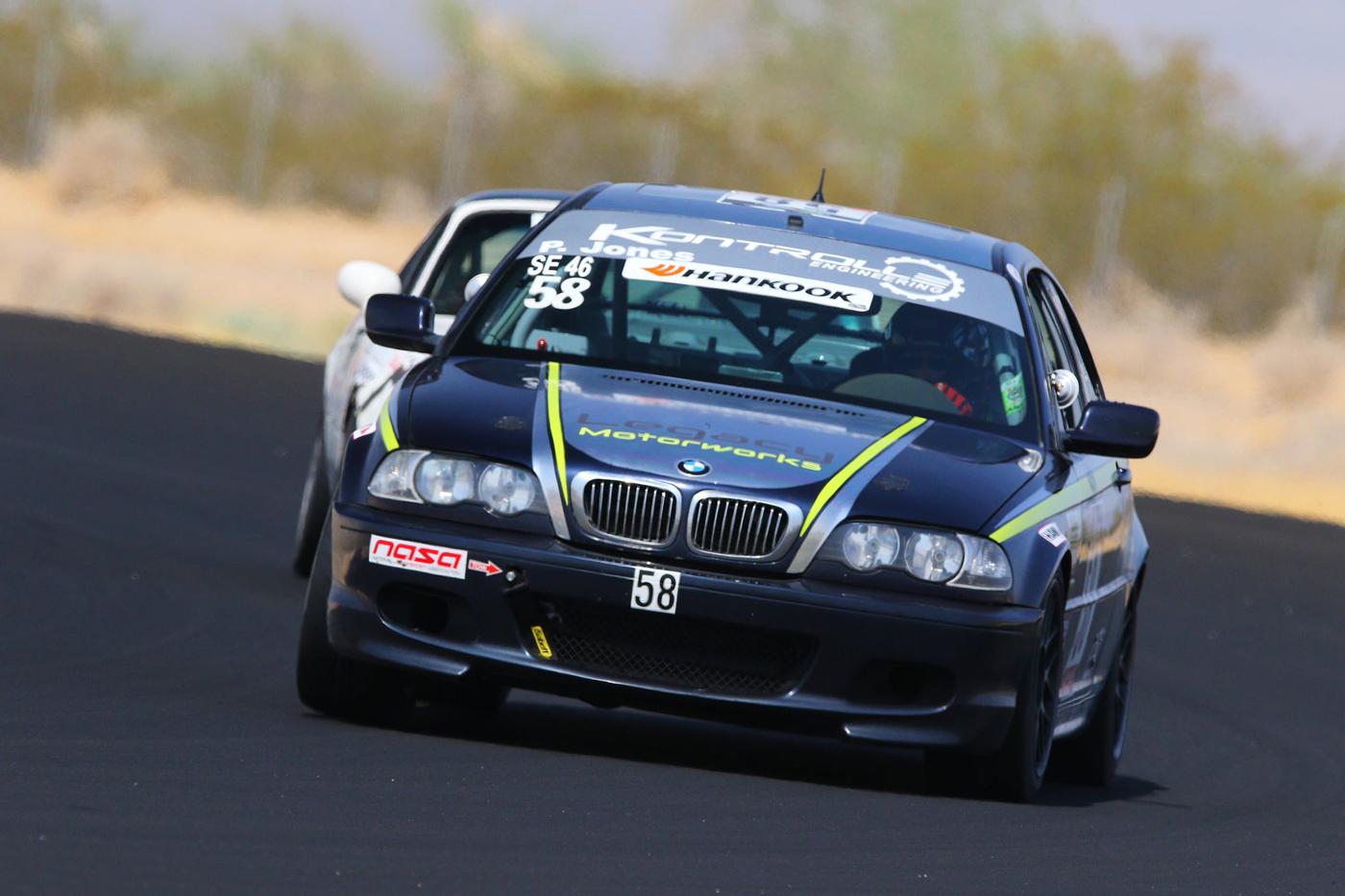 Specializing in a growing grassroots category, this Northern California-based shop builds cars with a no-frills focus on speed while earning respect as active, knowledgeable, and always-helpful members of the Spec E46 community.
Spec E46 is a fast-growing class in grassroots road racing, and Legacy Motorworks of Elk Grove, California, has carved out a niche as a specialist builder. "We're sought out for our E46s in particular," reported Peter Jones, who co-owns Legacy with his wife Lauren. "We field quite a few of the Spec E46 cars in NASA's NorCal and SoCal regions. We have also sold cars on the East Coast and in the Pacific Northwest, and they all have done well in their fields. Two of the top three cars at the 2022 Nationals were Legacy Motorworks E46s." The 2022 NorCal and SoCal class champions were both Legacy customers, also.
Jones readily links the company's success to that of the class, which in turn rides on the substantial bang-for-the-hard-earned-buck provided by the E46 platform. (For those not familiar with BMW insider-speak, E46 refers to the generation of "3-Series" sedans produced for model years 2001–2005, and to coupes for 2001–2006.) In Legacy's first effort at the 25 Hours of Thunderhill, in 2021, Jones' team finished third in class and eighth overall, bettered only by other E46s and Prototype-class cars.
Jones had just returned from another eighth overall (and fourth in class) at the 2022 event when we spoke in mid-December. "We beat ourselves with a couple of penalties," he admitted. "But we still finished in front of a lot of teams that were more heavily funded, with much faster cars. They also had professional drivers and professional crews. They ran in classes that allowed them to take four tires per stop, and more fuel from faster fueling systems. But the E46 is easier on tires, brakes, and fuel; it is fast enough, without burning up parts."
So it's hardly surprising that the Spec E46 class "is absolutely growing. In three years, the SoCal field has expanded from three cars to 18–24, depending on the weekend. Once you get three cars on the track, other folks see that the racing is very tight, and yet very appealing from a cost standpoint." Car counts in the NorCal region are similar and have been "solid for a while."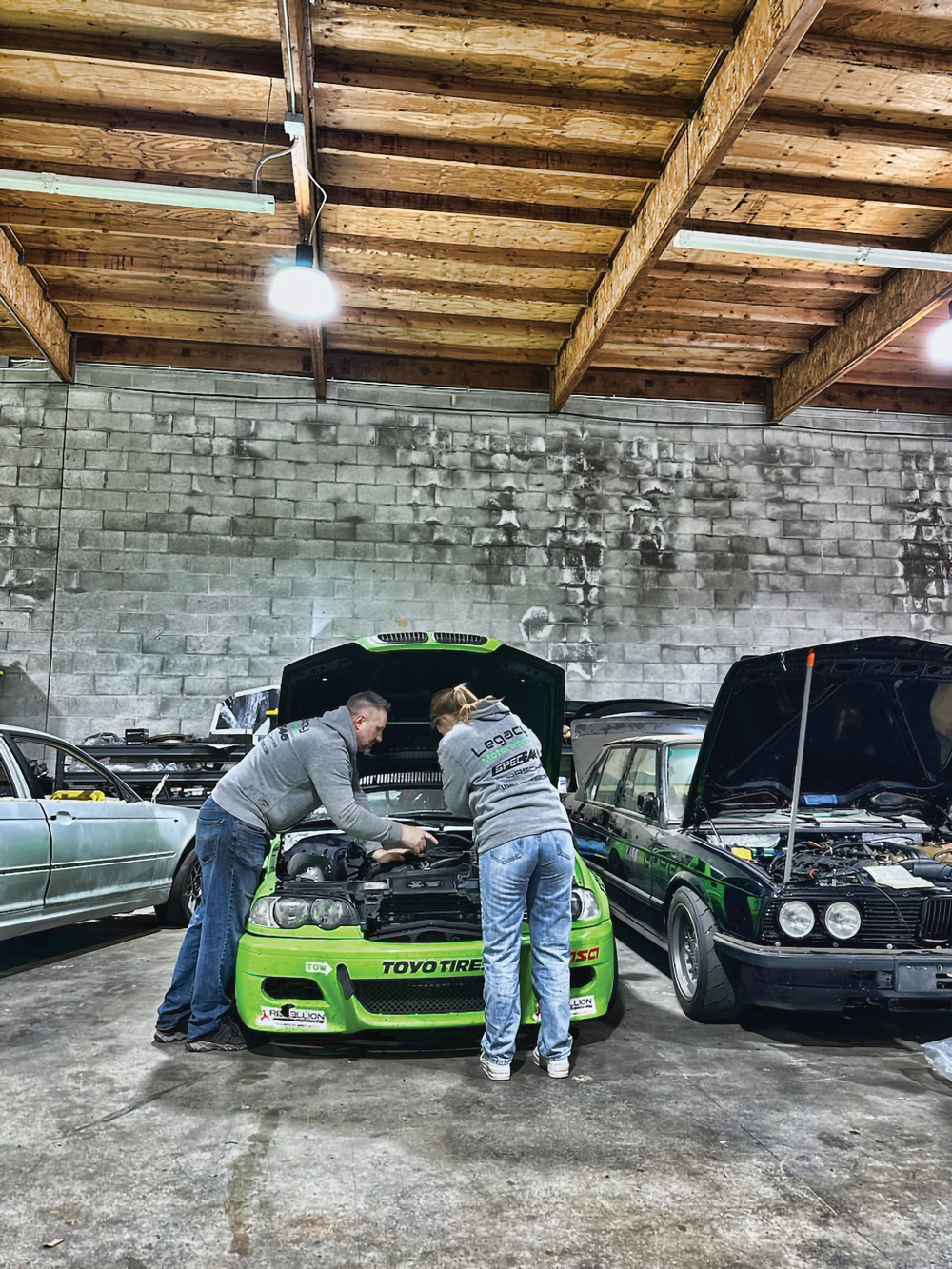 Legacy builds six to eight cars per year, and currently maintains six more. "We are fortunate that the class allows for so many garage builds," Jones commented, "because at some point those folks realize that they can handle most, but not all of it. And that's when they come to us."
Jones believes that one of Legacy's best business decisions was to "start very organically, with trackside support, helping other racers improve their cars and excel. I will give you my setup, I will sell you my car, because I'm happy to race you in a car that I was racing the weekend before. If you beat me, you beat me. I have no problem with that whatsoever. That's what really put us on the map as legitimate builders. People appreciate the fact they can buy one of our cars and turn the same lap times as any member of our team."
Jones has definitely gone to some lengths to assist his fellow racers. "Some folks had come down from the Pacific Northwest, which is about a 14-hour tow. We'd never run with them previously, but when they lost a motor on Friday, we sent them back to our shop, where our daughter met them and pointed them to a motor we had on a stand. We loaned them our engine hoist and we helped them put the motor in their car. They got back on the track, raced the whole weekend—and I believe they finished on-podium in front of us."
Faster, Not Fancier
Like many others in this industry, Jones "grew up around motorsports," racing shifter karts "for quite a few years" before he "got into motorcycles." He was road racing a Honda RC51 and an Aprilia RSV4 when he married Lauren Buffington, whose father and brother, Phil Sr. and Phil Jr., raced four-wheeled BMWs. "My father-in-law pushed me to get off the motorcycle, and to get into something with a cage. It took a while for me to explore that option, but after a pretty good off on the motorcycle, I decided to explore it a little further."
The Buffingtons campaigned an E36 (1992–1998), but Jones decided that "there were some interesting aspects to the E46. The availability of parts, with newer and better technology" made it "a better jumping-off point."
More fundamentally, perhaps, Jones was intrigued by the Spec concept, "which allows an individual to build out of their garage—that included myself, initially—to a spec level with the exact same components as every other competitor. That really turns it into a driver-on-driver race." Build quality might vary, and could make a car more or less reliable, "or simply prettier to look at. But those things don't make you faster."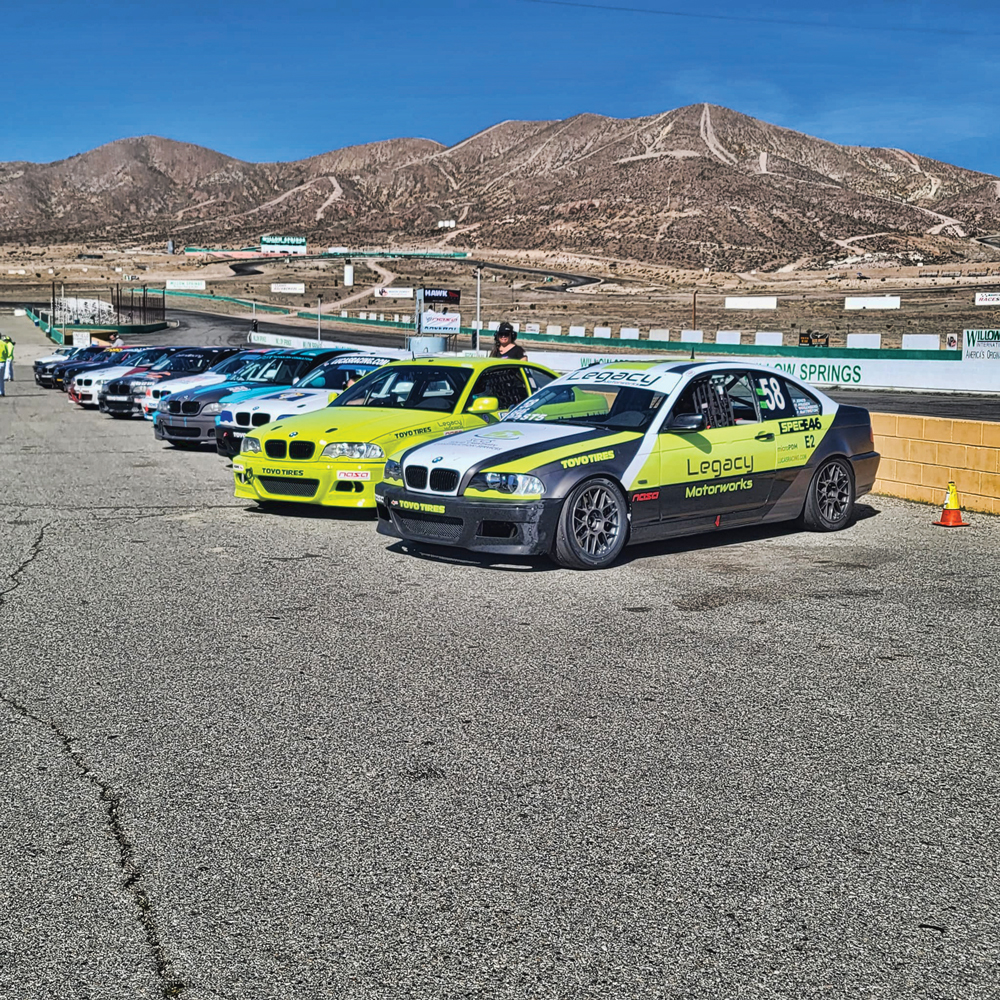 Building strictly to go faster, and eschewing what only looks faster, became Legacy's mantra. "Our builds are not necessarily 'no expense spared,'" Jones noted, "but they are 'no stone unturned.' That's what sets us apart. We strip the cars down to the bare tub and build them back up very efficiently, spending money on things that make them faster, and not all the bells and whistles that might make you feel like you are in a Formula 1 car, but that aren't making your car any faster than the one next to you. I look at other cars in the paddock, and they have buttons on the steering wheel to start the car, and buttons to turn it off. We've also built cars with buttons on the steering wheel, and with cool-looking data-acquisition dashes, but we try not to spend money frivolously." Legacy customers know exactly what they are buying. "We've always been honest and open about our product," Jones added.
The Legacy
Significantly, Jones listed the "founding members" of Legacy Motorworks as Lauren and himself; his father, Tom Jones; and Lauren's brother Phil Buffington; but he could not point to a definitive founding date. "I just gradually allowed my passion to turn into a business. It started out trackside, helping fellow racers. And because I showed up prepared and was taking care of my own cars and performing very well, people started asking me for help and assistance and direction. From there I started selling my personal cars, and then I had commissioned builds. Before I knew it, something that was just happening out of my garage was needing its own facility."
Jones allowed that his "garage" was on 2 1/2 acres, where he parked "15 donor cars, six trailers, several customer cars, and three or four of our own race cars." But as annual production increased from two cars to five, Peter and Lauren shuttered their general contracting business to focus solely on Legacy Motorworks.
"I had to make a decision about how I was going to use my time," Jones recalled. "I couldn't do both things." Just last spring Legacy moved into an industrial complex, where it now occupies a 4,500-square-foot warehouse, an additional 1,500 square feet of office space, and 12,000 square feet of open yard.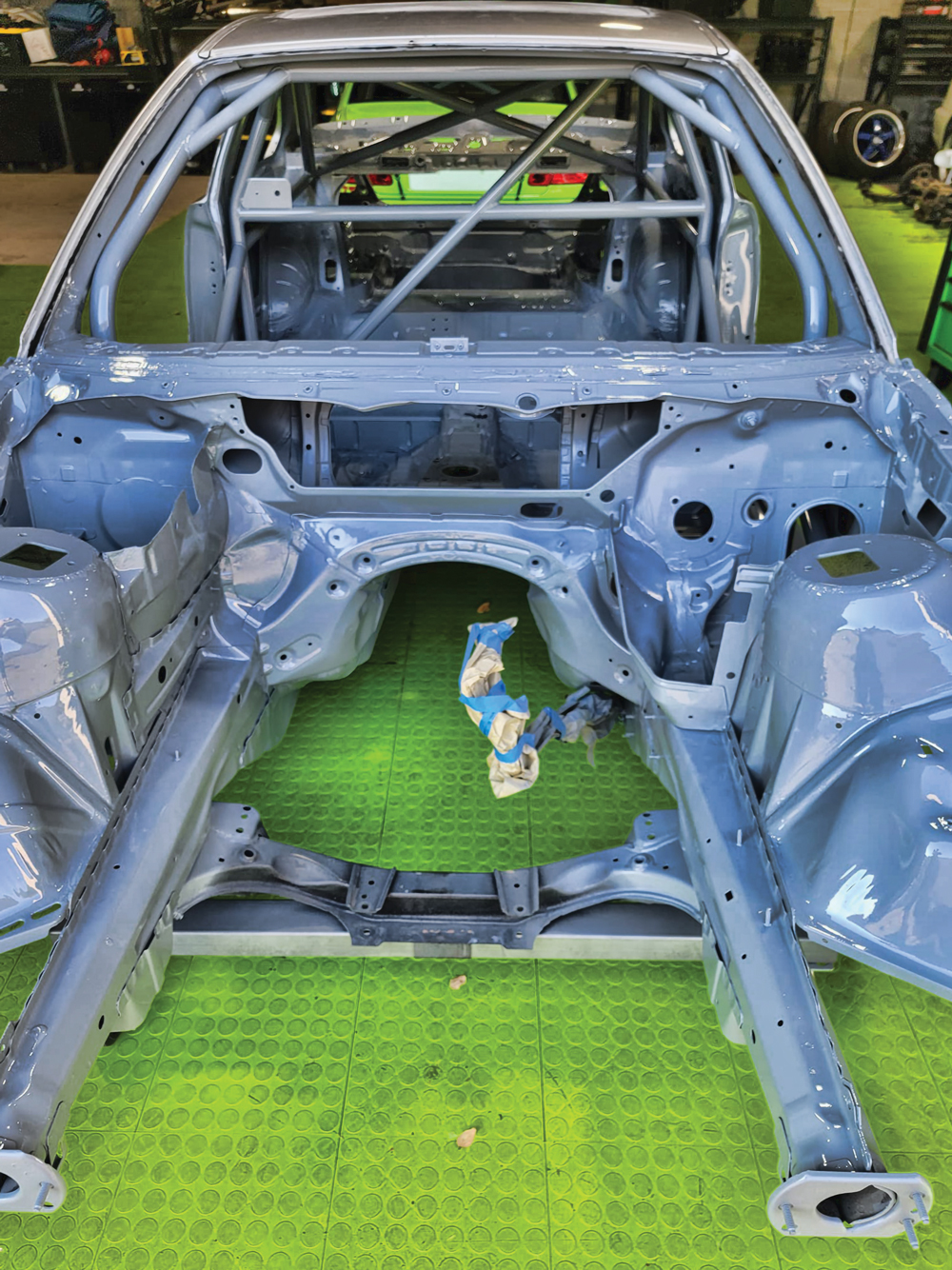 Even the name of the company has evolved: "Initially we called ourselves Legacy Racing, and that kind of morphed into Legacy Motorworks." But the name has always recognized the influence, assistance, and participation of family—"a family legacy of motorsport."
The Engine Enterprise
In addition to building new race cars, Legacy repairs wrecks and offers "motor services" for the BMW M54B30 inline-six, including reconditioned heads, rebuilt bottom ends, and re-tapping the aluminum block with steel threads to better secure the head bolts. "We started doing engine work for our personal builds," Jones recalled, "but now we see cars that we've never touched except for the engine. One of the cars that beat us this weekend had one of our engines; we had also built them a backup engine prior to the race."
Jones estimated that "probably 30% of our business is straight engine work," which not only supports Legacy's car builds but also helps keep the shop busy year-round. "The off-season is a time for preparing and having motors built, and then during the season people crash and need cars built. So throughout the year it's a little bit of this and a little bit of that."
Jones found "another way to augment our business" just last year, when "we ventured into the PCA world, where we have friends," and built their first two Spec Boxsters. "It just so happens that they race on different weekends, so the Boxsters also help fill out our year and keep our employees busy."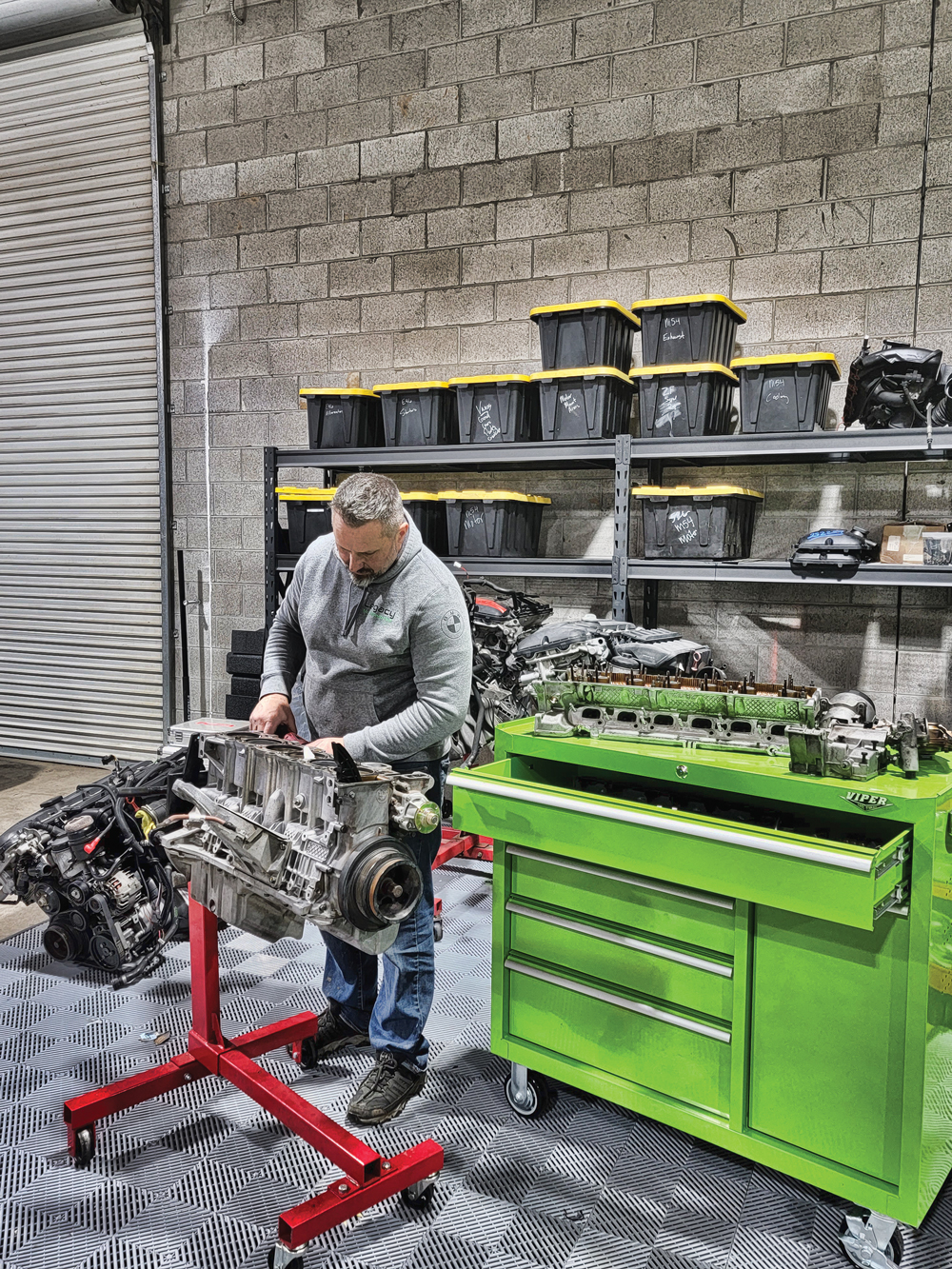 Legacy employs three people full time, plus "part-time folks for trackside support and weekend work," he said. All are carefully chosen. "My wife and I have been in business for a very long time"—more than 25 years as general contractors—"so we are very particular about who we take on. We get to know an individual before we offer them an opportunity." Most "come from the racing community," and Jones understands that they may not stay. "We've found that there is a pathway in motorsport, where we may not be their final stop. They may find work with a bigger team that offers them more opportunities—and that's just fine with us."
The Champions
As we mentioned at the outset, the 2022 NASA NorCal and SoCal Spec E46 class champions are both Legacy customers.
Jones described SoCal champ Lucas Weisenberg of Orange, California, as "an up-and-coming, talented young driver."
"My dad and I have always been into cars," said Weisenberg, who started running time trials in his Porsche Cayman less than three years ago. He earned his NASA license in February 2021 and rented an E46 sedan for an event at Buttonwillow Raceway Park. "It was just an awesome platform," Weisenberg recalled, "so we bought the car. It was a tired-out six-year-old chassis with a junkyard motor, but in our first race at Willow Springs I got the pole." That's also where Weisenberg met Jones, who agreed to garage and transport the car, in addition to providing trackside support.
"We ran half a season with SoCal," Weisenberg continued, "and some NorCal events, too," before deciding that "we needed better equipment. We had seen the work that Peter was doing, so we bought a Legacy car. And we've been winning a lot ever since. The car is really sorted. It's super-stable, with a super-stiff chassis. It has a super-clean interior with a really nice cage. I feel safe in it; I trust it. And it's fast"—on average, about a second quicker around most tracks than the car it replaced.
Weisenberg is equally pleased with Legacy's "great support at the track. Any time that we have questions, whether about mechanics, electronics, or setup, Peter always gives great advice. He always knows exactly what the issue is. He has given us a better understanding of the platform, and that allowed us to do what we did [last] year."
NorCal Champ Casey Mashore of Brentwood, in California's East Bay region, started racing in 2015, "as soon as I got my driver's license." Initially he ran LeMons enduros in an E34 built by his father. "But we wanted something more competitive, more professional." So they moved up to the Lucky Dog Racing League, installed an E36 M3 motor, "and started getting competitive."
At Willow Springs, the Mashores struck up a conversation with a Spec E46 driver and decided that class should be their next step up the ladder. Mashore Senior built a car in 2020, completing it in time for a weekend of NASA sprints at Thunderhill—where by sheer random chance the Mashores parked next to Jones. "We didn't know who he was—or how anything worked. But Pete answered all of my questions. He explained the rules of the series. And he said that if I needed any help, he was right there."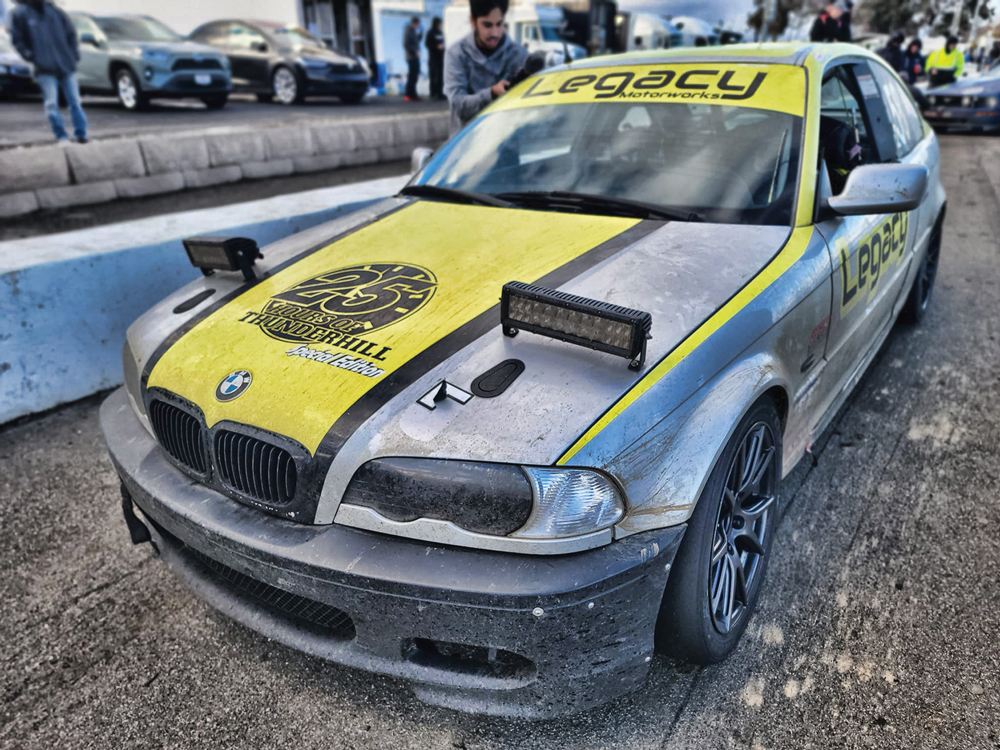 In 2021, Jones invited Mashore to co-drive Legacy's inaugural entry in the 25 Hours of Thunderhill, along with Phil Buffington Jr. and Gary Baker. Mashore was impressed with Jones' and Buffington's mastery of endurance racing strategy. "They are very analytical. They know how long the tires were going to last, and how much fuel they are going to use."
Mashore recalled an earlier incident at Willow Springs, when he had broken four wheel studs, and Jones "was quick to help me drill them out, and torch them and put new studs in. Another time I'd bent a wheel and needed an alignment, and Pete was able to string up the car and square it up right at the track, which was a huge deal.
"He's a great guy who wants to help everybody," Mashore continued. "Countless times he's been under a car, and somebody comes up and asks, 'Can you help me with this?' And soon he's helping seven people at one time."
The way Jones sees it, helping his fellow racers is the best possible promotion. "We have a small social media presence," he noted, and he doesn't see the need for more traditional advertising. "We are trackside. We are visible. We're racing alongside customers and potential customers. We're helping people in the paddock. And we have a very loyal following. The folks who know us see us as leaders in the Spec E46 community. So when they know somebody is looking to get into road racing, they send them our way.
"And whether we end up doing business together or not, we certainly point them in the right direction," Jones concluded.