Image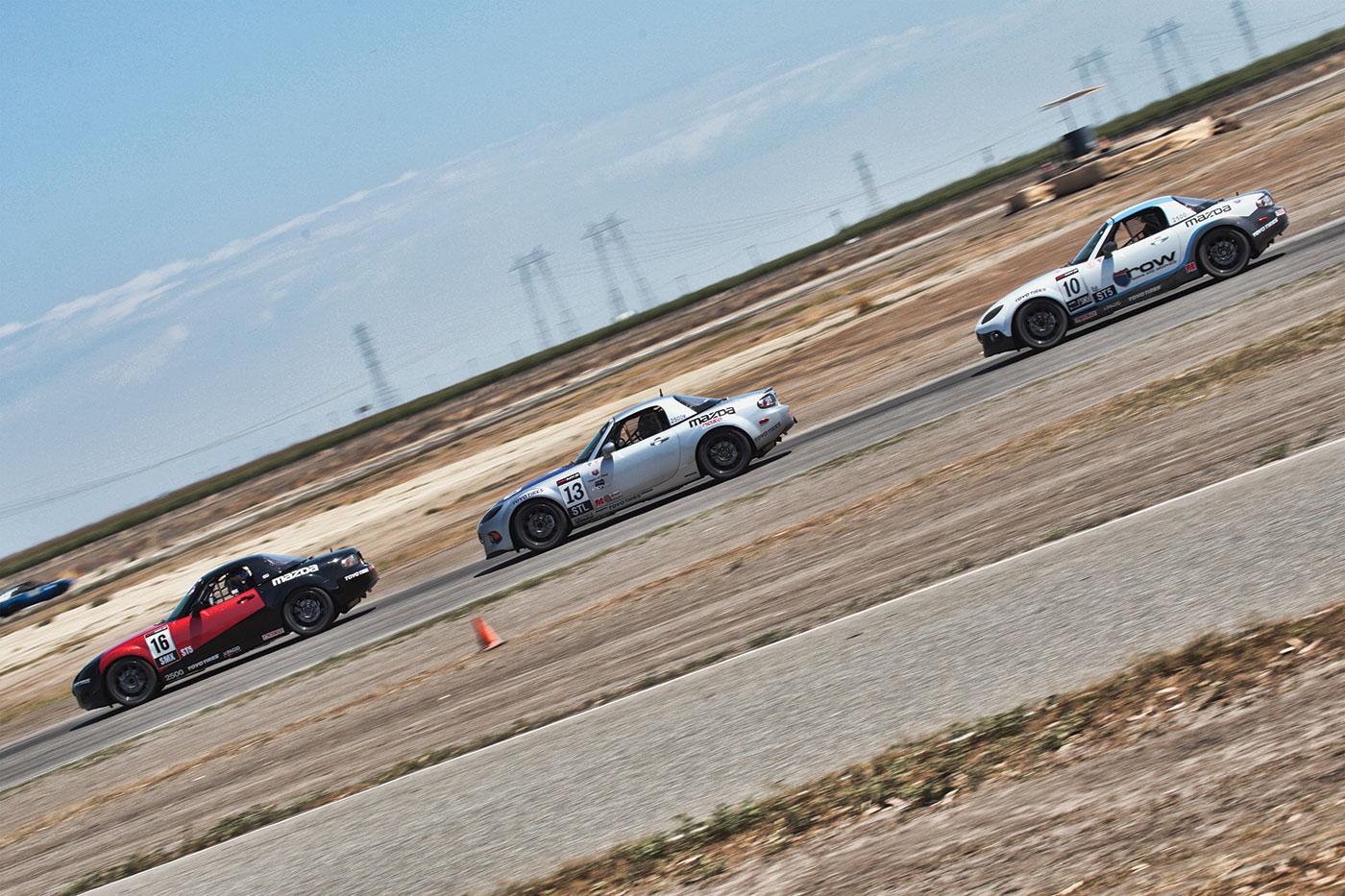 Photo courtesy of Brett Becker/NASA
Road racing can appear like a secret fraternity to the uninitiated, but opportunities abound for those who want to establish a focused career path, move from another racing discipline, or simply climb the ladder from the ground up.
The Topeka, Kansas-based Sports Car Club of America has had its finger on the pulse of wheel-to-wheel racing in the US ever since the organization was founded back in 1944. The SCCA's Jon Krolewicz told us that steady growth has been the name of the game over the past few seasons, but as with any long-running motorsports discipline, there's been something of an ebb and flow to road racing interest over the years. Rising car counts in a fairly cost-intensive form of racing typically don't happen by accident.
"Something that's been really beneficial for us is how we've been operating the Runoffs, our national championship," he explained. "Over the past five years, we've held these championship races at the Indianapolis Motor Speedway twice, and it's no secret that offering that as a carrot at the end of the season has been really good for entries. We've seen it help drive up participation elsewhere, too—we go to VIRginia International Raceway, and we go to Road America as well. Having these marquee tracks on the schedule helps build participation for folks who normally might not have the chance to race at these historic road courses."
There's more to it than just the opportunity to race door-to-door with the nation's best at the Brickyard, though. Although many see the current generation of performance vehicles as the second coming of the golden age, the reality is that automakers have been producing pretty formidable machines for some time now. Many of these vehicles are becoming affordable enough to be prime candidates for race car conversions.
"Spec E46 is one of the classes that's seen a ton of interest over the past few years," said Brett Becker of the National Auto Sport Association, Las Vegas, Nevada. "Those are the 1996–2006 BMW 3-Series chassis. There's enough of them out there with a manual transmission to make them easy to source, and that has been growing very well in almost all regions nationwide. Part of it is that this is a natural progression for racers who're running in Spec E30 and are ready to move up. But while the parts are spec, the combination has really been designed to produce a very good race car."
These are certainly encouraging trends, but for the folks who aren't already ensconced in the road racing ecosystem, finding inroads into the sport can be a somewhat daunting proposition. Here we'll take a closer look at the various routes that would-be competitors can take to get in the mix.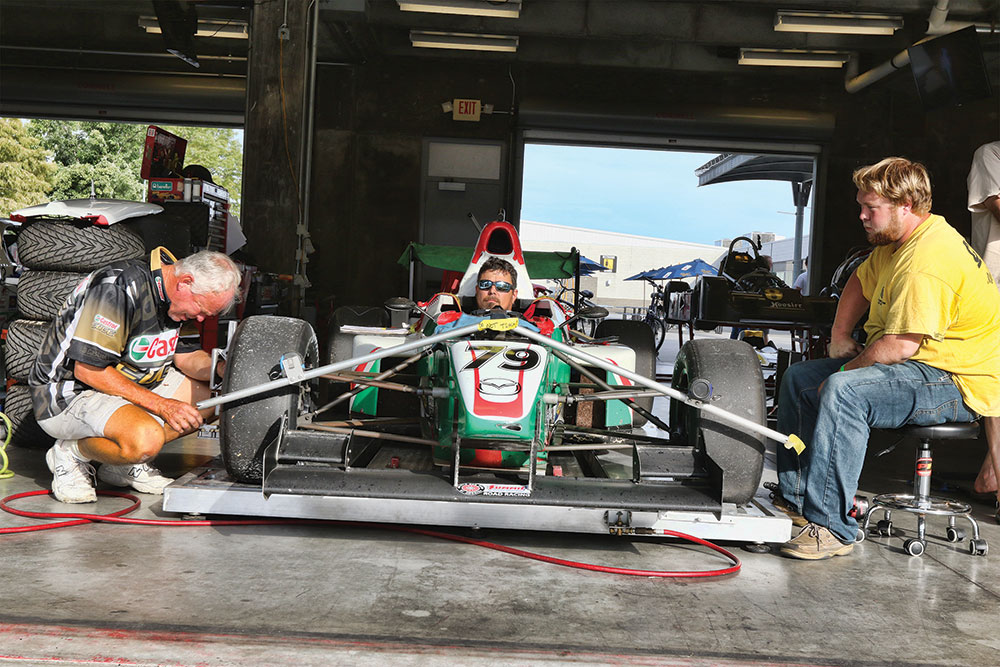 Building the Foundation
Starting out with the basics not only provides a low-cost entry point for those who are new to this type of racing, it also allows competitors to figure out what their goals are and plot the trajectory to get them there.
"A big part of what drives participation is keeping the cost of entry low, and track day programs like Track Night in America are so incredibly popular because they're very accessible," said SCCA's Krolewicz. "These events expose people to the availability of road racing. HPDEs, solo autocross, and time trials are events that someone can step right into with a regular driver's license and a safe car."
Starting at the ground level not only allows fledgling road racers to get more experience and seat time in this type of competition, it also can provide some insight into what classes might suit them best, thereby enabling these competitors to make informed decisions when it comes time to invest in a fully prepped race car. "It also helps them determine what kind of commitment they want to make," Krolewicz told us. "They're going to need a competition license to move into wheel-to-wheel formats, and they can get that through a school over a weekend. But it really helps to have some track day or time trial experience when doing that because these schools will mainly focus on safety and procedural elements rather than racecraft or technique."
Once a driver is ready to take that step, there is a variety of different classes within major sanctioning bodies like the SCCA and NASA that can accommodate new racers. "The interesting thing about time trials in NASA is that it uses all of the same horsepower-to-weight rules as our Super Touring wheel-to-wheel classes," Becker noted. "So if someone wanted to get their feet wet before going racing, they could build a TT4-class car, spend time in time trials, and really hone their skills and their car's setup, and then move right into Super Touring 4."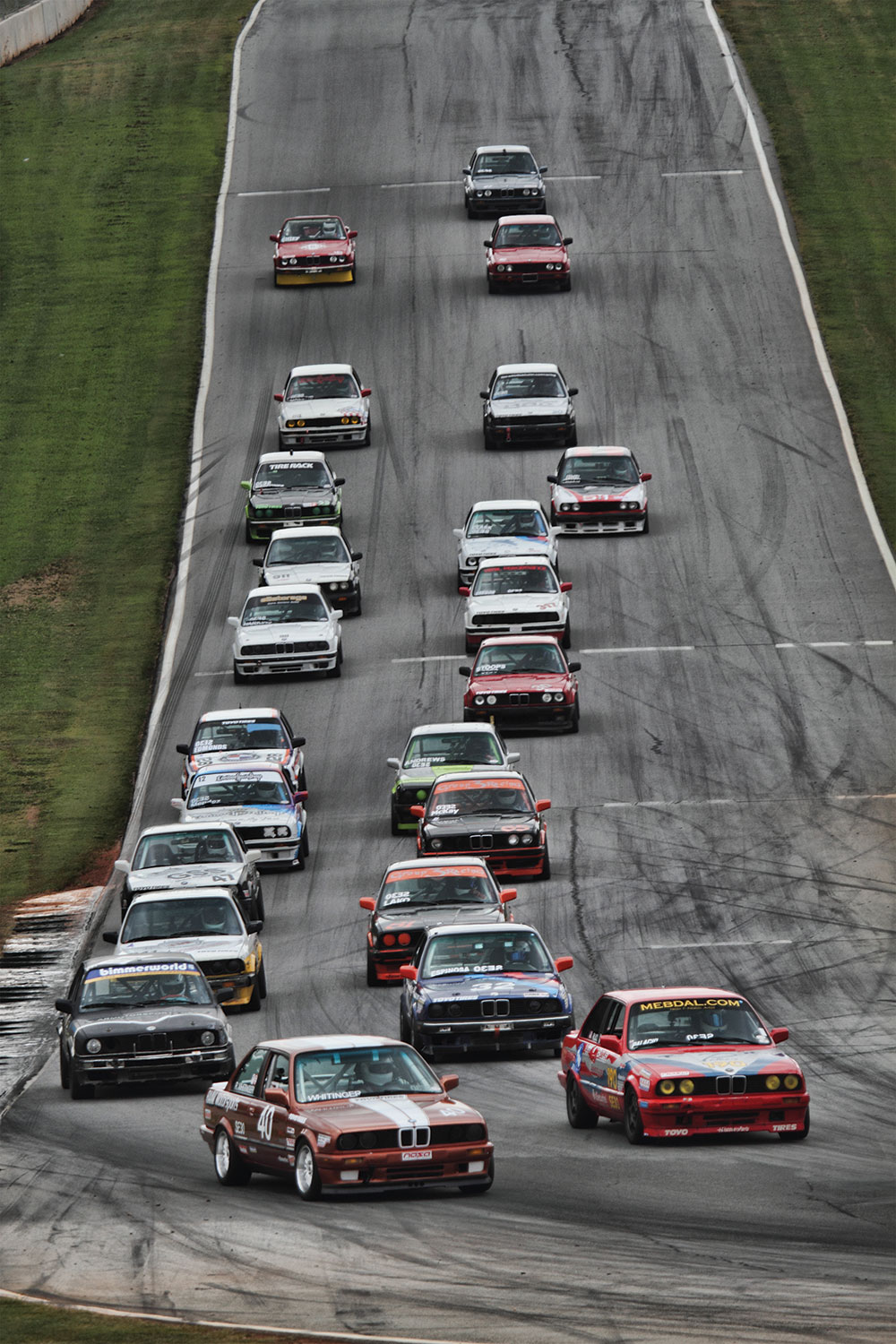 B-Spec, Spec Miata, Formula F, and Super Touring Lite would all be considered entry-level wheel-to-wheel race classes within the SCCA, while NASA's Super Touring 6, Spec E30, Spec Miata, and 944 Spec classes are also considered suitable options for new racers within that sanctioning body. Race car rentals are often available for more popular classes like Spec Miata, and that can be especially helpful for racers who are still trying to determine what class they want to pursue, as these prepped vehicles can often cost upwards of $20,000.
Meanwhile, the Stuart, Florida-based ChampCar Endurance Series offers a more informal way to get involved in wheel-to-wheel racing with significantly less investment. "We founded this sanctioning body as an alternative to the established road racing series," said ChampCar's Bill Strong. "The idea is loosely based on the low-budget endurance format of something like 24 Hours of Lemons, but without all of the pageantry. There's more of an emphasis on the seriousness of the racing, but it's still about low cost and accessibility. All they need is a driver's license and a few friends, and they can go racing." ChampCar racers can also join arrive-and-drive teams, which essentially allows a competitor to buy stints at the wheel.
Held at local tracks as well as iconic road courses like WeatherTech Raceway Laguna Seca and Daytona International Speedway, ChampCar races are between 7 and 24 hours long, depending on the specific event, and drivers are allotted two-hour stints at the wheel before a driver change is required. The series is not only a cost-effective way to get into wheel-to-wheel racing, it also provides drivers with far more seat time to gain experience and hone their racecraft than the sprint format of the SCCA and NASA's more popular classes, where the duration of most races is less than 45 minutes.
"All of the cars entered in a race are assessed on our Vehicle Performance Index," said Strong. "It's basically a balance-of-power measure to even out the field. Each car is given a value of up to 500 points based on potential lap times. If car A is given a 250-point value, they can add up to 250 points worth of performance parts to reach that number. If a car is entered that exceeds 500 points, then penalty laps are assessed, and every 10 points is an additional lap. This approach tends to even out the field if a team decides to bring something that's disproportionately quicker than what the rest of the field is running."
Moving Up the Ranks
For younger, career-minded drivers, organizations like Andersen Promotions in Palmetto, Florida, offer a ladder system that can provide a defined path into semi-pro and professional open wheel racing. "We run three series as part of the Road to Indy," said Rob Howden. "The ladder system starts with the Lucas Oil Formula Car Race Series, then racers move to the USF2000 championship. From there they go to the Indy Pro 2000 Championship, then to Indy Lights, and the last step would be IndyCar."
The Road to Indy ladder system not only provides clear targets for these younger drivers as their talents develop, it also helps them reach the next rung on the ladder. "I think the scholarship program is one of the things that sets this apart from any other series," Howden said.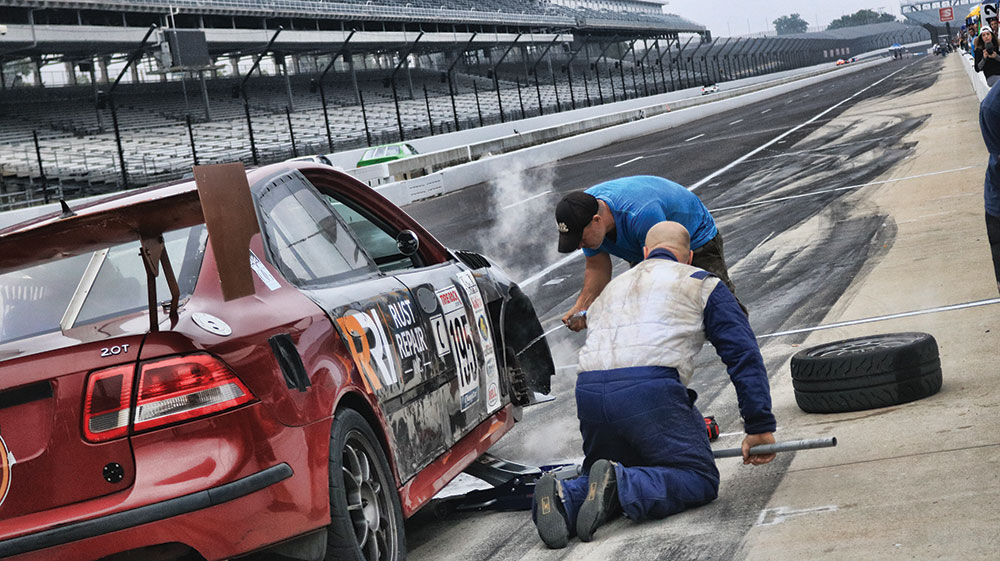 "When a driver is trying to go up through the FIA, they're relying on manufacturer support from the Ferrari Driver Academy or the Red Bull Junior Team—that kind of thing. But in the Road to Indy, those who win, move up. The winner of the Lucas Oil Formula Car Race Series championship in 2022 gets a $75,000 scholarship to move into USF Juniors Presented by Cooper Tires. If they win USF Juniors, they get a scholarship worth a little over $200,000 to move up to USF 2000, and the scholarship amounts increase progressively all the way up to Indy Lights. If a driver wins there, they receive a scholarship worth about $1.4 million to help them step up to IndyCar. Each year's champion gets the majority of the budget that they need in order to move to the next level, and it's been an incredible success story for us and the drivers who are winning. Many of these kids wouldn't have the financial backing required to take that next step otherwise."
Howden said that the ladder system was designed to provide a path for national-level kart racers to make their way into auto racing. While many have continued to pursue open wheel racing as their careers have progressed, he said that a number of drivers who've been through the program have also gone on to compete in production-based sports car racing in IMSA, SRO, and other series. "The level of competition in these open wheel series is just incredible," he said. "A driver who's kind of mid-pack in Indy Lights can transition to sports cars and suddenly be incredibly competitive."
Making The Switch
There are inroads for those with experience in other motorsports disciplines as well, but Krolewicz still recommends starting out with the basics. "Moving from something like karting is an easy transition," said Krolewicz. "They're going to have the same flags and a lot of the same operational rules. But if they're coming from oval track, off-roading, or something like that, it's important to remember that these licenses and schools are less about technique and more about understanding the procedures involved. The flags are different, the grid procedures are different—there's just a tremendous amount of stuff like that which will be pretty new to someone no matter how much experience they have in other racing disciplines."
It is also worth noting that someone coming in to road racing can learn most of these procedures over the course of a weekend at a driver's school and be ready to compete the following week. "If a racer has a USAC license, or the NASCAR K&N Pro Series or something along those lines, they can come to NASA with that experience, list it on their application, and can most likely get a competition license within one weekend," explained Becker. "There isn't really a class that we try to funnel folks into when they are coming from other racing disciplines, but if someone has a racing license from somewhere else, it is likely we can get them into competition within NASA in pretty short order."
Series like ChampCar are virtually barrier-free in that regard. "We've had folks come in with zero previous experience all the way to drivers who have competed in Formula 1 and NASCAR," said Strong. "Then we also have a bunch of folks who've come over from spec racing—Spec Miata, Spec E30, and so on, because they want the seat time. A team of three or four drivers can get four to six hours of seat time each over a weekend."
For teams with cars that exceed the expected performance level of ChampCar entries, the series has teamed up with World Racing League (WRL) to provide something of a ladder program for those racers as well. "These are race-prepped Caymans, Mustangs, M3s—the faster stuff," Strong added. "We don't allow those cars in our series, but there are a lot of people who want to run them, so we work with WRL to provide a path for those teams that are ready to go faster. WRL requires previous racing experience in order to compete, and ChampCar experience qualifies for that."
All of these sanctioning bodies strive to ensure that every driver and every race car has a home within their organizations (or a closely associated one) because the fundamental goal is to foster continued growth. But it's a continually evolving process, and exactly what shape that will take over the coming years ultimately depends on a number of outside factors.
"What will drive the formation of new classes is the pricing of used cars that lend themselves to this pursuit," said Becker. "Maybe sometime in the future we'll have something for the early Subaru BRZ and Toyota FR-S. I'm not saying there will be a spec class for them, but it is possible, and more of them are making their way into our Super Touring 5 and 6 classes. As with any sports car, it's a matter of the price coming down to a point where people are comfortable with the idea of ripping out the interior and putting a cage in it."
SOURCES
ChampCar Endurance Series
champcar.org
NASA
drivenasa.com
Road To Indy
roadtoindy.info
SCCA
scca.com