Business Profile: Flis Performance
Image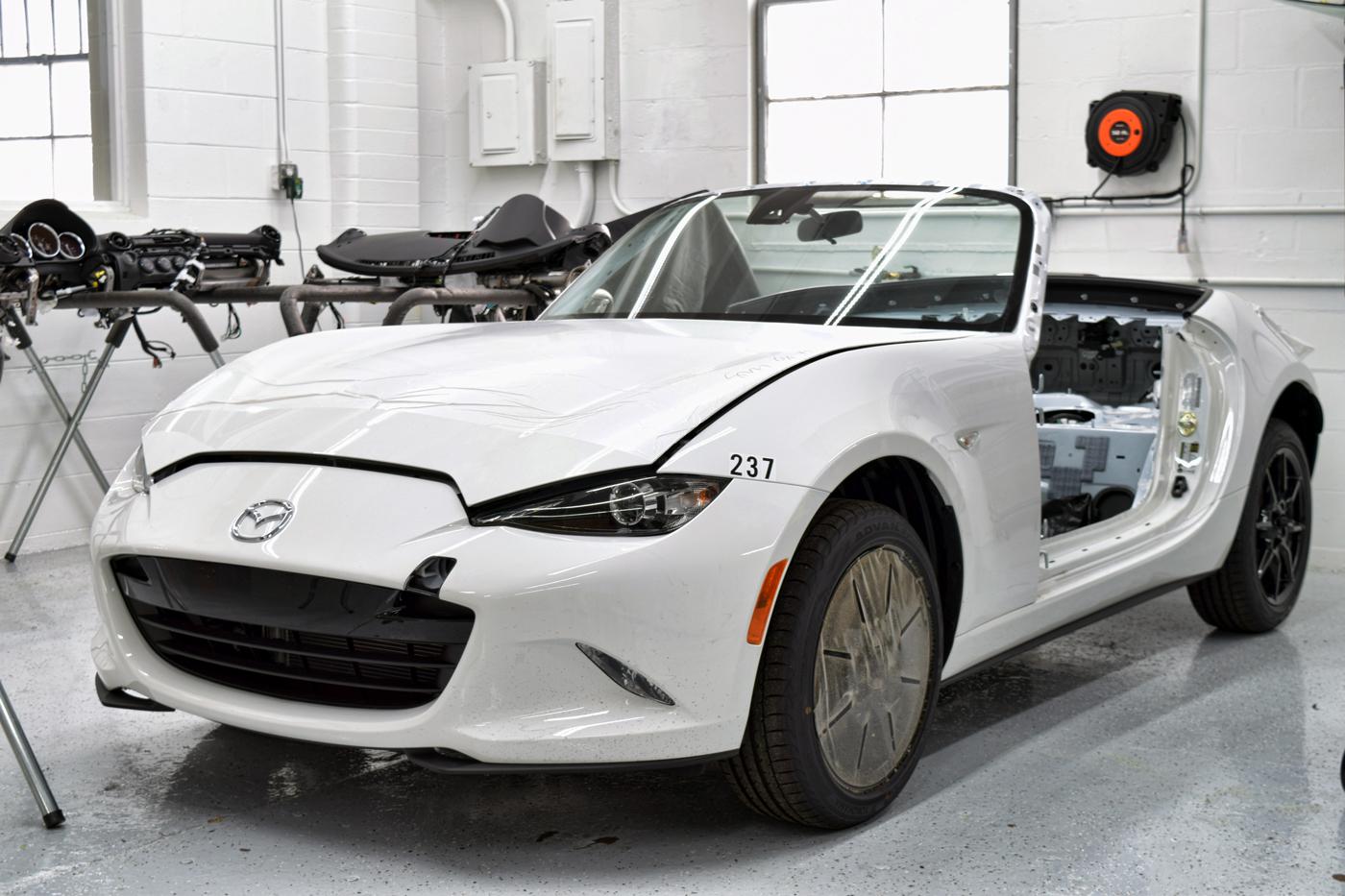 Taking over production of Mazda's MX-5 Cup cars, the Daytona Beach, Florida-based team of veteran builders and racers bring their formidable business experience and technical savvy to this wildly popular series.
Flis Performance of Daytona Beach, Florida, became the exclusive car builder for the Idemitsu Mazda MX-5 Cup series in January 2020, and completed 16 of the spec racers before the end of that year. Production stepped up to 24 cars in 2021; and Todd Flis, who owns the business with his brother Troy, anticipates "a pretty big percentage increase in new teams and new drivers for 2022.
"We've built 39 cars to date," Todd Flis reported in late November 2021, "and we've seen an average of 25 cars at every race this year,"
What's driving such significant growth?
"Number one, in 2021 we moved from IndyCar to IMSA, where the series is a much better fit," Flis said. "IndyCar was a great partner, and we had a great relationship. But IMSA is where we need to be," where an affordable sports car series can not only cultivate young talent, but also provide a natural step to faster series within the same sanction.
"Number two was the pandemic, which prompted so many sales of these cars for use at private country clubs. About 70% of our build volume goes to Monticello, Autobahn, Thermal, Spring Mountain, etc. All of these clubs have their own MX-5 series, and that's where the racers went every weekend. Then they brought their kids, and then they wanted to buy cars for their kids."
A Racing Family
Third-generation racers Todd and Troy have built and campaigned cars together for most of their lives. "My Dad got us started in go-karts at a young age," Todd Flis recalled, "and we moved up to SCCA sports car racing in the late 1980s. We ran all the way up to Daytona Prototypes and DPi cars, and from there we progressed to prepping cars for other teams and drivers. We ran with racers who had the funding behind them to say, 'Hey, would you run this for us, and we'll pay you to do it?' It was around 2000 when we switched from driving as a hobby to a full-time professional business."
Each brother had already settled into a specific role: "Troy handles the technical and development side," Todd Flis explained. "He's always working on new bits and pieces, and on manufacturing. He deals with our customers' tech issues. If somebody has a problem with their ECU, he assists them. I handle all the sales, the marketing and contract negotiation. That's been the case for 35 years. It's very clear-cut, and it works very well."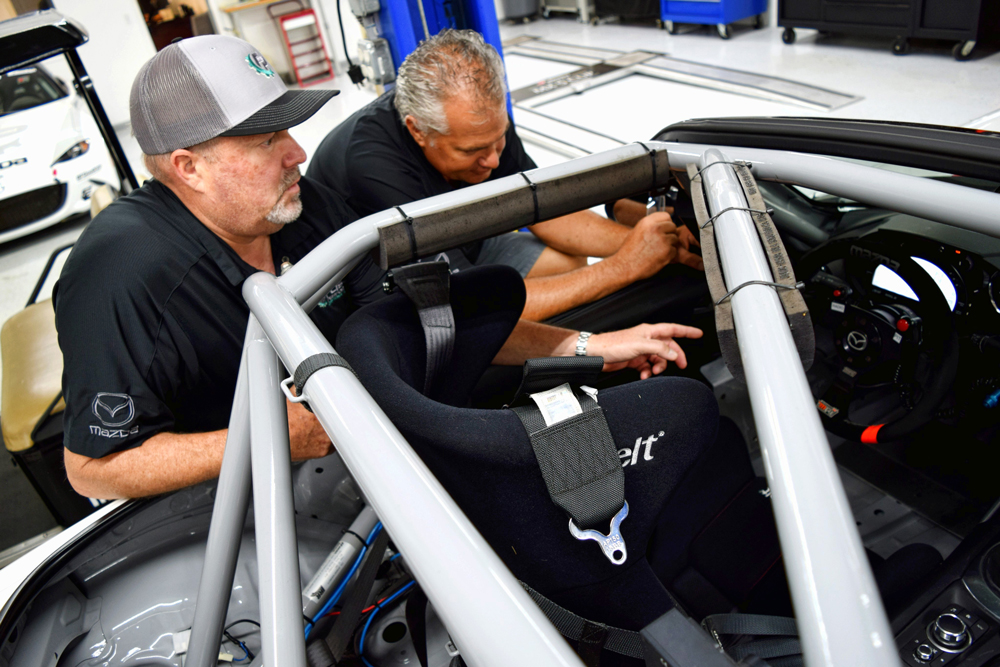 Even 20 years ago, however, the racing industry was rapidly changing, and the brothers found they had to adapt. "Our background was in building cars," said Flis, "and we would build cars, prep them, the whole nine yards." But demand for custom building declined with the proliferation and growth of spec series. "So we would still run cars for our customers, or at least maintain them." And by 2015, the brothers' own Spirit of Daytona team was campaigning Corvette and, later, Cadillac DPi cars.
It's not surprising, then, that in late 2019, Todd and Troy were tapped by Mazda to run the automaker's TCR program, based on the Mazda3. "We were originally going to develop the cars, prepare them, and race them for three years, then turn them into a customer program," Flis said. The TCR would have been "a step on Mazda's ladder between the MX-5 and a DPi or GT-style car." Negotiations with Mazda were well under way in November, when the North Carolina-based builder of Mazda's MX-5 Cup cars called it quits—and Mazda offered that program to the Flis brothers as well.
Then, due to the pandemic, Mazda put the TCR program on indefinite hold. "It was a blessing in disguise—sort of," Flis mused, "as it would have been a lot to take on in a very short period of time." Also, with the TCR car back-burnered, "Mazda put all of its assets into the MX-5 Cup, and that definitely elevated the series. We moved the whole MX-5 operation to Florida and hired two employees from the previous builder. We put a staff together and started building cars in January 2020."
Engineering & Manufacturing
Flis Performance takes the initial orders, contracts with the buyers and sells the finished race cars. "Mazda does not want to sell race cars," Flis noted, "nor does any other auto manufacturer. So we absorb the liability." Mazda does, however, control parts sales. Flis Performance sells the parts it manufactures to Mazda, "and Mazda sells them to the end-user. If a racer bounces a car off a wall and bends a wheel, they go to Mazda Motorsports to replace it."
For each new car ordered, Flis Performance buys a brand-new MX-5 from Mazda. All are zero-option base models, but they are delivered to the company fully assembled, as they would be to any Mazda dealer. Flis Performance then removes the seats, the soft top, and much of the interior. "We sell some of that stuff," explained Flis, "and some goes right to scrap." It turns out that buying and stripping a showroom-stock model is actually more cost-effective than special-ordering a car without all the parts a racer doesn't need, as the resulting disruption on the production line would cost Mazda more than the parts that are discarded.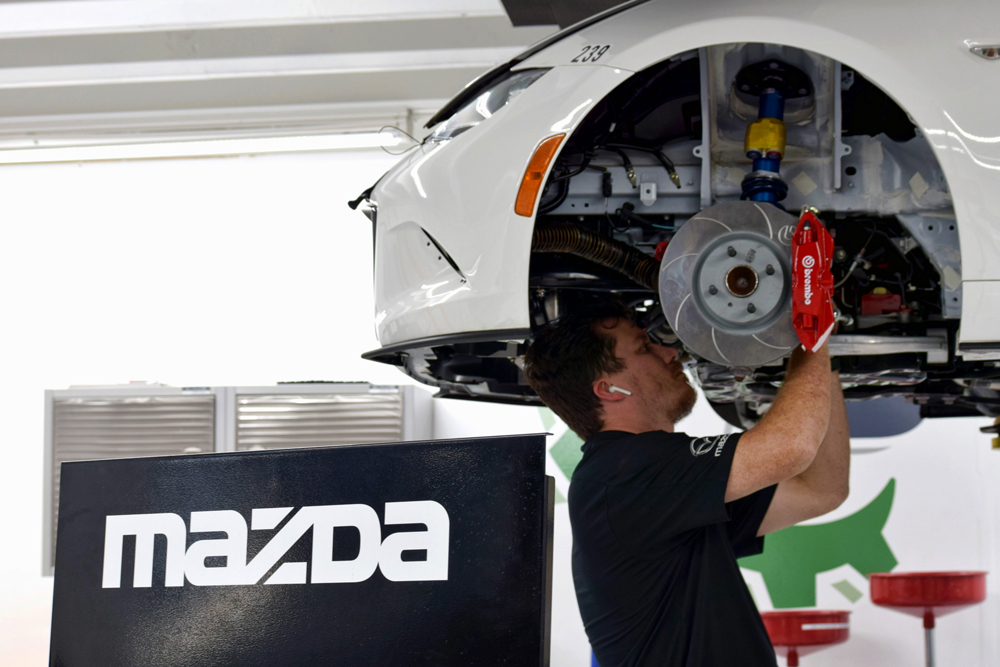 Once stripped, each car is "rolled about one block up the street" to the Spirit of Daytona shop. "There we take out all the seam sealers and interior parts and weld in the roll cage. It goes through paint, and then it comes back to Flis Performance for finish fitting and final production. So we have a separate facility for fabrication and paint," and a "clean" shop for final assembly.
Flis Performance, he added, "controls 90% of the engineering of the program. Mazda is very sensitive to the look of the car, so there are no added wings or any other attachments to the bodywork. Mazda is also very, very sensitive to racing what it actually sells. So the only really significant mechanical components that are not in an OEM MX-5 are the racing shocks, the sequential transmission, the brake ducts, the enhanced cooling system, the safety equipment and the ECU. We don't even pull the engine out of the chassis, although we swap out the motor mounts."
The current-generation car "has been raced for three years, and there is not much development left in it." Still, "we are continuously testing new products, pieces and parts to make the car better. Just in the past two years we've issued probably 12 TSBs [technical service bulletins], making the car better. We even elevated the compliance program with new ECU telemetry technology, so we can watch and make sure that all the cars are equal."
Marketing the Experience
Knowing their customers' wants and needs has also contributed to Flis Performance's success. "We found pretty early in the game that most club racers want the car to roll off the transporter, and then get in it and drive it all day," Flis said. So, unlike the previous builder, Flis offers "a seat option, a radio communication option," and other choices that contribute to an arrive-and-drive experience. Flis Performance customers can skip those components and provide their own, but most want a turnkey race car. "We even offer a setup option. We know where they are going to run, and they send us their weight. So we set the car up and it's ready to race."
That said, suspension setup is kept intentionally simple. "It's not a GT4 car," Flis noted. "These cars have a very, very small window, and outside of that window can be big trouble." When that happens, however, Flis can talk the customer through the process of "getting the car back where it needs to be. It needs 3 degrees front negative camber, 3 1/2 degrees rear negative camber. X amount of toe, X amount of caster. And once it is back in that window, it can be fine-tuned from there."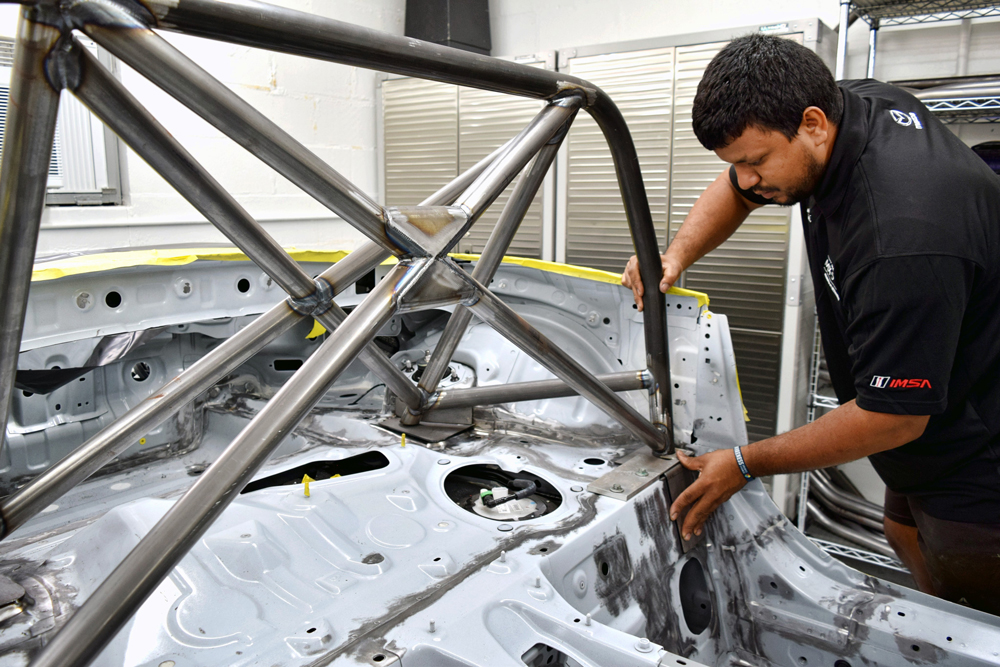 Flis is also largely responsible for marketing the series. "When we took over production, we negotiated our contract with Mazda so that we could push these cars heavily. Ninety-nine percent of our marketing is through social media. We also have very close ties with IMSA, so we do some co-marketing with them, and we receive a lot of support that way. That's been a key boost" to Flis's visibility and competitive position. "If someone is going to buy a homologated race car, they can see that we're out here, we're available and we provide great service for the product."
Like so many successful businesses we've profiled, Flis emphasized a commitment to providing high-quality customer service. "We bring our tractor-trailer to every series event," he said. "It's called the Mazda CEC, for Customer Experience Center, and it's stocked with all of the parts, so the customer doesn't have to inventory anything. They buy the parts off our trailer and charge them to their Mazda Motorsports account."
Flis also provides tech support, 24/7. "If someone is running one of our cars at a weekend club event, and a warning appears on the dash"—and the racer can't figure out the cause and/or the remedy—"we can log into the ECU remotely and recommend a fix. Nine times out of 10 we resolve an issue in less than 30 minutes."
In fact, Flis believes that customer service has been the greatest contributor to his company's success. "That's what everybody tells us: 'I can call you on a Saturday afternoon and someone calls me right back, and we work through an issue.' He emphasized that Flis Performance is also "open and transparent" concerning "changes, updates and issues people are having with the cars. People come to us with their issues, and we work with them to try to make the car better." Many of the TSBs mentioned earlier originated with just such conversations. "We've even opened up the ECUs a bit, so the customer can go in and look at the things they want to see." 
From Dockside to Trackside
When we asked Flis what he and his team have learned from the MX-5 program, he cited the challenge of "direct involvement with multiple teams. It's a lot different from showing up at a race track and preparing one team with one or two cars. Now we have to be concerned about 25 cars. Back in early 2020 we tested 30 cars at Mid-Ohio, and I was sweating like you would not believe until every one of those engines started, and every one of those cars went around the track. Then I felt like the weight of the world was off my shoulders.
"We've also had to learn the ins and outs of a tier-1 partnership with a major manufacturer," he continued. "I communicate with Mazda weekly, if not daily. Of course, we dealt with GM for a long time through the DPi program, and before that we developed the Porsche V8 for its Daytona Prototype. But even that wasn't the same level of involvement with the manufacturer. That's been the biggest learning experience."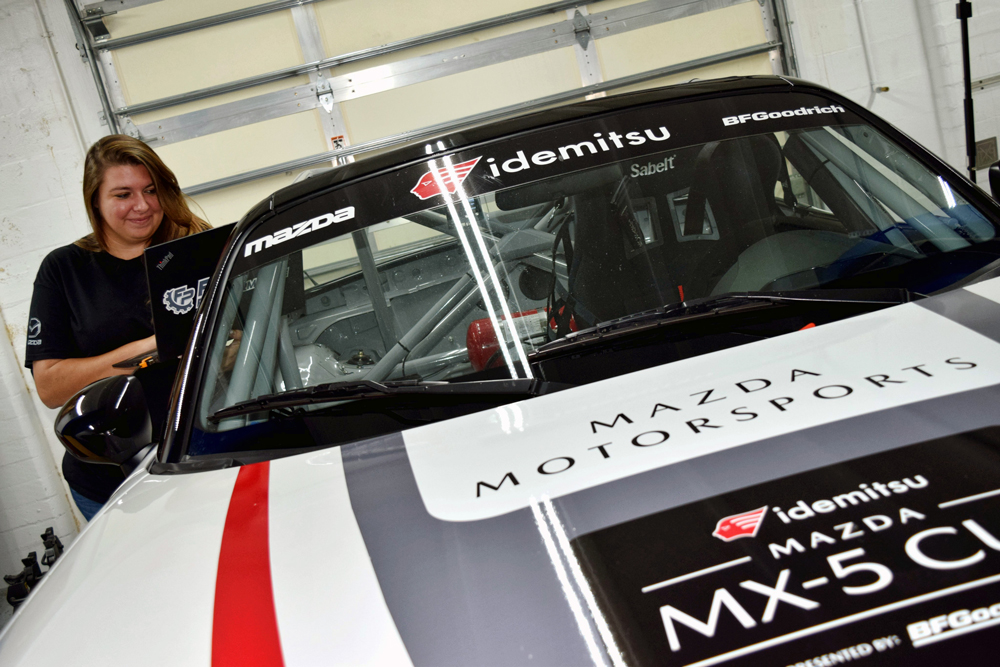 That said, Flis has enjoyed strong support from Mazda and other suppliers, especially when dealing with pandemic-related shortages. "We buy, like, 15 cars at a time from Mazda, and with the pandemic we had 10 of our cars sitting at the port. I got a call from a Mazda distribution manager saying, 'Listen, I need those cars for my dealers.' I said, 'Sorry, I need those cars.' A Mazda executive stepped in and said, 'All those cars are reserved for the MX-5 Cup, they don't go to the dealers.'
"We've also been very fortunate to have partners in the industry, whom we have known for a long time, who have stepped up and built things for us that needed to be built or imported parts that needed to be imported."
In all, Flis anticipates a great future for the MX-5 Cup. "There is so much interest, and so much excitement now that everyone has seen the level of competition and professionalism of it. The expansion and growth of the series is going to be great in 2022," he predicted.
Approaching a Limit?
Between the two facilities, Flis Performance encompasses about 15,000 square feet, with seven employees. "About halfway through 2021, we went from building two cars at a time to building four at a time. And we added one more employee on the fabrication side. But that's it. We've been in this game too long to over-invest. We're very happy with the current size and direction of our company. It's a 90-day wait to get a car, but we'll deal with that," Flis concluded.