Business Profile: Van Doorn Racing Development
Image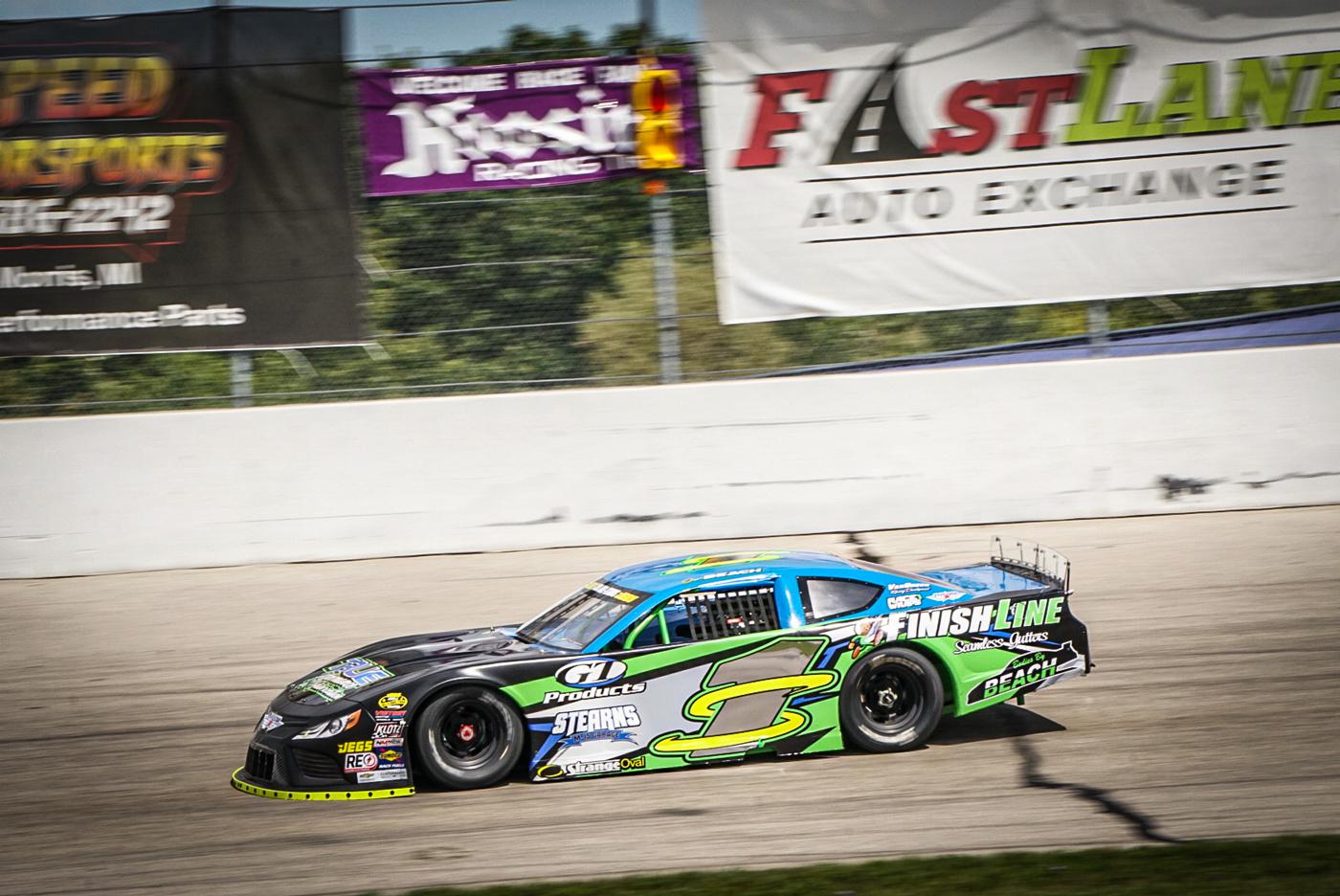 Founded on the independent spirit of brothers John and Butch VanDoorn, this late-model specialist has run the short track to success with race-winning engineering, quick turnaround times, and outstanding customer service—and by nurturing that same creative independence in its employees.
In just nine years since John and Butch VanDoorn opened their chassis fabrication business in Muskegon, Michigan, the brothers have built nearly 200 race cars, expanded into setup and consulting, and established themselves as national players in the asphalt Late Model field. In the past year alone, VanDoorn Late Models have scored victories at nearly a dozen tracks in Michigan, Illinois, Indiana, Ohio, and Pennsylvania; plus farther-flung first-place finishes at Tucson Speedway in Arizona; Kern County Raceway Park, Irwindale Speedway, and Madera Speedway in California; South Sound Speedway in Washington; and Petty International Raceway in New Brunswick, Canada. October was a particularly good month: On the 8th, Cody Dempster nailed down the Super Late Model track championship at Colorado National Speedway; a week later Eddie Van Meter claimed the CRA Super Series Championship. And on the 29th, VanDoorn's new Diamond chassis debuted with a third-place finish at Nashville Fairgrounds Speedway in Tennessee.
No one seems more surprised at the success of VanDoorn Racing Development than John VanDoorn. "We're building chassis number 185," he noted when we spoke in November. "So we're almost 200 race cars into this thing. If you'd asked me in 2013 if we'd ever reach this point, I'd have said, 'not in a million years.' We never imagined it would take off the way it has."
While asphalt Late Models remain VanDoorn's signature product—from rollers to race-ready vehicles—they actually account for about 40% of the company's total business. The remaining 60% comprises body repair; building, rebuilding, and dyno-testing shock absorbers; a parts department stocked with components from more than 30 top-name performance brands; consulting services, including driver development; and fabrication jobs outside of the racing industry. (TIG-welding damaged fuel tanks for 18-wheel trucks has become a minor specialty.)
"You always want to stay diversified," VanDoorn explained, "to set yourself up for a rainy day. But chassis building is still the face of our business. It's the foundation, and everything else is built on it." Furthermore, VanDoorn sees a synergy in the company's various activities. "One feeds the other, absolutely. If they are running our chassis, then they are buying our parts. We're rebuilding shocks that we sold them. And they are hiring us to come out and work on their cars."
Appointment with Asphalt
VanDoorn referred to race-car building as his "destiny…. My Dad owned a towing business, so I grew up around trucks and cars. The tow shop had welders and torches, and I started welding when I was about five years old.
"Building things," and particularly fabrication, has interested him for as long as he can remember. "I guess it was my calling in life," he continued. "We were NASCAR fans, and we always cheered for Earnhardt. So when I was eight years old, I started go-kart racing. It was fun for about a week, and then it turned into serious business as we got competitive. In sixth grade, when all my friends were into video games and sports, I started drawing late-model chassis. It was like the Earth was trying to tell me what my life was going to be."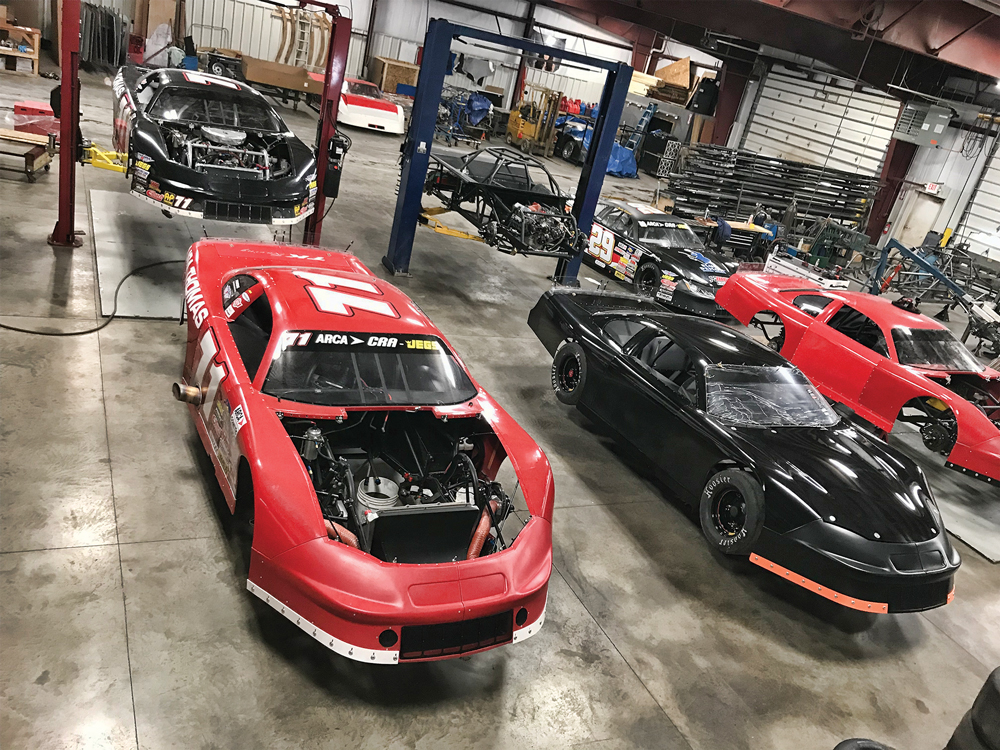 Around the same time—in the year 2000—VanDoorn graduated from go-karts to dirt-track street stocks and sportsman. At 16 he began running Late Models on pavement and went to work for Port City Racecars in Muskegon. "I would go there after school to sweep the floors and clean the shop, and I worked my way up from the bottom. By 2010 I was driving the house car while also building cars and setting them up. That's how I began my career as a race-car manufacturer."
By then John's younger brother Butch worked at Port City as well. According to John, Butch "didn't do the driving, but he always went racing with me. He would hang out and work on the cars. Then when he was about 14—about the time my driving career was taking off—he really took an interest in shock building. He was 16 when he built his first-ever Penske shocks, and I won the very first race I ran with them. That's how we got to where we are. I was inside the race car looking out; he was outside the race car looking in. We have been fortunate to have both perspectives."
Butch and John both "had a really good career going at Port City." Yet that wasn't enough. John drew a familiar metaphor from popular music: "If you're a musician in a band, and it may even be a successful band at that, but it's somebody else's band. You still want to express your own art, to make your own impact. We wanted to do our own thing, start our own journey, have our own brand."
The Brothers VanDoorn left Port City in November 2013 to launch VanDoorn Racing Development. "We rented a 6,000-square-foot shop, but in just three-and-a-half years we outgrew it," John said. "Then the building we are in now came up for sale. It was already a fabrication shop, so it was set up perfectly for what we do." Today the main facility covers 9,600 square feet. A second building adds another 5,000, and the company employs nine people full time.
Speedy Delivery
As much as he values his experience as a driver, John rates his 2020 retirement from racing as one of the best decisions of his career. "That really expanded our business—it really opened things up for us—because it allowed me to be at the race track helping our customers." Another key decision was the move to larger quarters, "which allowed us to bring in more machinery and equipment, to do more manufacturing in-house."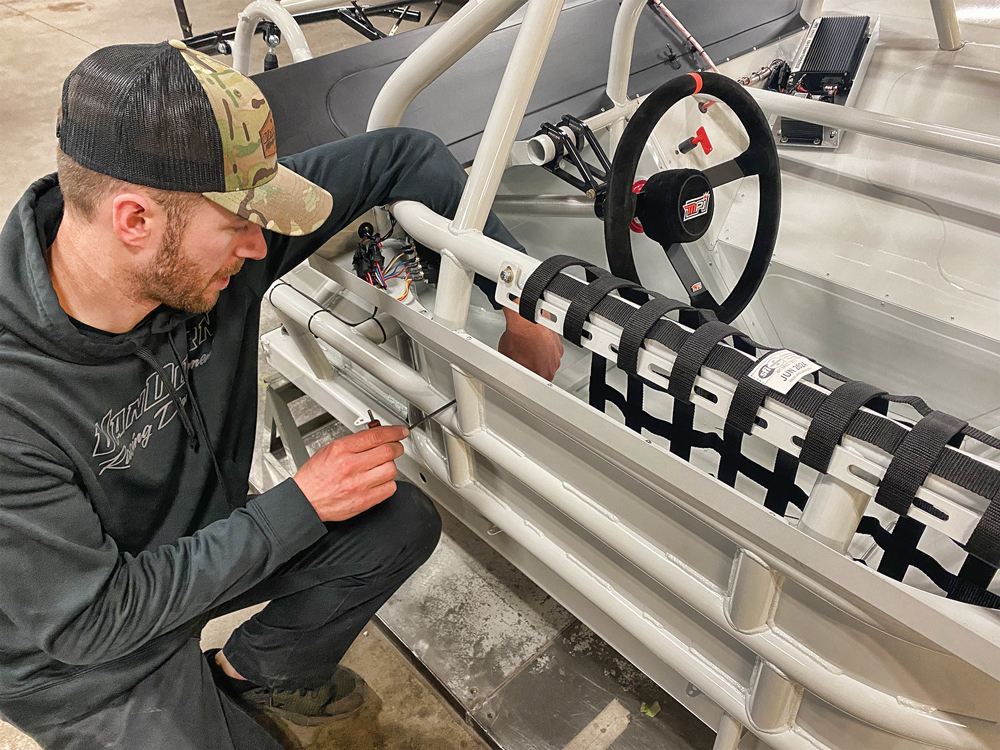 In fact, when asked what sets VanDoorn Racing Development apart from its competitors, "two big things," John answered. "Our customer service, and our speed turning out products—how fast we can build new things, and how fast we can repair things. Those are our biggest strengths."
Such prompt manufacturing and repair is enabled not only by "being set up in the shop with the right tools and equipment," but also by experience—"knowing what to do"—and by "the work ethic of doing whatever it takes to keep the customer happy. If someone needs a part right away, we designate people to build that part and ship it out the same day. If it has to go to the West Coast, it may take a couple of days to get out there, so you have to be flexible enough to make sure that every customer gets to the race track on the weekend."
Additionally, VanDoorn emphasized "follow-through with every customer. When you ship a customer a new product, you also follow up with them, and do whatever it takes to make sure they get the part bolted on their car correctly and working in the proper fashion."
Crew Chief For Hire
Asked how his role in the company differs from his brother's, John told us that he manages "more of what goes on in the shop, while my brother handles consulting and sales. He's the one who's on the phone with customers 24/7." That said, both brothers consult with customers and even crew chief for a few select teams. "Because I drove for 25 years," John added, "when a team hires me to crew chief, I can offer not only chassis tuning but also driver coaching—all the little things that help a driver gain an edge and do well.
"That's a big part of what we do. I'm gone 20–25 weekends out of the year as a crew chief, and there are probably half a dozen teams that I help. My brother does the same thing, for a half-dozen to maybe 10 teams."
John lamented that "there are so many races out there, and we can't be at them all." But having a brother as a business partner sure helps. "Butch can fly off to an SRL race in California, while I go to Indiana or Pennsylvania the same weekend."
"Butch comes to the track, sets up the chassis, and crew chiefs," confirmed Buddy Shepherd, who drives a family-owned Super Late Model in the Spears SRL Southwest Tour. "It's a big help."
Now 23, Shepherd started racing karts when he was four, moved up to dirt-track stockers at six, and graduated to Super Late Models on asphalt as soon as he turned 16. He'd been driving an SLM for about a year when the late Nick Sivesind asked him to sub for his regular driver at Madera. "It was my first time in a VanDoorn car," Shepherd recalled, "and I won the race." Shepherd continued to drive for Sivesind, and in early 2018 finished second to Kyle Busch in the 4th Annual Winter Showdown at Kern County Raceway. The team purchased a new VanDoorn car in 2020, and Shepherd acquired another after Sivesind's untimely passing in late 2021. We spoke just a few weeks after he'd won the Southwest Tour race at Irwindale in September 2022.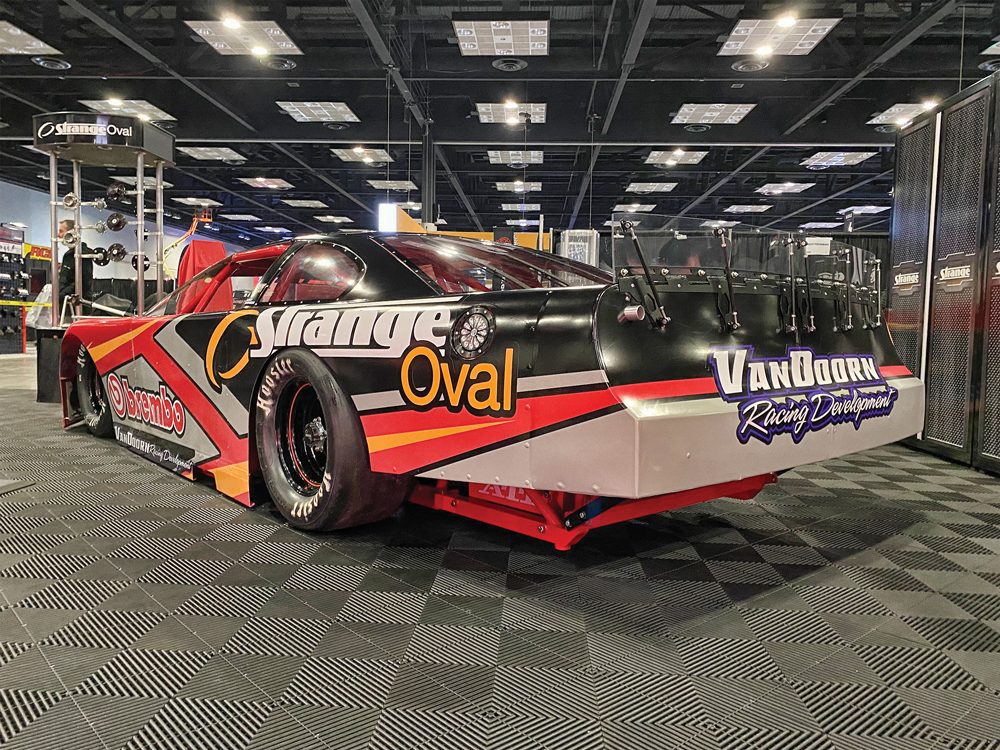 "Any time I have a question, I call Butch," Shepherd continued. "Or I send him a picture, or whatever we have to do to resolve it. If I have any questions or concerns, he always answers them."
"When I do business with VanDoorn," added Bob Wheeler, a team owner from Kalamazoo, Michigan, "I don't feel like a number. They are easy to deal with, and they make you feel really comfortable. They are not there to sell you something. They care about what we are doing, and they have helped tremendously, pointing us in the right direction and keeping us rolling."
Wheeler grew up in a racing family; his grandfather and uncle are in the Michigan Motorsports Hall of Fame. "I traveled to races with them for years," Wheeler recalled. "Then about six years ago, we decided to go out on our own and do our own thing with an Outlaw Late Model. I met Butch and Johnny when they were working at Port City. Butch helped us with our shocks and setup; he saved us time and money, and improved our performance right off the bat. So when they started building their own chassis, we bought a new car from them—it was chassis number 13. In our first year with that car, we set a couple of fast times and won a couple of races."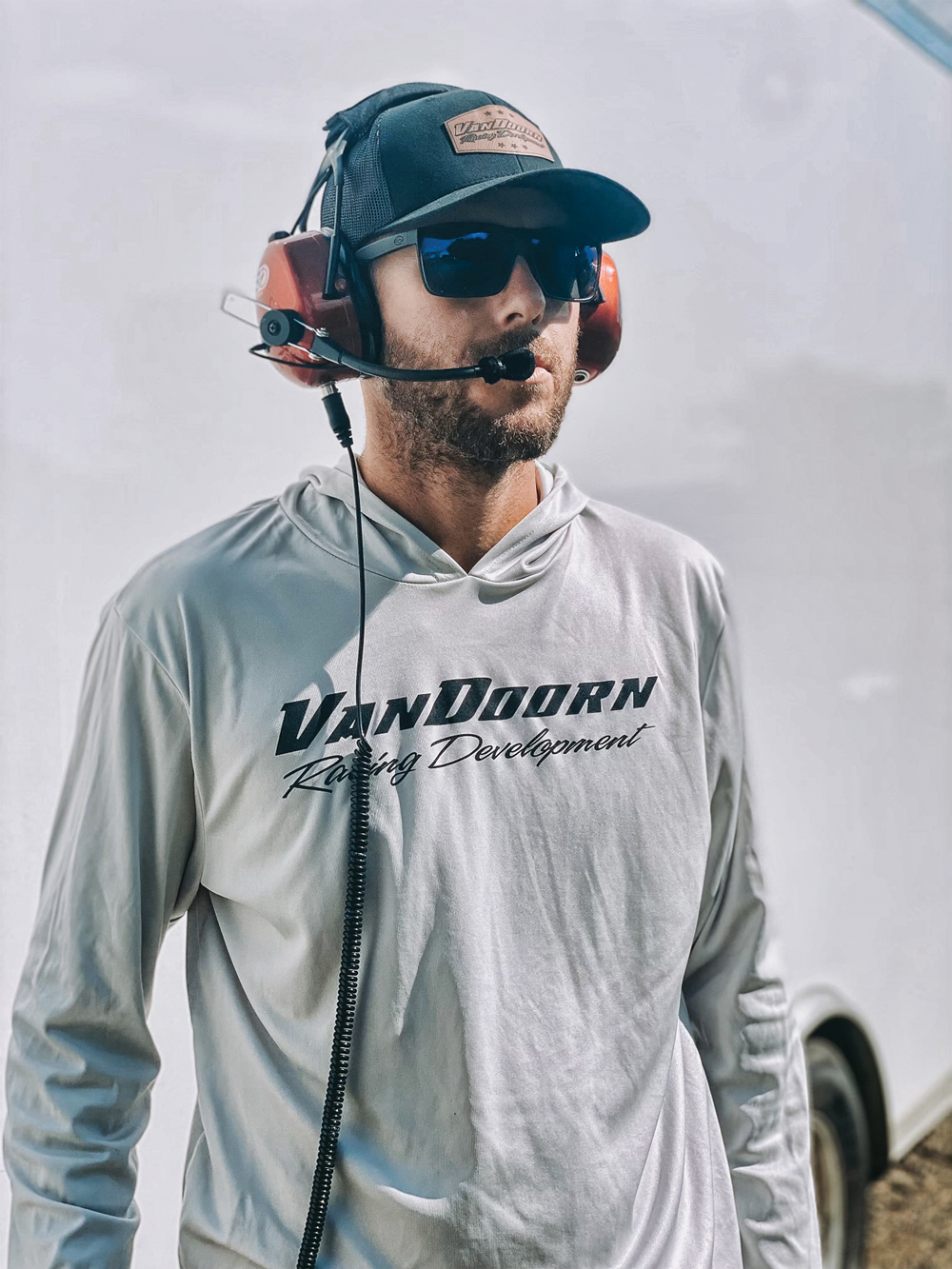 Wheeler later traded number 13 for the improved model VanDoorn released in 2016. When he switched to CRA last summer, he bought two new cars from VanDoorn and was "in the process of building two more" when we spoke in November. "They help us keep up with the times," Wheeler concluded, "and with the big teams that travel all over the country."
Steering the Ship
"We have some really good customers," John VanDoorn noted, "who have been with us through the years, and who have won a lot of races. If you win on Saturday, you sell on Monday. Being competitive and providing customer support are the two things that keep you relevant in this industry."
The company maintains a Facebook page, featuring its products, services, and the winning exploits of VanDoorn drivers. But John readily admitted the limitations of the medium. "Social media is certainly prevalent in our industry, but it isn't everything like it is in some other industries." Racing still relies on "a lot of word-of-mouth"—and on satisfied customers who win races.
The VanDoorns refer to their vendors as "partners" and, accordingly, they choose them carefully. "First and foremost," said John, "you want to align yourself with a company that produces a great part, has a great reputation, and whose service is A1. In racing, everything has to be done yesterday, so you have to line up with manufacturers who can get parts out to you right away."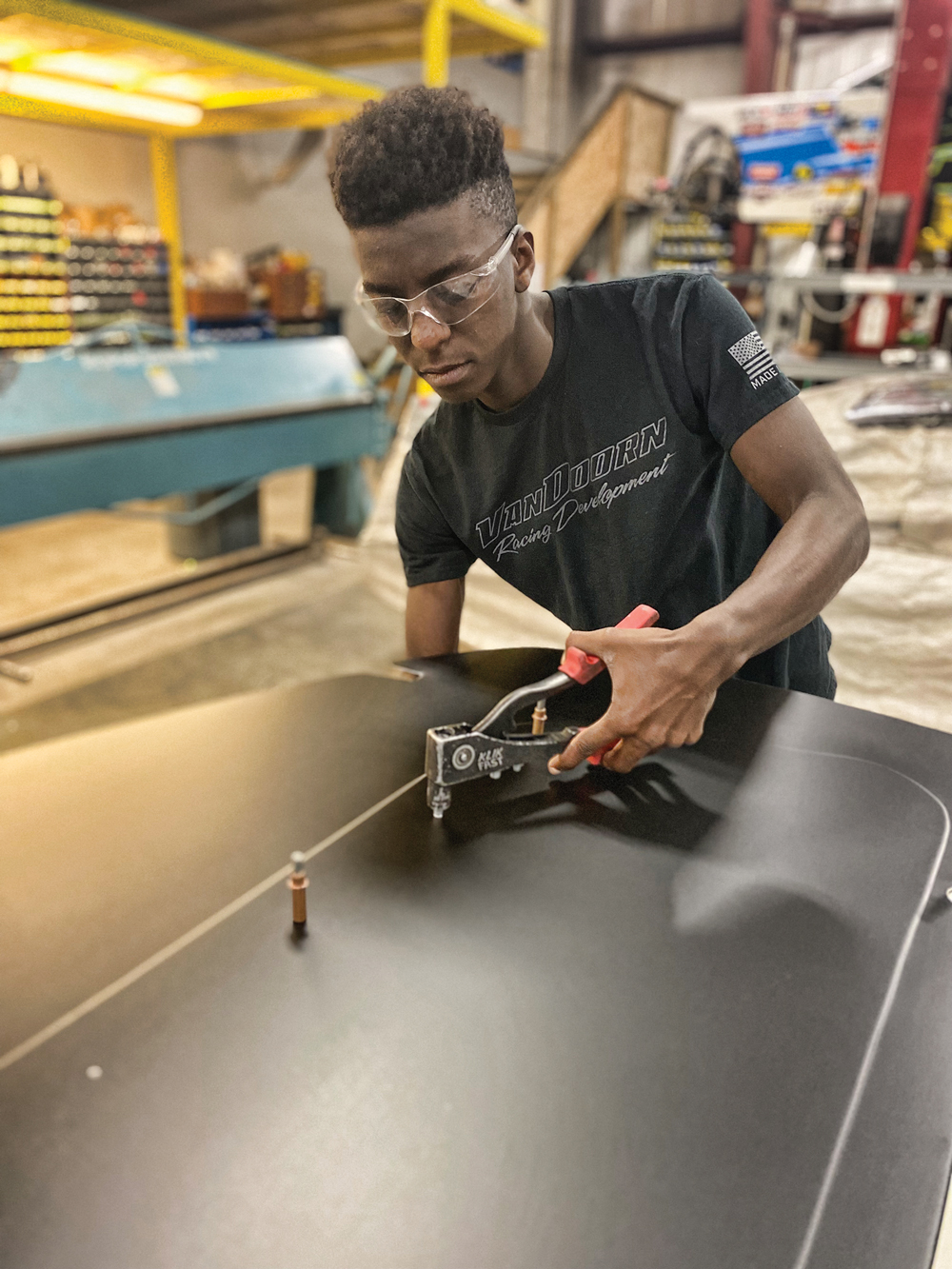 Still, for everything that has contributed to VanDoorn's success, John said that he was "most proud of our employees. In any business, right now especially, probably the biggest challenge is finding qualified help. Our society and our culture have gone down the wrong road and aren't grooming people very well for the industrial trades. We've gone through some employees, but the ones who are working for us right now are all doing a great job. They are all extremely talented go-getters. And each one has a strength that they contribute to our product."
Leadership matters, too. "The big thing is that you set the standard; you set the example of what a good employee should be," VanDoorn said. "Set the ground rules but give them enough freedom to put their passion into their work. We've all got to arrive at the same destination, but let them steer their own ship, in a way that suits them.
That keeps them coming back, wanting to make the mouse trap better—just as my brother and I did."
He switches metaphors again to muse about the future of the VanDoorn enterprise. "At this point the train is really humming along. I don't know where the train is headed, but it's really humming along."