PRI Show Report: Trendspotting In Indy
Image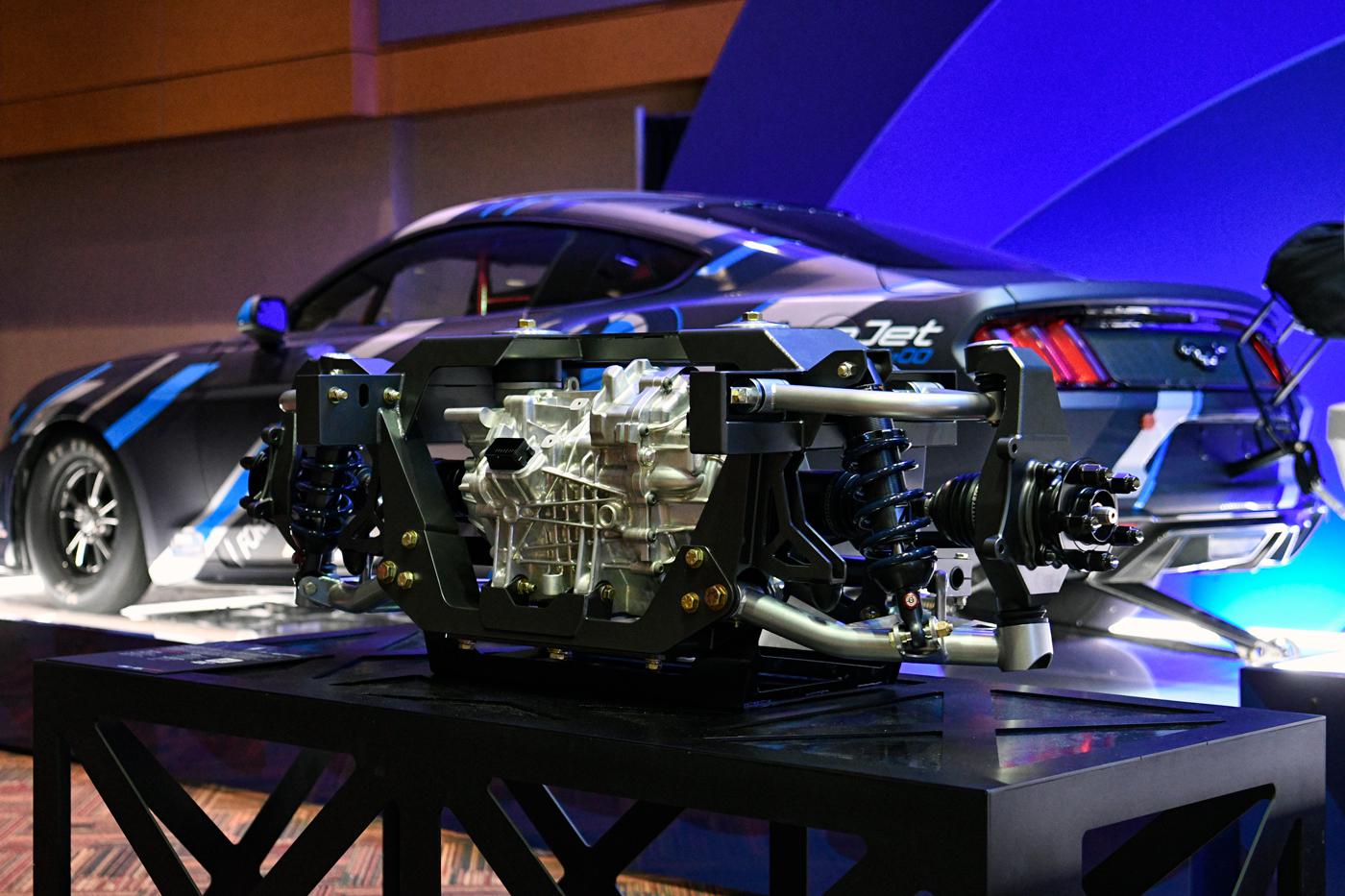 A look at what's new, innovative, and fueling growth in the motorsports industry.
The PRI Trade Show is known across the racing and performance sector as the key showcase for the industry's latest developments and opportunities. After a forced hiatus due to COVID-19 in 2020, the 2021 trade event came roaring back to the Indiana Convention Center December 9–11. 
Anticipation ran high. The Show drew exhibitors and attendees eager to reconnect, do business, and learn not only what the industry had been up to the past two years, but how those developments might benefit their operations moving forward. 
So, what's new in the racing and performance world? Following are several interesting trends we spotted at the Show.
Vehicle Electrification
At road courses, down drag strips, around dirt tracks, and even across the Bonneville Salt Flats, electric vehicles (EVs) have become a significant motorsports trend. In part, this trend is being driven by OEM initiatives. Out of the top 20 global automakers—which together in 2020 represented around 90% of new car registrations worldwide—18 have announced plans to rapidly scale up EV production in the coming decade.
Motorsports has always been the proving ground for emerging technologies, and that spirit of engineering was on full display in the PRI Show's EV Performance Zone, a feature area highlighting the growing EV presence in racing. The Zone's exhibitors included Chevrolet Performance, Ford Performance Parts, and several aftermarket brands providing new products and solutions for the electrification market. In addition, purpose-built feature vehicles demonstrated the latest EV applications being introduced into Trophy Trucks, dragsters, motorcycles, and other racing vehicles.
"Electrification is the future of the automotive industry, so we're here to showcase the awesome power of our electric vehicles," said Autumn Schwalbe of Ford Performance Parts, Dearborn, Michigan.
Those vehicles included a Ford Cobra Jet 1400, a Mach-E Mustang and a 1978 F-100 concept pickup equipped with Ford's Eluminator electric crate motor, which Schwalbe said has especially caught the attention of the racing industry. 
"When we revealed the Eluminator, we sold a lot right away," she said. "Whether for drag racing, short-course racing, or small tracks, a lot of people are getting involved."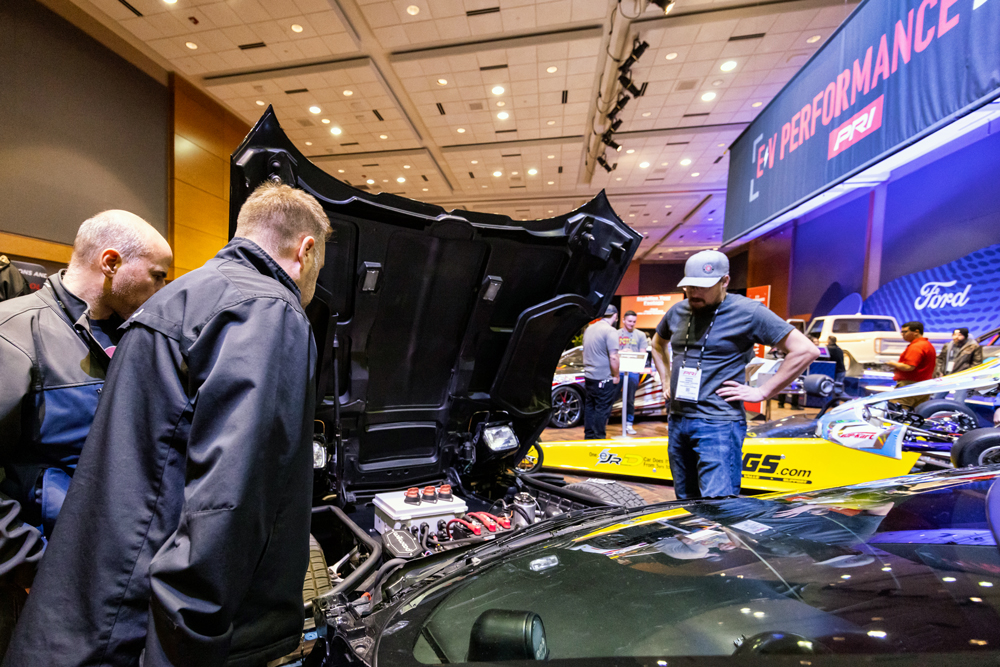 Opposite the Ford exhibition, Chevrolet displayed a 1972 El Camino conversion built in partnership with Lingenfelter Performance Engineering and featuring the OEM's e-crate system.
"We're trying to give racers—and any individual—the opportunity to move toward an electric drive system," said Mike Celotto of General Motors, Detroit, Michigan. "We know that electric drive is in its early stages. We expect it to grow just like the overall automotive industry is growing, so we want to have a space in that for our customers."
Allen Thomas of the National Electric Drag Racing Association (NEDRA) in Lake Jackson, Texas, has been drag racing EVs for a decade now. While he also enjoys building and racing internal-combustion cars, Thomas said that the vehicle electrification movement reminds him of his early days in racing.
"I see the technological advancements," he said. "I grew up during the heyday of drag racing, when there were different things hitting the drag strip and incredible innovation and people building things. This is the feeling I get from building electric cars now—it's back to the 1960s. It invigorates me because no one has a cookie-cutter approach."
NEDRA is a coalition of electric drag racing vehicle owners, drivers, and fans. The organization promotes EV manufacturers and parts suppliers while organizing and sanctioning electric drag events. Its exhibition at the Show included two drag EVs.
"There's going to be a lot of learning, a lot of challenges in electric drag racing, and it really draws me in. There's exponential growth right now," Thomas added.
Rob Ward of Legacy EV in Tempe, Arizona, said that growth potential is pulling brands of all types into the EV space. A parts distributor for the EV market, Legacy EV was among several performance aftermarket companies educating showgoers about the emerging opportunities in the EV market. 
"We're working our tails off to be the face of aftermarket EV performance," said Ward. "We're working with more than 60 manufacturers right now to provide a complete electrification system for pretty much anything. There are a lot of companies investing a lot of energy and money into advancing complete EV systems, so we're excited about where it's headed."
Other EV Zone exhibitors included Holley-AEM, Burromax, FirstCorner, HyperCraft, MRE Racing, ReVolt, and Torque Trends. Key products in the category currently include EV control units, drive systems, gear-reduction boxes, battery packs and related components, but the field is ripe for all sorts of invention.
Diesel Motorsports
Although diesel motorsports have been around for decades, the last five to 10 years have seen an explosion of fan interest. Luke Langellier of S&S Diesel Motorsport in Seymour, Indiana, believes that technological advancements are behind the category's surge.
"If you think about the big picture, all the emissions regulations that the OEMs have had to abide by, that's what pushed all this technology. It would never have needed to exist if it weren't for having to meet all those stringent requirements. So that's why we have trucks now that are perfectly quiet, make tons of power, tow like crazy, and can do everything you want them to do," he noted.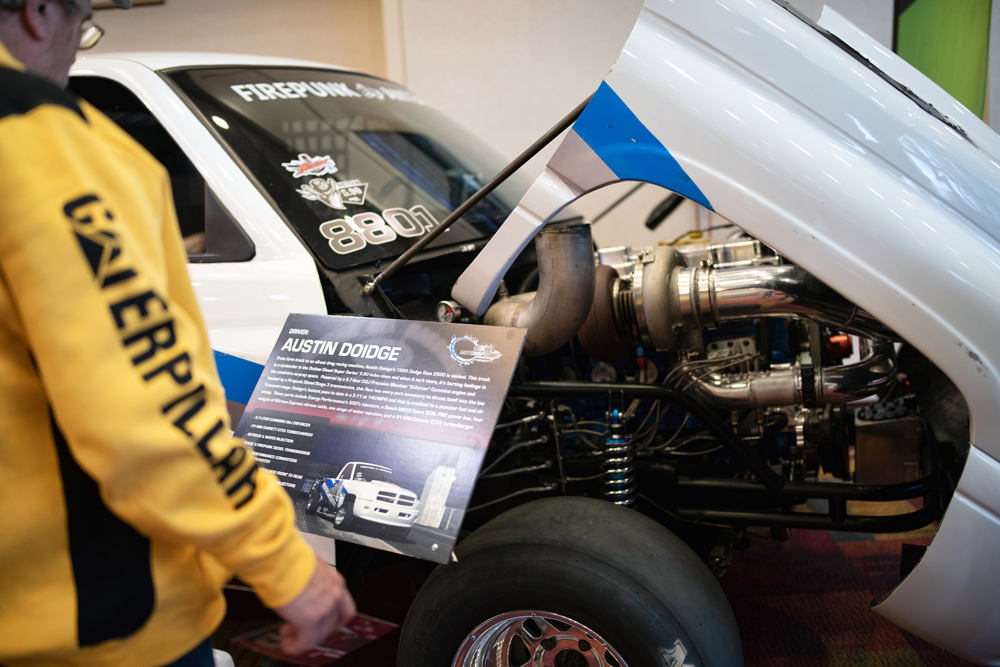 S&S Diesel's exhibit space included a massive semi engine, a nod to the semi drag racing that's become a major crowd pleaser. 
"People love to race whatever they're passionate about," Langellier said. "We have a pretty strong [semi] following—in Canada, especially, and the northern United States—of guys who are really passionate about getting as much performance from a semi as they can."
Ron Knoch of Diesel Motorsports in Kansas City, Missouri, said that his organization's drag races, sled-pulling and show-and-shine events continued unabated during the pandemic, partly because they've become popular staples of county fairs and similar family-friendly events, especially in the American heartland. 
"Most people don't know that—across what we call the 'flyover states'—there is a sled pull every night in every state from June to the end of August," Knoch explained. His organization's races, with five competitive classes, are always well attended, he added.
Gregg Jolly of the Outlaw Diesel Super Series in Terre Haute, Indiana, said that diesel truck events offer a unique thrill. "For me, it's watching them go down the track as fast as they do and as heavy as they are," he said. "It takes a lot more horsepower and torque than it does on the car side of things, and it's a lot harder on parts." 
In other words, things break a lot, which brings numerous opportunities for the performance aftermarket to produce everything from hardcore engine parts to heavy-duty suspension components. "It's pushing the limits and pushing the aftermarket to make better product," he said. 
Donk Racing
No show captures motorsports' diversity like PRI, where there's always something new and unexpected to encounter. Take, for example, Donk, or big-wheel racing, a novel form of competition gaining serious traction in mostly urban markets. At a seminar titled "Big Wheel Racing: Why It's a Big Deal," Sage Thomas (a.k.a., the Donkmaster) announced the formation of the National Donk Racing Association, a new sanctioning body bringing safety and organization to the rapidly growing niche.
What's a Donk? Technically it's a customized 1971–1976 Impala or Caprice riding on 20-inch or larger wheels (preferably larger). However, the term has become generic for similarly styled vehicles.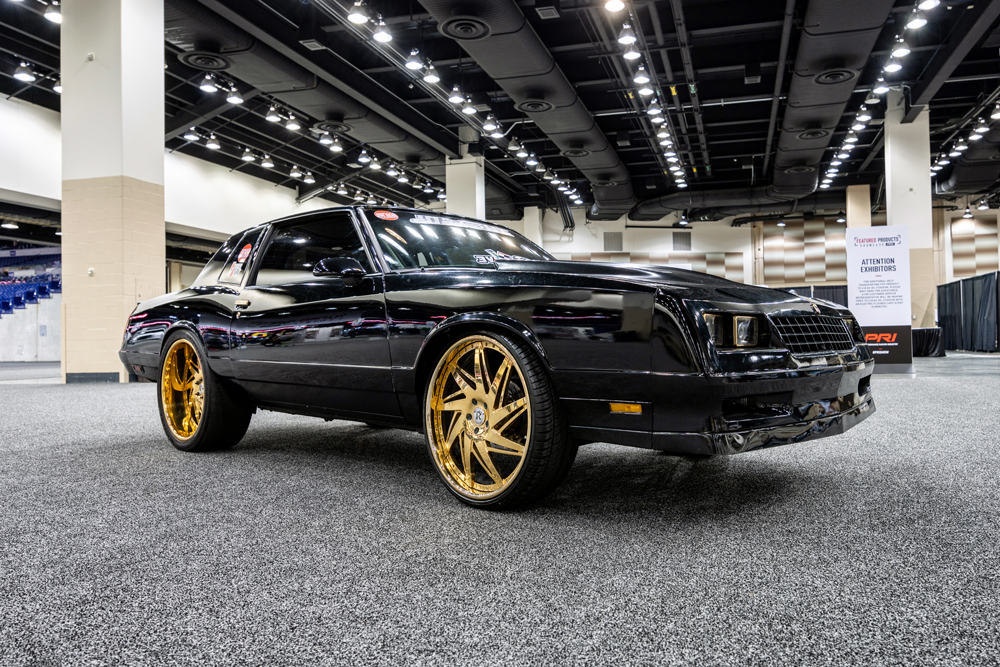 With Donk racing racking up millions of YouTube views and legions of social media followers, Thomas believes the sport is opening new doors for sponsors, safety equipment suppliers, fabricators and parts-makers, and, of course, specialty wheel and tire makers. 
"We're showing people this is real, because a lot of big companies thought it was a fad," said Thomas. "But it's something new for the race tracks, for the fans, and for supporters to be a part of something big. The opportunities are endless for small companies all the way up."
GRIDLIFE iRacing
PRI Show attendees also got a look at GRIDLIFE's iRacer Experience, a new immersive racing concept designed to promote grassroots enthusiasm. The GRIDLIFE booth consisted of six networked competition racing simulators running the latest iRacing build, complete with a live announcer broadcasting to online enthusiasts. 
According to Chris Stewart of GRIDLIFE in Chicago, Illinois, the organization's simulator competitions open motorsports to a gaming audience while teaching valuable track skills. Ultimately, this can encourage newcomers to embrace the racing lifestyle through the organization's live track days, time-attack events, drifting events, education programs, and festivals.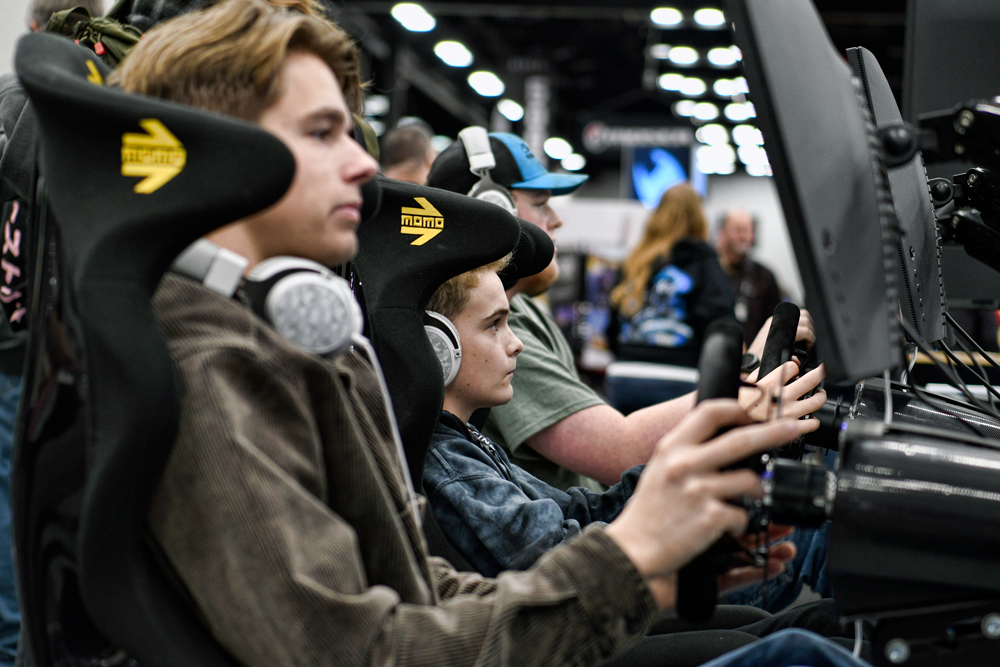 "Our intention is motorsports inclusion," Stewart said. "We try to get people closer to motorsports, particularly younger individuals. Our core demographic is 18 to 38. We're one of the youngest driving organizations globally."
Youth in Motorsports
With the future of the performance industry hinging on attracting next-generation talent, PRI has also made youth engagement a top priority. 
On Friday, December 10, hundreds of young attendees gathered for the annual PRI Student Breakfast and Career Day, which connected students from across the US with industry leaders. The exclusive meetings exposed students to career opportunities ranging from team and shop roles to product development and administrative positions. The Breakfast also served as an introduction to the Show's world-class trade environment, where they could further take in the industry's size and scope.
Northwood University of Midland, Michigan, was among the many organizations participating in the event. 
"Students come to Northwood to learn all about the automotive aftermarket," said Michael Kinney. "We're seeing a workforce in manufacturing all the way down to service technicians that is aging out and taking retirement. We need young people to come into the industry, and events like this show them how exciting it can be [with] a great future and great earning potential."
Meanwhile, on the PRI Show floor, exhibitor Preston Lewis was promoting youth involvement through the Off-road Motorsports Youth Foundation (OMYF) in Evansville, Indiana. A survivor of childhood cancer, Lewis launched the non-profit organization at the 2019 PRI Show to give other youth affected by unfortunate life circumstances a taste of motorsports. OMYF is now building a desert racing team and Class 7100 Unlimited Trophy Truck. 
"Our growth has skyrocketed in the past couple of years after our launch at PRI," said Lewis. "Our sponsor list has increased dramatically, and the quality of our sponsors has gone up quite a bit."
Lewis expects the truck and team to be race-ready by October 2022. He said OMYF came to the Show to highlight alternatives for young adults who aren't necessarily college-bound.
"What we're trying to do is give them opportunities in a format where they can really find what they love," he said. "If we could leave here with 15 to 20 kids that are really dedicated and want to be involved with us, that would be a win in our books."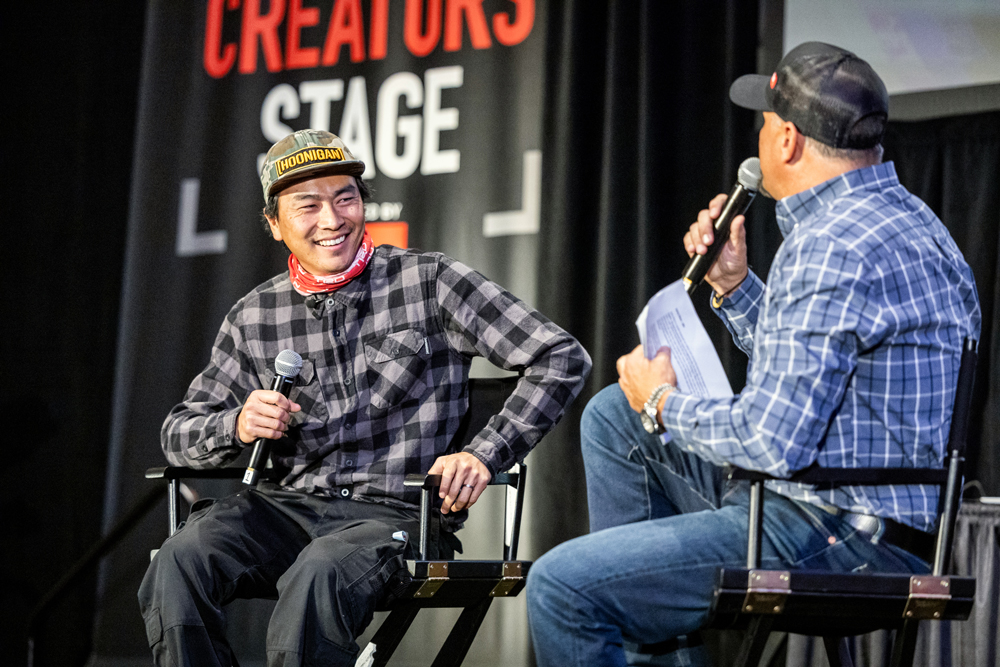 Young PRI attendees also demonstrated their building skills through the Hot Rodders of Tomorrow (HROT) competition, in which high school teams tear down and reassemble engines. The timed rounds took place over three days, with the Burton Center for Arts & Technology E3 Spark Plugs squad from Virginia taking 2021 National Champion honors.
"Due to COVID, we had to shut the operation down for a year and a half, and we thought it would be a great way to reboot it here," said Rodney Bingham of HROT. "Just to see these students get exposed to our performance racing industry…. This shows them a whole new world of jobs and great careers that they could have."
Led by instructor Chris Overfelt, the E3 Spark Plugs team scored an average time of 20 minutes and 51 seconds. Second place went to the Forsyth Central High School team sponsored by SCAT, which clocked in at 22 minutes and 2 seconds. The Moroso team from CD Hylton High School finished third with a perfect engine build in 22 minutes and 23 seconds.
Growing Business
The PRI Trade Show was also a prime venue for performance aftermarket manufacturers to discover new ways to sustain and grow their businesses. The possibilities for military contracts were discussed at a seminar titled "Army Ground Systems: Overview & How to Do Them." Presented by Thomas Vern of the US Army DEVCOM-Ground Vehicles Systems Center (GVSC), the workshop highlighted the synergy between motorsports and DEVCOM vehicle research and development. 
"Anything on wheels, we handle it," said Vern, who added that the GVSC is especially interested in several areas where the performance industry excels. They include EV technologies, heat dissipation, weight savings, suspension geometry, 3D printing in metals, and parts-making for legacy items no longer mass-produced.
Business growth through content creation was also front and center at the event. The PRI Show Content Creation Center featured a Content Creator Stage Presented by SPEED SPORT with Ralph Sheheen. Throughout the week, onstage content creators educated attendees with tips for engaging audiences through success stories, insider news, introductions to gear and technologies, and hands-on demonstrations. 
In addition, Justin Cesler of Driveline Studios presented the "WTF Is Content?!?" workshop, where he shared simple but effective tools for creating pro-level content for both traditional and new-media channels. According to Cesler, the biggest mistake a young brand can make is to sporadically post content or give up altogether due to sluggish response. "Consistency is key," he emphasized. "Don't go out and make content one time, two times, and say it isn't working."
Protecting Motorsports
Since the recent Environmental Protection Agency (EPA) interpretation that the Clean Air Act prohibits motor vehicles designed for street use—including cars, trucks, and motorcycles—from being converted into dedicated race vehicles, the entire performance racing industry has come under threat. In response, the 2021 PRI Show included education on emissions compliance and action to pass the Recognizing the Protection of Motorsports (RPM) Act.
The RPM Act is bipartisan legislation (H.R. 3281 and S. 2736) designed to protect Americans' right to convert street vehicles into dedicated race cars. It also protects the motorsports parts industry's ability to make, sell, and install products that allow racers to compete. The bill clarifies the legality of emissions-related modifications to street vehicles used exclusively in competition and reverses the EPA's recent interpretation holding otherwise. 
Industry support for the bill is strong, which was on display at two well-attended PRI events related to the issue.
The first was an "Update: RPM Act & Emissions Compliance" seminar on opening day, where a panel led by SEMA General Counsel David Goch presented steps for remaining compliant with EPA and California Air Resources Board (CARB) requirements. The conference included a status update on the RPM Act and how performance and racing businesses can help push it forward. Goch said critical mass for the legislation is building, and passage is within grasp.
"What I have witnessed in my five years with the industry as general counsel is a true awakening and education," he said after the seminar. "Five years ago, the questions were pretty rudimentary—'What is the Clean Air Act and emissions compliance?' Now people are asking more sophisticated questions to get a better understanding of what they need to do to comply. I think our future is bright because my experience is that most of the folks that I touch through PRI are here to learn to do it right and keep this industry strong."
The following day, PRI held a "Save Our Racecars Rally" in the Quarterback Suite of Lucas Oil Stadium. The exclusive event offered further insights into the RPM Act, and was open only to PRI Pro, PRI Champion, and PRI Founding Members. PRI recently launched its membership program and Performance Racing PAC (Political Action Committee) to mobilize the industry and fundraise for the RPM Act and other initiatives to protect and grow the industry. Under federal law, PRI may not use its funds to contribute to federal lawmakers and candidates. However, the Performance Racing PAC allows Members to contribute personal funds to help elect lawmakers who support racing's positions and initiatives. 
Among the speakers was Garrett Mitchell, a.k.a. Cleetus McFarland, a motorsports influencer with more than 2.8 million YouTube subscribers. He said he was happy to lend his persona to the cause.
"A lot of these guys here are entrepreneurs. Many of the people who sit in this room have their own businesses that are solely invested in the motorsports industry, which I can relate to because I have all my eggs in this basket, too. So I just wanted to talk from my point of view and reiterate just how important it is for us to all stick together," he explained.
Ultimately, the 2021 PRI Show was a testament to the industry's innovation, grit, and endurance, even through a pandemic. 
"The racing industry is resilient and continues to push forward, and PRI very much reflects that spirit," said PRI President Dr. Jamie Meyer. "Racing businesses have demonstrated remarkable passion and perseverance over the last year, and many even reported record sales and month-over-month revenue growth in 2021."
Judging by what we just saw in Indy, the industry is again revved and ready to race forward in 2022.