Virtual Cooling Solutions
Image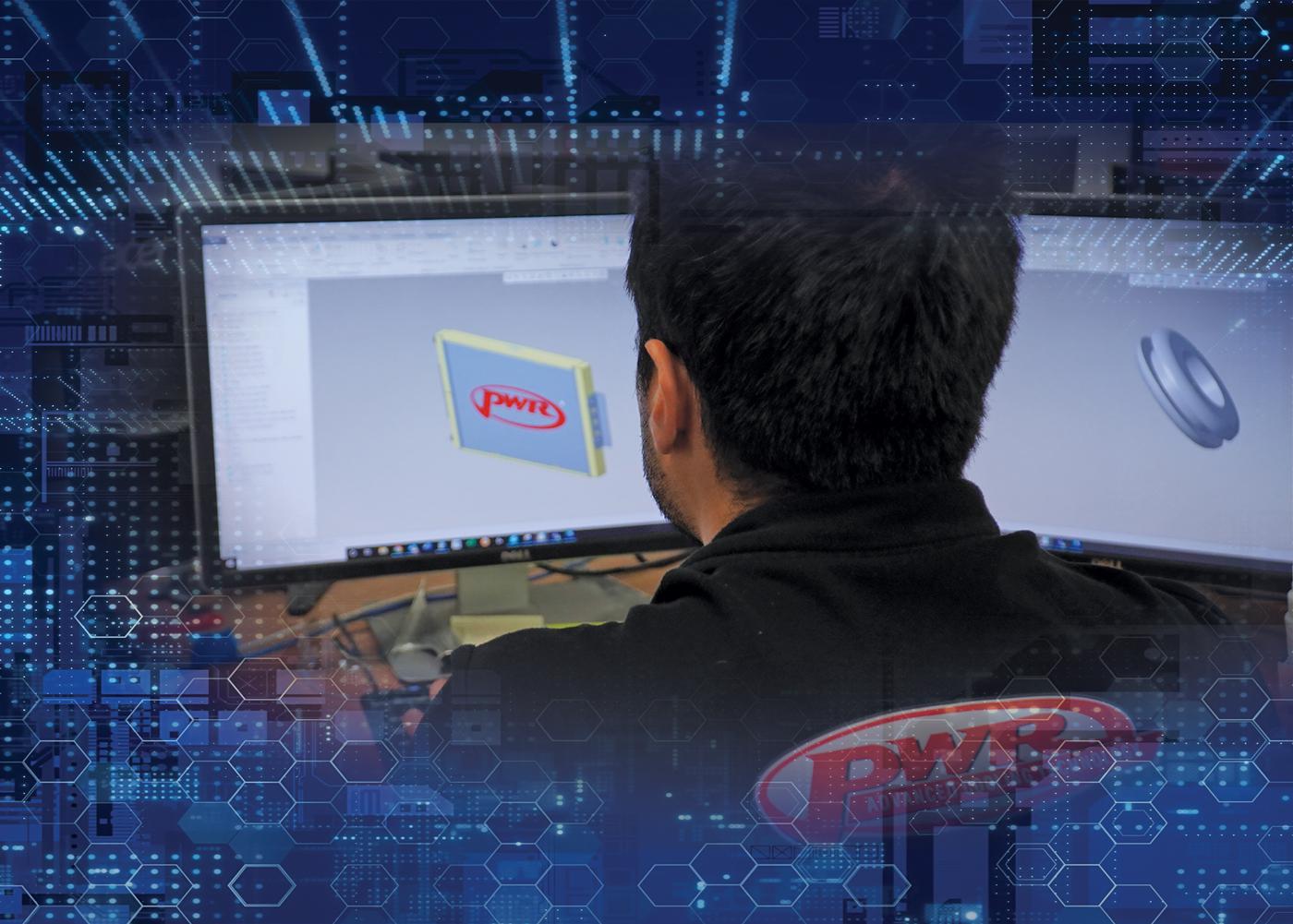 Photo courtesy of PWR
The emergence—and continued development—of software-based modeling and testing is challenging some longstanding beliefs in this critical performance segment.
Race engines must remain cool under high stress. 
To that end, advances within computerized modeling technology—led by computer-aided design (CAD) and computational fluid dynamics (CFD) programming—have been among the segment's key drivers in recent years. 
Companies that produce cooling systems can now simulate precise, real-world and real-time conditions, something that was unfathomable even at the highest levels of motorsports only a couple of decades ago. These advancements in testing capability are critical—and game changing. They're allowing manufacturers to build a better, longer-lasting product. 
"Maybe 20 years ago...the use of computer systems like CAD and CFD was never even considered," said John Pairaktaridis of Delta PAG, Astoria, New York, which specializes in cooling products for the drag-and-drive market. "It was unheard of." But today, he told us, this software has effectively refined production while largely debunking theories that were previously considered "commonplace knowledge" among end users. 
Indeed, several top manufacturers of performance cooling systems and related components have placed obsessive levels of testing at the core of innovation, which increasingly includes CAD- and CFD-based capabilities. To learn more, we recently connected with a handful of these suppliers for a deeper look at their processes, including how cutting-edge testing leads to improved manufacturing and, ultimately, better results on track. 
Testing, Testing
As noted, CAD and CFD were mostly unproven (or untested) within the performance cooling segment until relatively recently. But all of that changed in the last two decades. 
Software-based modeling and testing have since proven their worth as clear cost- and time-savers. Many of today's leading cooling system suppliers swear by it. "I don't know any respectable manufacturer that doesn't use it to design their products," Pairaktaridis said. 
Which means that a broad range of products—from radiators to water pumps—have undergone major advances in both quality and capability thanks, in part, to data uncovered by these technologies.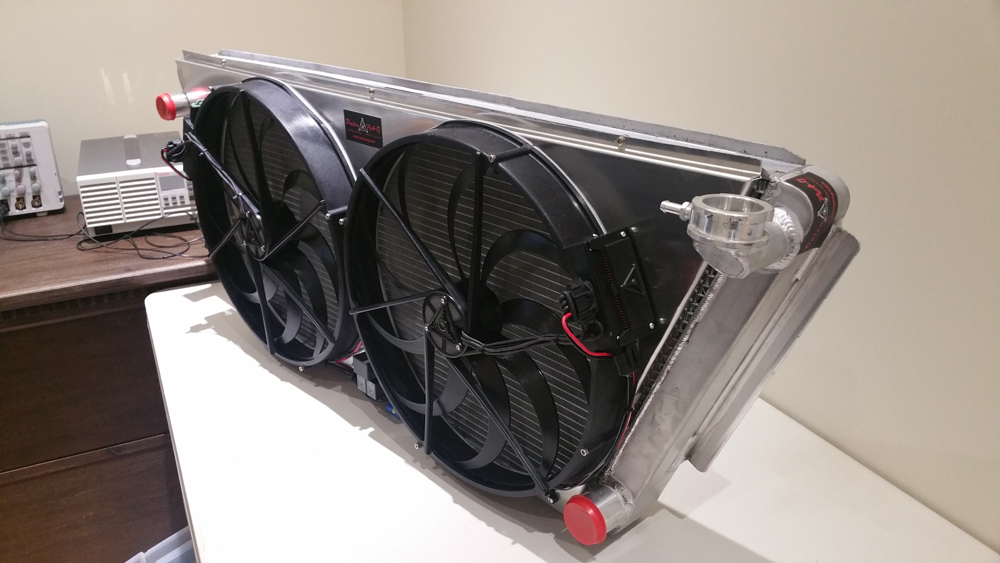 Headquartered in Glendale, Arizona, aluminum radiator specialist Ron Davis Racing Products utilizes mapping and CAD for all major processes, according to the company. It also aligns its metal grain during flat-pattern CAD layout to ensure maximum strength at bends.
Moroso Performance Products' Brett Corriveau noted that electric water pumps account for a sizable percentage of the Guilford, Connecticut-based company's business, which itself consists of "a pretty large catalog that includes any category in cooling other than radiators."
"The current generation electric water pump we manufacture is CAD-designed first, and then tested on a flow bench," Corriveau explained. "It's been a few years since we have introduced any new versions of our electric water pumps, but they are new enough, and that is the design process we used—off the CAD."
In terms of CAD/CAM software, SOLIDWORKS, Fusion 360, and NX (formerly Unigraphics) are the go-to programs for a number of cooling system manufacturers, including Rancho Cucamonga, California-based CSF, which lists Honda Performance Development, Mountune, Full-Race, Titan Motorsports, and Vortech Superchargers among aftermarket customers. 
At PWR, based globally in Australia but with North American headquarters in Indianapolis, Indiana, Herb Engelhart told us that CFD is critical to the company's testing. With CFD, it runs predictive calculations of the heat rejection of a given cooler. It can consider a variety of factors like fin height, average ground speed, and front side air pressure, he said. This allows the tailor-fit of multiple critical aspects of cooling design for any given application.
"We use CAD and CFD across all [of our] facilities to ensure we have a good starting point before proceeding with prototypes," added Jack Anderson from PWR. "Nothing beats physically building the parts, but having some of the issues ironed out before this point speeds up the design process and prevents waste. Having the ability to do the CAD and production work under one roof gives us a massive advantage in the design and development cycle."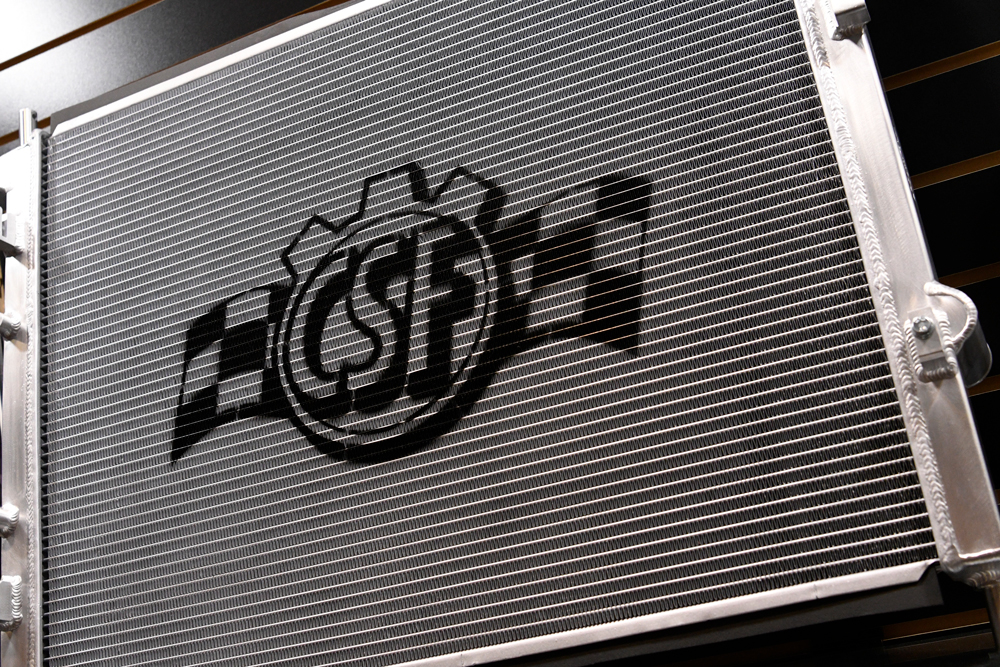 That ability to optimize design in CFD before cutting metal "has helped us get to the right design quicker and prevent wastage in the design and prototyping phase," Anderson continued. "Improvements in our DFM (design for manufacture) and CNC software have allowed us to increase our throughput while helping to identify issues sooner." 
Which is not to say human input doesn't play an important role in PWR's product—and prototype—development and evolution. Anderson elaborated: "We always look for real-world feedback on our products and try to adjust the designs where possible. We typically look to do multiple installs and gain feedback from as many people as possible in the early prototype phase to ensure we are as close as possible to the optimum solution before release. 
"As time goes on," he continued, "we will revisit the design based on feedback to see if there is anything we need to do to make it even better. It might be a new fin or turbulator density for better performance, slightly tweaking the dimensions for better fitment, or finding a way to simplify the design for a better commercial offering." 
Proving (or Disproving) Assumptions
The emergence and utilization of computerized systems also has advanced the category by disproving common misconceptions, according to Delta PAG's Pairaktaridis, who said that early-in-the-process use of software gives the supplier a "competitive advantage" in which solutions often "are contrary to what is generally accepted."
"We hit that wall every so often with customers where they have a certain belief one way," he added, "but it's been proven, and it's discovered that it is the complete opposite."
Pairaktaridis told us one persistent myth is that "you have to slow down coolant to spend more time in the radiator."
"That's absolutely wrong," he continued. "You actually need to increase the velocity of the coolant so it will increase turbulent flow."
Pairaktaridis explained, "Turbulent flow in the cooling system is ridiculously important because it is able to pull more heat and dissipate more heat into the system. You want to pull heat from the engine and dissipate it to the heat exchanger. By increasing velocity of the coolant flow, you are actually increasing turbulent flow within the cooling system, which is able to dissipate more heat.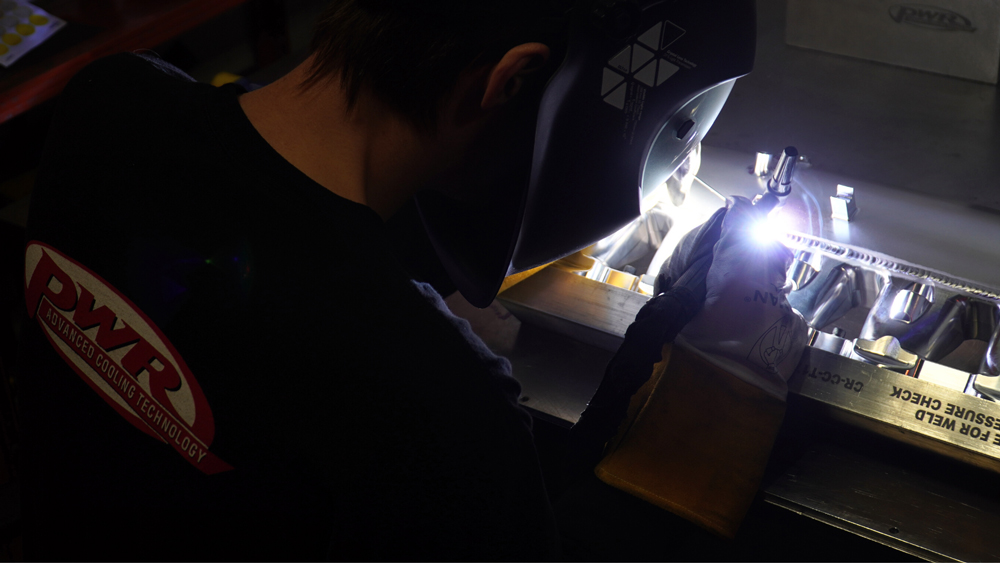 "A lot of people are saying, 'No, I have to put a restrictor there so the coolant spends more time in the radiator.' That is wrong."
CFD software, in this case, shows Delta PAG engineers how air functions and moves through the system. The key, then, is figuring out how to maximize airflow through the system so it can dissipate the greatest amount of heat.
"Using those systems is extremely important," Pairaktaridis added.
Where else has computational analysis busted commonly held beliefs? Consider radiator thickness: Whereas many still believe thicker means better, Pairaktaridis said CAD and CFD have shown evidence to the contrary.
"As air travels through the core, it picks up heat," he explained. "At a certain point it reaches a level of saturation where no more heat is being pulled through. The thicker the core, the more restrictive it is, so air is actually slowing down; it is picking up the saturation point a lot earlier."
Speaking to the advantage of a thinner radiator "in many cases," Pairaktaridis pointed out that "not only are you saving in weight and space, but it also cools better. So you can have your cake and eat it, too.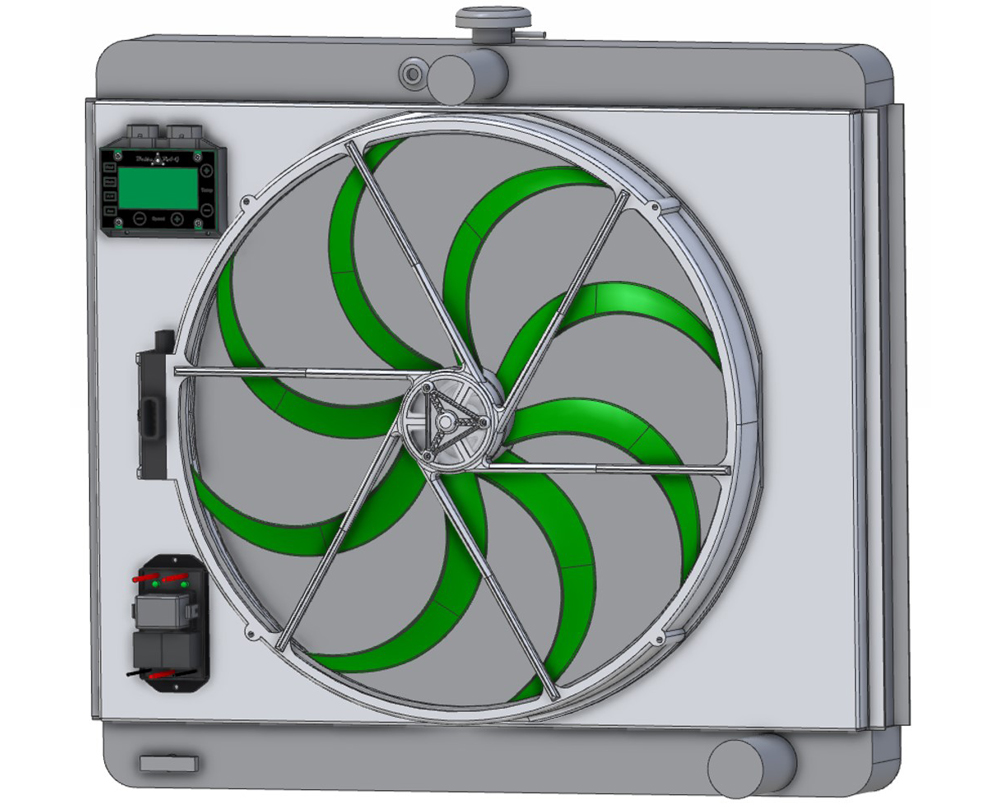 "Doing that stuff, you think you have more points of cooling with more fins and tubes, but you are leaving off the table the air flowing through it," he noted. "Without air going through the radiator, it's pointless. You have no fluid to dissipate that.
"But you have to include all those things in your model and realize there is an optimal design for that, and it's not thicker."
While Pairaktaridis acknowledges "it's very important to take your idea to the track or in the field," he maintained that today's technology allows suppliers to "debunk certain ideas virtually via software, and a lot of things are contrary to what a lot of people believe."
In the area of fan development—specifically as it relates to airflow—Pairaktaridis demonstrated how the team optimized designs through simulation testing. 
"A lot of times you see these fans with a four- or five-inch diameter motor that is smack dab in the middle," he explained. "So, we took a FLIR camera and put it up against a heat exchanger with a conventional four- or five-inch hub motor fan. [We found that] where the fan sits, there is no airflow going through there, so you are not utilizing your entire radiator. You get much better cooling if you have a much smaller hub with less dead space.
"Also, you help out with ram air by not blocking air," he continued. "The way it moves, the coolant plus the air is very, very important in maximizing a system and making it the most efficient. You can do that virtually and relatively quickly instead of empirical.
"With empirical," he added, "you have an idea, you make it, and then you test it on the track. That takes forever and is very, very expensive."
Software and modeling, he said, give you "a pretty good idea of what it will do in the real world." When the model is proven in real-world application, "then you have an advantage because everybody is going down one path that is wrong, and you are coming out of left field with an idea that is weird but works 10 times better."
PRI Coordinating Editor Daud Gonzalez and writer Bruce Martin contributed to this report. 
Sources
CSF
csfrace.com
Delta PAG
deltapag.com
Moroso Performance Products
moroso.com
PWR
pwrna.com
Ron Davis Racing Products
rondavisradiators.com