Special Report: Advantage, Athlete
Image
Photo courtesy of NASCAR
The pipeline between professional basketball, baseball, and football to motorsports is running at wide open throttle. But why is there such a strong connection, and what's the impact from this flurry of interest?
It goes without saying that reaching the top levels of professional sports requires drive, discipline, and a competitive fire in the belly. That same competitive spirit is also necessary to succeed in the front office of professional sports teams. 
Increasingly, professional athletes from Major League Baseball (MLB), the National Football League (NFL), the National Basketball Association (NBA), and pro boxing are choosing to bring their competitive spirit to the motorsports arena. Some athletes are choosing the driver's seat, but more are buying ownership stakes or taking management positions.
Some of these moves have generated major headlines. Six-time NBA champion Michael Jordan made waves when he announced the formation of his 23XI racing team in partnership with Denny Hamlin, with Bubba Wallace as driver. Boxing champion Floyd Mayweather Jr. entered the NASCAR Cup series with his The Money Team Racing organization in 2022, and in September announced the signing of IndyCar driver Conor Daly to the team. New York Giants running back Antonio Williams has stepped in to take a director of business development position with the Foley Lewis Racing NHRA team. Super Bowl-winning Philadelphia Eagles defensive tackle Fletcher Cox owns a team in Drag Radial competition. And three-time Super Bowl champion and NFL Hall of Famer Emmitt Smith has taken an ownership stake in NASCAR Xfinity team Jesse Iwuji Motorsports. 
This is not an entirely new phenomenon. The Minnesota Vikings' Alan Page dabbled in drag racing in 1971. Jack Clark, 1980s and early-1990s MLB slugger, formed his own NHRA Top Fuel team after retiring from baseball. NBA veteran Tom Hammonds raced NHRA Pro Stock while still playing basketball in the late 1990s, and had another Pro Stock run post-retirement in the early 2000s. He still races a 1969 Camaro in NMCA's Edelbrock Xtreme Street Series.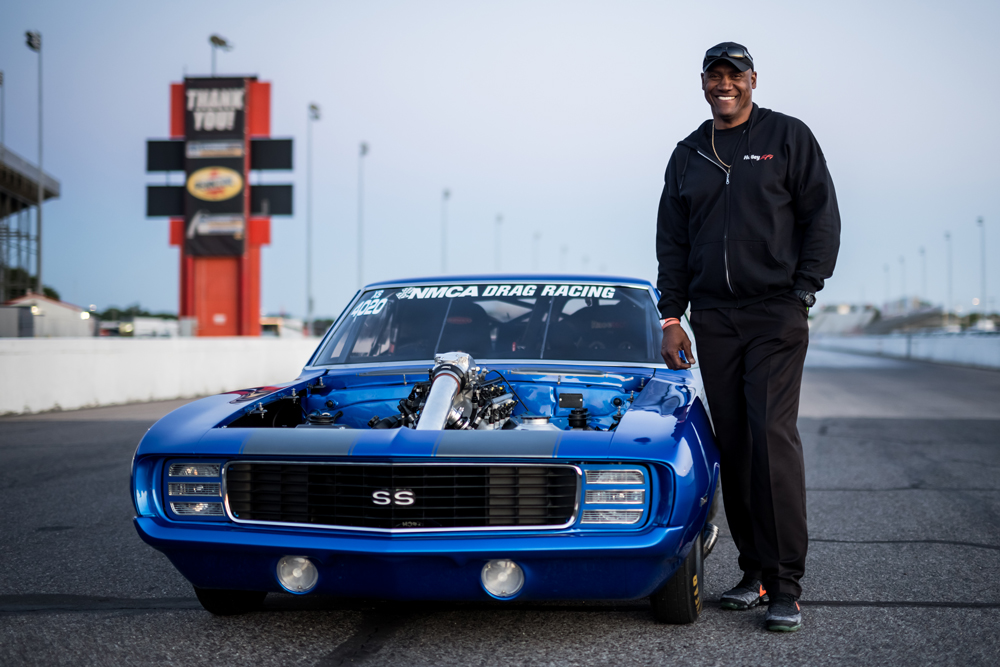 "I always enjoyed motorsports when I was a young kid, in particular drag racing, and that's what led me back to drag racing," Hammonds said. "With anything, it takes hard work and dedication, and I think being a professional athlete, we're used to that. We're used to doing what it takes to make it happen and make it work."
What is behind this surge in interest from high-profile stick-and-ball athletes? Stephen D'Hondt is chief sponsorship officer at Spire Sports + Entertainment, a talent management and sports sponsorship consulting agency in Cornelius, North Carolina. He frequently interacts with athletes curious about the racing industry. 
"While we have had an interest from athletes in motorsports for decades, we have experienced an increased interest in athletes from other sports in our industry," he said. "I think it comes from a variety of factors, but probably the most decisive is NASCAR's move toward diversifying the appeal of our sport. We have a lot of athletes who attend a race event as a guest or first-time spectator, and oftentimes they become curious about the sport. From there, some truly become fans, which we welcome. 
"Others decide they want to become an active participant. They might begin networking and look for where they are best situated in our industry. Some try out to be a part of the pit crews. Others look to be a part of the front office. Some want to invest in ownership where opportunities are available. Some want to become a driver. Some even want to be a sponsor. But I think it all stems from becoming aware of our sport on a deeper level, and NASCAR's welcoming approach is bringing in new audiences," D'Hondt said. 
Christopher Harris, founder of the African American Racers Association (AARA), sees the arrival of these athletes as a driver of growth for the industry. "I have seen an uptick, and I think racing is an untapped market, especially for athletes of color," he said. "It's a place where a lot of them haven't traditionally had eyes on it or participated in it, and now that there's an opening as far as awareness and a need for more diversity outreach, they'll take the opportunity to get in. You'll see them as team owners, you'll see them participating at the grassroots level. Individuals who have been in the sport, say like Antron Brown, they now have the ability to take ownership of a team. It's pretty cool to see the diversity of these athletes getting involved."
Speed Reading
Athletes' motivations for joining the racing industry run the gamut. For some, it's a second career in a sport they love. "We as athletes, we're used to being in team sports," Hammonds said. "We're used to playing and doing things at an ultra-competitive, ultra-high level, pretty much our whole life. We've always competed and performed at a high level, and a lot of times when we retire—at least I know from my situation when I retired—I didn't really know what I wanted to do that would fuel that competitive spirit, as well as the team aspect of it that I could get."
For others, the chance to back an impressive athlete at the start of a career is a motivating factor. Emmitt Smith sat down with PRI Magazine for an exclusive interview at the SEMA Show in November about his move into NASCAR. "What technically drew me to motorsports was Jesse Iwuji himself," he said. "There was a race that was going on out at Texas Motor Speedway. This is prior to us becoming part of NASCAR, to where (team co-owner) Matt Casto reached out to a business partner of mine, wanting us to sponsor a kid that had aspirations of becoming a NASCAR driver. He happened to be a local kid, lived in Carrollton, former Naval Academy guy, and I thought it would be nice for us to do it. So my partner and I decided to do it, and it was one race. I met Jesse for the first time and his brothers."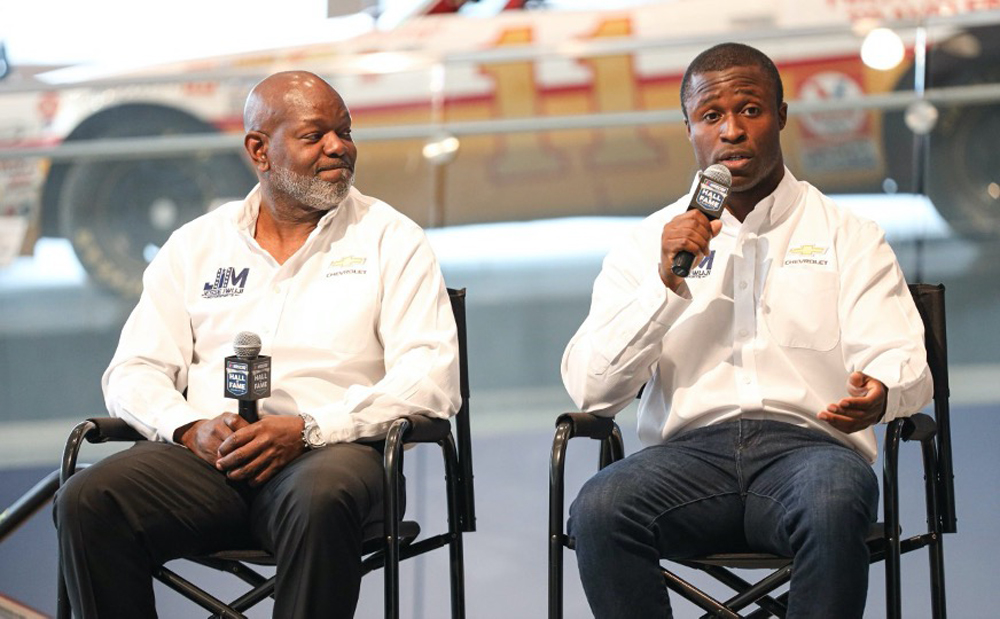 Smith was impressed with the aspiring professional driver. "His background itself was stellar, and I know what it's like to have passion to do something, but maybe not have the resources to do it. And that's when we decided, that one race. Then later on, Jesse just decided to create his own motorsport team. I recently got a call from them to see if I wanted to be involved. You gotta understand what Jesse was trying to get accomplished in terms of the diversity, equity, inclusion component with NASCAR, and beyond that. With different programs that he wanted to implement in the community and reaching out to the community. I saw it and I'm like, yes, I can get behind this. I told him, 'I want you to be the guy. I'm here to help support you because I want to help your dreams become reality. If your dreams become reality, then I benefit by just being associated with you. But most importantly, it's about you.'"
Not all athletes making the switch to motorsports are household names launching a second career or seeking investment opportunities. Some are just starting out. "We've worked with a couple of college athletes over the years on our pit crews, and their motivations are largely connected to being part of a sport with an extremely competitive environment, while also being able to start a career at the same time," D'Hondt said. "We are a happy medium in that sense. Say you aren't drafted in the NFL. Where do you go? In some cases, those players seek out NASCAR, become a fan—and as such begin the journey of finding their way in our sport. Sometimes that ends up being places like our pit crews." 
Rules of the Game 
For any athlete making a shift into racing, the crucial first steps involve learning the rules of the road. As with any sport, nothing happens overnight. "I think the biggest thing is helping them gain a more complete understanding of how this industry works economically, as well as fundamentally," D'Hondt said. "Motorsports is structured much differently than stick-and-ball sports, so there is a learning curve to fully grasp how the business mechanics of motorsports operate before anyone can begin marching forward on their mission." 
"I talk to a lot of individuals, and one thing I ask them is, 'Do you want to get into racing, or are you passionate about it?' Because it's two different things," AARA's Harris said. "Somebody might want to get into the sport just to get into racing, but once they understand the grit and grind that's part of this business, they may not necessarily want to get that deep into it. Versus somebody who really wants to do this, who really wants to get into the business of motorsports. And I tell them, 'This is going to be very similar to how the grind would be when you were trying to go through the NBA or MLB. You're going to have to start from the bottom and really push your way through and work through the hardships, because it's not easy. You've got to find your team and build your team and then you'll start to see the results. This isn't a one-person operation. One man can't do it all and succeed in this business. They have to be willing to go through the grit and grime to be successful."
Those athletes who learn to navigate the new sports terrain often bring with them a mindset for success, along with the unique experiences that can only be acquired at the top of a profession. "This depends on where they fit into our ecosystem," D'Hondt said. "However, generally speaking the most common denominator I see is the hunger to be competitive and win. It is a similar, yet different kind of hunger. Whether it's racing or stick-and-ball sports, we all want success, but something I really respect is the discipline athletes have when focused toward being the best version of themselves. It is uniquely impressive.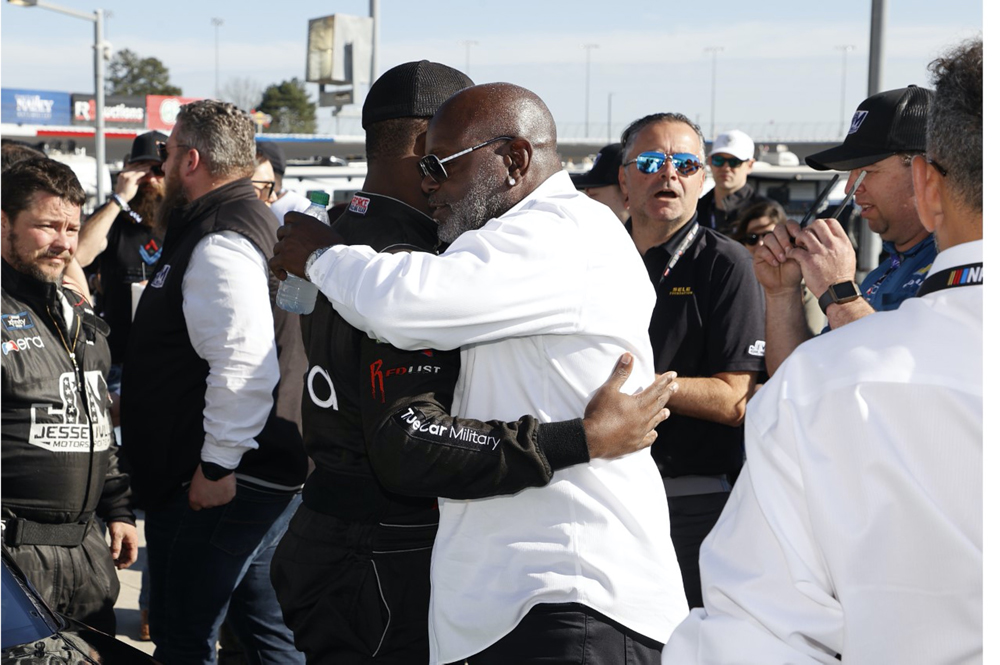 "We've hosted Olympic medalists, popular college sports coaches, as well as professional athletes from major stick-and-ball sports at our races," D'Hondt continued. "They are almost always impressed at the amount of planning and choreography that goes into a race team's efforts on race day. I think they draw comparisons between NASCAR and their respective sport, and it allows them to gain a sincere appreciation for the effort it takes to be competitive in motorsports."
For those who do successfully make the leap to racing, there is a significant potential upside for the racing team. Most top athletes are experienced in dealing with sponsors and advertisers, including those advertisers that have never investigated motorsports. Even if they don't take a leading role on that front, as in Emmitt Smith's case, their advice in the background on securing sponsorship has high value. 
"Matt Casto is Jesse's right-hand man. And Matt and Jesse, I allow them to lead the charge," Smith said. "I add in thoughts, conversation, and bring in certain relationships where necessary. Introduce folks to them that I believe could be a good fit for what we do, to the team. And, I give them my thoughts around what I think could actually happen, how we should approach it. That's through experiences of sports endorsements myself, leveraging brands and unique opportunities through the lens of the Dallas Cowboys and what they do best, and help out that way. I can't teach Jesse how to drive. I can't do that. I'm not going to do that," he added with a laugh. "But I can also just understand that what we need as an organization, we need to create a pathway for him to get better. And resources are the only way that does help him get better—by getting experience on tracks when tracks are closed."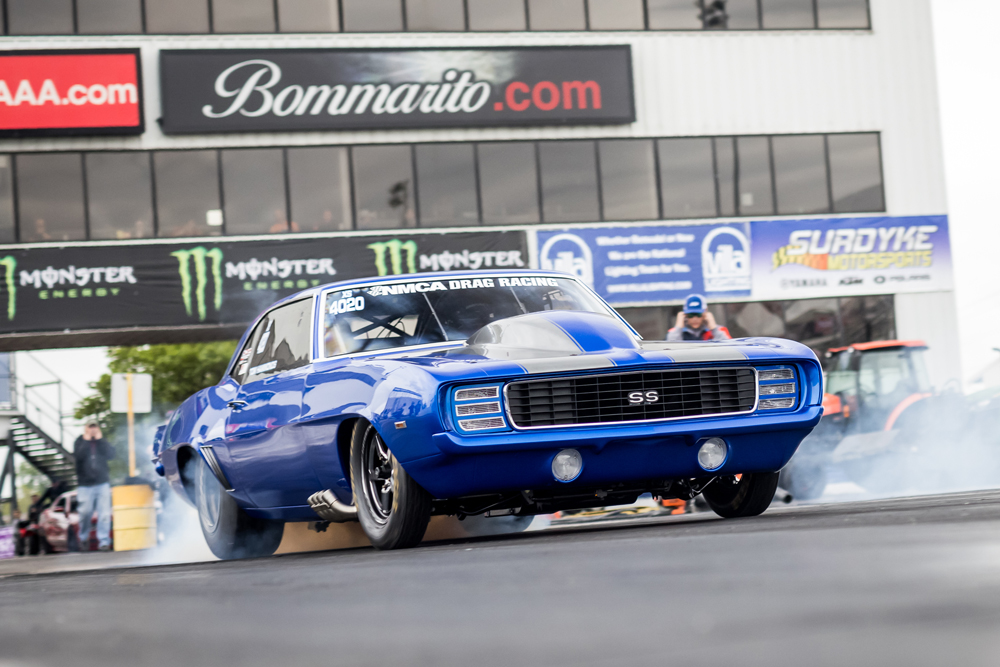 Although Smith is focused on the race team's immediate success, he also has his eyes on larger issues in the sporting world around access and inclusion. "The giveback is important in terms of reaching back to the community and exposing the community that we come from to something that they might feel is out of reach, out of touch. They may not know a pathway to get there, but benefiting a lot of folks in the process. Because I'm a firm believer that if you don't see it, sometimes we don't believe it's achievable, or it doesn't happen. Or it doesn't even exist because no one has been shown a clear pathway. Now in NASCAR, it's a very expensive pathway," he said. 
"Hell, even being on the circuit is expensive, so I understand why there's limitations with African-Americans and so forth in this particular space," Smith continued. "But just because I understand it, doesn't mean that it has to be so. Having a passion to bring change—to a place that's seeking change, too—is wonderful. You gotta be in a place where you want it. And I think Jesse and I and what NASCAR is trying to get accomplished is the first part of being wanted. Now we just gotta do our part as a team and as an organization to continue to build on that."
Pathways to Growth
For the racing industry, the chance to attract new fans and sponsors is the biggest potential upside that comes from teaming up with established stars from other sports. But using the athletes to attract new sponsors is not a simple cut-and-dried affair. "I would not say they are more likely [for sponsors to expand their support], but rather it is another potential offering in the race team's toolkit that may help them secure or grow or extend a sponsor. It really depends on the sponsor and what they value," D'Hondt said. 
"If they are in NASCAR for the purposes of generating brand favorability, they may really welcome this if they can secure intellectual property rights to the athlete as part of their sponsorship so that they can affiliate their brand with the athlete in addition to the driver and team. 
"If they are here because they want to use the sport for customer engagement via hospitality, they may want to welcome this if they can secure appearances from the athlete at their hospitality tents, suites, or motorhome, etc.," D'Hondt continued.
"It also comes down to who the athlete is, what sport they are in, how popular they are, and if there is any other factor that may tie them closer to the sponsoring company. Is the athlete from the hometown of the corporate headquarters of the sponsoring company? That might be a plus. Has the athlete had any trouble in the past that may create public relations challenges down the road? That may not be a plus," he added.
AARA's Harris has witnessed enthusiasm for African-American racers relatively new to the racing scene such as Sage "Donkmaster" Thomas and motorcycle racer Dystany Spurlock, and how fans like to follow their progress. "That's the key to the future of motorsports—these companies getting involved on the grassroots level and building loyalty to the fans that are attached to some of these racers on that level. Sometimes at the top of the sport it's not easy to just enter and get new fans. These individuals want to follow the growth of the racer," Harris explained.
Hammonds, as both basketball player and racer, has watched the fan base expand firsthand. "They're crossing over to a different demographic that motorsports could not reach," he said. "You have a lot of professional basketball, football, and baseball fans that follow professional athletes and teams across the country that don't necessarily know anything about motorsports. But they know that Michael Jordan played for the Chicago Bulls, and now Michael Jordan has a NASCAR team, and they're going to follow NASCAR because Michael Jordan has a team. I do see a lot of crossover from the professional sports fanbase to motorsports specifically because of the athletes. I've had fans come up to me at NMCA races who remember me playing at Georgia Tech or remember me playing in the pros, or they come out specifically to see me race. And that makes me feel good. To some extent we are expanding the base for people to come out and enjoy motorsports."
Sources
African American Racers Association
aarassoc.com
Tom Hammonds
Jesse Iwuji Motorsports
jesseiwujimotorsports.com
Spire Sports + Entertainment
spiresportsinc.com