Image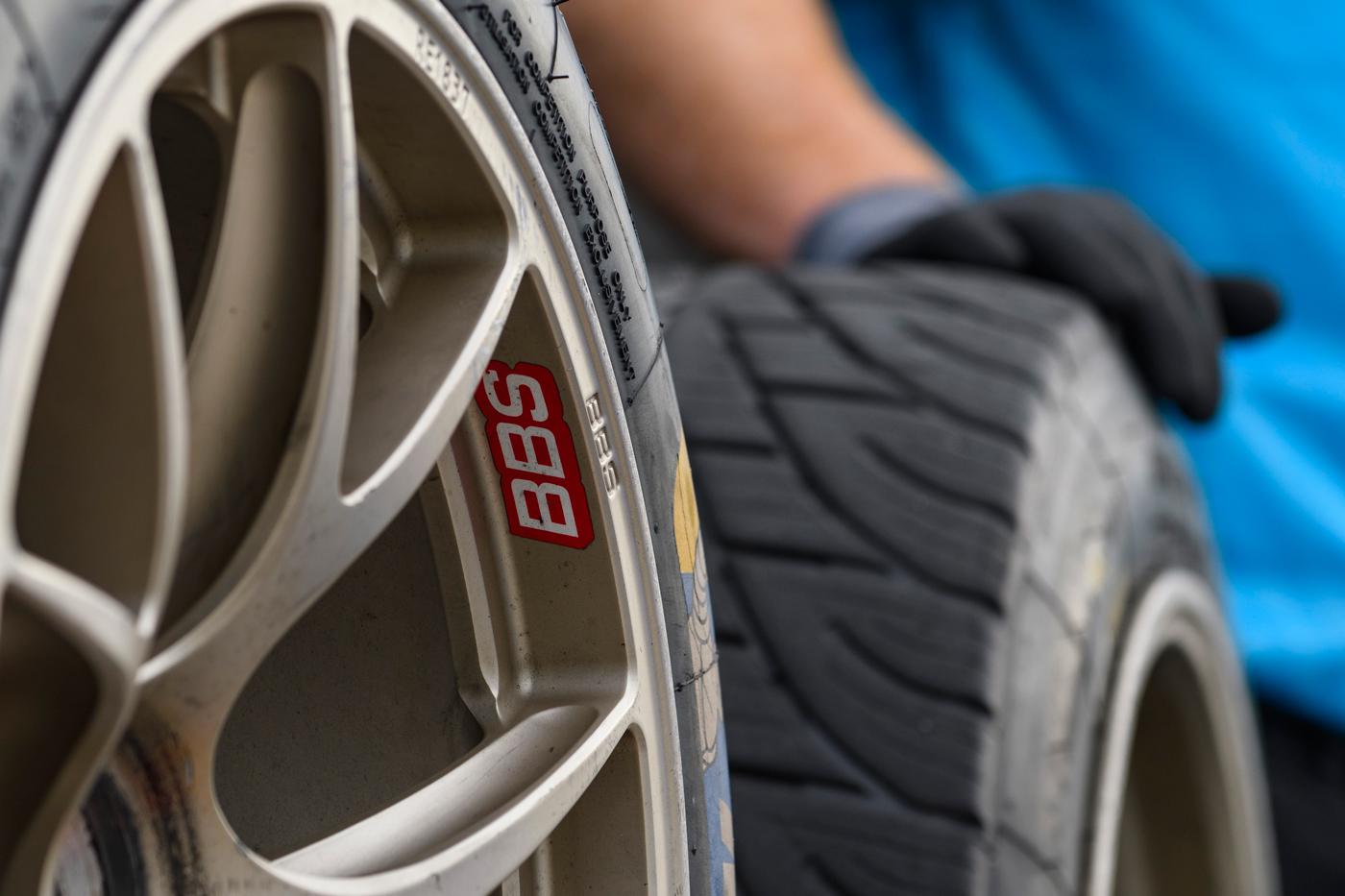 Series regulations, technological advances, and evolving materials are just some of the countless considerations that influence how manufacturers design wheels for different racing applications.
Regardless of class, cost, and capabilities, every race car has something in common: The critical juncture of the contact between its tires and the racing surface is governed by the performance of the racing wheels mounted at each corner of the car. Depending on the manufacturer, a provider of racing wheels can produce them by the thousands, in a wide array of sizes, strengths, and custom appearances.
It's up to every potential wheel buyer to do the selecting, but manufacturers can help to smooth the process through familiarity with sanctioning-body rules and sound engineering principles. Considering the number of classes that exist, the variety of surfaces racers compete on, and the technological limits of race cars, that spells plenty of potential choices for any customer. But once the right questions are answered, the industry is ready to help with wheels that can be dialed in precisely for a given application.
"It all depends on the intended use," said Keith Kern of 3030 Autosport Forged Wheels, Terre Haute, Indiana, which markets wheels for drag racing, autocross, and other track applications, as well as muscle cars. Kern said that sanctioning bodies will typically list an SFI requirement for their common classes, but when it comes to specialty applications, such as Pro Stock or Pro Modified, 3030 Autosport will help the buyer pick the most appropriate wheel. Exhaustive testing is part of that process, he explained.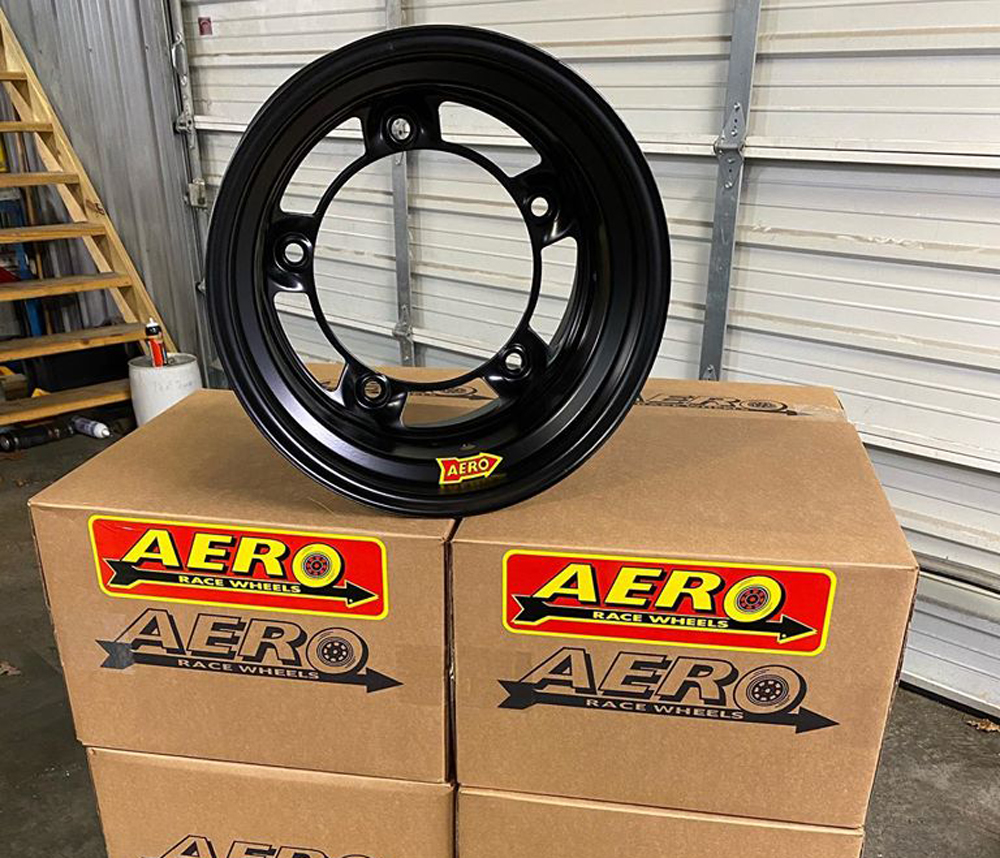 "For autocross, we refer them to our Series G, or if they're going to do SCCA road racing, to our MOD3 three-piece series, which is engineered for that," Kern said. "With the MOD3 line, one of the big tests that we perform is like you driving a 4,600-pound car in a 1.25G turn for 250 straight miles. Everything basically falls under that envelope."
Wheels can be fabricated from steel, aluminum, or more exotic materials like magnesium, and can exhibit varying levels of engineering sophistication depending on their intended use. For some providers, helping buyers select a wheel is a more straightforward process, due in part to the market the supplier serves. Some are narrow. One such example is Real Racing Wheels of Independence, Iowa, which specializes in steel wheels for a variety of oval track uses, both on dirt and pavement.
"As far as steel wheels go, there's really only so many manufacturers that are making them anymore," Real Racing Wheels' Paul Buhr noted. "Our particular wheels feature lightweight outer shells with a strong center, which allows for deflection while still keeping the tire inflated. In our line of chrome wheels, they're made from actual chrome, not powder-coated chrome."
Real Racing Wheels' biggest market is short-track modifieds as sanctioned by the IMCA, USRA, and USMTS organizations. "We only offer one style of wheel, so [buyers] know coming in what they're getting," Buhr said. "We don't have any choices as far as rim shell thicknesses or different styles; they're all basically manufactured with the same components. IMCA determines the exact details for each wheel, such as bead bump height, and then issues a safety sticker. Each manufacturer has to meet those guidelines, and then they're allowed to sell them. With the lightweight outer rim shell and the strong, thick center, our chromed wheels will stay chromed for the life of the wheel."
Aero Race Wheels of Estherville, Iowa, is another manufacturer that specializes in wheels for oval-track competition in a wide variety of classes. Kelli Peton pointed out, "We offer more than 10,000 variations of a wheel. The biggest first question we have for our buyers when they come in is whether they race dirt or asphalt. Then it goes off into some tangents: We have different series and sizes of wheels that are different weights, and then it goes down to different bolt patterns and backspacing. Generally, when it comes to the racer, they're going to know exactly what they want. We just have to help them with the part number, with the finish, the diameter, and width."
Aero Race Wheels' also specializes in steel wheels, offered in sizes and capacities to suit modifieds, hobby stocks, four-cylinder and front-drive stock cars. Peton said Real Racing Wheels essentially supplies the entire stock car market with the exception of Late Models, whose sanctioning organizations generally specify aluminum wheels in their rules packages. There's even a degree of crossover between dirt and asphalt wheels, she said, depending on their intended usage.
"On the asphalt side, we do 15x8 wheels, 15x10s and 15x15s, which covers big block modifieds," Peton said. "We also have sport compacts on the asphalt side that run our 15x7 dirt wheel. The biggest difference between asphalt and dirt wheel series, either 15 or 13 inches, is that the asphalt wheels we make are a little bit truer, a little bit lighter weight, and they generally don't have a safety bead. On the manufacturing side, we typically look at different vehicle weights when we're building a wheel. When it comes to mistakes that customers sometimes make, generally, what we see is racers doing a mismeasuring of their bolt patterns. We get some customers looking for offset, which is not something we deal with, so the biggest issue tends to be the bolt patterns."
From the Top Down
Other manufacturers have a wider footprint in terms of their offerings, sizes, and materials. With a presence in the global racing-wheel market, BBS, whose US subsidiary is BBS USA, offers wheels ranging from street applications to WEC sports cars, Indy cars, and Formula 1. In business since 1970, BBS has gained prominence nationally for providing the wheels for NASCAR's Next Gen car. BBS is best known for its lines of monobloc race wheels, available in forged magnesium or forged aluminum designs, as well as cast-flow formed aluminum, depending on the intended track use. Craig Donnelly said technological advances in motorsports have led BBS to develop advanced lines of wheels, even in vintage racing, for cars it originally supplied when they were new more than 30 years ago. 
"We do probably the widest range in the market. We have cast flow-form wheels especially for racing, single-piece forged wheels, multi-piece forged wheels in aluminum and magnesium, even two-piece racing wheels," Donnelly said. "It comes down to what feeds the needs most for that particular customer. Is it a club race car, vintage, or professional? What's the environment that this car will be used in? That's because vintage racing is huge for us, and for a lot of people in vintage, we delivered the original wheels to them back in the day when the car was new. A Porsche 962 ran on 16-inch wheels back in the day, but today, they're running 18s. Sixteen-inch tires just weren't available anymore, so we had to go where the rubber was. And tire technology today is worlds apart from what it was back then. You also have higher loads, so you have to design things to a higher level than we did in the 1980s. Vintage have more horsepower, more grip, and a better suspension than they ever had at Day One."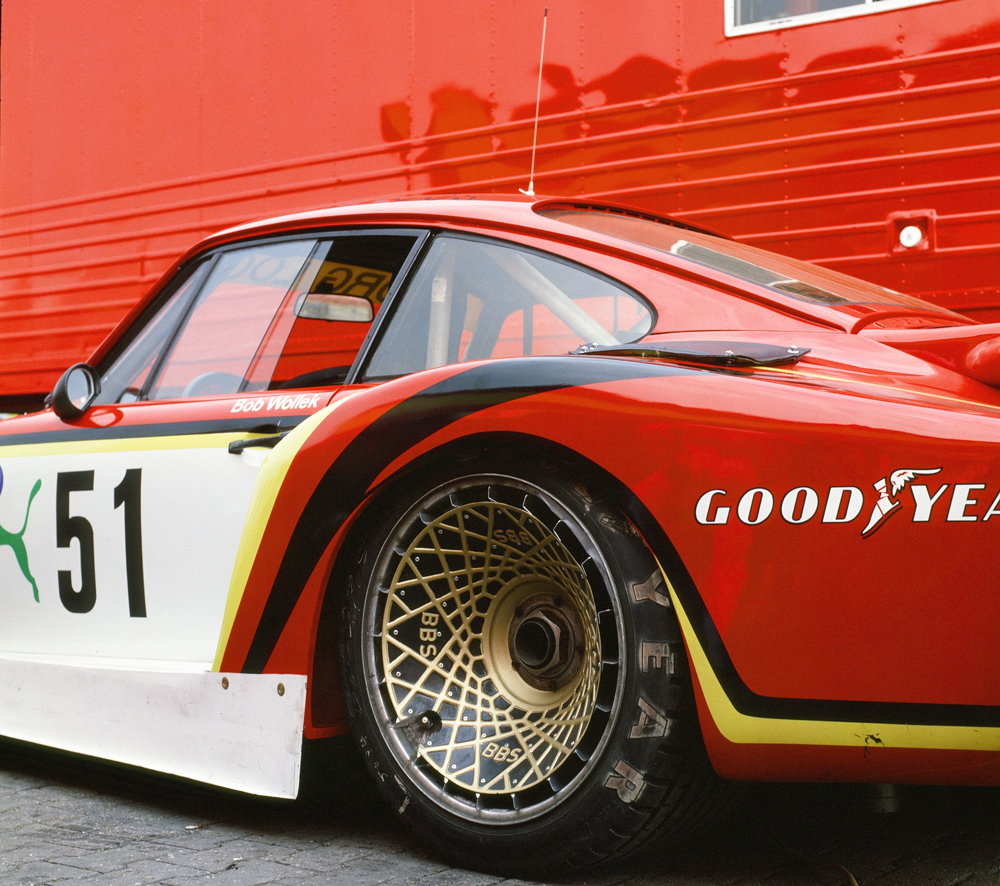 As Donnelly noted, BBS literally offers dozens of wheel designs and can produce them in huge volumes, demonstrated by the fact that BBS has to supply thousands of wheels to NASCAR teams to support the Next Gen program. BBS began its partnership with NASCAR in 2019, and producing the wheels takes BBS across three continents, with engineering performed at BBS headquarters in Germany, manufacturing handled by BBS Japan, and sales distribution undertaken out of BBS USA's facilities in Braselton, Georgia. As Donnelly explained, "We are a global company and were able to use those strengths to secure the NASCAR business. It's a lot of product. When it comes to technology, we have die forging we do for high-volume OEM projects, to reduce the amount of machining and finishing time. Because of volume in NASCAR, we went to die forging as the best solution."
Race Star Wheels of Kearney, Missouri, focuses on straight-line competition. Race Star produces high-performance alloy wheels for street cars, light trucks, and a variety of competition vehicles, with drag racing a specialty, offering products ranging from street classes to the hardcore professional categories. Race Star Wheels relies on precision sizing and advanced manufacturing techniques when serving its customers.
"We're aware of the rules in terms of what series allows what for wheels, whether it's NHRA Pro Stock or NMCA," said Brian Sexton of Race Star Wheels. "What we try to give the consumer is more of a wheel fitment within the wheel style, rather than by size, bolt pattern or offset. We've actually created a video that's on YouTube about how to fit your wheels, how you measure your bolt spacing or your back spacing. Customers can call in and talk to somebody on the phone who can make recommendations. We also have a how to set up on the website."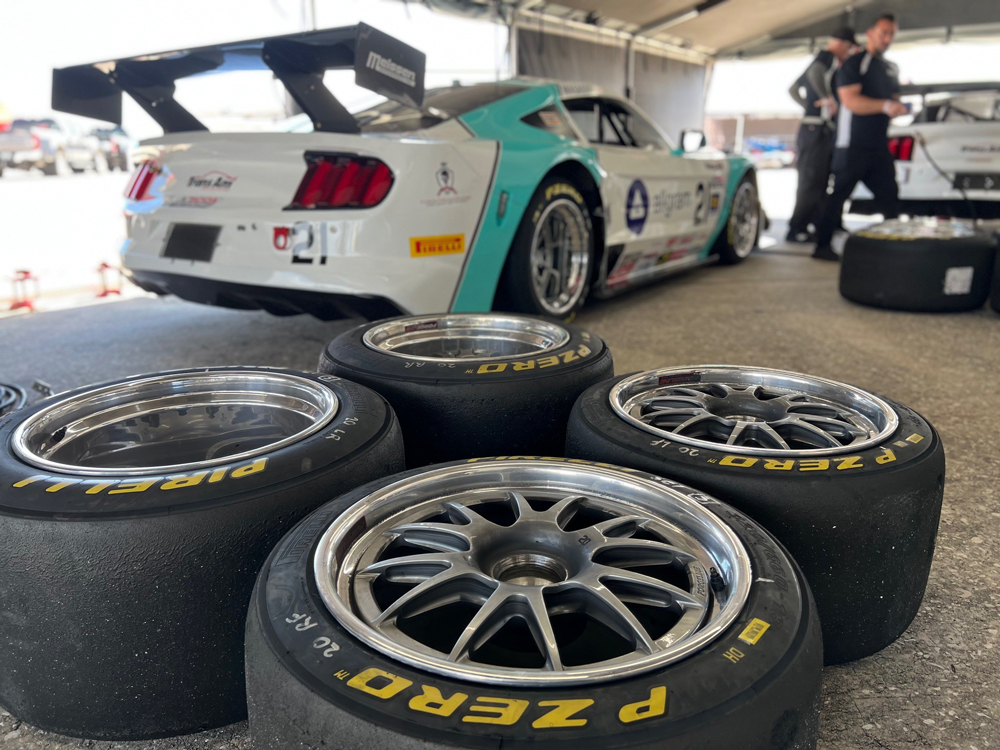 The bottom line in wheel choice invariably comes down to the sanctioning body's rules, which begins the selection process, Sexton said. "We fit that to the combination of what they're racing. It comes down to what they can run, and then style," he said. "Do you run with a bead lock, a double bead lock or no bead lock at all? We cater 100% to the drag racing market. Some of our competitors use multi-piece wheels rather than wheels that are welded together, but our Pro Forged line uses a unique welding process, similar to how submarines are welded together, to withstand extreme pressures. It's called friction stir welding—you don't have excess material that has to be ground off. Once it's done, you can't tell where the weld is. If you look at our wheels, you can't find the weld seam. It becomes a one-piece wheel that's lighter and stronger, which really helps your 60-foot times because the wheel is more true than a wheel that's been welded together in sections. Even in Funny Car, with Cruz Pedregon, the cars just come off the line and don't shake the tires."
The rubber that makes up those tires is a critical element in vehicle performance and wheel selection. David Schardt of Forgeline in Dayton, Ohio, focuses on sports cars and road racing as his firm's primary market. "Most customers who call in here, whether a grassroots racer or even a manufacturer like Ford or Chevy, don't realize the stickiness of the tires can affect the load rating of the wheel more than anything else," Schardt explained. "So if somebody is running the Optima Street Car Challenge on a 200 tread-wear tire, they can get away with a wheel with a lower load rating, and in some cases it may not even have to be forged. But somebody running a full slick tire with a lot of aero in a professional racing series, they're going to need a fully forged, super high-load-graded wheel, and possibly also run some aero properties in that wheel."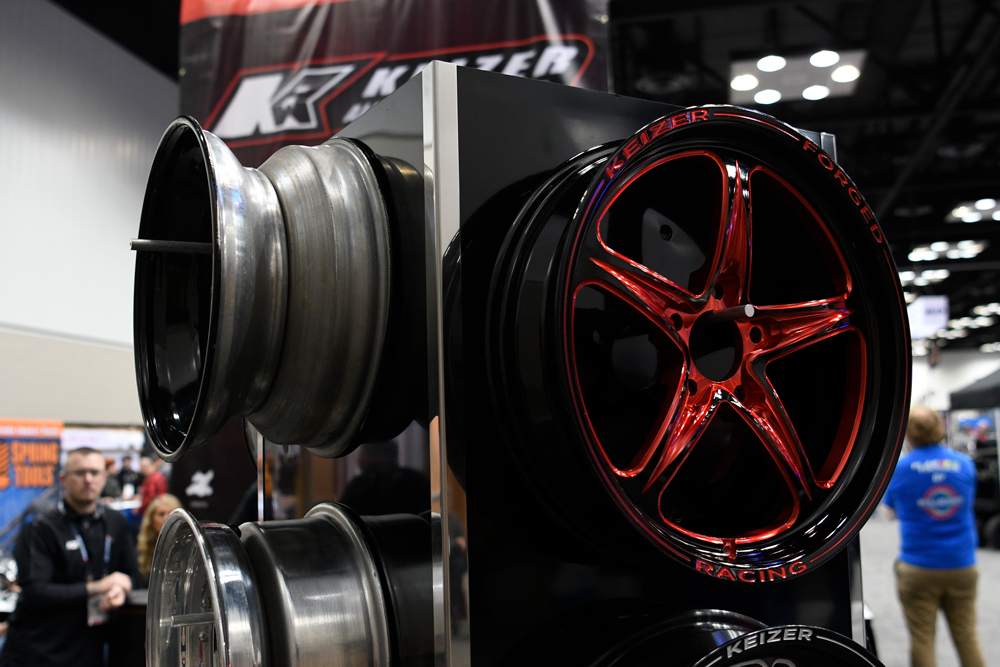 Forgeline supplies competitors ranging from SCCA club racers up to the elite of IMSA and WEC road racing. The company's products, and its engineering, reflect that breadth of usage. "All our wheels are forged, designed for load ratings and sometimes aero," Schardt said. "The more load rating, the longer it's going to take to machine that wheel, the more focus on the stiffness of the wheel will be needed in the higher classes. Stiffness will help with load rating but will also make the car faster. We use a formula to calculate load rating, and one of the numbers we evaluate is tire friction coefficient. Aero puts an extra load on the wheel—that means that 1,000 pounds of downforce is like putting an extra 1,000 pounds on the car. We've been making racing wheels for 30 years now, so we have a lot of data."
Unlike some other firms, Keizer Aluminum Wheels of Orange City, Iowa, fabricates in aluminum only, as its name implies. Wade Huisman said the company stays current by maintaining close contact with its customer base, which includes buyers ranging from Pro Street to formula cars. "It's important to figure out who you're actually dealing with in today's racing wheel world. It's the people behind the product and service that will make your investment a good experience or one you will regret down the road. Spending more doesn't always mean better results. Research and discussion are key in not wasting your money. 
"Keizer wheels are cold spun with US aerospace-quality aluminum to meet precise tolerances right in the heartland of Iowa," Huisman said. "We've been in business for 40 years. Our forged billet blanks are CNC machined in-house. We feel we have the finest service a custom racing shop can offer. All questions are welcome."
Sources
3030 Autosport Forged Wheels
3030autosport.com
Aero Race Wheels
aeroracewheels.com 
BBS
bbs-usa.com
Forgeline
forgeline.com 
Keizer Aluminum Wheels
keizerwheels.com
Race Star Wheels
racestarindustries.com
Real Racing Wheels
realwheel.net