WHAT'S BEHIND RACING'S YOUTH MOVEMENT?
Image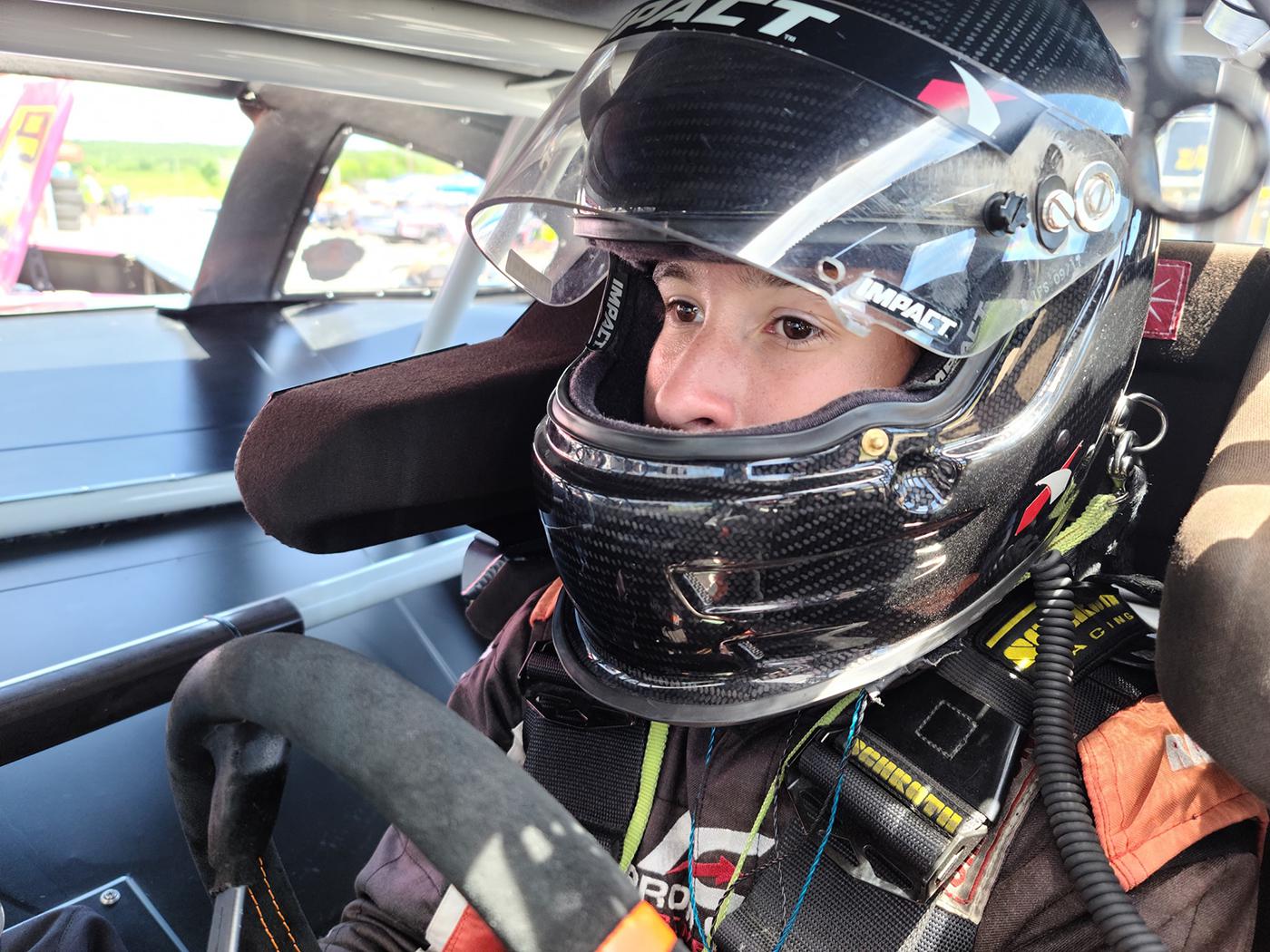 While there's no clear consensus over how young is too young, stakeholders agree the industry is trending toward more junior competitors in full-size race cars. Here's how it's happening.
The definition of "young" is a swiftly moving target, especially in racing.
Consider Jeff Gordon. As he climbed the racing ranks, Gordon was viewed as the fresh-faced wunderkind, the young sensation who was breaking barriers. He started racing quarter midgets when he was five years old. He was driving sprint cars in independent bullrings at 14. And at 16, he became the youngest driver to ever be issued a USAC sprint car license. He landed a seat in NASCAR's Grand National series at 19 and was Rookie of the Year at 20. Gordon won his first NASCAR Cup Series race at the age of 22.
Jeff Gordon might be considered something of a late bloomer today. It seems that every year, a new "youngest driver to…" record is being set somewhere in motorsports. Colton Herta became the youngest driver to win an IndyCar race in 2019, when he took the checkered flag at Circuit of The Americas at the ripe old age of 18 years, 359 days. Also in 2019, Sam Mayer won the K&N Pro Series East championship at 16 years, 3 months, becoming the youngest NASCAR series champion. In September 2020, he won his first NASCAR Gander RV and Outdoors Truck series race at the age of 17, and then won the Bush's Beans ARCA Menard's Series race a few hours later.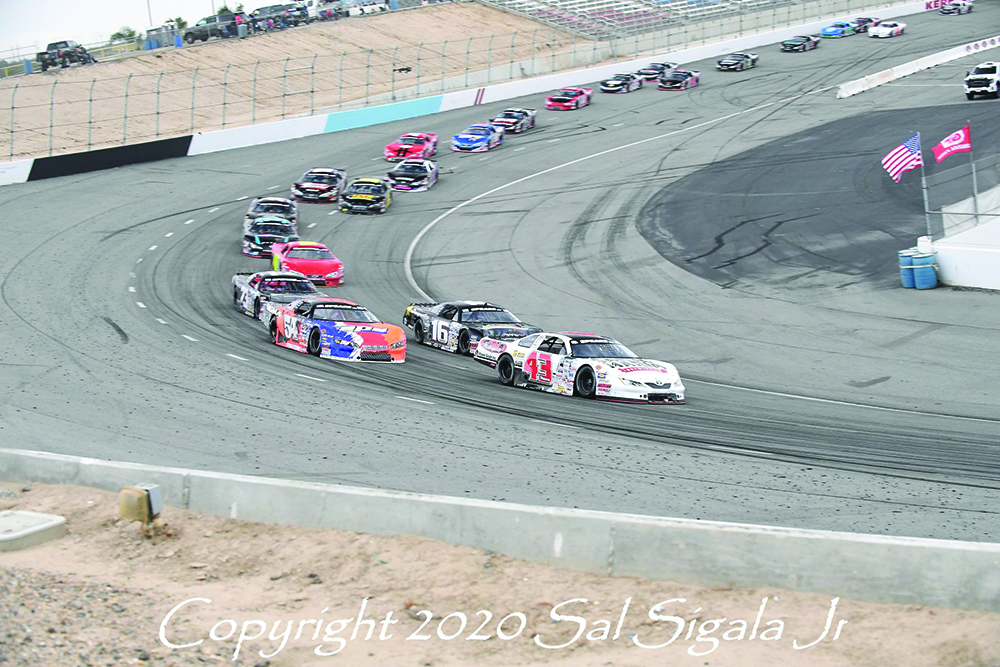 But those examples actually represent the older end of the spectrum. All up and down the motorsports ranks, kids not yet old enough to possess a driver's license are zipping up their driver suits and breaking into full-size race car series, some with great success. In October, Katie Hettinger of Michigan became the first female to win a series championship in the Champion Racing Association, capturing the Jr. Late Model Division at the age of 13. Hunter Yeany won the 2020 F4 championship after racking up eight wins, becoming the youngest ever FIA F4 champion at 15.
This drift to younger drivers hasn't happened overnight. It is being aided by recent rule changes in the sport that allow for younger drivers. In 2007, NASCAR dropped the minimum age for the regional touring series from 18 to 16. Young drivers made an immediate impact, with Joey Logano winning the Busch East Series that year at the age of 17. In 2011, the sanctioning body lowered the age limit to 15. The following year, NASCAR lowered the minimum age in the Camping World Truck Series from 18 to 16 on all tracks except the superspeedways. NASCAR's minimum age to race at one of its sanctioned regional tracks is currently only 14.
Of course, the ever-dropping age of participants in elite youth sports is not limited to racing. For some time now, in sports from volleyball to tennis to soccer, younger kids are being put on the select league/travel league track. For most of those sports, however, there is the lure of a college scholarship waiting at the end; and making a mistake on the court has no chance of resulting in a fiery crash.
All of which begs the question: How young is too young? There is no widespread agreement, but opinions can run strong. Tony Stewart, three-time NASCAR Cup Series champion, has unreservedly spoken out on the subject, stating that the push to showcase the hottest new teenager is a mistake, and results in far more deserving older drivers who've paid their dues getting passed by, while doing nothing to attract a larger fan base.
"When I watched, I watched because they were heroic to me. The drivers were heroic, what they were doing was heroic," Stewart said in an interview with NBC Sports and USA Today's For The Win in 2019. "Now, you've got guys that their mom has to drive them to the race shop because they're not 16 and don't have their driver's license yet, but they're driving a full-size race car."
And there's more at stake than whether fans and sponsors are satisfied. The dangers of racing are real, as anyone who has strapped on a helmet knows. A bad crash can be particularly tragic for someone just starting out in life. The short film "A Prayer for Joshua Jackson" recounts the heart-wrenching recovery of a young man after being involved in a sprint car wreck in New Mexico in 2015 at the age of 17. Keir Millar, a Ninja Kart champion at the age of 10, was killed in a Ministox crash in Scotland at the age of 11 back in 2015.
Yet despite the risks, it is undeniable that more young drivers are breaking into the professional ranks, and their parents, fans, and sponsors are largely supportive; others are somewhere on the fence about it.
"It's up," said Doug Young at Kirkey Racing Fabrication, Rooseveltown, New York, specialists in racing seats and related gear. "We probably notice it more because we're not too enthused about it. We kind of have the view that if you're going to put a kid in a big car, we would like him or her to be 16 years old. But we're seeing 12- and 13-year-olds in high-end race cars. Is that right? I don't know."
Young cited opportunities for kids in classes like micros, for example, as viable alternatives: "It's probably a good learning ground and it's not as dangerous, they're not going as fast," he noted. "That's probably good. But these young kids in full-out dirt late models…. I don't know. I guess you have to be smarter than us to figure out whether that's a good thing or not."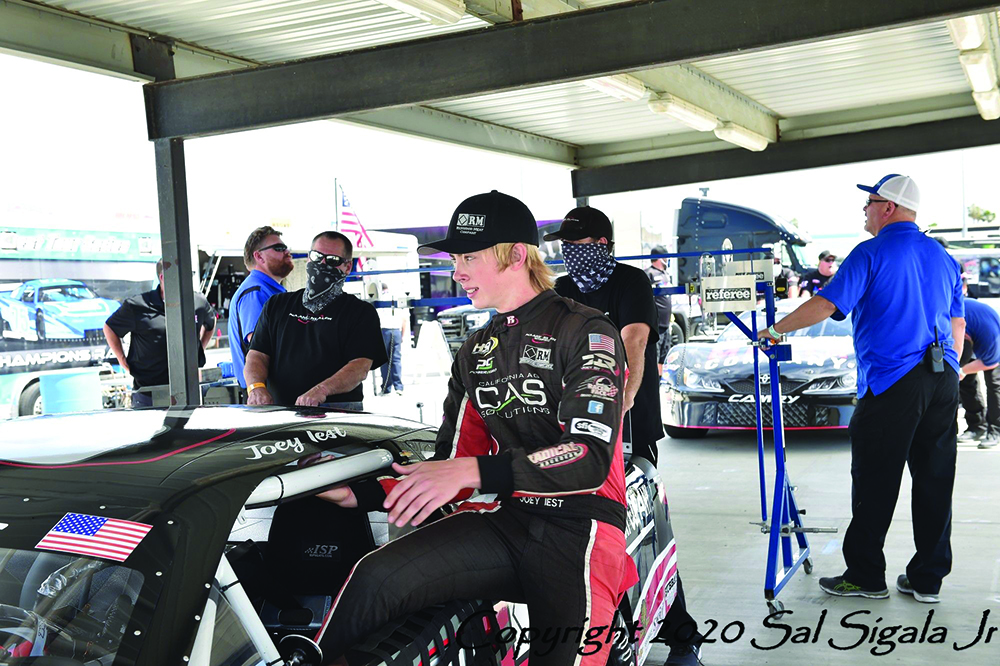 "Over the years it has grown, and at least as far as what we've done, we've tried to grow with the process as well," offered Jeff Ladd with Sports Insurance Specialists, Fort Wayne, Indiana. "We try to monitor seat time; we try to get a resume for any minor that wants to jump up a class."
WHERE'S THE LINE?
Most of the major sanctioning bodies and big tracks do have a set minimum age in the rulebook. And much of that is driven by limits established by insurance companies.
"It's 14. What we're told by insurance companies out here in this part of the state is that you have to be at least 14 to run on a half-mile or bigger track," said Larry Collins with the SPEARS Southwest Tour, a Late Model series based in Bakersfield, California. "The series itself, we run about half the races on a half-mile track, so that doesn't give us the green light to bring in kids any younger than that."
Across the country in Carnesville, Georgia, the minimum age for FASTRAK 604 Late Models is currently 14. "That is actually set by our insurance liabilities," noted DJ Irvine of the FASTRAK Racing Series.
Even so, FASTRAK has its eye on developing younger talent. "Last year we launched a FASTRAK Future Stars Tour," he said. The minimum age is 12, and the drivers have to prove certain competencies. "That one had a driver's test where they had to take a couple of laps, and then we also had them demonstrate they were able to get out of the car in less than 60 seconds—in case it was on fire. We had them come through the pits, come to a stop, unbuckle their seatbelts, and we timed them getting out of the car."
Even with some hard age limits in place, those hoping to cross those barriers still have to get some experience, and there are many talented and determined drivers finding ways around the age limits set by the larger sanctioning bodies.
"There's always exceptions," Irvine said. "Back when I was general manager at Kentucky Lake Motor Speedway, we had Tyler Clem get out there in a 604. He came up and raced with us, and I believe at the time he was only 12. And he was competitive—you couldn't tell that a 12-year-old was driving the car."
There are pathways for those below the age limits, but younger drivers should expect extra scrutiny. "We like to see seat time if it is somebody who is 12, 13, 14, 15 years old," said Sports Insurance Specialists' Ladd. "We have a couple of different processes. We like to see seat time—we like to see a resume and get that on file and make sure that they have had adequate seat time. The second thing is, if it's a short track, we go to our promoter or owner. We actually ask them to have them out for a tune and test day. Maybe they can monitor them out there by themselves, just to see how they can handle the car."
Ladd said Sports Insurance Specialists also works with sanctioning bodies to determine appropriate ages. "Our policy, we don't have that (age) exclusion. But again, we take parameters to make sure they've had seat time," he said. "We insure several sanctioning bodies, World Racing Group included, which includes the World of Outlaws. No kids are obviously getting into those types of sprint cars that are inexperienced, or quite frankly, young. That's a professional series out there. We rely on the sanctioning bodies pretty heavily, too, to monitor this with their rules.
"We typically look at any professional racing series, back to the World of Outlaws series, or any kind of stock car series, ARCA, whatever it might be that's kind of a minor league professional level—we like to see them age 16 or above. At least have a driver's license to be at that point," Ladd continued. "But again, to get to that level they're going to have experience, right? It's just getting that and documenting it. Now, if it's a pure stock-type car, we like to see age 14; we will go down to like 12, but again, that's heavily reliant on experience, resume, all that type of stuff and getting that documented."
WELCOME TO THE BIG LEAGUES
It's probably fair to argue that this current youth movement wouldn't be happening if a good many teen drivers weren't breaking through and having some success. Those young drivers who persevere and thrive are impressive individuals.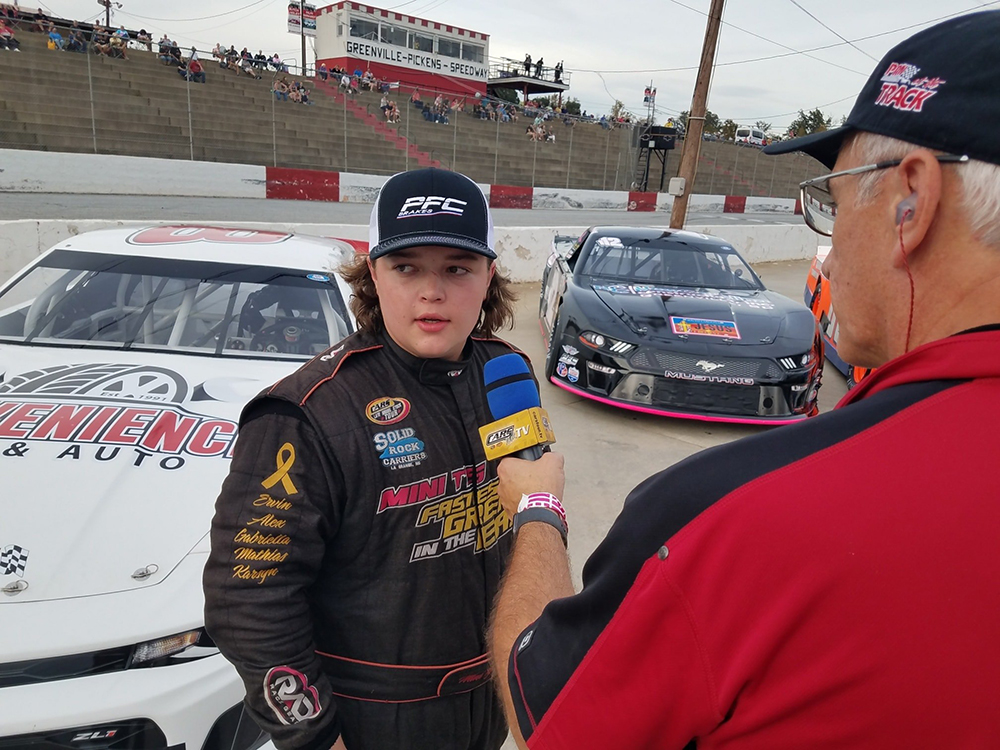 One of the most extreme examples of a young driver is Timmy "Mini" Tyrrell of Virginia. He started racing karts at age four, moving on as he got older through Champ Karts, and then Arena Car racing, which takes place on a banked track inside an indoor hockey rink.
His step up into Late Models was not exactly accidental, but one of those instances where "want-to" and "chance" meet. A family friend of the Tyrrells had three Late Model cars that he would lease out to drivers. One day, at the age of 9, Mini asked when he was going to get to drive one of those Late Models. He was told by the owner, half-jokingly, that if he got a seat built he could drive.
And so he did.
Mini had developed a relationship with Butler Built from the seats they'd built for him in other series, and they knew him and took him seriously. Mini's dad, also named Timmy, was a little bit blindsided by the development.
"I got a phone call from him one day, he was at Butler Built, and he said, 'Dad, I'm here picking up my seat for the Late Model and I need you to pay for this,'" Timmy recalled. "And I said, 'Excuse me?' And he said, 'Yeah, Sam told me if I got a seat built, I could drive the Late Model.'"
It took more than just a seat to fit Mini in the Late Model. "It needed a lower bar moved up to get the steering wheel high enough for him, because the seat had to be modified so drastically that they had to move the A-pillar forward—the bottom box that he sat on was the equivalent of a milk crate," Timmy Tyrrell said. "And then from the rear bar forward it was, I think, 30 inches of extensions and back bracing that had to be made, plus some pedal extensions, etc."
Mini made the most of his opportunities. When he took his first test of the car at Shenandoah Speedway his lap times were consistent with a top-five qualifying time, Tyrrell said. He was allowed to race, but his family started him at the back of the field, letting him work his way up, and then fall back again as cautions came out.
"After his fifth race in the Late Model we started unleashing him where he qualified," Tyrrell said. "And in his first year he finished second in the championship points. In his first year he won two Late Model races. They were not by mistake—they were because he raced through the field and won the races out of 18 cars. And he won two races at age 10."
Mini is 16 now, with many more achievements, including the CARS Tour Rookie of the Year title in 2019. Even so, getting to the professional ranks so young, driving a full-size race car, is one thing, but being accepted is another.
At age 11 his family took Mini to run the Spooktacular at Southern National Motorsports Park in North Carolina, a big race. "We had people there bitching, saying 'I'm not racing against an 11-year-old' to the promoter. The promoter was like, 'Look, if you don't like it because he's beating you, why don't you just go on home.' And they learned to deal with him," Tyrrell said. "He kept his nose clean, he raced, he raced hard. Did different competitors give him a hard time? Absolutely. Did I have to deal with negative comments to his mother and I that we were putting him in danger, that we're bad parents? All of that stuff, yeah. It was like an everyday comment."
How these racers are perceived and treated runs the gamut. Most people we spoke with for this article did not report an unfriendly atmosphere for the younger drivers—like 15-year-old Jake Garcia, another rising star from Georgia. His first Pro Late Model race came on his 13th birthday. And in March 2020, he won the Alabama 200 at Montgomery Motor Speedway.
"I think at first there were probably a few doubters out there who didn't know anything about me, or if I was good or not," Garcia said. "After my first few races I think they kind of figured me out. It's definitely been welcoming. They like to talk to me and just talk about the race and that sort of thing. It definitely hasn't been too hard in that aspect."
"A lot of times the older drivers are really complimentary on how well the kids are doing," said Irvine with FASTRAK. "I haven't seen any kids out there over their heads, so to speak."
SPEARS Southwest Tour's Collins told us that "most of the young drivers that have stepped into our series have got plenty of experience behind them. They are typically associated with a well-established team, so they're handled well; they're not pushed.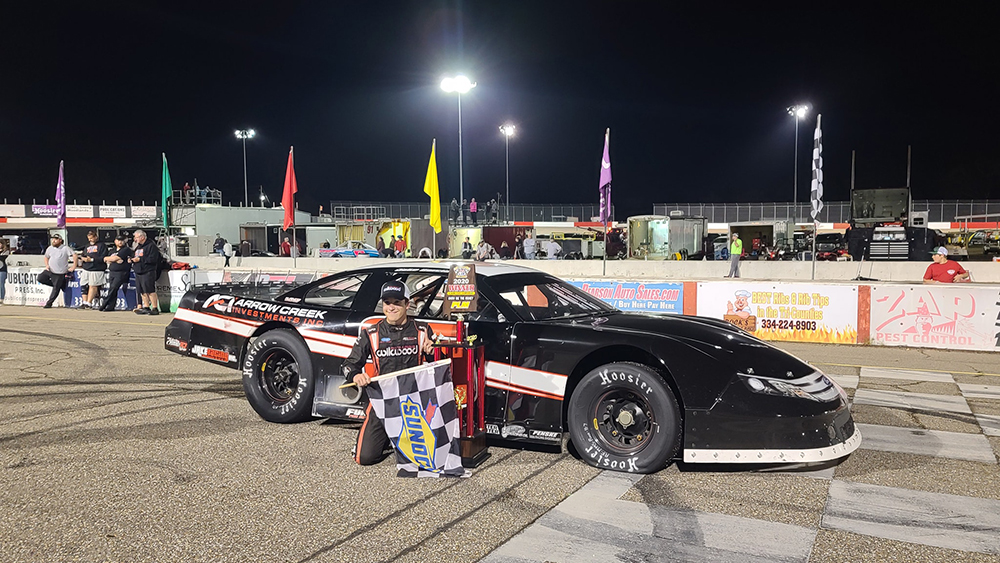 "To date, as long as we've been doing this, we have not had any negative feedback from any of our drivers about a young driver coming in and not behaving himself," he added.
That said, Collins isn't actively courting this demographic. "There's really not a need, as far as we're concerned, to get anyone younger into our series," he noted. "We're pretty good on car count for each event. It's not for any other reason than there's opportunities for kids in this part of the country to get experience and not have to jump right into a series like ours. It's a pretty big jump when the kids do come into our series, so I think there's no reason to rush and allow them to come into here at any younger of an age."
Wilwood Disc Brakes in Camarillo, California, has associations with a number of racers, including Garcia. According to Dave Brzozowski, it may not even be the youngsters themselves that present challenges.
"I think the stigma is out there from some of the older-school people that some of the young kids don't belong in something like this," he said. "But as we all know, times have changed. I think if there's anything, you hear some horror stories about certain ones—I've never had any issues, but it could be the dads. It's no different than soccer or baseball, right? You get parents which could potentially be more of the distraction."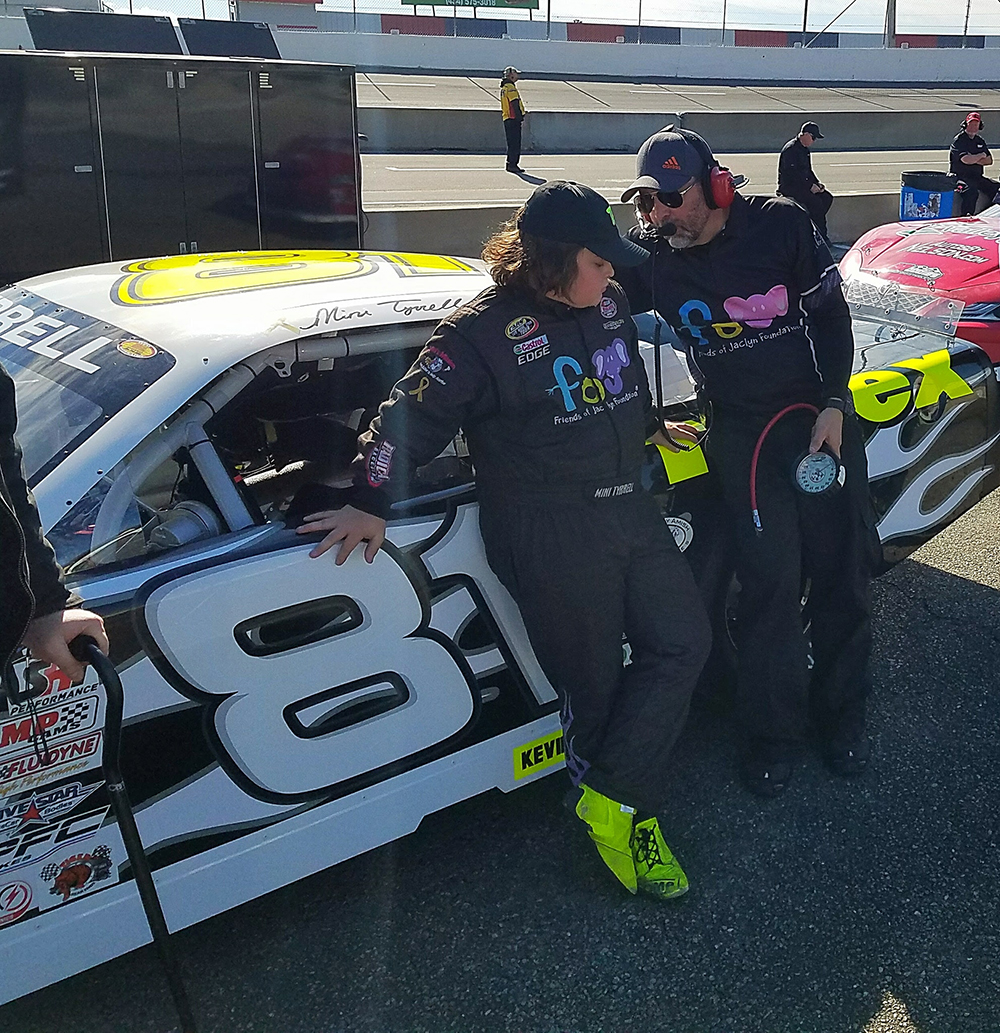 THROUGH YOUNG EYES
Besides the novelty of backing a young driver, sponsors and racing organizations note other positives. For one, they often see things with fresh perspectives. Brzozowski said he receives helpful testing feedback from Garcia. "A lot of these young guys have no preconceived notions when they get into stuff. They don't know really what to expect," he said. "So sometimes it's really neat to get involved with these people, because they're not, I don't want to say misleading, but they don't get led down a path, and get this thing with a stigma in their mind. They're young, they're a sponge.
"They're very open, and they're very appreciative, because they know that nowadays the racing side of things isn't like it used to be," Brzozowski continued. "It's a very professional sport now, whether you're dealing with a sponsor or a supporter like us, or you're trying to get the big sponsor. You have to learn at an early age the right things to say, the do's and the don'ts. It's just a whole new evolution." 
Mini Tyrrell has leveraged his unique story and racing success into raising money for charitable causes like the Jeff Gordon Children's Foundation, Friends of Jaclyn Foundation Racing, and his own foundation, Mini's Mission "Burn Rubber to Help Another." He has raised $475,000 to date for these charities, and often visits sick children in the hospital who can relate to someone their own age. "His association with Jeff Gordon gave him, I would say, credibility, because he was so focused on pediatric cancer research and helping people," said Timmy Tyrrell. "It was very different when you had a little kid—not just little in size but in age, too—show up to make somebody feel good, and he unloads his race car and starts showing them that. The kids were drawn to him, the fans were drawn to him, and everybody wanted to talk to him. And he really was a good public speaker."
BEEN THERE, DONE THAT
Putting younger teens and pre-teens in full-size race cars remains controversial, but it's undeniably a trend. For those contemplating following the same path, some veterans of the experience can offer been-there insight.
"Everybody has his opinion on how to do this and how to do that, but the number one thing is to surround the young child with good people and good role models," Timmy Tyrrell said. "I believe I have surrounded my son throughout coming up with phenomenal people."
As with other youth sports, parents need to understand that burnout is a real possibility. "If I was an outsider looking in, I've known personally, even family-wise, very young racers that have had a bright future, they get completely burned out at an early age because they're almost being forced in a direction," said Wilwood's Brzozowski. "They enjoy it, but then it becomes unenjoyable. There's a line there. A kid still has to be a kid or a young man. He has to grow. If you're a parent and you're living your life through him, I've seen a lot of those that completely backfire."
Timmy Tyrrell recalls something of a bandwagon effect once word of Mini's achievements spread, with mixed results. "Other people, who should not have been putting their kids in that situation, were trying to get their kids doing the same thing we were doing," he said. "And fathers trying to live through their kids and pushing their kids and such, I could see it on these kids' faces that they didn't want to be there. They wanted to be playing baseball or something, or they were just scared of it."
Tyrell told us he guards against burnout for Mini by encouraging other activities. Mini is an avid fisherman, he said, and also plays hockey. As with other aspects of younger drivers racing, though, perspectives are all over the map.
Garcia said he doesn't do anything in particular to ward off burnout. "I like to go every weekend and that's probably the most fun thing I do," he claimed. "I don't think I'll ever get burned out on it. It's the highlight of my week every week—going to the race track and getting to race."
Young racing dreamers and their families also need to be prepared for the financial burden. "The biggest reason you don't race every weekend, at least ours is, because you can't afford it!" Timmy Tyrrell said. "And I'm not embarrassed to tell somebody that because it's very, very expensive. When you're buying two sets of tires, maybe three sets of tires a weekend, and these CARS Tour races, we can come out of there with five or six sets of tires…. At that level, you don't go at it to compete against Dale Jr.'s team and not have full-time people working on the cars, because you're never going to be successful."
Understanding the insurance implications involved is another aspect of financial planning. Ladd from Sports Insurance Specialists pointed to a product called CompetitiveAdvantageProgram.com or CAP. "What that is," he said, "is a high-limit medical product that they can buy, and they become a member of CAP. [It] follows them no matter where they race or what type of racing they do, as far as auto racing. It's a high-limit medical product where if they were to get injured, it's a little bit of a buffer because it's a high limit, so maybe that keeps the liability lawsuit away. We recommend them to buy CAP as an additional buffer."
Ladd also stressed that parents should scrutinize every waiver signed, especially at smaller independent tracks where young drivers might get a chance to compete. "Make sure that that track has adequate insurance," he said. "Just for example, the CAP has a $15,000 deductible. Now that can be satisfied if the track carries at least $15,000 in participant accident. Now, many tracks do, they carry that and more. But some don't. Some of the really small tracks, there could be a gap there. It never hurts to ask the promoter or owner what kind of limits they have, to make sure you understand, and the waiver that you're signing."
Away from those weighty concerns, though, young drivers are in it for the same reasons as older drivers—the joy of driving a fast car, and the thrill of competition. But they definitely bring their own perspective to the sport.
"I got my learner's permit back in March, so I get my driver's license in March of 2021," Jake Garcia said. "It was definitely wild at first. It's a lot different. Every week I go and I drive around professional drivers. Then you get on the road and you're not sure what to expect with some of these people. You definitely have to be more vigilant in watching the people around you. It's nowhere near as stressful or anything. But it was cool to finally drive on the road," he said. "That weekend I drove from my house to Montgomery, and won the Alabama 200 that week. Got some experience on and off the race track."
So back to the question of how young is too young? There may be no clear answer, really. But if current trends continue it's a safe bet the matter will be with us for some time to come.
SOURCES
–
FASTRAK Racing Series