Image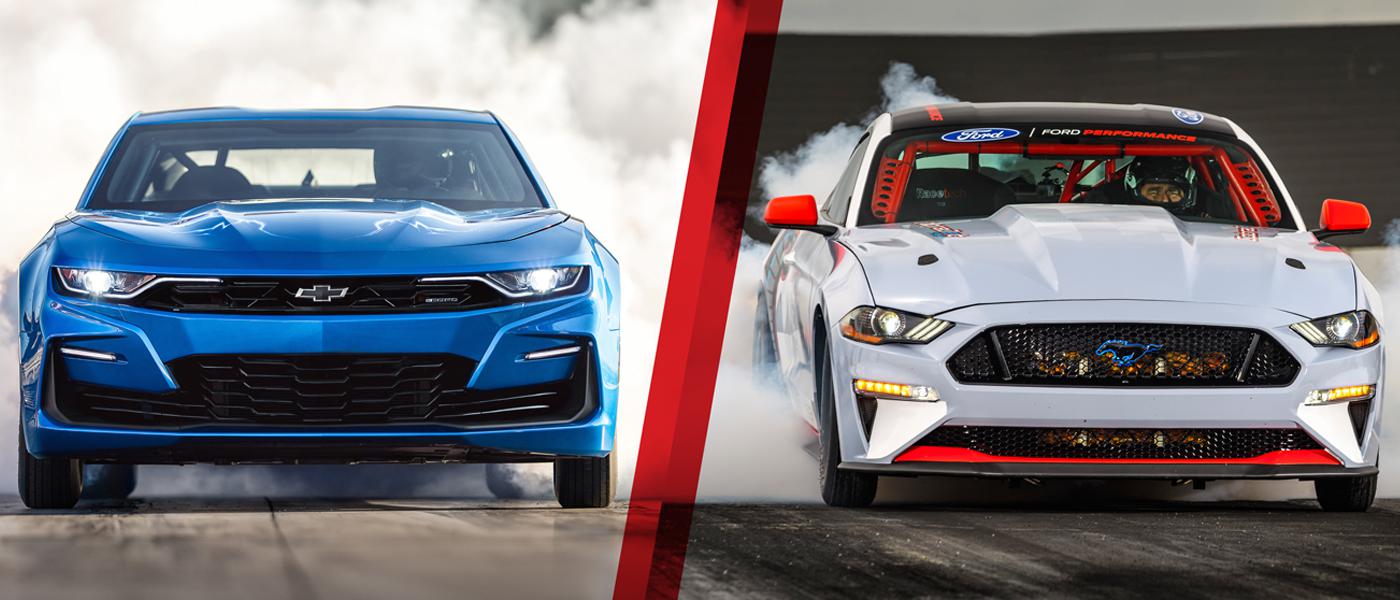 Photo courtesy of Chevrolet Performance and Ford Performance.
Look who's leading the charge in bringing high-voltage performance to the track and street.
There's an electrifying twist to the classic Ford vs. Chevy rivalry currently playing out in the racing and performance industry. Detroit's big dogs are still snapping at each other's tails on the track and in the showroom, extending a feud that started with Henry Ford and Louis Chevrolet/Billy Durant back in the early days of the 20th century. Whether it's Silverado vs. F-150 or Mustang vs. Camaro, you can't sit in the race stands or walk a car show without overhearing blue-oval and bowtie disciples either boasting or hurling insults at each other.
However, it's not the smell of exhaust fumes that's stimulating this latest round of competitive friction between the two automakers. It's the silence of spinning motors—as in electric vehicle (EV) motors.
Ford Performance recently unveiled the Cobra Jet 1400 Mustang, which it believes is the quickest EV doorslammer on the drag strip. And Chevrolet Performance just showed off a complete plug-and-play EV swap kit called Electric Connect and Cruise, or eCrate, for those hot rodders wanting to electrify an older vehicle instead of rebuilding another internal combustion engine.
While their approaches are different and not receptive to an apples-to-apples comparison at this time, there is one significant talking point on which both sides completely agree—their destiny!
"You know, EVs are the future for us, and we've invested $11.5 billion in them," said Brian Novak, an engineer at Ford Performance, Dearborn, Michigan, who supervised the Cobra Jet 1400 program. "And we are going to be building a lot of electric vehicles."
"All sanctioning bodies are looking at what the future will bring. I think everyone is aware that electrification is growing in the industry, it's something they need to look at," confirmed Russ O'Blenes, director of the Performance and Racing Propulsion Team at General Motors, Linden, Michigan. "My guess is, it's not a matter of if, but when."
Yes, EVs and different forms of electrified racing are making headlines across the industry and will play a major role in both production vehicles and motorsports. Consider Formula 1 and WEC, where hybrid technology is advancing at lightspeed in both hardware and software. Also look at unique motorsports like Pikes Peak and Bonneville, where EV records are being rewritten at nearly every event. And everyone's YouTube recommendations are often spiced with videos of a Tesla or homemade EV conversion spanking a Ferrari or other supercar at the drag strip.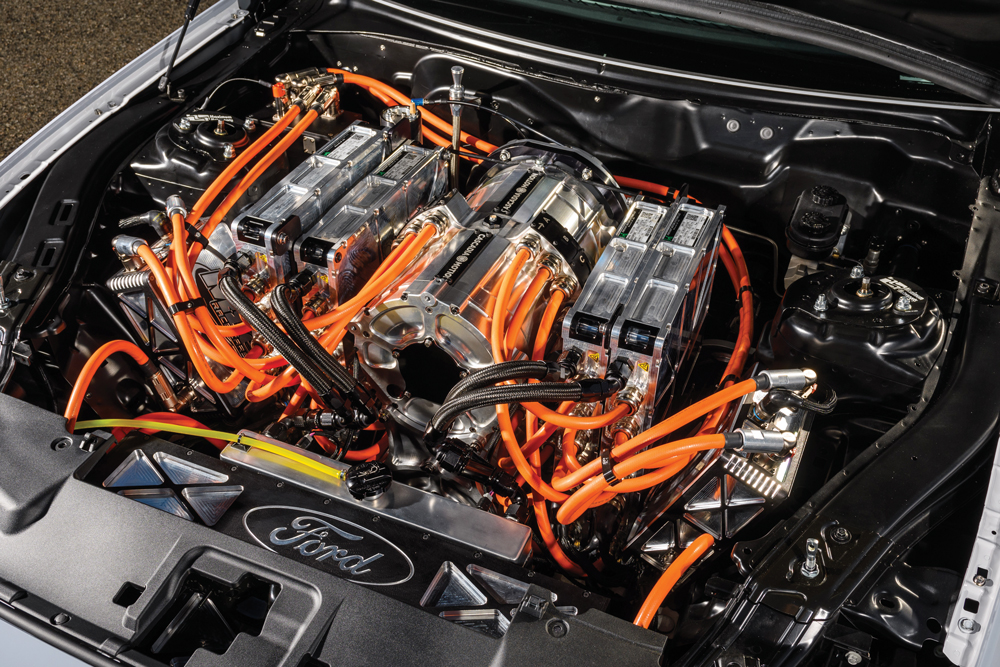 Chevrolet ignited the aftermarket EV competition with Ford little more than two years ago when the eCOPO Camaro was introduced at the 2018 SEMA Show. Powered by two motors that combined for about 750 horsepower, the Camaro broke into the 9-second bracket during an exhibition run at the 2019 Winternationals.
"eCOPO was our first foray into what the future eCrate would look like," explained O'Blenes. "The COPO program was a success, and a strong platform to make the first showing and lead the way to introducing production-based parts for an e-conversion."
When Ford brought out the Cobra Jet 1400, many thought it was in response to the eCOPO and expected a heads-up match race—much like the 1990s special vehicles rivalry, when Chevy's Jon Moss built an all-aluminum 572-cubic-inch big block ZL1 Camaro and Ford's John Colletti ordered up a 598-cubic-inch Boss Mustang. In a classic Car & Driver magazine shootout, the Mustang won at the drag strip while both cars suffered oil-pressure problems on the road course.
Unfortunately, the Cobra Jet 1400 and the eCOPO Camaro weren't designed to face each other, said the man who was instrumental in building both cars.
"GM's goal was to build a Stock Eliminator-style EV. They wanted the same technology and chassis components that comes with the COPO program but with an electric motor," said Pat McCue of MLe Racecars near Seattle, Washington. "On the other hand, Ford wanted to build the absolute fastest and most powerful electric drag door car ever made."
1,502 REAR-WHEEL HORSEPOWER
The Ford project was spawned at an NHRA event when Funny Car driver Bob Tasca III and McCue met during a Youth and Education Services (YES) program for high school students. Tasca relayed thoughts from the meeting to Novak, who found an available test Mustang from Ford's Cobra Jet program.
Watson Engineering in Taylor, Michigan, adapted a roll cage designed for a diesel race truck to the Mustang, then made extensive use of carbon fiber throughout the body. "There's very little that's identical to the original Cobra Jet car," said Jason Antko, noting that the more robust roll cage was necessary for safety. "Packaging the batteries was the biggest hump we had to get over. The car needed to hold that weight. The batteries weigh so much, we had to make sure they were secure."
There are three battery packs, each assembled by McCue and totaling 800 volts: One is located in the trunk area, another behind the driver's seat, and a third, smaller one in front of the radiator.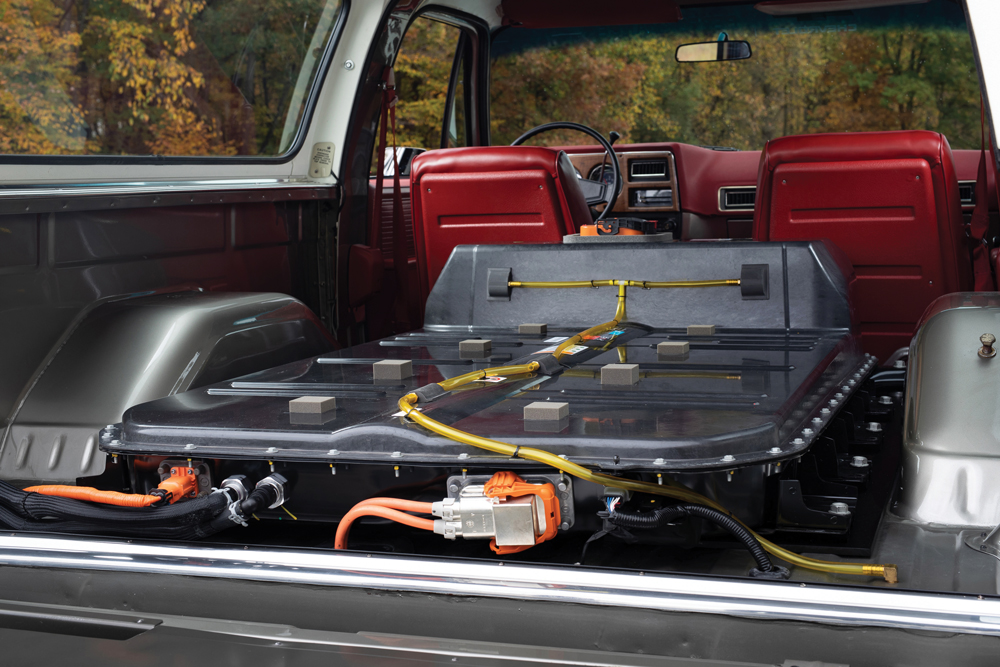 "We call it a distributed battery module system," said McCue, adding that the battery packs are constructed from XALT battery cells. "If there was ever a thermal event, you don't have all your batteries in one basket, like a Tesla, where one could go into a thermal runaway and have 700 cells going crazy."
The downside is that splitting up the battery packs complicates other systems, such as thermal management. "It makes it significantly more complicated, but in our opinion it's the right thing to do," added McCue.
The battery packs power a pair of DS250 dual-stack motors from Cascadia Motion in Wilsonville, Oregon. The dual-stacks piggyback each other, and are coupled with a gear drive developed by SCS Gearbox in Bellevue, Ohio, a company well known in the monster truck and tractor pulling markets.
"We specifically went with straight-cut gears rather than helical gears to provide a little more noise," quipped McCue.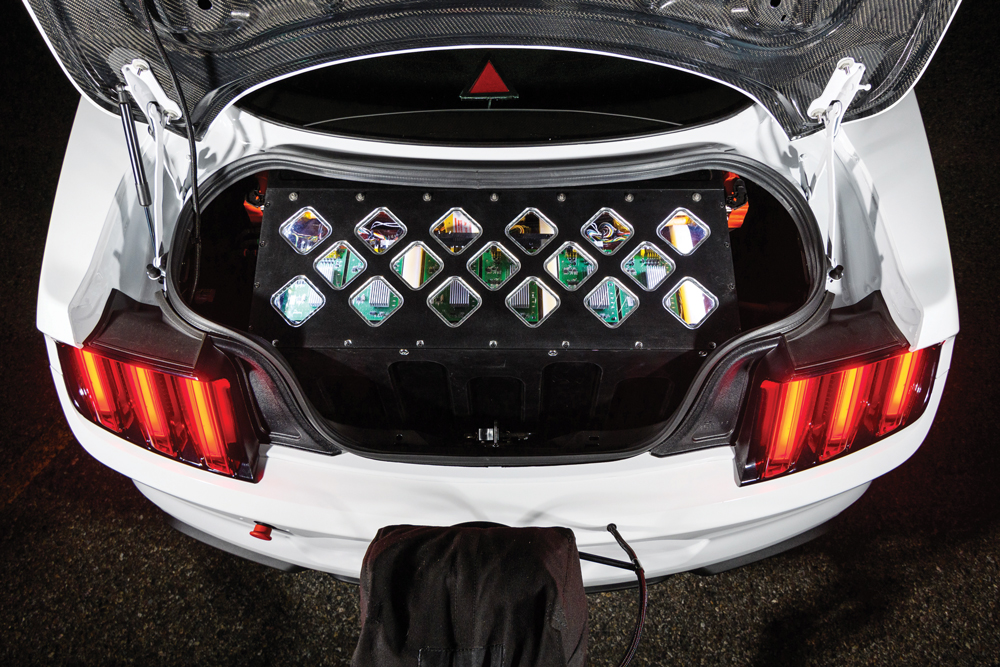 Each dual-stack motor is actually two motors on a common shaft, so a total of four inverters are needed from Cascadia, as well. Each dual-stack weighs about 233 pounds and is rated at 960 Nm peak torque, or 708 lb-ft, with a redline of 11,000 rpm. Power is delivered through a Turbo 400 transmission to a live rear axle, just like a regular Cobra Jet.
"That will support up to 1,400 Kw," said Joe McHenry of Cascadia, noting that's where the Cobra Jet 1400 moniker came from. "All these products are in our catalog. You can essentially buy the same powertrain as the Cobra Jet 1400."
"This car makes 1,502 horsepower to the rear wheels, which is double what the eCOPO did," said McCue. "It has four motors instead of two, and twice as many batteries."
The real challenge to the team was integrating the power systems to the car and getting all the systems to talk the same language.
"Our VCU300 is used to control torque management, strategies, the launch, the shifts, and various other switched functions using four power distribution units (PDU)," explained Lawson Mollica of AEM EV, Hawthorne, California.
The Cobra Jet 1400 is able to start and idle at 750 rpm, thanks to the AEM controls. The idle speed maintains fluid pressure in the transmission, otherwise a remote pump would have to be installed. There are also AEM displays and keypads that inform the driver and allow launch and shift adjustments just before the race.
"We were working alongside AEM with our calibration and controls engineers," added Novak of Ford Performance. "I think it's huge what you can learn from the powertrain controls. There are so many different combinations of what you can do and how to write the control algorithms. I think that is where we've learned the most, so far."
eCRATE AVAILABLE SOON
On the flip side, GM had already developed the hardware and software to operate the Bolt EV, and now the automaker's strategy is to repurpose those components into a complete Electric Connect and Cruise or eCrate package that should be available for purchase in the second half of 2021.
"The key to our package is utilizing all the production components, so you get all the safety systems and charging capability," said O'Blenes.
The package was first tested in a vintage 1962 C10 concept truck introduced in 2019. The truck featured a double stack of Bolt motors mated to a 4L75-e automatic transmission. Also in the conversion were two Bolt inverters and a pair of 400-volt battery packs installed in the pickup bed. That package provided an estimated 450 horsepower to the rear wheels.
"The C10 was basically our look at using as many production components as possible," said O'Blenes. "The K5 would be the first complete production kit."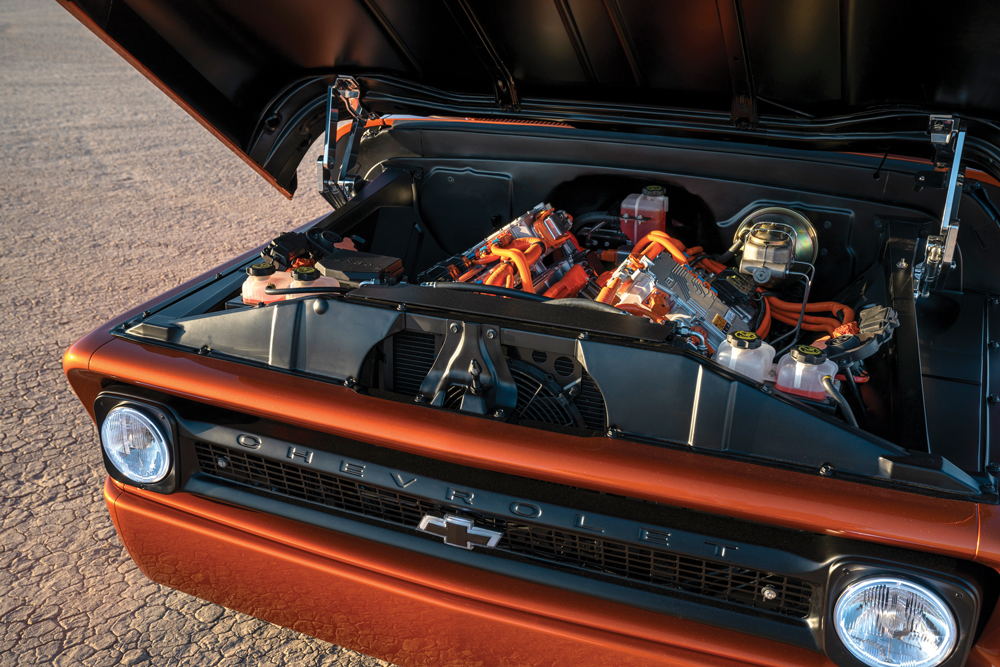 For 2020, Chevy Performance unveiled a 1977 K5 Blazer that featured the proposed eCrate package. A single-stack Bolt motor replaced the original 175-horsepower 400-cubic-inch V8, and the stock three-speed automatic, fuel system and exhausts were also removed to make way for the four-speed automatic that comes with the package.
"We take the differential and gear reduction out [of the Bolt motor] and put on an adapter plate that has the standard bellhousing bolt pattern, and there's a LS-style crank flange that splines to the rotor. This allows it all to bolt together with the transmission," explained O'Blenes. "I will tell you [the motor] is significantly smaller than a small block Chevy. When you add the power electronics, I would say the volume is quite comparable. You have the benefit to package it fairly broadly."
The most significant packaging hurdle for the kit is the Bolt battery pack. It weighs more than 900 pounds and has a rather large footprint.
"That's why we're tailoring it to trucks, SUVs, or potentially an El Camino," said O'Blenes, adding that the next step would be repackaging production components into smaller building blocks to gain more flexibility in installing it in a wider variety of vehicles. "That battery pack was designed with a specific vehicle in mind, and that vehicle was designed around the battery."
The eCrate package uses production Bolt controllers and wiring harnesses, and all the parts necessary for shock protection, battery heating and cooling, battery over-charge protection, and even regen braking. Aftermarket components include an electric power-steering kit and a vacuum pump to assist the power brakes. Finally, there's an aftermarket controller to operate the instrument panel gauges that inform the driver of the battery charge.
A big benefit of using the Bolt package is that Chevy dealers are trained to service these components.
"One of the inherent things we bring to the table is a significant electrification education program for all our service technicians," said O'Blenes, adding that GM will be setting up certified installers at dealerships and aftermarket companies. Lingenfelter Performance in Brighton, Michigan, is the first company to pilot the training and certification program. Plans also call for training the end user of the Electric Connect and Cruise product.
NEW PRODUCTION WAVE
While Connect and Cruise and Cobra Jet 1400 aren't exactly the dueling weapons that remind us of Elliott vs. Earnhardt, Grumpy vs. Dyno Don, or Titus vs. Donohue, it's still noteworthy that Ford and Chevy are developing performance EV projects that could be accessible to performance and racing enthusiasts. Some traditionalists may be hesitant to accept the muted sounds of speed. Others question where the identity that helps mobilize the two brawling factions will come from. Will motors be painted in Chevy Orange and Ford Blue? Can't argue the benefits of a front- or rear-mounted distributor with electric motors, so how's the rivalry going to benefit?
"Each car is going to have its own mechanical sound. They're not silent," said Novak. "No matter how you develop it or what you have, each car will have its own personality."
Just when the first soon-to-be-classic Chevy vs. Ford matchup in the EV arena comes is anyone's guess. But it's coming.
"Electrification is huge to us, and we have a lot of electric products coming," said Novak. "We're proud to set a couple records with the car, and we'll just keep developing."
"We're always working on the next steps," promised O'Blenes. "A lot comes down to the plans of the sanctioning bodies."
SOURCES
–
AEM EV
gm.com





MLe Racecars





Watson Engineering