Newly Appointed: Cathi & Joe Maynard
Image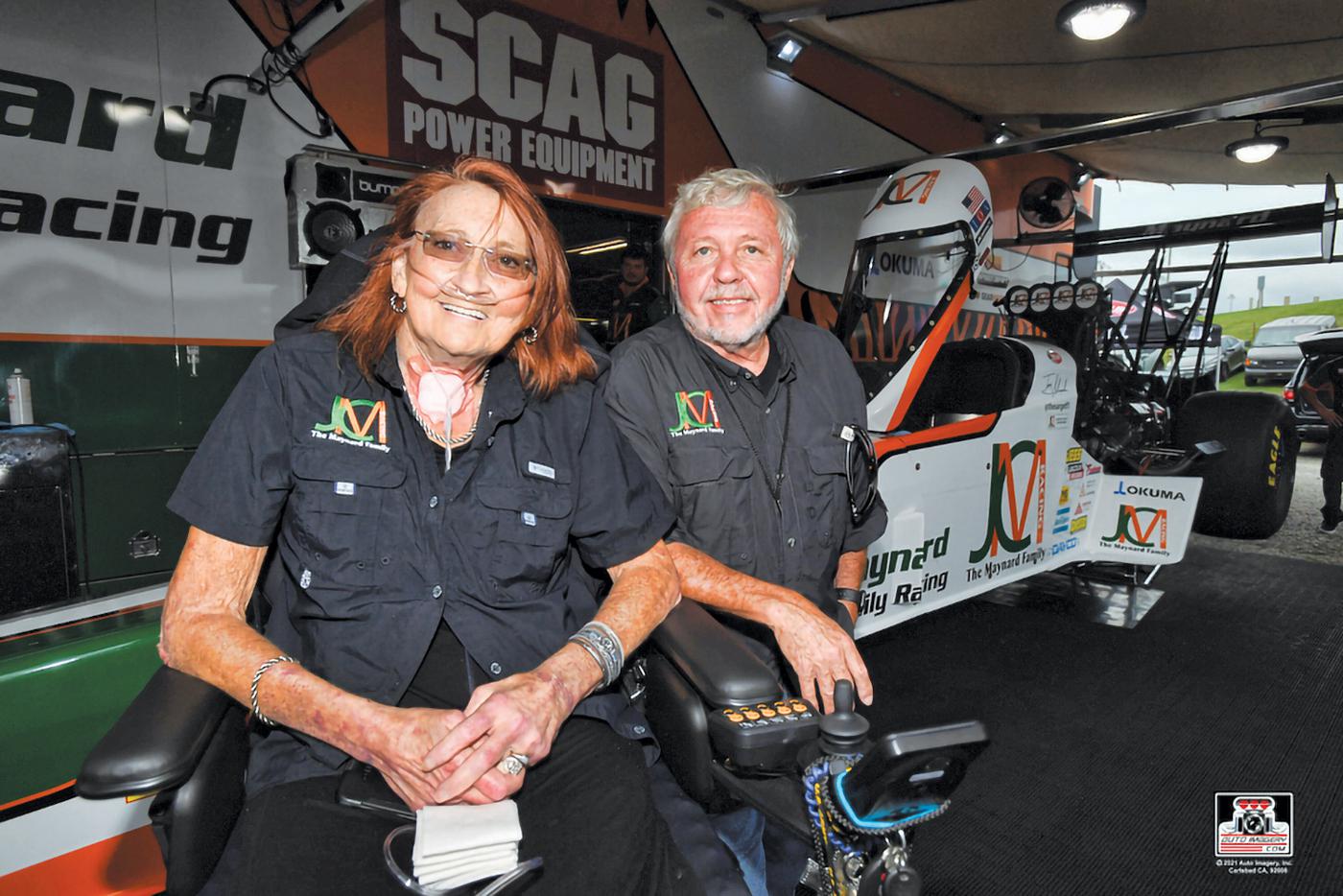 Drawing on their expertise in building successful businesses, the new co-owners of Don Schumacher Racing's Top Fuel team are now living their dream with "The Sarge" in the driver's seat.
Last year, entrepreneurs Cathi and Joe Maynard joined forces with Don Schumacher Racing (DSR) as associate partners. In July, they expanded their position with the DSR Top Fuel team by becoming race team owners along with Eric and Kim Lehman. The decision, Joe explained, came when eight-time Top Fuel champion Tony Schumacher returned to DSR to drive the Maynard Family/Scag Power Equipment Top Fuel dragster in the NHRA Camping World Drag Racing Series.
It wasn't just Tony's race record the Maynards admired. They cited an intriguing and emotional connection stretching back years.
"I've been a drag racing fan since I was a teenager," Joe told PRI in a recent interview. "About 15 years ago, I talked Cathi into going to a race at Bristol. She's in a motorized wheelchair, and the handicapped parking at Bristol was at the finish line. I heard Top Fuelers staging. She'd never seen one in person, so I tell her to go to the fence, and as she gets there, Tony Schumacher flies by at about 330 mph. She came back wearing a huge grin and said, 'I want one.' But she wanted that one, that driver. That's what got the inspiration going, and it took this long to make it happen."
PRI: Why go from team sponsorship to ownership, and why now?
Joe Maynard: We had already talked with Don about going to a bigger sponsorship position with DSR last year. He asked if I really wanted to bring Tony back if we could find a sponsor, and I said, 'yes.' We discussed a proposal, and I asked Don if he would ever consider selling the team. We started talking, and it became a deal. It was good for both of us, I think.
PRI: It sounds like a dream come true that's also a good business.
Joe Maynard: We feel that if there's any chance to break even or make any money in the NHRA, it would be with a name like Tony Schumacher. (Tony's US Army sponsorship had ended in 2018.) I'm retired Army, my son is retired Army, Cathi was Army, my daughter-in-law was Army, my grandson is on active duty. We thought "The Sarge" coming back to drive Top Fuel might be a strong business proposition.
PRI: Prior to DSR, did you have any business involvement in racing?
Joe Maynard: We sponsored a local dirt track car that won the championship two years ago, that's about it. We've got an 18,000-square-foot restaurant just coming online. We'd never done that before, either. Business is our passion. We've brought on some expertise with a minority partner who had an extensive experience with NASCAR.
PRI: The prize in racing is winning, but do you have other near- and long-term goals for the team?
Joe Maynard: We have a couple of different philosophies. Constant improvement is one of the tenets of everything we've done in every business. Going top-to-bottom building successful programs makes us happy. We are also very big on helping families—to have younger kids and everybody we do business with have their lives be a little bit better. The good Lord smiled on us, so we feel like it's unfair if we don't extend a hand and reflect the light on other people.
PRI: Is there anything in your or Cathi's business background that matches up with an NHRA team, or does it matter?
Joe Maynard: I don't think it matters. I've started one or two divisions for companies and then started my own company years ago, and probably didn't know a whole lot about what I was doing anytime we started. The excitement of the race business is great, but we really enjoy building a business and creating a long-term, satisfying life for these guys and gals who join. A leader in the Army or general manager in a company must be someone who can do a little bit of everyone's job but not all of anyone's. I think that helps us as business owners and more importantly, team owners.
PRI: So, you've received some on-the-job training?
Joe Maynard: When we started this a year ago, Don and [DSR Senior VP] Mike Lewis mentored me. If I asked Don a direct question about anything, he would tell me the business and professional aspects of it, and sometimes even the drag racing family part if he felt I needed to know. Mike showed us what the family of racing was all about.
PRI: Is there anything about this endeavor that surprised you?
Joe Maynard: I guess the biggest surprise for me was how almost every team owner has embraced us and said, "We're glad to see you out here. Good luck. I hope we beat you, but it's OK if you beat us."
The passion of the owners and drivers is incredible. Tony Stewart is a prime example. There's nothing this guy needs to prove in racing, but the passion is palpable on his face when he's out there and when I'm talking to him. We think we match the passion.
PRI: Is there anything else you're looking forward to with this race team?
Joe Maynard: As I said, we like to mentor young folks. We intend to bring some young drivers that we're already sponsoring as amateurs. One is number three in Super Stock right now. If there's a chance for another car in the future, we would embrace that.
PRI: What's the one thing you can't live without and why?
Cathi Maynard: My husband.
Joe Maynard: Cathi. Everything we've done for nearly 40 years, we've done together.
Her passion becomes my passion, and we can't do this without our relationship in each other and with God. It's been important to us, and now it's important to our race team. Money has never been our driver. It's the passion to succeed.
Cathi & Joe Maynard
TITLE:
Majority Owners
ORGANIZATION:
Maynard Family Racing/Don Schumacher Racing team (JCM/DSR)
HOMETOWN:
Clarksville, Tennessee
FAST FACT:
Cathi Maynard has never forgotten the day she first saw Tony Schumacher's Top Fueler fly by.
"I would love to be in one of these cars going 300 mph," she said. "That would be the ultimate rush for me."