Industry Insights: Bill Posey
Image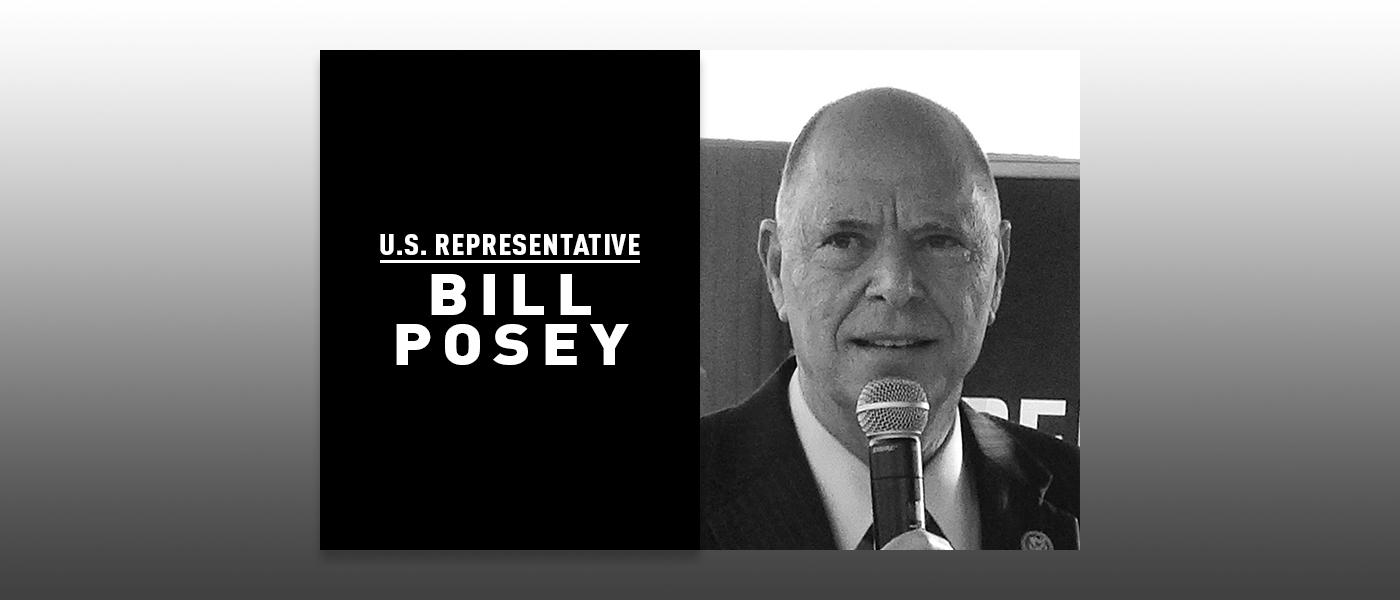 As a co-sponsor of the RPM Act, Florida Representative Bill Posey is an active and vocal advocate in Congress for motorsports in the United States.
Of the 535 current members of the United States House of Representatives and US Senate, none boasts the motorsports and performance background of Representative Bill Posey (R-FL). A lifelong enthusiast, he has built hot rods, owned and driven more than 30 race cars, promoted and operated a short track, and been involved in the sale of more than 100 race tracks in the US.
Posey represents Florida's 8th Congressional District, which includes all of Brevard and Indian River counties. He was first elected to the House of Representatives in 2008 and is currently serving his fifth term. Prior to being elected to Congress, Posey served for 16 years in the Florida State Senate and Florida House of Representatives, successfully leading efforts related to insurance reform and reforming and modernizing Florida's election process.
Born in California in 1947, Posey's formative years were spent amid the emerging car culture of Southern California. At age nine his family moved to the Space Coast of Florida, where his father worked on the Delta rocket project. Following his graduation from Brevard Community College in 1969, Posey served as an inspector with the McDonnell Douglas Saturn V Apollo project. At the conclusion of the project he left the aerospace industry to focus on real estate and later formed the National Racetrack Clearinghouse, listing and selling race tracks throughout the US. An active stock car racer throughout most of his life, Posey raced extensively at New Smyrna Speedway and Orlando Speed World and throughout the Southeast.
Currently serving as the House co-chair of the Congressional Automotive Performance and Motorsports Caucus, Posey is a longtime advocate for transparency and accountability in government and is also a consistent supporter of SEMA and PRI. He is an outspoken advocate (and a co-sponsor) of the RPM Act, federal legislation that would protect the right for Americans to convert street vehicles into dedicated race cars, and for manufacturers to sell products that allow racers to compete. Posey's passion for his work and for the nation is evident, and he recently sat down to talk with PRI.
PRI: Let's talk specifically about the RPM Act. A number of US House members have co-sponsored the bill. To help our readers understand the process, what does that mean? Is it important to have more co-sponsors? Is that a good thing?
Posey: It's a great thing. One of the first bills I ever filed when I got elected to the state legislature was a bill to make it illegal for bureaucrats—unelected, unaccountable—to make laws they aren't authorized to make. The governor at that time, Lawton Chiles, was so aggrieved by this bill that he instructed the committee members, "Do not let this bill get out of committee." So a couple of my good friends who were Democrats, they came to me and said they would have to vote against the bill. I pointed out that it would look pretty stupid for them to vote against a bill they had co-sponsored. Bingo! They couldn't do it, because that would be very embarrassing. That's the significance of co-sponsoring a bill: There is no backing out on where you stand on that issue, and on that particular bill. So having many co-sponsors is a great thing for any bill.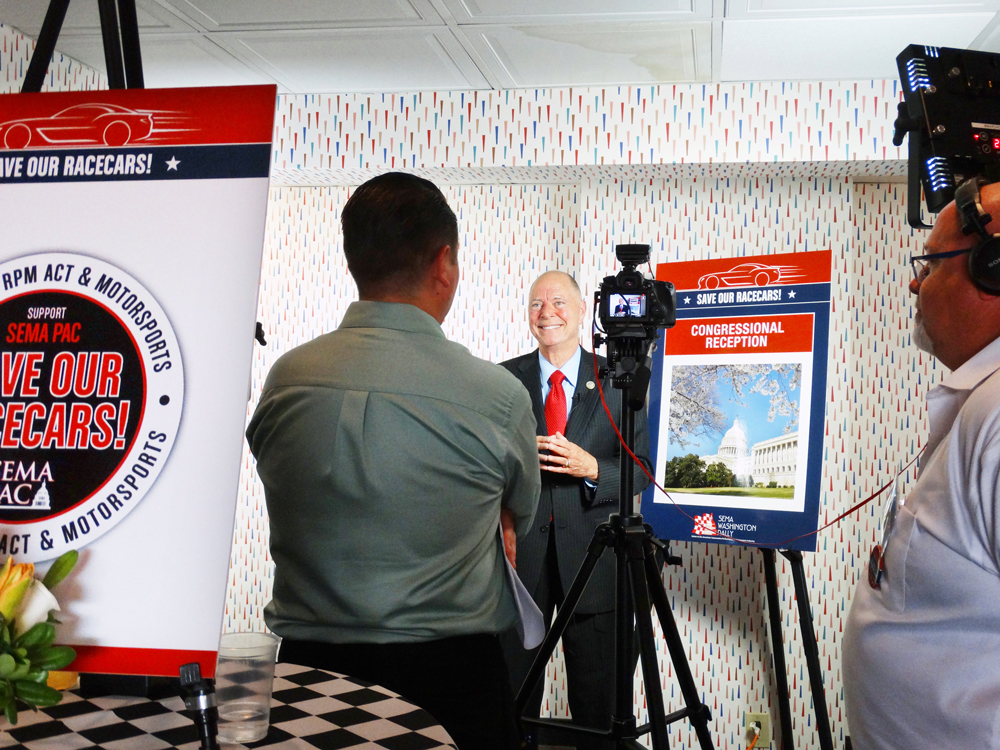 PRI: You've been outspoken about the need for motorsports and the performance industry to get more involved in protecting their interests at the legislative level. Why is that so important now?
Posey: Well, if you don't get interested in politics, you're probably going to be out of business. That's the bottom line. We know that our government tends to overregulate, including in the automotive field. It also tends to be dishonest about it, as evidenced by the threat the RPM Act was initiated to defeat. The EPA tried to sneak in rules saying you can never remove any pollution control devices even if it's not for the street. I keep up to date on the bills introduced, but I don't have a chance to read all the rules and regulations. Most people don't know that rules are enforceable as laws, and rules are made by unelected bureaucrats.
PRI: You've also talked very openly of your concerns over government agencies using administrative rules to essentially bypass state and federal legislators. Is the RPM Act a response to that situation?
Posey: You bet it is. That's one of my unfulfilled goals in Congress thus far: to limit the ability of federal agencies to abuse their administrative authority. One of the greatest examples of that abuse is for the EPA to hide a major restriction on motorsports—not related to automobiles, not related to racing, not related to anything—and bury it in a rules package. Had it not been for SEMA studying the package and discovering what the EPA was trying to do, it would have been implemented, without legislators voting on it. Laws made by un-elected people are a problem, and we need to address this.
PRI: What's the next step in terms of progress? What has to happen in order to move forward?
Posey: If you get 218 co-sponsors, the bill can be forced to the floor. That's pretty hard to do, but the more co-sponsors you have, the better chance the bill has to get to a vote.
PRI: Is there a threshold we need to reach for the RPM Act?
Posey: I'd say you need a minimum of 218 co-sponsors, to show that there is a majority in the chamber that will support the bill.
PRI: So we have a ways to go? 
Posey: Yes. (Editor's Note: At the time of this interview, the RPM Act had received 101 co-sponsors in the House.)
PRI: We've seen a significant amount of public backing for the RPM Act—more than one million letters sent to lawmakers encouraging the passage of the bill. In racing parlance, do we need to stay on the gas now? Is now the time to keep pushing?
Posey: Until this threat is eliminated, you need to push every day.
PRI: Is there a form of constituent feedback that is more effective than others? Is writing a letter to our representatives enough?
Posey: The very best thing they can do is this: When their member of Congress is home from Washington, make an appointment to meet with them. Get to know your member of Congress or senator and let them know why the RPM Act is so important to your industry. Be armed with statistics that let them know how large the sport is, and how many people participate.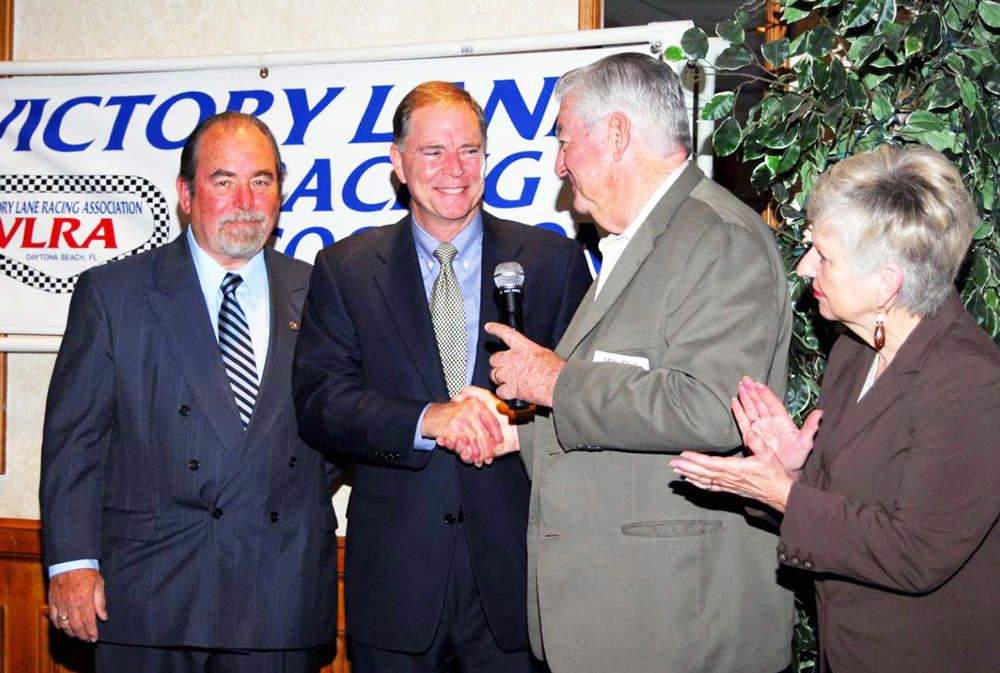 PRI: A lot of track promoters and operators today are working long hours just keeping their gates open. That said, it seems that facilities need to be more proactive with their local authorities in terms of letting them know the economic boost they provide to the community. Do you agree?
Posey: Every race track needs to have their state representative, their state senator, their member of the House, and their US senator, serve as a grand marshal at one of their racing events. It's very important. Way back in 2001, my first task as a state senator—going from the House to the Senate—was to reform election laws. I did that, and we did things other states adopted and use yet today. The governor, Jeb Bush, was happy with our success on that legislation and asked what he could do for me to show his gratitude. I invited him to be grand marshal at the Florida state super late model championship race at New Smyrna Speedway, the Governor's Cup. He agreed. This was a very big race. Prior to that, the local newspapers were never supportive of area racing. The race that year was standing room only, a complete sellout. It was a wonderful day. After that, the (Daytona Beach) News-Journal started sponsoring the race! It probably was the single best thing to ever happen to New Smyrna Speedway. It raised the visibility—if it's good enough for the governor to show up, it must be okay! All of our racing facilities and all of our racers need to be more proactive with their legislators. Everybody who cares about this sport needs to get more involved if they want the sport to survive.
PRI: Let's shift gears a little and talk about serving in Congress today. What's the biggest challenge in doing your job now? What's the most difficult element of serving in Congress?
Posey: It isn't easy. There is a lot of negative energy today. I'm on the right of the political spectrum, there's no doubt about that, and I don't apologize for that. I have some fundamental principles that I believe. It's a very difficult environment now. But experience matters, and I have experience here that I believe is valuable, and there are many things we need to get done. There are many Democrat members that I can work with, and there are also people who aren't going to work with me no matter what. You try and find common areas, ways you can work together.
There are a lot of good things about this job, and you're able to help a lot of people. Every day I hear from someone thanking me for something we helped them with, but it's tough sometimes.
Before the age of electronic communications, nobody ever sat down to write me a letter and began the letter, "Dear Asshole…" But I get emails like that every day. There is no respect. So that makes it tough.
PRI: Your background was in racing, track promotion and real estate. How did you end up in politics?
Posey: I never saw myself involved in politics. I was in real estate and sold a friend a building lot, but the owner couldn't get a permit to build his house because the city never dedicated the street. The city manager told me it's the city's fault, the developer did nothing wrong. It's just a box they didn't check, and he needed to check it before he could issue more permits. One guy on the city council gave me a rash of baloney three times. I kept my mouth shut until after the thing was approved, and I shot back a wise comment to him. When I left city hall, a bunch of people followed me downstairs and said, "It's about time somebody stood up to that bully. You need to run for office."
A friend of mine worked for Boeing and was on the council. He got a job promotion and moved to Seattle, so there was a vacancy, and people encouraged me to run for it. I had just started my real estate company, so my attention wasn't on running for office. The day before the qualifying deadline, when I came home from work, my wife Katie told me, "Three more people called today encouraging you to run." So, we prayed about it. At the time I was thinking along the lines of, "If You want me to do that, You're going to have to show me a way to do this that's not going to be too expensive or too time-consuming." Then I walked into the den and started opening the mail, and there's a letter with no return address. Inside was a wanted poster for William J. Posey, like they put on the post office wall.
So I decided to run. I drew up a poster with "WANTED" at the top. Under that it said, "For Better Ideas" followed by my photograph and "REWARD." The reward was my ideas about how to make government more efficient. I went down the next day to Village Printing and paid $100 to print up about 300 posters and filed for office on the last day. I came in middle of the pack, but I only had about 10 days to campaign before the special election.
A college political science teacher won, and I told him that he would always have my support if he did what he promised. After getting sworn in down at city hall, he gave some remarks and said, "It's a good thing people didn't elect Bill Posey, blah, blah, blah." He kept egging me on to run. So, a year later, at age 26, I spent $400 and unseated the political science professor. I served three terms. I promised my wife I would never run again. I was off for seven years, and they were the best seven years of making money, selling real estate, selling race tracks, racing cars, having a good life. I've been working as an elected official ever since.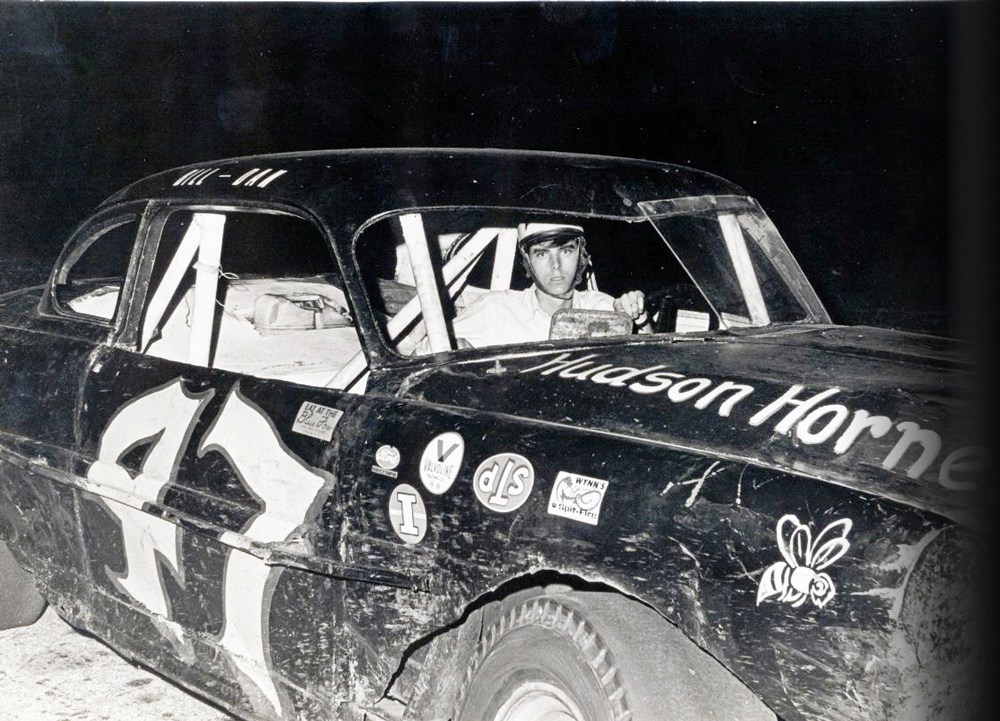 PRI: So now we can talk about racing a little bit.
Posey: Good! Let's talk about racing.
PRI: Take us back to the beginning. How did you first connect with cars and racing?
Posey: It started when I was just a child. We lived in Encino, California, and my dad took me to what were then known as jalopy races at tracks in Culver City, Saugus and other places around Los Angeles. I loved it, and we had a great time together. I also used to ride my bicycle to watch the kids race midgets at a public park that was about a mile or two away. It was exciting stuff. My one lifetime achievement that went unfulfilled is that I never had a quarter midget. Our family just couldn't afford it. They were luxury items back in those days.
PRI: You've been involved with the sale of many racing facilities, and you've also actively promoted a track. What's the most important thing a rookie track operator needs to know?
Posey: Read my little book, "The Racetrack Promoter's Handbook." It's online at race-tracks.net. One of my favorite clichés—and I got this from racing—is, "Everyone in the room seems to know how to make the baby stop crying, except the person holding it." You can go into the grandstand at any race track in America on any Friday or Saturday night, and every person can tell you what the promoter should be doing better. I was only 21 when I opened my first race track, but I did my research on what needed to be done. It was just a matter of mathematics. Most people who buy race tracks don't buy them based on a good investment model.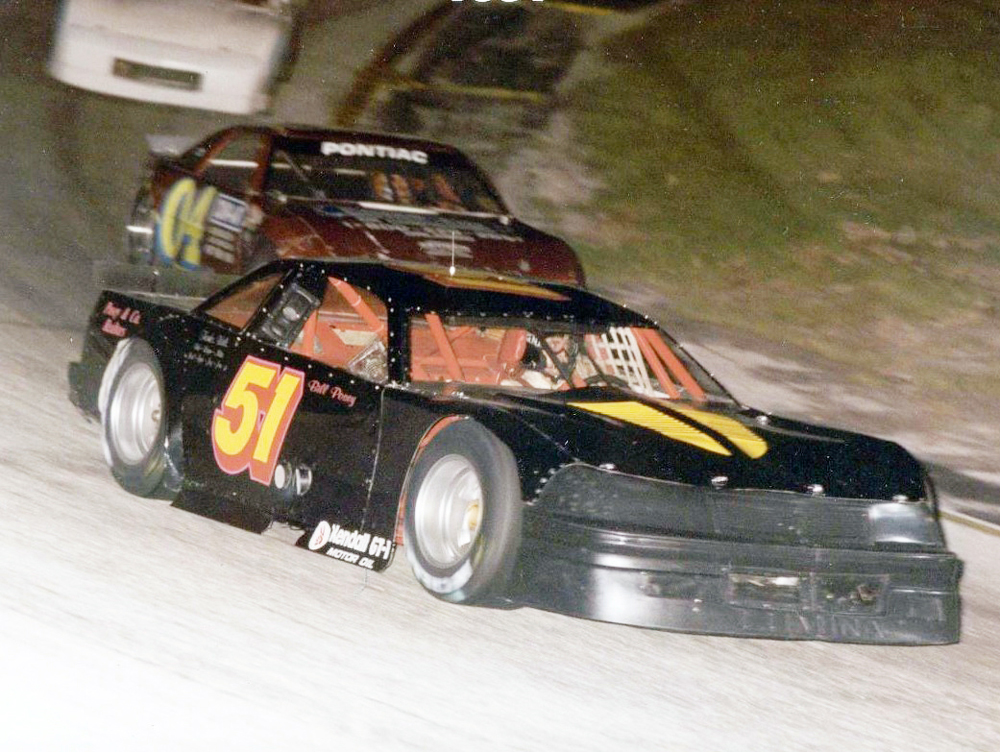 PRI: Do you miss actually driving in competition? Do you miss being behind the wheel of a race car?
Posey: Of course I do! Racing is the most fun you can have with your clothes on, that's the best description I've ever heard. I haven't raced since 2008. I just didn't have time to continue. I still had a couple of classic cars and a couple of Late Models in the shop, but when you go six months without even having a chance to go and start the things, it was time to not have them anymore. I hated that. But I'm 73 now, not a spring chicken. In 2004, I double-broke my back in a race car at Orlando Speed World. And it was getting harder and harder for me to run a Late Model, just because of the cost. Plus, everybody else could cheat, except me! Can you imagine if I was one ounce over left-side weight, or anything else? Other guys were modifying their cars, steering geometry, stuff like that, but I couldn't do that. Not a good look. 
PRI: Are there forms of motorsports you still follow? What racing would you be likely to follow on television?
Posey: I like all forms of motorsports, and I'd probably watch all levels of NASCAR first, then IndyCar, then IMSA. And anything related to short track racing, I still love that. I'll even watch motorcycles or some of the European racing as well.
PRI: You've been very generous with your time, Rep. Posey. I hope we can get more of our readers active in the political process and make some positive things happen.
Posey: I really appreciate you taking the time to talk to me. Make sure you make me look good, so that all the other lawmakers wish they were me! (Laughing.) We want them to see that there are great benefits to being involved in motorsports.