Image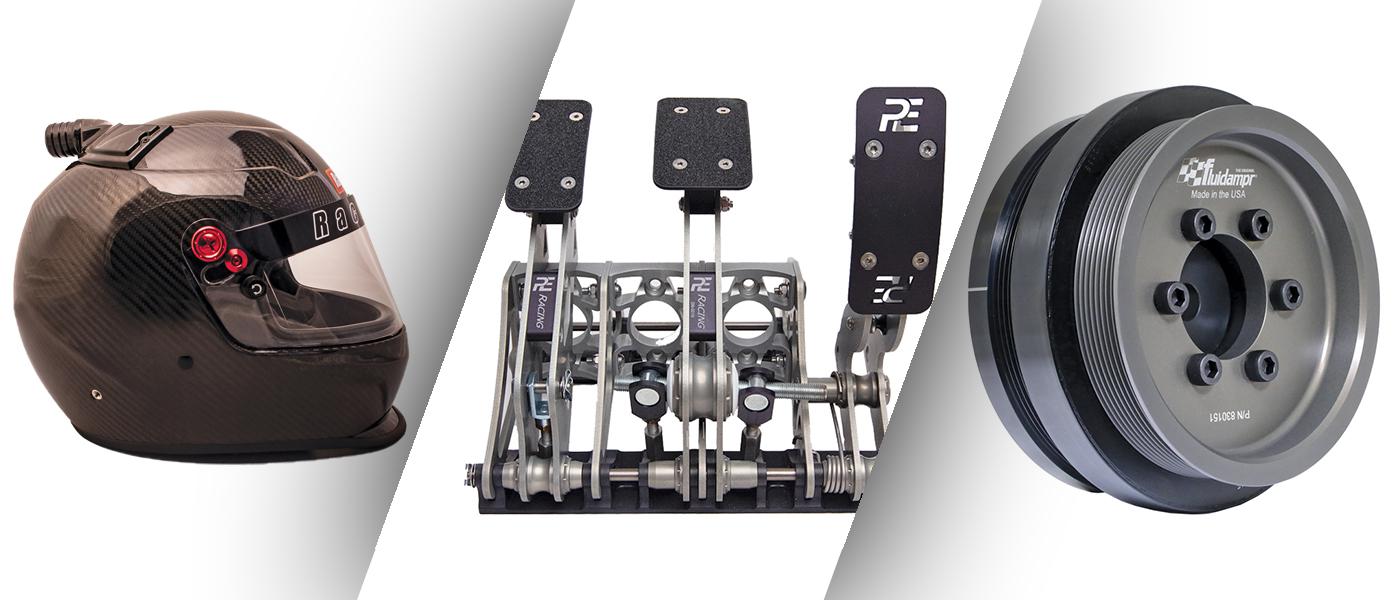 This month's special PRI Trade Show edition highlights several new motorsports-related parts that will be on display in the Featured Products Showcase, located inside Lucas Oil Stadium, during all three days of the event.
Pro20 Carbon Top Air Helmet
RaceQuip of Riverview, Florida, now offers a lighter, carbon-fiber version of its Pro20 Top Air helmet. This full-face racing helmet has a Snell SA2020 rating. This style of helmet is often called a forced air, blower or pumper helmet due to the provision on the top to attach a fresh-air hose.
"One of the standout features is how unobtrusive the air manifold is," said Roger Mealey. "It's designed to stay below the top of the helmet and out of the way of the rollcage."
The air-inlet barb works with a standard 1.250-inch diameter air hose. Forced air is channeled from the manifold to the forehead area, where it blows downward across the faceshield through molded vents near the eyebrows. Not only does this feature keep the driver's face cool, but it also helps keep the faceshield free of fog.
The helmet incorporates contemporary styling and is constructed with advanced composite production techniques. The shell is formed using pre-preg carbon fiber and Kevlar materials placed into pressurized steel molds.
Other construction features include reinforced M6 threaded HANS/HNR inserts that are mated to the carbon fiber shell. HANS or other anchor posts can be attached to the helmet using the inserts. The faceshield is constructed of 3-mm polycarbonate and operates through a red-anodized aluminum pivot kit. The wide eyeport allows the use of personal eyewear. —Mike Magda
Billet Pedal Box
Available in either two- or three-pedal configurations, the pedal boxes from PE Racing in Sydney, Australia, are constructed from aircraft-quality billet aluminum and include numerous adjustment features to help racers achieve the best driving position.
"The adjustability of the pedal assembly is unmatched by any other in the market, which is why it's patented," said Bianca Perusic. "The pedal faces are adjustable to suit the driver's style and comfort."
The height, depth and pitch angles of the pedals are all adjustable, along with the pedal ratios. Throttle activation can be by cable or throttle-by-wire. There's also an adjustable brake bias.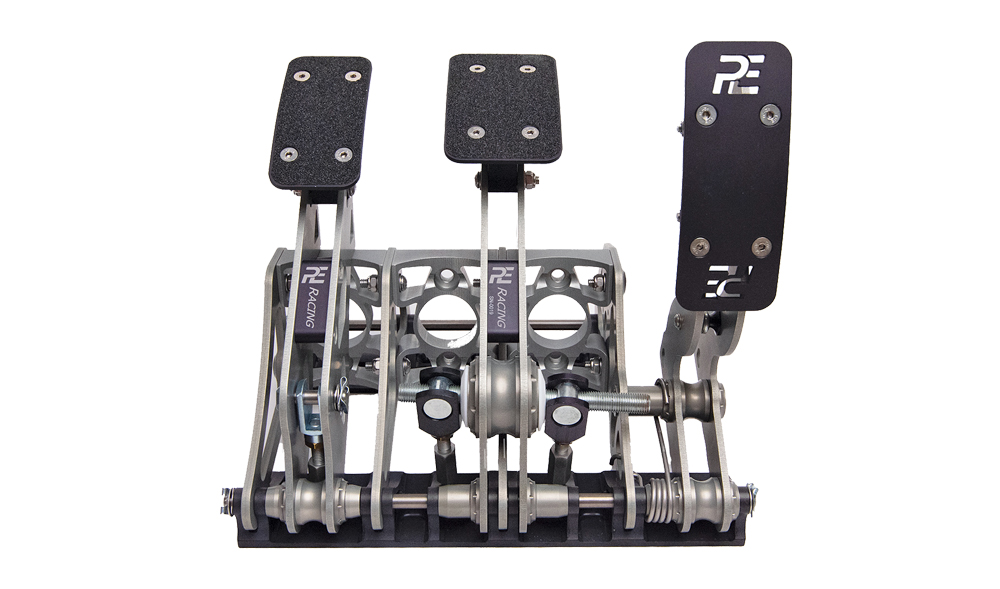 The assembly itself can be mounted to a variety of bulkhead floor shapes and angles, and pedal adjustments can be made without removing mounting bolts or modifying the floor shape.
"It took a long time to develop," added Perusic. "When installing previous assemblies, we came across common problems such as getting the position correct without modifying the floor or adding additional weight."
The pedals are designed for all auto racing markets, including road racing, drag racing, sports cars and rally/off-road applications. Weight for the three-pedal model is 2.8 kilograms, or slightly more than six pounds. —Mike Magda
GM Duramax L5P Damper
Fluidampr of Springville, New York, wraps up its line of Duramax dampers with the release of two models for GM diesels in the L5P platform. One part number fits the 2017–2019 model year, and the other is a dual-pulley version for model years 2020 to present.
"We now cover all the Duramax models," said Brian LeBarron. "This damper has a lot of testing behind it."
For those looking to upgrade a Duramax-powered vehicle, and "mil-spec" is a desirable quality standard, then Fluidampr should be considered. A version of this damper is seeing widespread use across the military on the latest high-performance light tactical vehicles.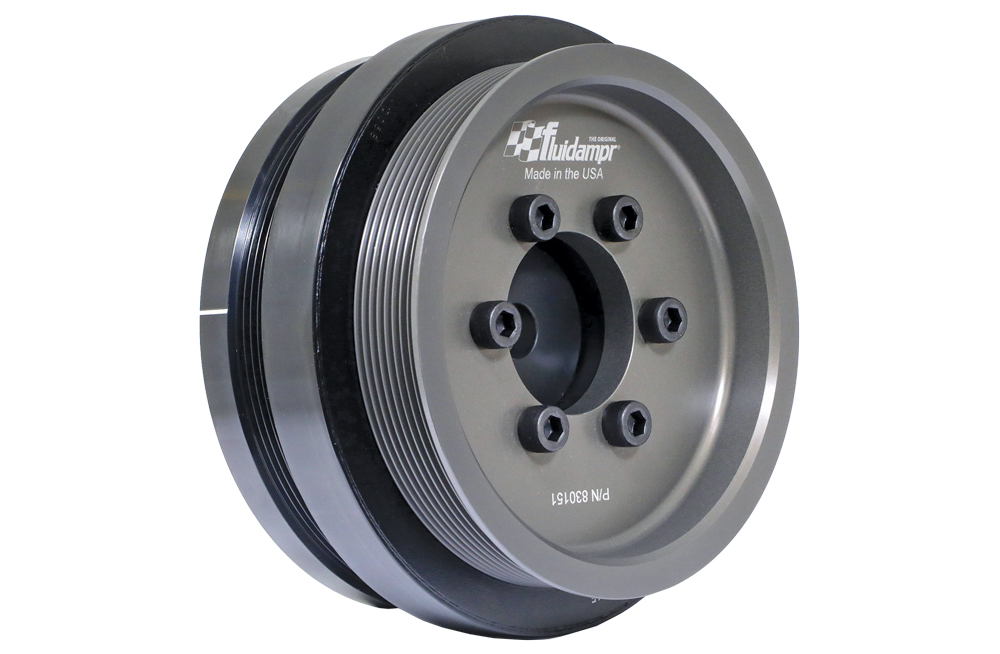 "It's a one-piece design that can hold up to an insane amount of horsepower," noted LeBarron. 
Benefits of the Duramax L5P damper include protection from torsional vibration over a broad rpm range and less risk of crankshaft failure or wear on critical engine parts. The product is also SFI 18.1 certified.
Both L5P dampers are finished in black zinc chromate, and the timing marks are laser engraved. A pre-drilled bolt pattern allows for an accessory pulley, custom mandrel drive, and damper installer/remover tool use. Fluidampr recommends a high-strength bolt kit for installation. —Mike Magda
BKS1001 BRUSHLESS FUEL PUMP & CONTROLLER
Racers looking for more versatility and command of their fuel system will appreciate the new BKS1001 brushless in-tank fuel pump and three-step controller from TI Automotive in Caro, Michigan. This high-pressure, high-flow pump is capable of supporting engines up to 1,000 horsepower.
"The BKS1001 is suitable for all performance applications, from a fuel-injected daily driver or resto-mod to the big-tire drag racer," said Andrew Peckham. 
The product's foundation is TI's E5LM brushless screw pump. It's managed by a controller with pulse-width modulation (PWM) input capability. 
"This pump is known for producing high flow with low current draw," explained Peckham. "The controller is a true three-step module with PWM input control functionality. Full PWM command is achieved by wiring the input to a 100 Hz battery level PWM signal. The controller is also capable of operating at 100% duty cycle or 50% duty cycle."
This flexibility allows the user to run 50% on the street and go to 100% for weekend drags or autocross. Or it can run 50% for gas and 100% on E85. The new pump replaces TI part number BKS1000.
"There was an extensive development process to design and validate this product," said Peckham. "The BKS1001 required comprehensive testing to ensure it met TI Automotive's demanding performance standards." —Mike Magda
MC-1 Measuring Tool
Sealing the cylinder is necessary to achieve maximum power in any race engine, and piston-to-cylinder-wall clearance is a critical factor in that objective. The accuracy of using a traditional micrometer to measure the diameter of the piston is often dependent on the skill and technique of the engine builder. With the new MC-1 measuring tool from QMP Racing Engines in Chatsworth, California, any discrepancy in manual operation will be taken out of the equation.
"Everyone has a different feel of the torque on the spindle of the micrometer," explained Brad Lagman. "With the MC-1, there's a dial indicator, so it doesn't matter how tight the feel on the micrometer. That means if I do it, you do it or anyone, we're all going to come up with the same number."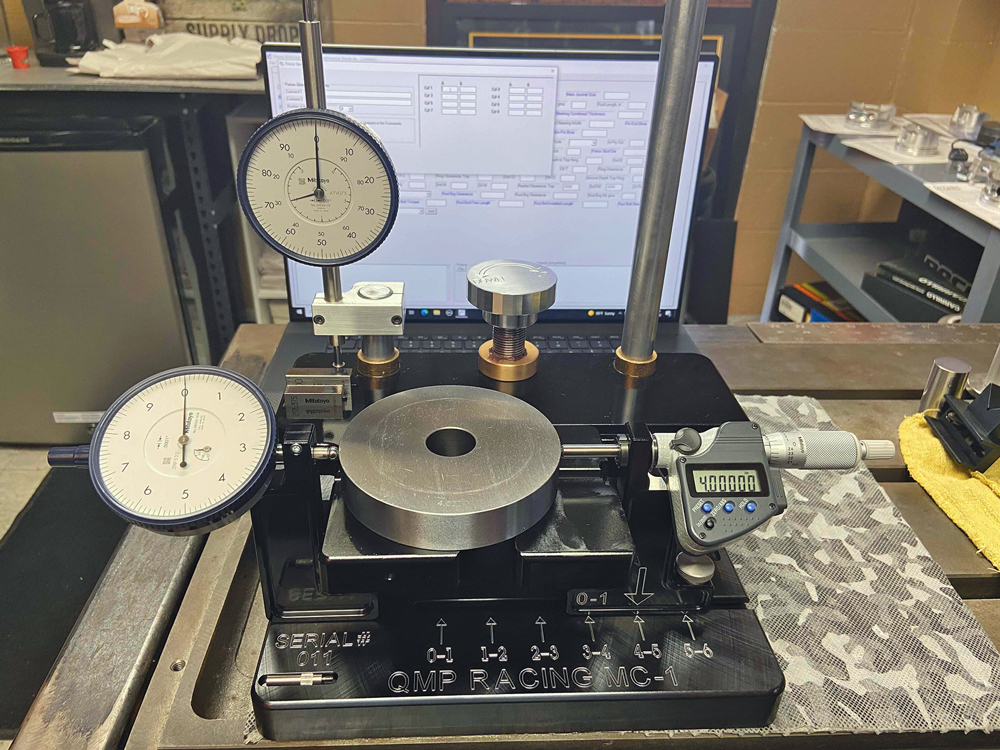 The MC-1 can be used for measuring piston-skirt diameter, ring groove depth, compression height and dome thickness. It can also be used to measure lifter-bore bushings, lifter diameter, cam bearings or anything that is round up to six inches.
"There's a quick-check feature if you want to measure a set of lifter bushings," added Lagman. "You can do 16 in two minutes, or anything else, like wrist pins, without changing the setup from the piston skirts." —Mike Magda
Black Magic Pro Mag 44 Magneto
Black Magic Pro Mag 44s are already used by a majority of Top Fuel teams, and a smaller version is popular in the sprint car market. Basically, Black Magic is a blueprinted MSD magneto that creates more spark energy, and it's available in 44-, 20- and 12-amp models. After blueprinting, a 44-amp magneto is capable of generating 52 amps.
"Then you can put more fuel into the engine and make more power," explained Blake Robertson of BR Motorsports, Visalia, California.
The Black Magic treatment is not only available on new magnetos. "We can even take a used magneto and blueprint it to make it a Black Magic," said Robertson.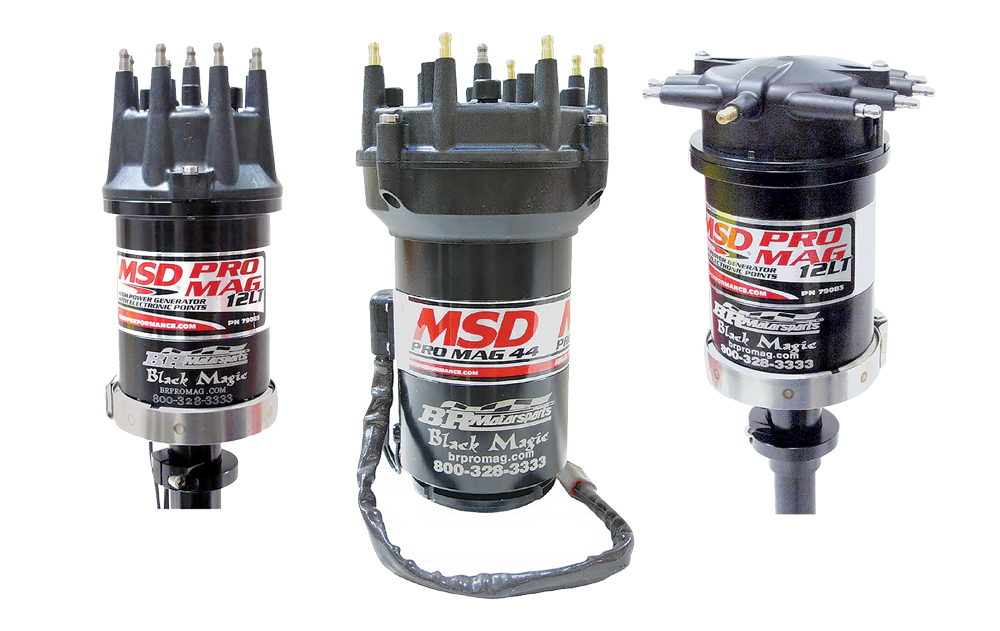 BR Motorsports' blueprinting process includes a rare-earth magnet upgrade, and more than one pound of copper wire is hand wound inside the magneto. BR Motorsports also makes sure the phasing is correct and that each spark duration lasts 26 degrees.
The BR Motorsports' treatment then includes a black anodized case. The Black Magic can be ordered in either clockwise or counter-clockwise rotation. Finally, the 44 model is equipped with a large pro cap; however, it can be converted to normal size if packaging is a problem. —Mike Magda
Ice Water
Ice Water is a new coolant from Engine Ice in Cincinnati, Ohio, that is dedicated to most motorsports applications. 
"Nothing cools better than pure water," explained Brian Emrich. "But there are two downsides: it's corrosive on aluminum and it doesn't have freeze protection."
Coolant freezing isn't a concern with most race car engines, but corrosion is, along with protecting the environment. Ice Water is sourced and manufactured in-house by Engine Ice, a subsidiary of Kost USA, the largest manufacturer of glycol products in the country.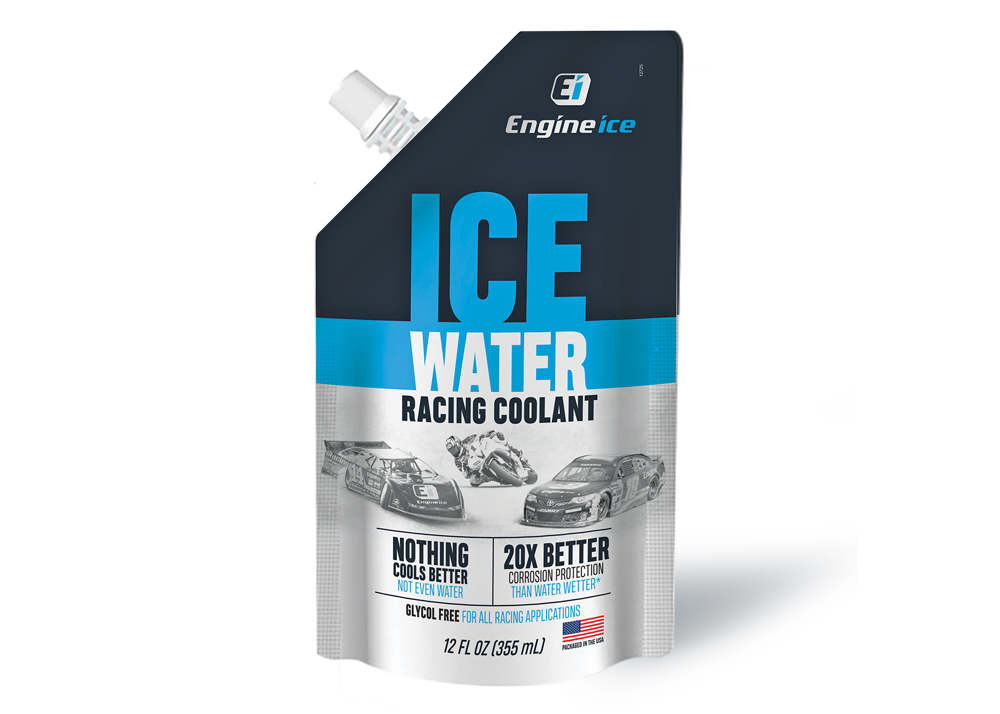 "That gives us access to the R&D from other company projects," said Emrich.
Ice Water is a propylene glycol formula, which is much safer for the environment than ethylene glycol, an ingredient that can be found in other antifreeze products. Ice Water's proprietary formula is premixed, biodegradable, phosphate-free and non-toxic, therefore, it should be legal in most forms of racing.
"The formula has a tremendous amount of technology in the additive package," noted Emrich, who cited benefits that include protecting aluminum and seals, as well as superior cooling at higher temperatures than water.
Engine Ice also has coolants dedicated to motorcycles and powersports vehicles. —Mike Magda
18-inch Brushless Fan
The electric fan found on the 1993–1996 Lincoln Mark VIII is quite popular with DIYers wanting to upgrade their cooling systems. Not only is it cheap when found in a salvage yard, it's huge at 18 inches in diameter, and it moves a massive amount of air.
"The problem with that fan is that it's very thick and it kills amperage," said John Pairaktaridis of Delta PAG, Astoria, New York, which now offers an 18-inch brushless fan to complement its 12-, 14- and 16-inch models. "Our fan is more efficient and moves a little more air than the Mark VIII. Plus, it's about two inches thinner."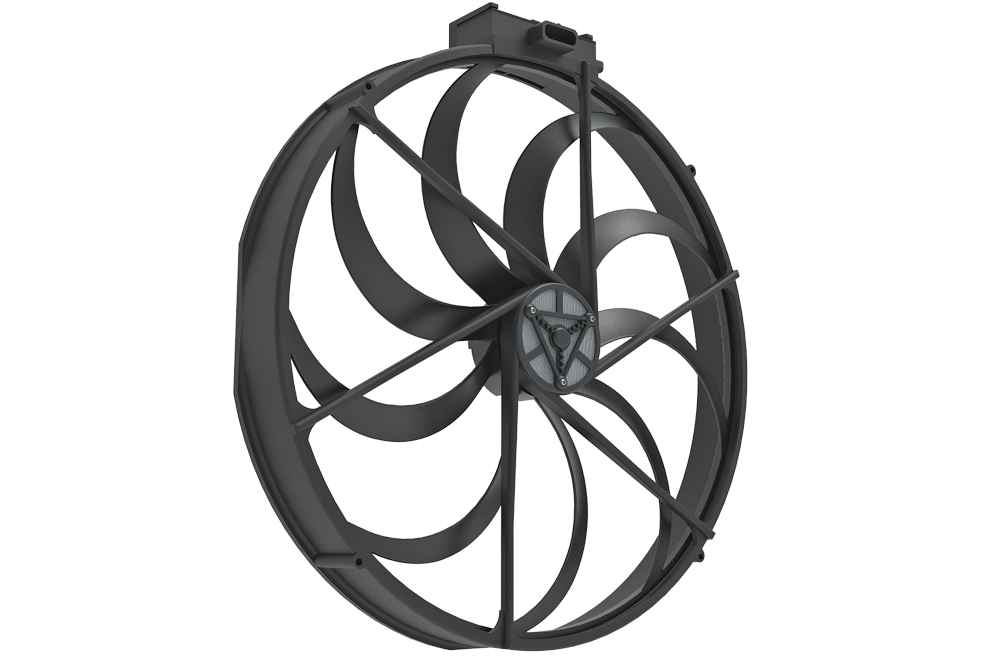 Brushless motors have numerous advantages over their brushed counterparts. They draw less amperage and can be packaged better in tight-fitting situations. Brushless motors do require an electronic control module (ECM), but this also gives them the ability to run at variable speeds—which again can reduce amperage draw.
A digital temperature speed controller is also available for the fan. It provides on-off settings and speed controls for one or two fans. 
The Delta PAG 18-inch fan is rated up to 4,100 cfm and is only 2.70-inches thick. —Mike Magda
Titan8 Battery
Racers looking to reduce vehicle weight should consider the new Titan8 16-volt lithium battery from XS Power Batteries in Knoxville, Tennessee.
"The main objective was to create a lightweight, powerful and safe battery that fits within the current habits and patterns of most racers," said Brady Basner. "One could remove a 50-pound AGM (absorbed glass mat) battery and simply replace it with a 12-pound XS Power Titan8 battery."
The Titan8 is compatible with stock or performance-style alternators and doesn't need a special charger. It's rated at 750 cranking amps and 60 amp hours with 1,000 max amps. Built in a group 34 housing, the Titan8 is a direct fit for most aftermarket battery boxes.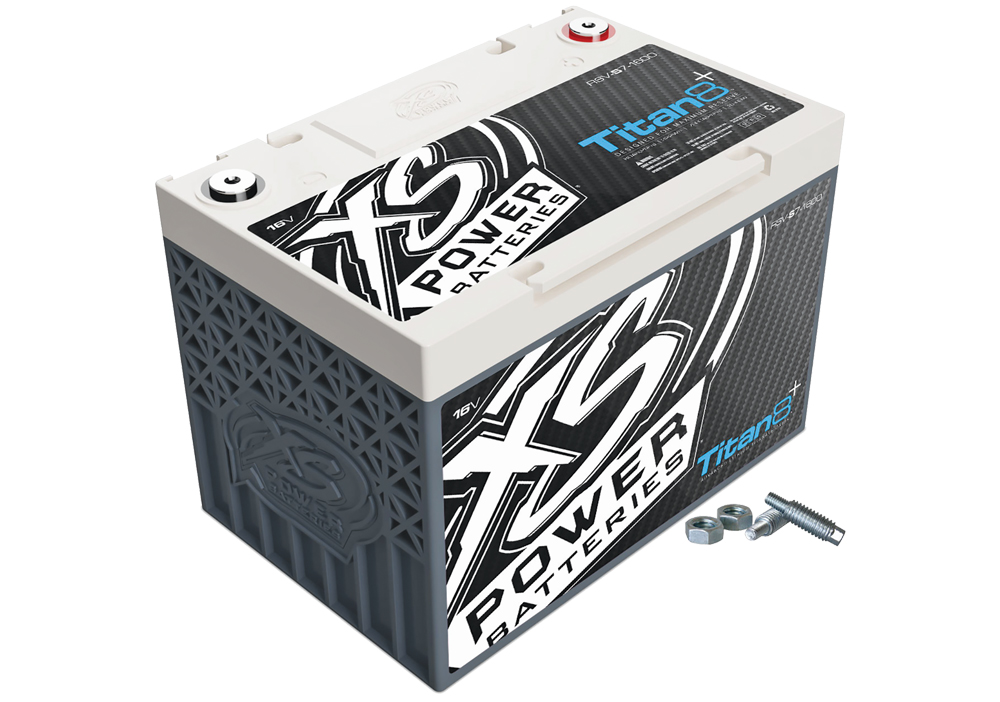 "While the most exciting advantage of the Titan8 is the weight, it's also more powerful and longer lasting than a comparable-size AGM battery," added Basner. "The Titan8 can also use the same charger as a 16-volt AGM battery, and it is alternator capable from 18.2 to 20.3 volts."
Lithium batteries are known for holding a charge and providing better performance in cold weather. They can also last up to five times the normal lifespan of a lead-acid or AGM battery. —Mike Magda
HydroSlurry
Intended for parts restoration, HydroSlurry from ABS Products in Brea, California, was made to produce results with delicate engine components that goes a step beyond many traditional cleaning processes. 
"We sell everything from steel grit to plastic glass baking soda in a vapor hone, which is a water and media mixture—a slurry mixture," said Dave Ward. "And that's great for a final cleaning on parts. With aluminum, in particular, it makes the part look brand new. So if you're in the restoration business, or you just want your parts like carburetors, intake manifolds, and valve covers to look fantastic, this stuff will do it." 
ABS recommends putting parts through a baking soda cleaning or similar process beforehand to get grease and gunk off of components. Once that's been done, putting that part through the HydroSlurry process afterward will take it to the next level. "It's always a good idea to run the part through some kind of cleaning process first—if you take an extremely dirty part and put it in there, all of that grease and dirt goes into the slurry mixture. HydroSlurry will certainly clean it and make it look like new, but the more you do that, the more quickly the slurry mixture is going to become contaminated and need to be changed out."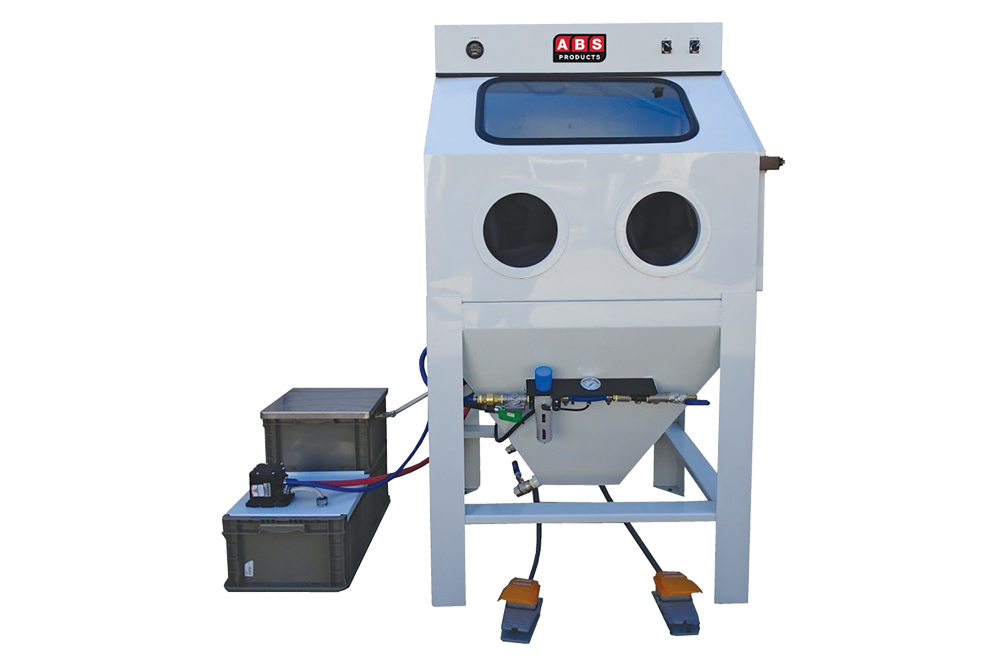 ABS Products' HydroSlurry cabinet is 100% stainless steel and is designed to take into account many of the common procedural issues that other manufacturers tend to overlook. "It's completely sealed to prevent any potential leaks," he said. "If you look at the other cabinets that are on the market, you'll notice that they use a trough next to the door to catch the leaks. Well, ours doesn't leak, so we don't need that trough." 
The cabinet also features an internal window wiper, Ward noted. "One of the other issues you'll find with a lot of these other cabinets is that you can't see through the window once you start to blast, so we've addressed that here as well. And it's all made in-house here in the US—from the flat sheet metal all the way to the completed part, it's all made here in our facility in California." —Bradley Iger
1-2-3 Count with Car Parts Book
Introducing the younger generation to cars and racing is now a little easier with the "1-2-3 Count with Car Parts" book. This new board book is written and published by the Fast Kids Club, which is part of the racing lifestyle apparel company Eat Sleep Race based in Edison, New Jersey.
The counting book is the follow-up to "ABCs for Future Race Car Drivers," which won a Global Media Award at the 2019 PRI Trade Show. That book is available in both reader and coloring book editions.
"This is the counting book for newborns up to three," said author Brian Mabutas. "The first book is the best-selling product at our company."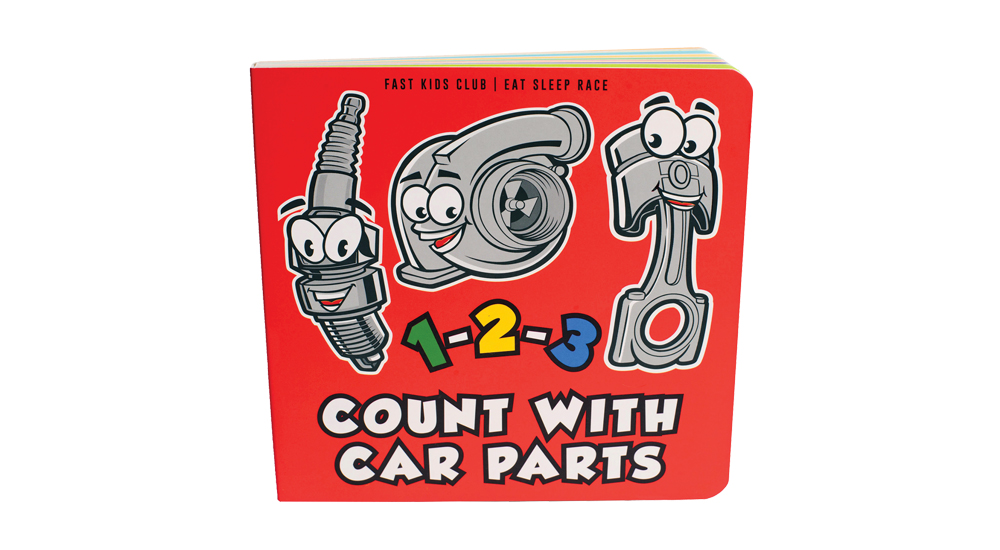 Colorful auto-related illustrations are used to teach the numbers one through 10. For example, one is used with a steering wheel and two is used with twin turbos. Finally, 10 is used for the number of spark plugs in a V10 engine.
The ruggedly constructed board book is designed with a simple point-and-say layout to help build knowledge and confidence in children with repetition.
Mabutas said more books are in the works but wouldn't give any hints as to the subject matter or publication dates. —Mike Magda