Industry Insights: Beth Paretta
Image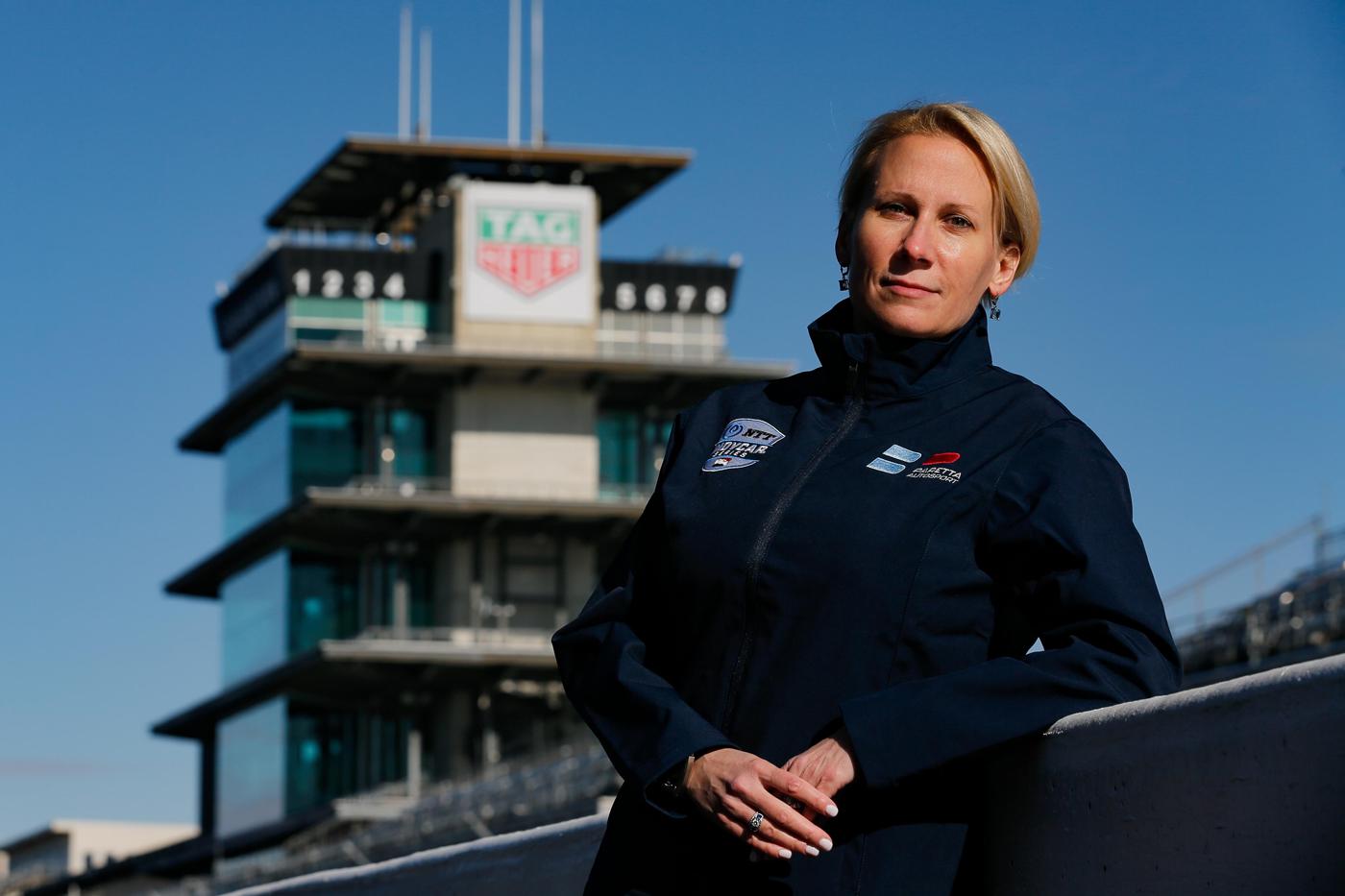 This trailblazer leads by example, establishing an IndyCar team featuring women in prominent roles—including the driver—and working to bring greater diversity to all aspects of motorsports.
Beth Paretta didn't set out to be a revolutionary. She studied broadcasting and film in college, and then went to work in the hustling environment of new car sales at auto dealerships. From there she climbed the ladder in business development at Volkswagen of America, then Aston Martin, and finally Fiat Chrysler Automobiles, where she ran marketing and operations for the company's Street and Racing Technology (SRT) division and its racing programs.
It was there, working simultaneous efforts in NASCAR, Trans-Am, and IMSA, that she really learned the business of racing. Under her direction, SRT teams won three national championships in GTLM, Trans-Am, and the NASCAR Xfinity series. In that role, she made the connections needed for her next big idea—to run her own IndyCar team and set an example for all of racing. After an initial effort in 2015–2016, she's back with a whole new team this year, consisting of about 70% women, including Simona De Silvestro in the driver's seat.
We recently sat down with Paretta to ask how she got here, how she finds value in diversity, and where it's all headed.
PRI: How did you get to where you are today?
Paretta: In high school and through college and grad school, I worked in the Alpine skiing business. But when I graduated, I didn't want to work in something dependent on the weather, so I pivoted to my other love: cars. I literally walked into a dealership and asked for a job. I remember saying to the general manager that I'd like to learn how this business works, so I would come in on my days off and sit next to the service manager and the parts man.
One day an Audi factory rep came in. I mentioned that I was trying to learn all the facets of the car business, and he asked for my resumé. Two weeks later I had an interview for a job with Volkswagen Credit. They plucked me out of obscurity to go work on the finance side. This gave me a fantastic foundation because I learned it all from the ground up. From there I went to Aston Martin, and then I got hired to run marketing and operations for Fiat Chrysler's SRT division. That job involved overseeing motorsports.
I wound up changing the way that we were supporting the NASCAR program internally, and we won the championship with Team Penske in 2012. That was Roger Penske's first Cup championship, and it was the first time Dodge had won since 1975. It was a big deal!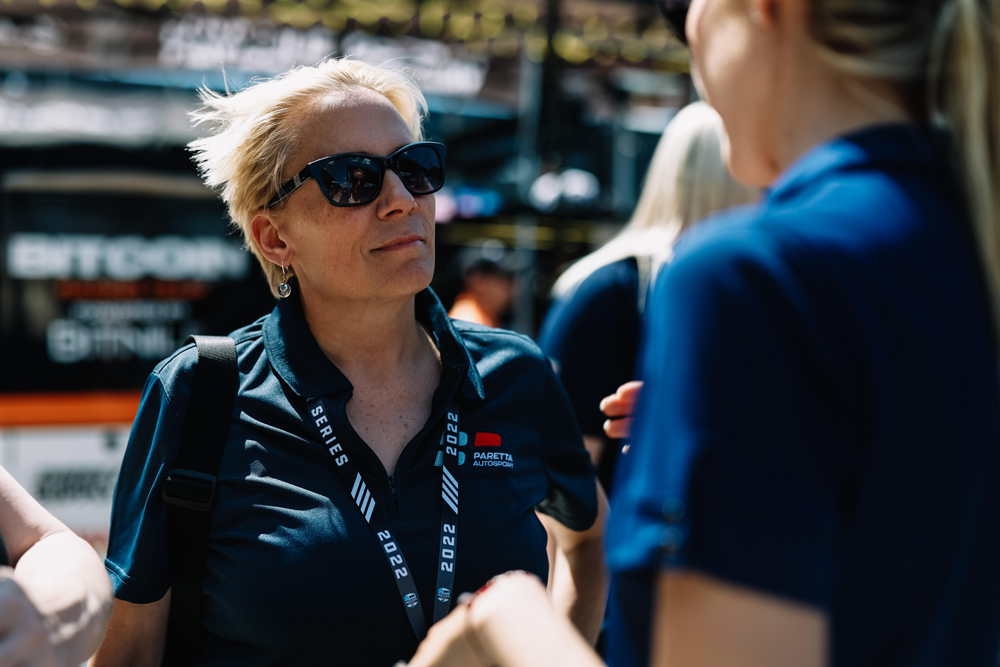 PRI: A lot of people work at the highest levels of the auto industry and even manage racing programs, but forming your own IndyCar team is a huge step. Why did you do it?
Paretta: It's funny because somebody asked me, what made you think you could do this? And I don't mean to sound dismissive, but it literally never occurred to me that I couldn't. The idea started with the Indy 500 because you can do it as a one-off race. That uniqueness was the spark of the idea, but it's no different than running any other business, really.
PRI: The unique thing about your team is the number of women you employ. Tell me about that.
Paretta: I saw firsthand that there weren't a lot of women involved in racing, but I knew there was room for more. I also saw that car companies were lamenting a serious talent shortage. Engineers were retiring at a faster rate than they were being backfilled. A lot of institutional knowledge was going out the door.
That's when I connected the idea of using racing to solve the problem. We need to get more people to want to do this for a living. How do we do that? What if we start talking about skills and technical careers to kids? Yes, racing is a sport but we can use it to get your attention, and you can use these skills to make a living.
Then someone asked me about a women's team for the Indy 500. Since it could be a one-off, I thought, "Why not figure out how I can make this work?" So I left Fiat Chrysler to work full time on making it happen.
PRI: You got early support from Roger Penske.
Paretta: I've known Roger a long time, so when he bought the IndyCar series and announced this diversity push, I called him. My intention was to start an LMP3 team, then move to Indy Lights, and then IndyCar, to properly grow. But then I met with Roger and told him what I was thinking. He asked me, "Why not just do IndyCar now? Let's work together."
PRI: Do you think you would've gone for a women's team without that diversity push?
Paretta: Yes. When I was trying to do the Indy 500 in 2016, it was supposed to be a majority women's team. That was always the plan. I wanted to use the team to showcase the many roles women can have on a team. I knew women respond to seeing other women, so our team is meant to be a visible example. IndyCar's diversity push made it easier to have the conversation, but I was already working on this.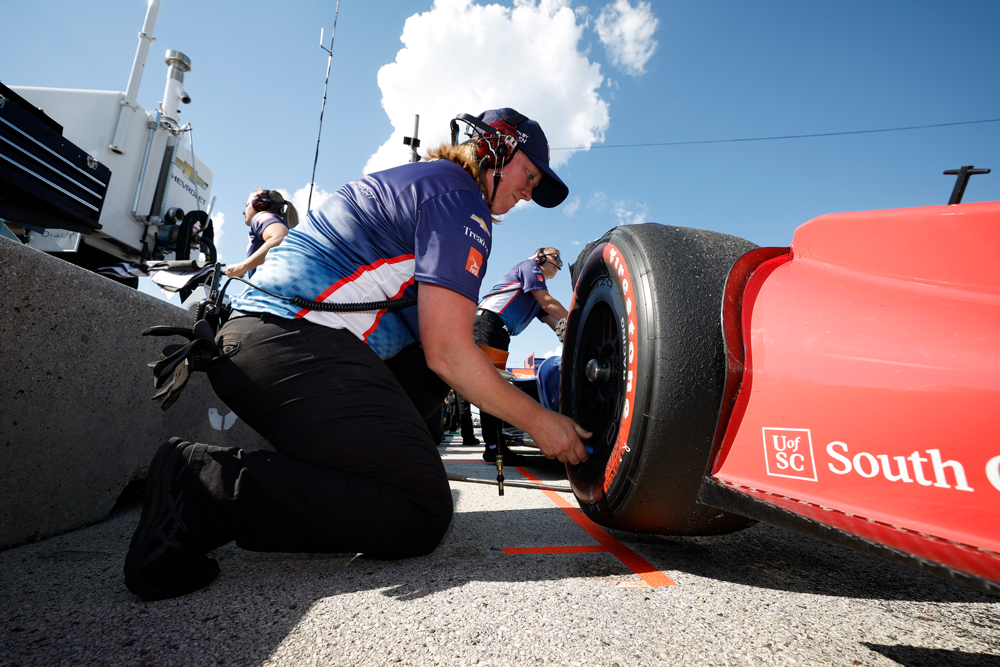 PRI: Driving race cars is very glamorous, but it's good to hear you talk about bringing new people into every job on the team.
Paretta: Everyone says there's no people. Well, are you investing in new people? Because it's actually your responsibility to do that. We hire men, women, whatever. I don't care if you've got stripes or leopard spots. If you're good, we'll hire you, and you could have a 30-year career.
If you have that passion and that love for racing, there's a place for you in this sport. This is why Lyn St. James and I started Women in Motorsports North America (WIMNA), to try to profile all the jobs. How about running a race track? We don't talk about the layers of racing, like being an official or being safety personnel. All of those things make the show happen, and all of those people love racing as much as we do.
PRI: Do you think being a woman has helped you in your career?
Paretta: I think in some ways being a woman has helped me only in that you remember me. I used to joke about this when I was at Aston Martin. In a given day you might meet 10 Daves and you met one Beth. Don't get me wrong—I have to be able to do the job. I have to know my stuff. Being a diversity candidate might get you an interview, but it's not going to allow you to keep a job. At the end of the day, especially on a race team, you can't phone it in.
PRI: What goals do you have for your team?
Paretta: My goal for our team is to run full-time because that's the only way we're going to get results. You can have small lineup changes here and there, but it's the consistency on track that only comes with time that leads to success in racing. I always say, I don't want my team to be 100% women. I want women on 100% of the teams. I want to see more women and more people of color on all the teams.
PRI: How can the racing industry support WIMNA?
Paretta: We're going to have a jobs board. If you're looking for talent, come to us! We can help you create a job posting and try to direct people your way.
We're also mentoring young women. If we ask you if someone within your organization can do a mentoring session, please say yes because we're trying to reach high school students who are considering getting into the sport and young people who are just finishing university or are early in their career and might want to make a pivot.
Another thing we hope to do is offer microloans. Let's say you want to hire somebody as a junior engineer at your race team. Your team is based in Indianapolis, but they live in Seattle. They need to move, but they need to break their lease and get a new place and pay their first month's rent. Literally, giving somebody a small loan or grant of $5,000 could ease their burden and change their life. Things like that are low-cost solutions that would really help someone on their journey.
WIMNA is really meant to be a resource for information. If you've got a program within your organization that you want us to highlight, let us know so we can help you get the word out. And if you're inclined to support us, we are a nonprofit, so you can donate directly.
PRI: What are the big challenges to make all that happen?
Paretta: Getting the word out. We want women to share their knowledge and experiences, to help younger women navigate the early years of their career. Answering questions like: What happens if you take a break to have children? Do you leave for a couple of years? Do you go back and forth in between? Those are real considerations for people, and it helps to talk about it with people who have gone through it. There are three women on my team right now who are new moms. Between them, they have an 8-month-old, a 9-month-old, and a 10-month-old. One of the women is nursing. So this weekend, at the race track, we had to find a place for her to pump and freeze her breast milk. The team had to solve for that and we did, and at first, I don't think any of the guys on the team knew that was going on, but we got it sorted. Women are resourceful.
PRI: Let's imagine a future where WIMNA is completely successful. What will that look like?
Paretta: I think just more women on all teams across all roles, across all series working at all tracks. Let's just get more good talent! This isn't about women at the expense of men. I'm always very careful to remind people of that. It's not about taking someone else's seat at the table. It's about building a longer table. We're better together. Case in point: I'm not trying to replace a team. We're an additional team.
It's funny, last year I got a note from a guy that said, "Okay. So you're saying if a woman and I apply to your team and we're both equally qualified, she's going to get hired before me?"
I said, "Yes."
He said, "Well, that's not fair. That's bullshit." I said, "Now you know how we feel."
This is literally the stuff that's been happening for hundreds of years. The way that you felt in the pit of your stomach and you were angry; sit with that for a second. That's literally how we've been living. So many people are blind to the fact that this actually has happened. That's why there's been anger, frustration, disappointment.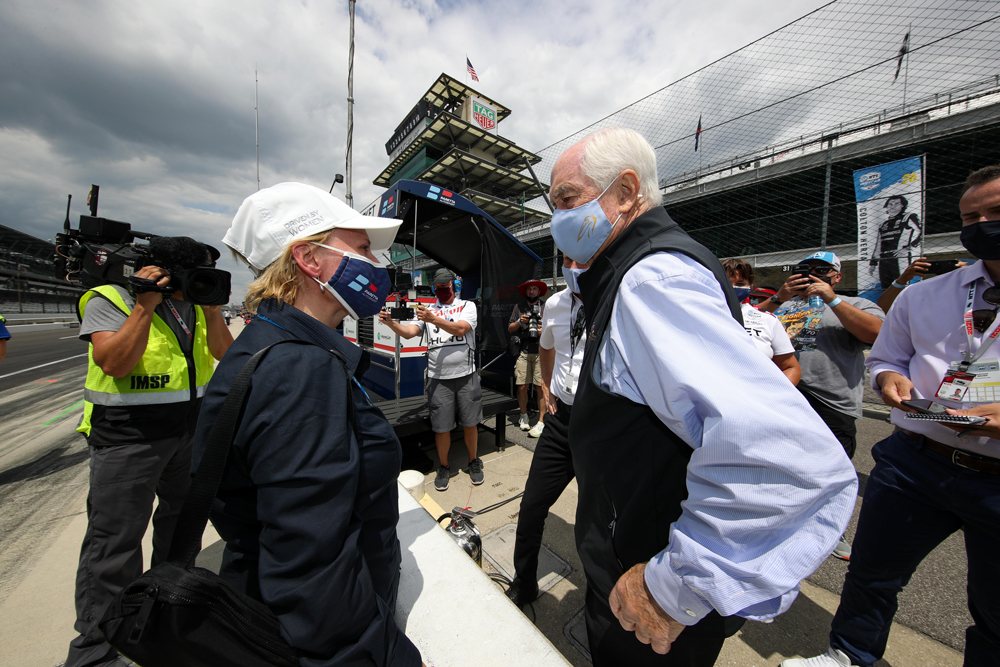 PRI: Has the IndyCar organization been welcoming to you?
Paretta: IndyCar has welcomed us. We have seen the data from last year of the uptick in women viewers as well as those who said that they've been fans for less than 12 months. You can draw a pretty easy dotted line from that to our entry in the series. So, viewership is up. Does that help Ganassi and Andretti and Penske? Of course.
PRI: If you could write your future Wikipedia entry, what would be the first sentence?
Paretta: I would probably lie about my height! Seriously, I would just say, automotive and motorsport professional who endeavors to make it better for everybody.
PRI: And won the Indy 500 along the way?
Paretta: Listen, if I can kiss those bricks again, that would be amazing. I've kissed the bricks in NASCAR and IMSA. If I could kiss them in an Indy car, that would be quite the trifecta! So it would say, Beth Paretta, three-time brick kisser!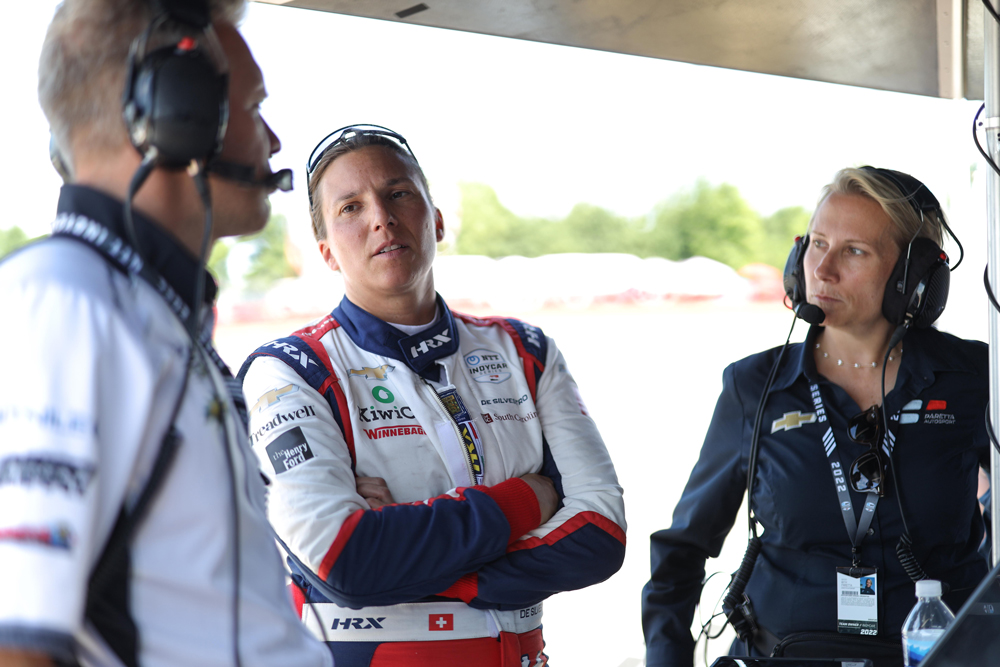 PRI: What leadership traits have you learned along the way that you incorporate into your day-to-day interactions with your team?
Paretta: I try to always be available to my team, so they know that I'm there to support them, to make sure that they have the tools they need and that they're given clear direction. I'm not a micromanager by any means, but it's that idea that you know that I'm there if you need me.
Last year with our team, some of the women hired were completely new to racing; completely green. The elephant in the room was that our team was going to be a curiosity. There may be people staring at us while we're at work. Drivers are used to that, but mechanics and engineers are not. Also, we're carrying the weight of the gender on our shoulders. If you make a mistake in the Indy 500, it's like, do we deserve to be there? Literally, if we drop a gun and the Andretti team drops a gun, it's the same mistake, but obviously there's this added pressure. So, I'm definitely a bit of a mother hen and protective of our people!
PRI: Is there anything that I haven't asked that you would want to say?
Paretta: If I look back at my career, there were three times when I was being hired where in the interview, people said, "We're going to take a chance on you," like I was a risky bet. It's funny because I know I was never the risky bet. The point is sometimes, taking what you might think is a risk isn't really a risk; you just have to be willing to do it. Hire someone who doesn't look like you. As long as the interest and the passion is there and they have the aptitude to learn, teach them the skills. I would tell anybody reading PRI Magazine, "You're building parts in your race shop, why not build some people too?"