Image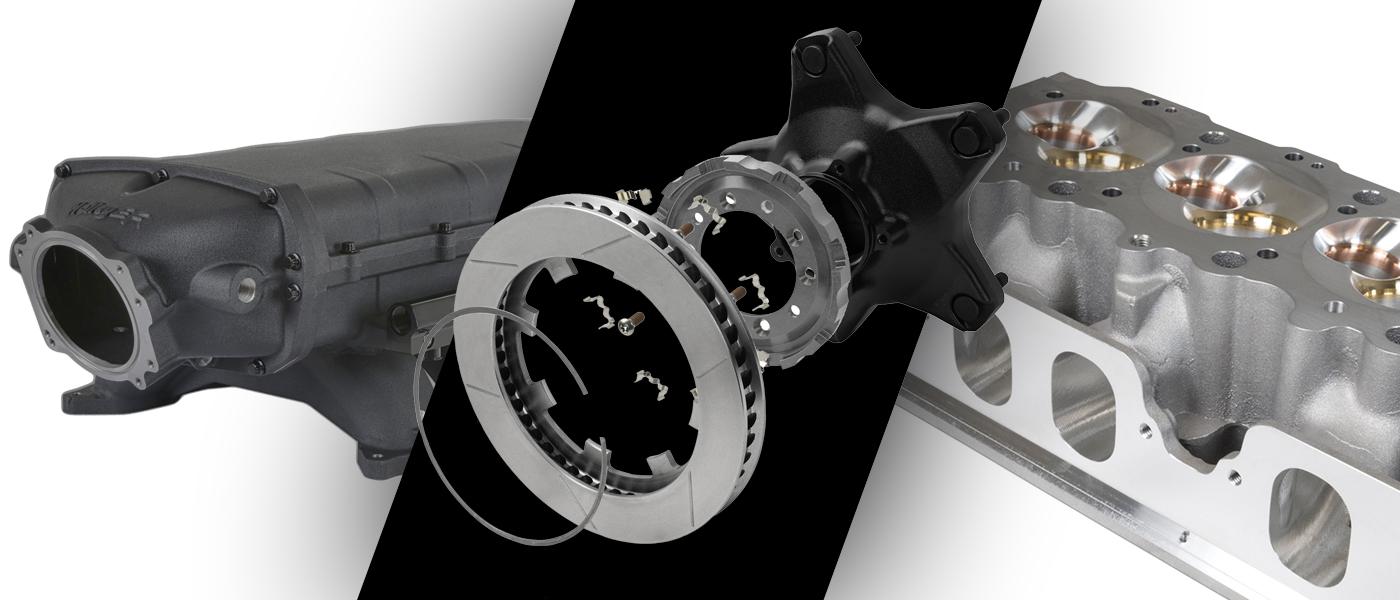 Hundreds of new product announcements cross the desks of PRI editors each month. Following are our top picks for September.
Connect Battery Monitoring System
Odyssey
odysseybattery.com
A tow rig breaking down on the road before getting to a race is more frustrating than losing in the final round. But the new Odyssey Connect battery monitoring system can help avoid such a misfortune.
"The Odyssey Connect is for trucks and haulers, including those used to transport race cars," said Alan Kohler. "It can be used to monitor the truck's battery health while traveling back and forth to the track. No missed races due to downtime of the hauler."
Users always have the battery information at hand because data collected through the system is communicated via Bluetooth to any Apple or Android smart device. The system actively tracks the battery state of charge (SOC) and state of health (SOH) by checking voltage and temperature status throughout cranking and other events.
"Our feedback from fleets indicates the Connect system helps with a solution that was not previously addressed in the battery world," added Kohler.
Drivers can view warning and safety notifications directly on their smart devices in addition to reviewing battery trends on a 24/7 basis. The system can highlight the previous six days of battery voltage and temperature data in a combined graph. Plus, from the first day of operation the system captures and analyzes battery operating history. —Mike Magda
EV Stub Axle Assembly
Mark Williams Enterprises
markwilliams.com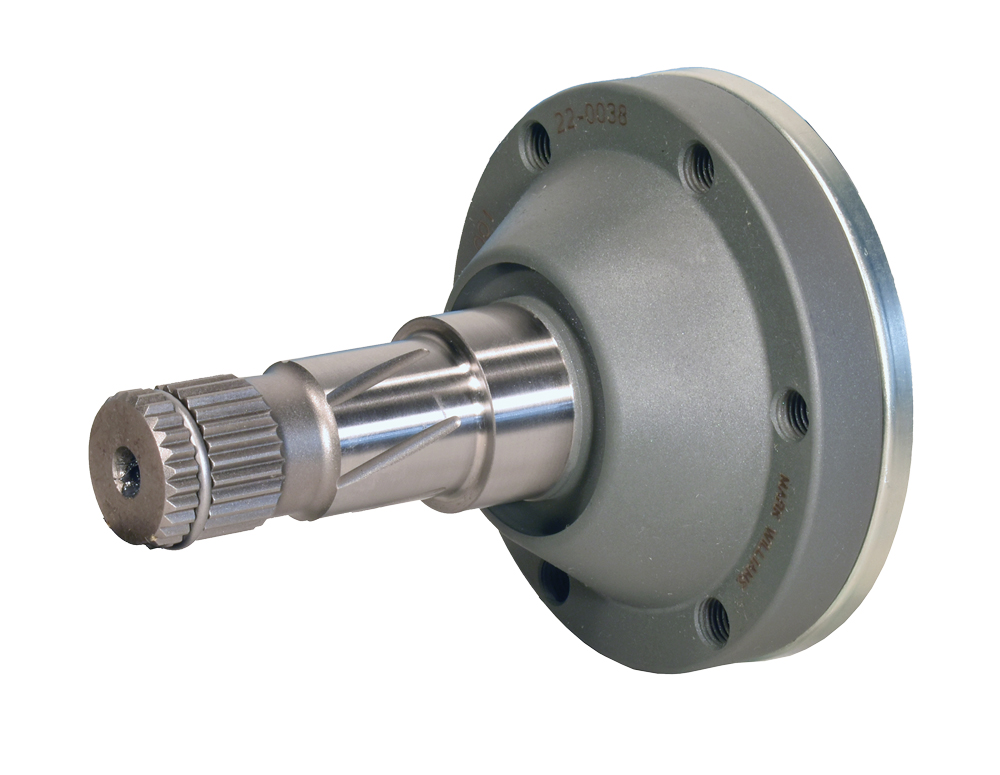 Given the massive torque potential of electric motors, it's no surprise that heavy-duty driveline components will be necessary for competition EVs. Mark Williams Enterprises, already a well-known supplier of performance driveline equipment for racers, is now offering a new stub axle assembly specifically for the popular IDM-190 power module from Cascadia Motion.
"With an increase of EVs in competition applications, it warrants our attention," explained Mark Williams.
The assembly facilitates use of the popular Series 15 constant velocity joint, which is commonly referred to as a Porsche 930 CV joint. Williams said the Cascadia high-torque power unit is the choice of many independent EV builders.
"As the torque output of EV power modules continues to increase, we see the need for developing heavy-duty driveline components for this burgeoning market," added Williams.
The unit is manufactured from a 300M alloy steel forging and heat-treated to more than 300,000 psi tensile strength. It's also double shot peened, and all exposed surfaces are treated to a Cerakote ceramic gray coating for rust protection. Included in the shaft assembly is a plated CV cup to retain grease, and an expand ring to locate the shaft to the axle gear. —Mike Magda
Jeep JL Single-disc Clutch
McLeod Racing
mcleodracing.com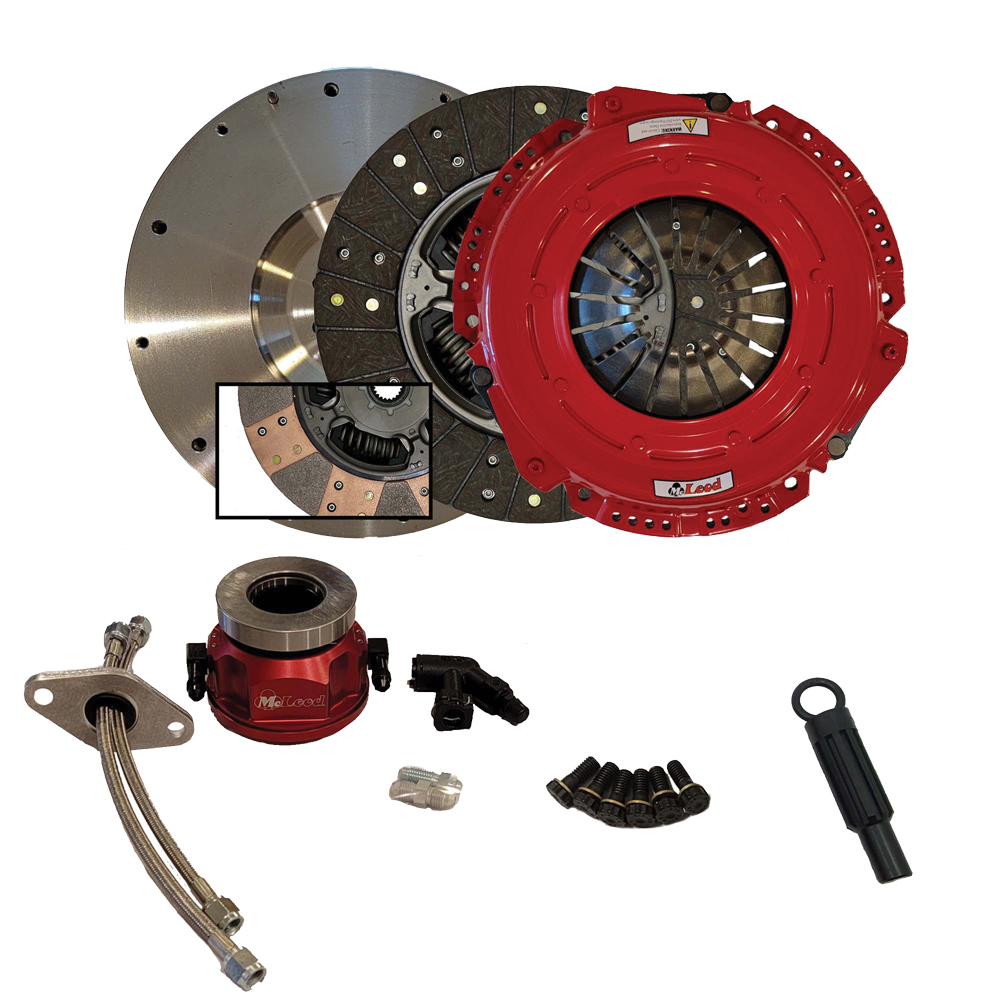 Jeep JL and JT racers and performance users will appreciate the new single-disc clutch in the Adventure Series from McLeod Racing.
"This new clutch line is designed with performance and durability in mind," said Will Baty. "The Max Mass steel flywheel with its extra mass provides additional energy to the engine that will help reduce stalling on obstacles or when using larger diameter tires."
Each kit includes a high-clamp-load pressure plate, sprung hub disc, steel flywheel, billet hydraulic bearing, bleeder, and hardware.
"We added additional strength to the drive straps of the HD pressure plate to help eliminate strap failure during a hard deceleration or on any downhill where the vehicle's weight is loading the drive straps," explained Baty. "The friction disc is designed with a steel back lining to prevent any type of failure or explosion of the facing and withstand the additional heat that comes with spirited driving."
The Jeep JL clutch and flywheel kits will be available in three stages. The Trail Pro is rated for 450 lbs.-ft. of torque, and the Super Trail Pro is rated for 510 lbs.-ft. of torque. The Trail Extreme is rated at 570 lbs.-ft. of torque. It can hold onto big engine modifications as well as increased vehicle weight with large tires. This kit is provided with a ceramic-lined disc. —Mike Magda
Victor CNC 12-degree BBC Cylinder Heads
Edelbrock
edelbrock.com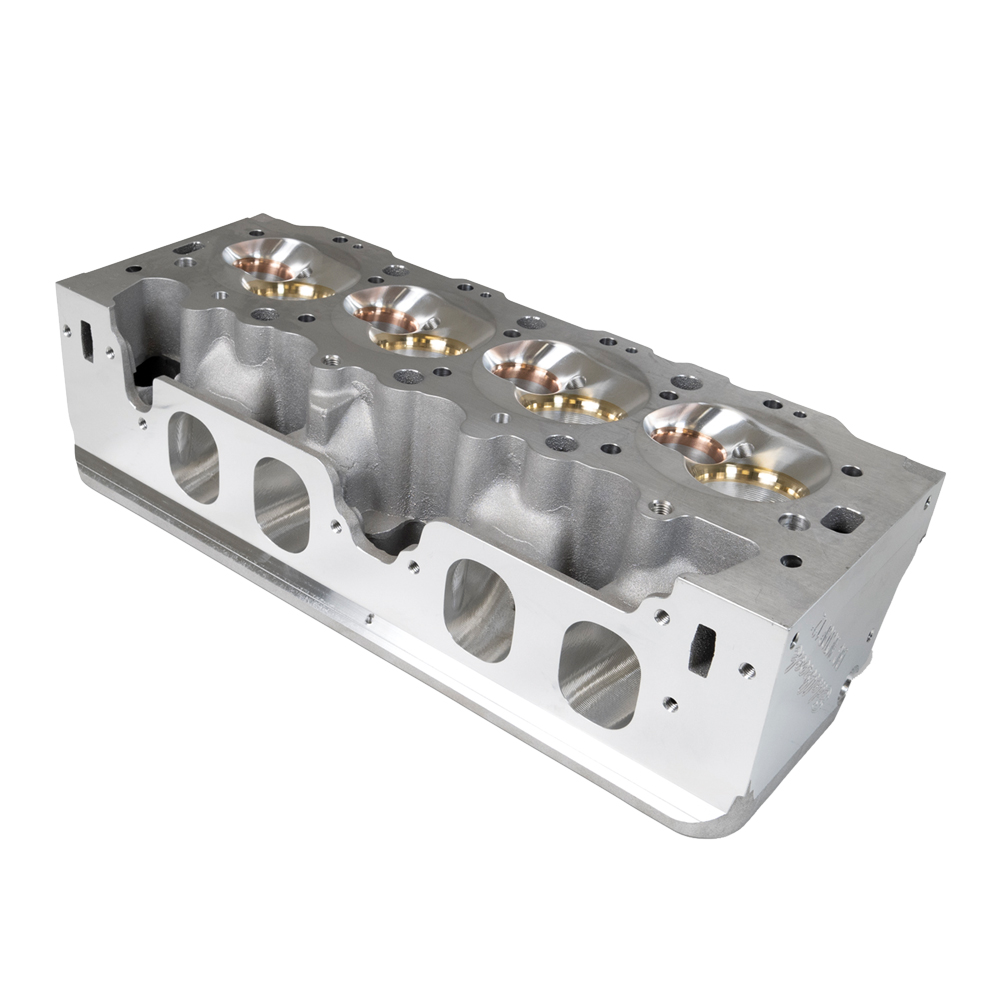 The new Edelbrock Victor CNC 12-degree cylinder heads are specifically designed for big block Chevrolet engines running naturally aspirated, nitrous injection, or boost in competition.
"Racing classes that take advantage of the larger displacement, 4.840-inch bore spacing engines, such as Top Dragster, Top Sportsman, and the 632 Grudge class, rely on these types of cylinder heads to maximize power," said Jamie Wagner. "This head lends itself very well to engine displacements of 598 cubic inches and larger but can be used in other engine configurations wanting to maximize engine performance with this bore spacing."
Nicknamed the Big Vic 12, the head is cast in the USA at Edelbrock's state-of-the-art foundry using premium aluminum alloy that undergoes hot isostatic pressing (HIP) for a more stable and dense grain structure.
The heads feature 12-degree valve angles and large CNC-machined raised oval intake ports that measure 498cc and have been designed to maintain high airspeed through the valve, which generates a higher torque curve throughout the engine's operating range. The exhaust ports are also raised from the stock location.
"All the feedback we have received from our customers state they are very happy with the overall performance of the Big Vic cylinder heads," added Wagner.
Other features include copper intake and exhaust valve seats that are cut for 2.500-inch intake valves and 1.800-inch exhaust valves, and a conical combustion chamber design that measures 82cc. —Mike Magda
Lug-drive Rotor Adapter for Wide-5 Hubs
Wilwood
wilwood.com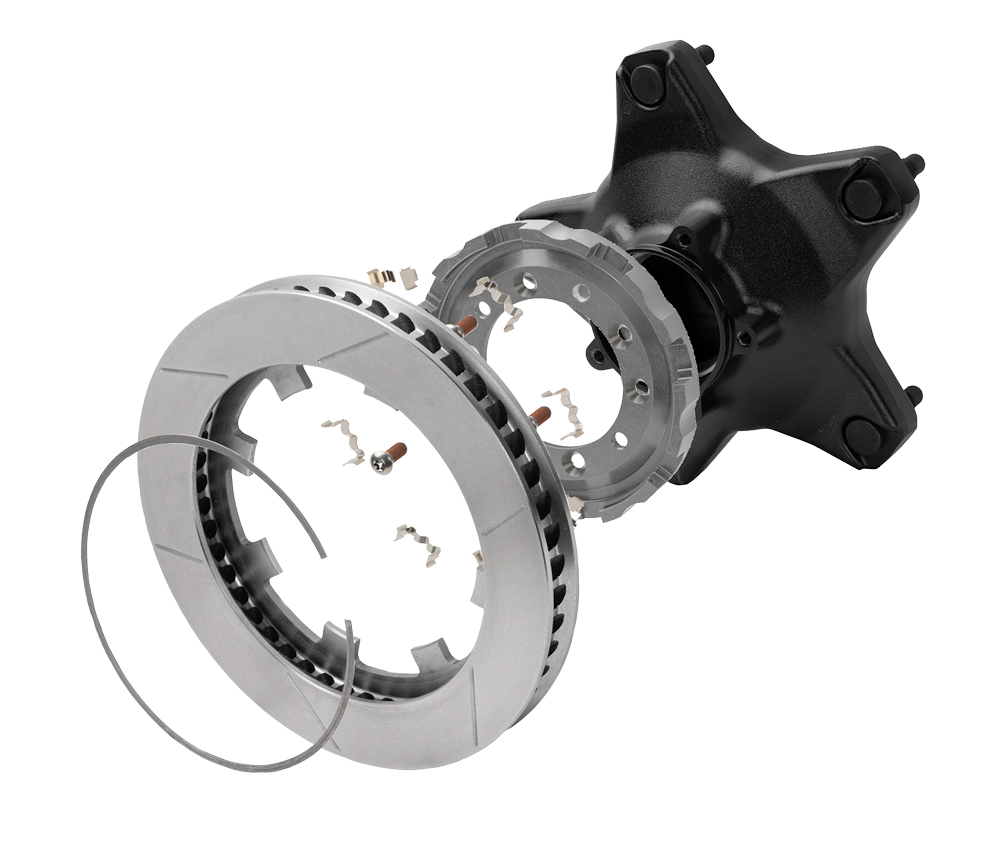 A new floating rotor lug-drive system from Wilwood simplifies assembly with a single snap-ring in place of typical rotor bolts and safety wire. Also, the floating rotor eliminates heat distortion from thermal expansion for a more predictable pedal feel.
"It's a complete bolt-on system for any wide 5 or 5x5 hub that maintains original rotor position without moving the caliper or space a hub," explained Dave Brzozowski. "Our unique stainless-steel wear/float control clips ensure a long life on our 6061 aluminum Type-III hard anodized plates."
Racers can expect improved pedal feel, float consistency, and longer life due to the new design that eliminates a traditional aluminum plate/hat coming into direct contact with the rotor. Drag and road race cars have used the Wilwood Lug-Drive system for years, and the wide 5 version was extensively tested in asphalt Late Model racing for over a year.
"We've had this system-on-hat setup designed for TransAm2 for the past three years, winning numerous events and championships in 2022," said Brzozowski. "We have had the new wide 5/5x5 parts in the field for over a year on numerous cars before releasing them for production, and have had nothing but positive feedback, as mentioned." —Mike Magda
Modular Intake Manifolds for Ford Coyote Engines
Holley
holley.com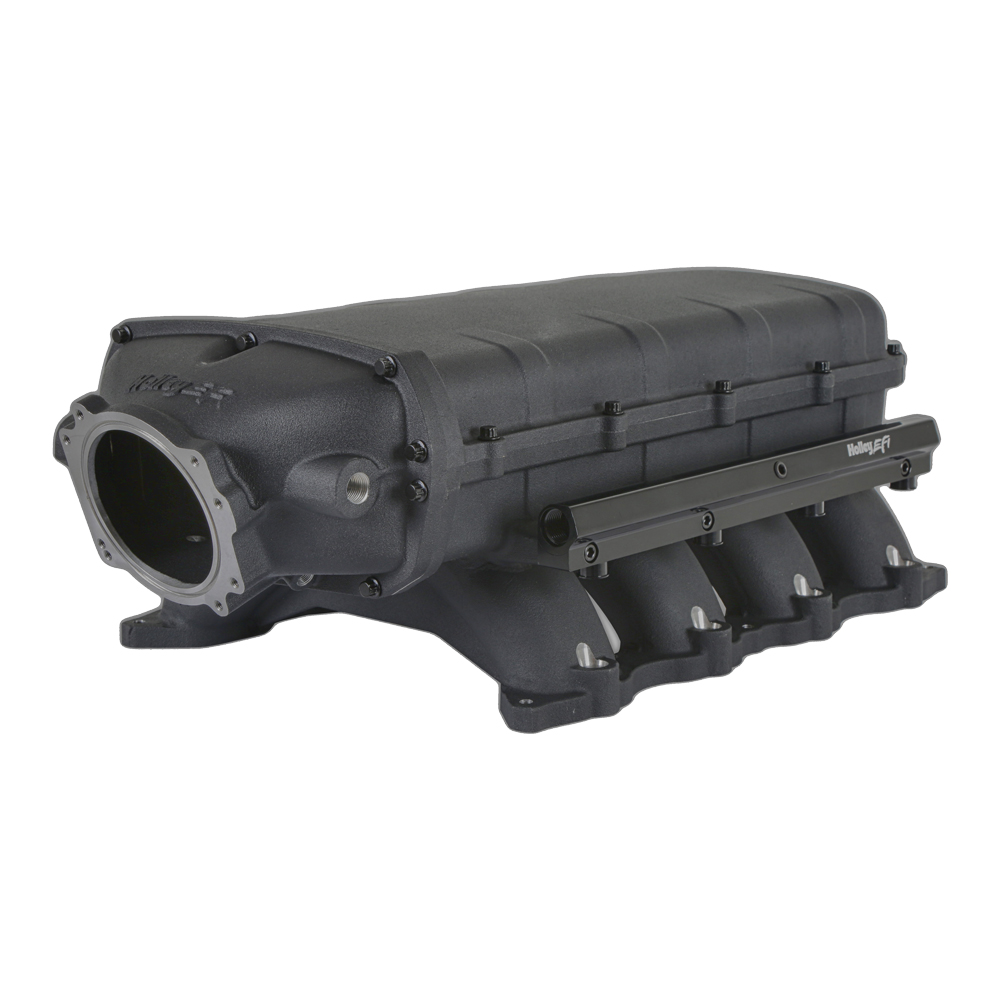 Holley's new line of modular intake manifold components for Ford Coyote engine platforms allows the user to choose between color, throttle body openings, and plenum volumes. The as-cast aluminum construction is offered in a Hi-Ram style or Ultra Lo-Ram (shown in photo).
The modular design offers different tops to support additional accessories.
"The new Holley Coyote Lo-Ram and Hi-Ram are cost-effective manifolds that perform. The Hi-Ram is designed to allow for water-to-air-intercooler bricks, nitrous plates, and more," said Mark Gearhart. "The intakes already feature a refined port design with streamlined injector bosses for reduced turbulence. Different sizes and styles of throttle bodies can be used, and include a large oval or round monoblade, and the GM LS 4-bolt. Plenum volumes will vary between 9.8 liters, 8.4 liters, and 8.2 liters, depending on the top and throttle opening.
"Also, being a multi-piece cast manifold, it allows for easy porting, custom modifications, and more," added Gearhart.
The intakes are offered in black and natural finish. Both styles have 9.20-inch runner lengths designed to improve mid- to high-rpm powerband. They fit bolt pattern OE heads found on the 2011–2023 5.0-liter Coyote V8 engines, including Voodoo and Predator. Kits include fuel rails for use with OEM-style fuel injectors, clips, mounting hardware, and O-ring gaskets. —Mike Magda
Purpose-built Marine Oil Pan
Milodon
milodon.com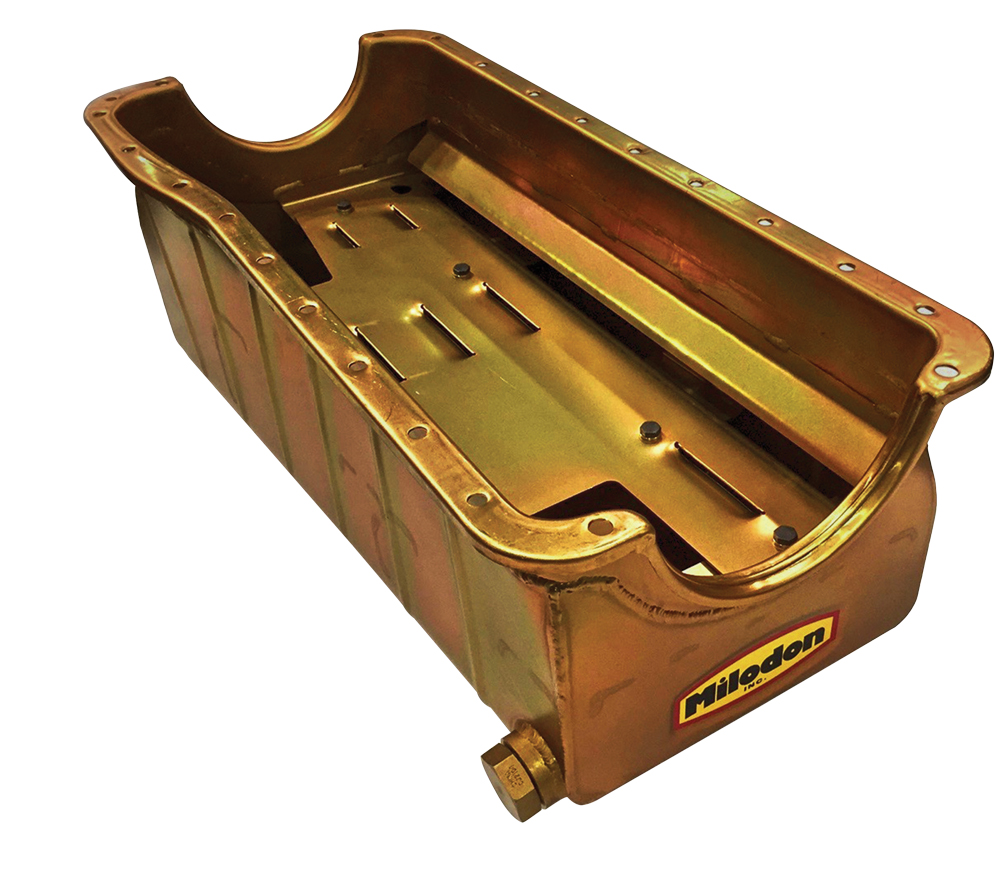 A marine engine has different needs than a car engine, and the oil pan is a perfect example. Milodon doesn't "adapt" its car pans to the boat market, but rather offers a line of true, purpose-built marine oil pans.
"Marine oil pans require extra heavy-duty steel construction, unique oil-control baffling, and large oil capacity that must also be controlled," explained Steve Morrison. "Heavy-gauge steel construction is used so the pan can withstand the beating that a car will never see. Marine application pans also double up for the monster truck market as they see the same unique and severe loads."
The pans are made in the USA, constructed from 16-gauge steel and TIG welded. Finally, Milodon's signature gold finish has a zinc undercoating.
"Boat engines have to work harder turning the jet or prop drive, and that creates a lot of heat," added Morrison. "The engine is in the hull, which does not allow for much airflow or cooling, so it tends to build excessive heat. Milodon marine pans have many provisions to help reduce heat and control the oil from sloshing."
Marine pans are available for big block Ford, big block Chevy, small block Chevy, and Olds 455.
—Mike Magda