Image

Hundreds of new product announcements cross the desks of PRI editors each month. Following are our top picks for September.
RZ-88O & RZ-88C Helmets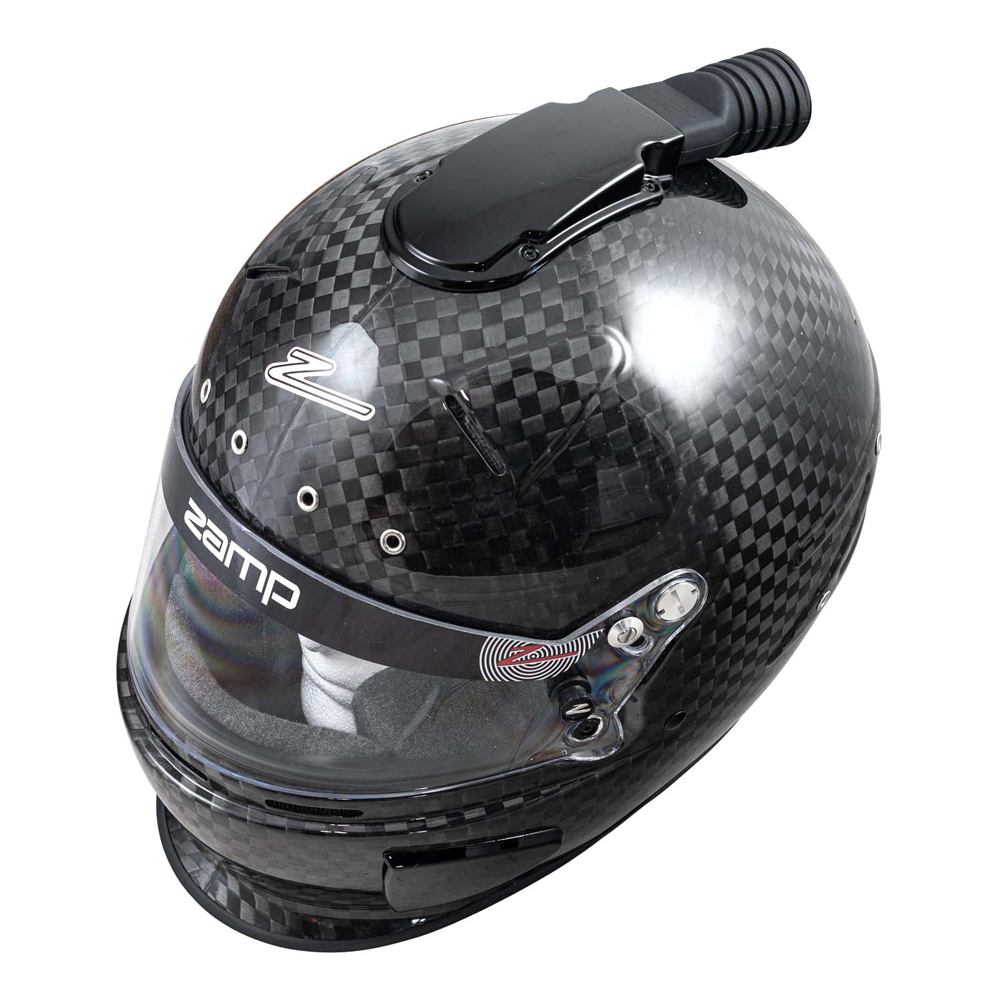 Two new models from Zamp Helmets in Boise, Idaho, are now certified to the advanced FIA 8860-2018 safety standards. The RZ-88O, which is designed for open wheel situations, and the RZ-88C, which is for closed-cockpit applications, were just released with a retail price of $1,799.95.
"Only two manufacturers offer this certification in the full size range up all the way to 64 cm," said Dave Zamp, noting that the larger sizes are more difficult to pass the certification standards. "Typically, competitive helmets with this certification are $2,000 up to $3,000."
Constructed of carbon fiber using high-pressure bag molding, available sizes include X-small (54 cm), small (56 cm), medium (58 cm), large (60 cm), X-large (62 cm), XX-large (63 cm), and XXX-large (64 cm).
The open wheel is more aerodynamic with extra venting. The closed-cockpit version is forced-air compatible and designed with more airflow throughout the helmet. Also, the front spoiler is smaller.
"The Z on the sides of the helmet is one large air channel," noted Zamp. "It allows 360 degrees circulation through the helmet."
Other features include easy installation for communication equipment, and users have options for cheek pads to ensure a comfortable fit. —Mike Magda
'Spare Tire' 10.5-gallon Fuel Cell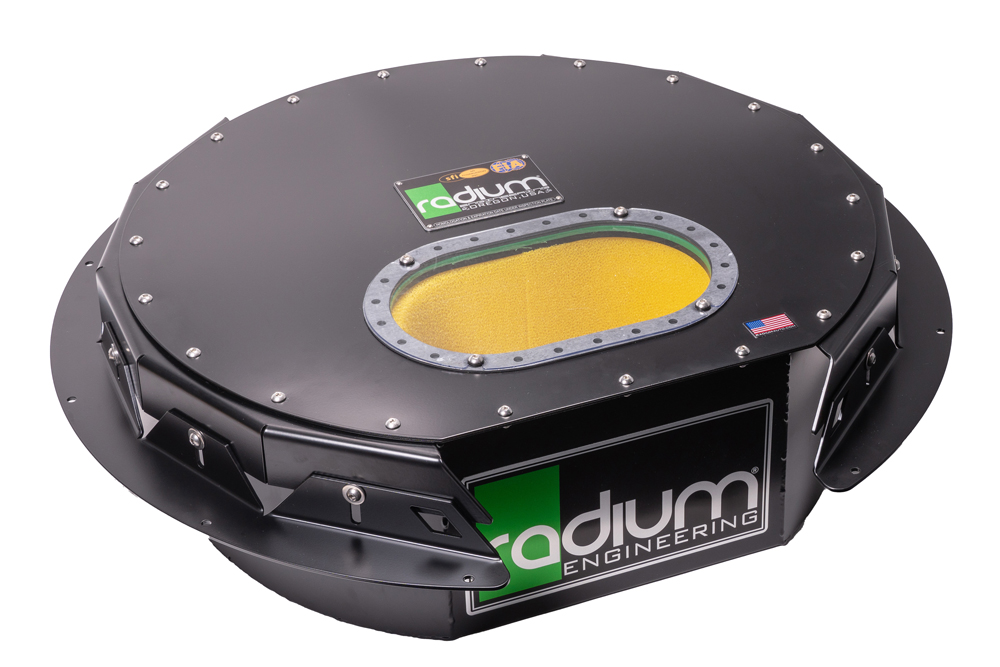 Installing a fuel cell in select vehicles with a deep, circular spare-tire cavity can be very simple using this circular shaped unit from Radium Engineering in Clackamas, Oregon.
"Installation can be a simple, bolt-in process," noted Aaron Suchy. "The 10.5-gallon circular shape is approximately the same diameter as a common spare tire."
Part of Radium's RA series, this 40-liter fuel cell is designed and manufactured to meet safety requirements set forth by FIA and SFI. It's suitable for all types of motorsports, including road racing, time attack, drifting, rally, and off-road.
Radium Engineering RA series internal bladders are made from a special polymer that is resistant to all fuel types, including gasoline, diesel, E85, and methanol. The bladder is housed in a lightweight, powder-coated aluminum enclosure to protect it from damage and debris. Pre-cut explosion-suppressing anti-slosh foam is included along with a threaded aluminum nut ring that helps make the installation even easier.
"We offer this new fuel cell variant with a unique mounting bracket that can be adjusted for different installation depths," added Suchy. "The tank is perfect when paired with our fuel-pump and surge-tank system that is mounted inside the cell."
Radium's other RA series fuel cells come in traditional shapes with 6-, 10- and 14-gallon capacities. —Mike Magda
Big Block Chevy Head-stud Kits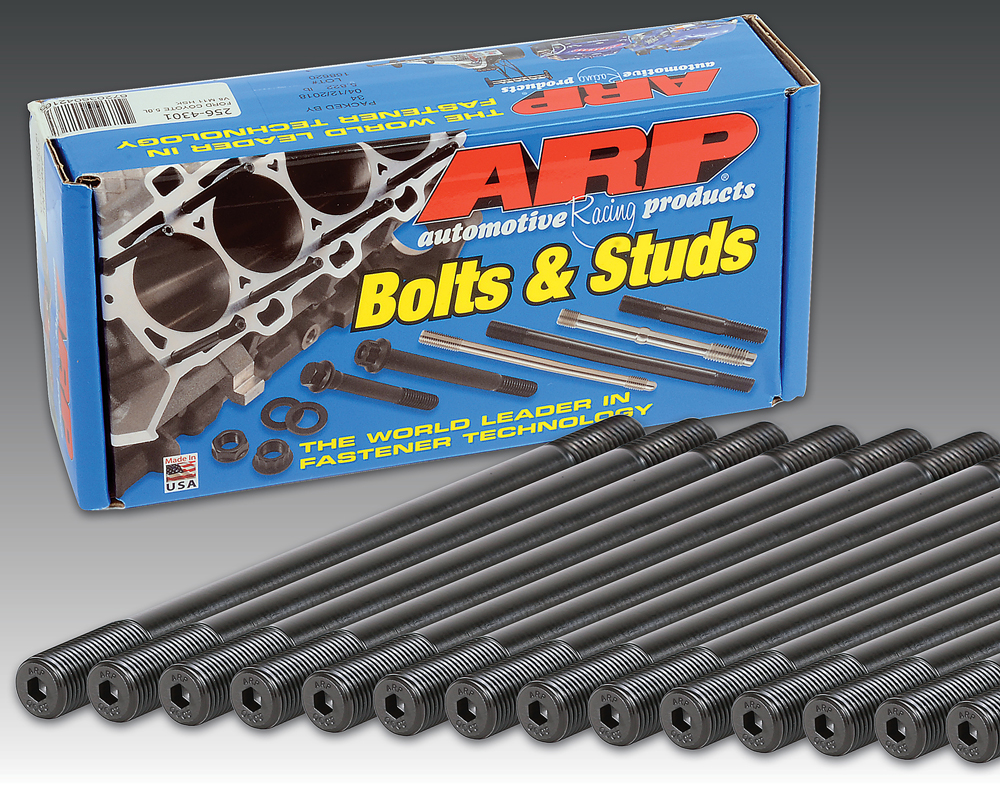 As new cylinder-head and cylinder-block configurations evolve from the venerable big block Chevy platform, ARP in Ventura, California, keeps up by offering more than 80 head-stud kits to cover the different combinations.
"Oddly enough, there have been several aftermarket heads sold without any stud availability. These new heads may require special length fasteners," said Chris Raschke. "Then the customer has to order special parts at a high cost and wait up to 20 weeks. With ARP making these off-the-shelf kits, we make it more economical."
Some of the recently introduced cylinder heads that are covered include Dart Pro 20-degree, Edelbrock Big Victor 12-degree and Big Victor 24-degree models. The fasteners are manufactured from premium grade 8740 steel and heat-treated to 190,000 psi tensile strength.
The threads are rolled, not cut, following heat-treatment to help give the studs up to 10 times improved fatigue life over conventional hardware. All ARP fasteners are manufactured in the company's California facility and are designed to provide additional clamping force with an extra margin of safety. Kits include assembly lubricant, nuts, washers, and instructions with torque specifications. —Mike Magda
SHP Small Block Ford 20-degree Cylinder Head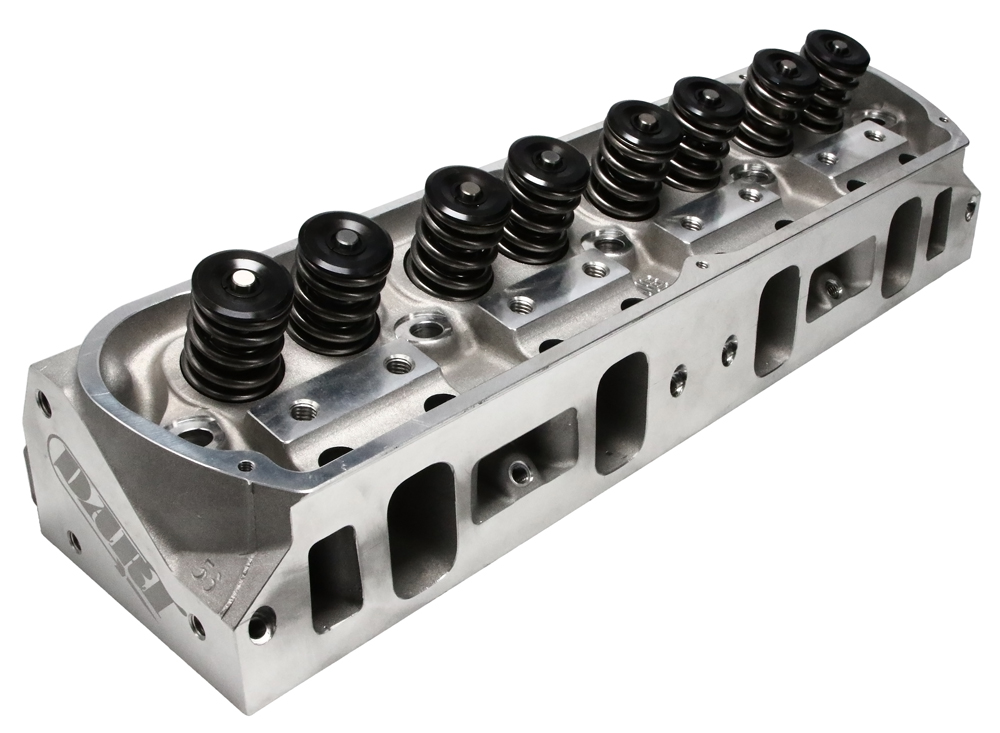 Available with either 205cc or 175cc intake runners, these new SHP 20-degree cylinder heads for small block Fords from Dart Machinery in Warren, Michigan, are designed for street, strip, oval track, or marine use.
"Cost to performance is the greatest benefit to the racer," said Mike Panetta. "This product line provides great out-of-the-box performance at a fraction of the cost compared to our PRO1 product lines. Both the 175cc and 205cc are readily available off the shelf."
These heads are designed for optimum torque and throttle response up to 6,000 rpm and are best suited for 302-cubic-inch to 427-cubic-inch applications.
The 205cc head is available with either 62cc or 58cc combustion chambers. Valve sizes are 2.050/1.600, and peak flow numbers are 306 cfm at .700-inch lift for the intake and 207 cfm at .700-inch for the exhaust. The head can be ordered bare or assembled with 1.437-inch dual springs good for hydraulic roller or solid-flat-tappet cams up to .650 valve lift.
The 175cc head has the same combustion chamber options but comes with 2.020-inch intake valves and 1.600-inch exhaust. Flow-bench tests reveal 267 cfm at .600-inch valve lift for the intake and 183 cfm at .600-inch valve lift for the exhaust.
Some of the features for both heads include manganese bronze valve guides and either 3/8-inch or 7/16-inch screw-in rocker studs. —Mike Magda
F-4X-140 Centrifugal Supercharger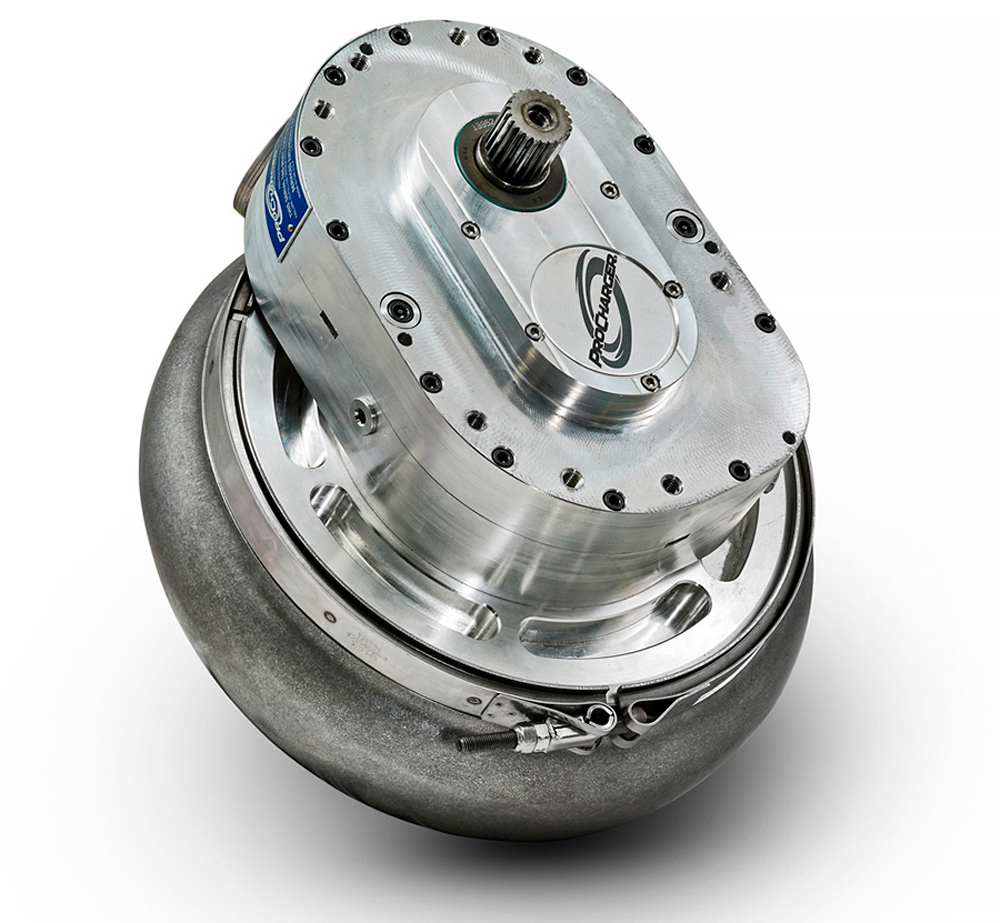 Answering the call for more horsepower in Outlaw drag racing, ProCharger in Lenexa, Kansas, developed the F-4X supercharger in 2021, and now it's been mated with the 140-size compressor wheel to create the F-4X-140 model.
"The F-4X was several years in the making. The clean-slate design and exhaustive testing on the track and dynos allowed us to optimize our race product offering for these higher horsepower classes," said Cliff Hall. "Plus, our engineering team really loved collaborating with the racers and race dealers on this project."
The F-4X-140 supports the 3,500- to 4,000-horsepower engine levels. Compared to the previous 3X model, the entire gearbox was designed with new, larger helical gears, and different gear ratios were offered. Both front and rear cases are machined out of billet, and new bearings were developed.
"Racers are super happy with how the F-4X power level and durability performs," added ProCharger's Sergio Shifman.
The F-4X-140 is suitable for No Prep, NHRA Pro Mod, Radial vs. The World, and other door slammer classes. —Mike Magda
Super Manifold for B58 Engine Platform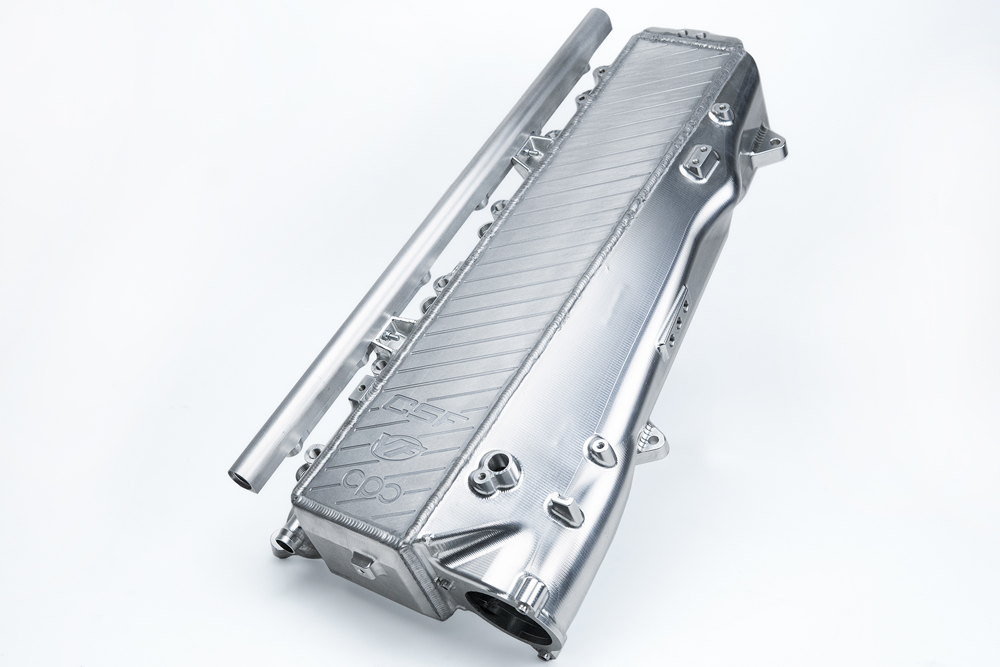 Racers and track-day enthusiasts running BMW's B58 engine architecture, including those driving the A90/91 Toyota Supra, can get a big boost of performance with the new Super Manifold from CSF in Rancho Cucamonga, California.
"Even without modifications, the B58 suffers from heat soak in almost any type of performance driving situation," said Mark Dorman, noting that the engine management system will then start pulling timing and fuel. "In testing, the CSF manifold showed far superior resistance to heat soak, improved recovery time, and reduced stress on the turbos. Countless amateur and professional race teams have been using our manifold for more than a year on the track and have given nothing but positive feedback about the system."
At the heart of the manifold is a F1-grade air-to-water intercooler. There's also a divider in the air inlet to help even the air distribution to all six cylinders. Another feature is the modular design that allows OEM direct injection or a dual-injection system.
The manifold is already a proven winner and track record setter with victories on road courses and the drag strip. The kit includes brackets, hardware, and installation instructions. CSF also recommends additional cooling products such as a transmission cooler and auxiliary radiators for maximum performance. —Mike Magda
MPVI3 OBDII Interface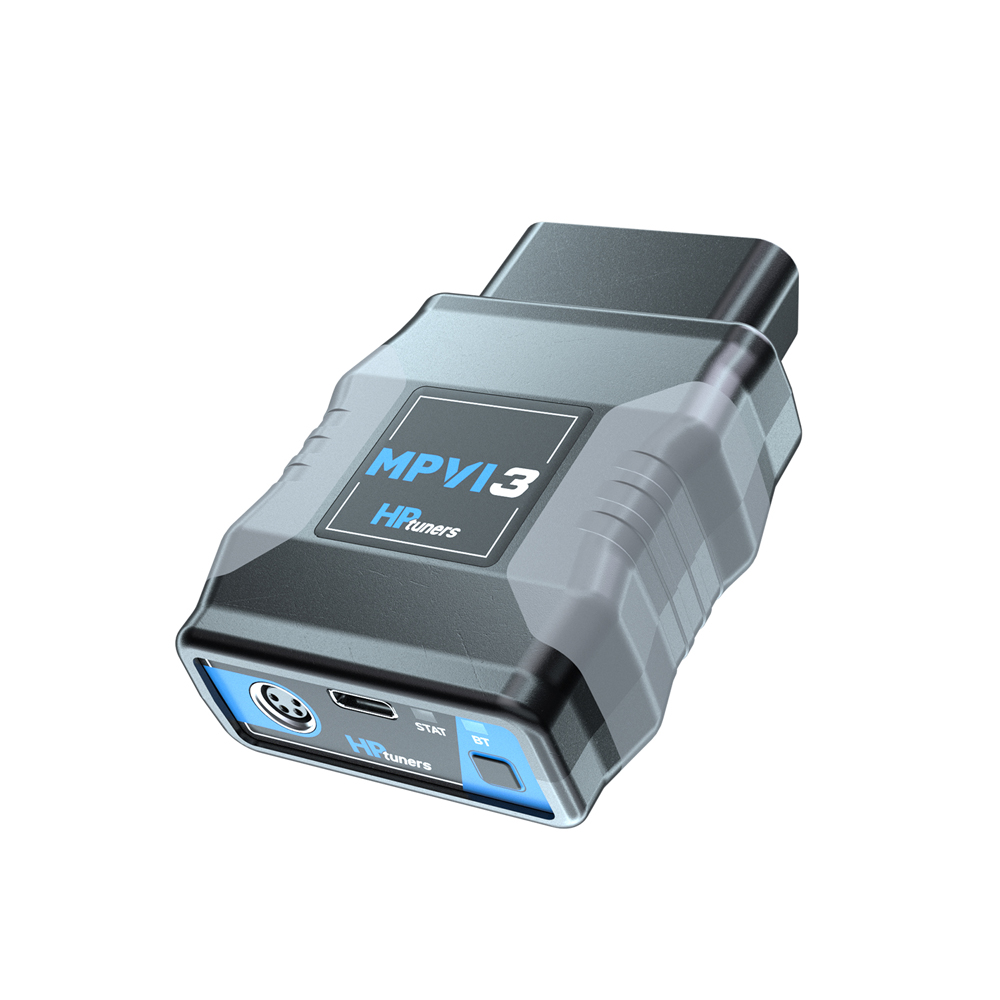 The new MPVI3 from HP Tuners in Buffalo Grove, Illinois, is an interface tool that can be quite helpful on any late-model vehicle with an OBDII port. With the dedicated software and apps, it will serve as a data recorder at the drag strip, a lap timer on a road course, and a diagnostic tool when there's a problem. When used with supported vehicles, it will also allow tuning adjustments for increased performance.
"MPVI3 is the communication device between your vehicle (control module) and the VCM Suite software on your laptop," said Chris Holt. "It's not only for tuning—there are features that work with data acquisition, telemetry, and diagnostics, too."
One of the features is stand-alone data logging. While making a run at the drag strip or a lap at the track, the MPVI3 will record the data without a laptop on the passenger seat.
"Most race tracks won't allow a loose laptop," added Holt.
On a road course, the MPVI3 can be paired with a cell phone and GoPro to use TrackAddict for on-track data collection like real-time speed, predicted lap time, and other data, and RaceRender for post race.
Finally, the MPVI3 is also useful for tow vehicles to scan trouble codes if there's an engine problem that interrupts a trip, or the tuning features can be used to increase fuel economy. —Mike Magda