Newly Appointed: Aaron Coalwell
Image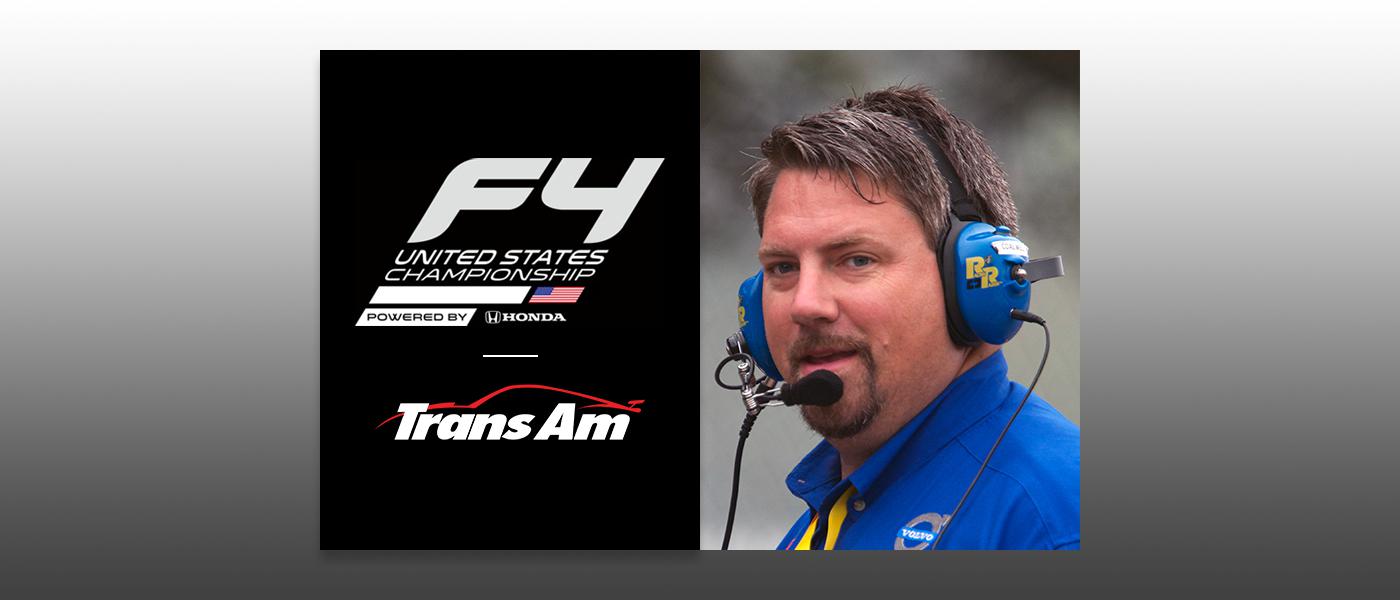 The Trans Am technical director takes on the same role for the Formula 4 United States Championship and Formula Regional Americas Championship, and he's got his calculator ready, just in case.
In mid-July, Aaron Coalwell took over technical director duties of the Formula 4 United States Championship powered by Honda and Formula Regional Americas Championship powered by Honda. He also continues as technical director of the Trans Am series.
The Formula 4 role seems ideally suited to Coalwell, who got his start in racing on the Southern Polytechnic State University Formula SAE team in the late 1990s. After working as a volunteer tech official at numerous SCCA Club Racing American Road Race of Champions (ARRC) races, he was hired in 2000 as SCCA assistant technical manager, based in Colorado. Among several roles he held during nine years on the team side, Coalwell served as team manager and race engineer for different race teams in the World Challenge Touring Car program, including BimmerWorld, 3ZERO3 Motorsports, K-PAX Racing and 3R Racing.
FIA Formula 4 began in 2014 as an affordable step up from karting into open wheel racing. SCCA Pro Racing and the FIA then created the Formula 4 United States Championship with series partners Honda, Honda Performance Development, Hankook Tire America, and Onroak Automotive. Onroak makes the Ligier JS4 chassis in South Carolina for the series. The four-cylinder Honda engines come from the carmaker's Ohio plant.
Coalwell recently shared his plans and goals for growing both series. 
PRI: What are you most looking forward to as technical director of these series?
Coalwell: As we have done with Trans Am, I look forward to further developing a close-knit technical and operational team to ensure a level playing field for all FR Americas and F4 United States teams. I want to help develop both series as key properties of Parella Motorsports Holdings while providing great customer service that helps make each event as easy and fun as possible for participants.
PRI: How has your tech official background prepared you for this role?
Coalwell: In my 16 years as a tech official and my nine years on the team side, I have learned how teams might interpret and exploit the gray areas of the rules for their advantage. I know what it takes to write clear and enforceable rules. I've learned what it takes to run a winning team, so I am also empathetic to teams' needs and concerns.
PRI: What do you see as the biggest challenges ahead?
Coalwell: Both the F4 and FR series are relatively new to the US, so the biggest challenge is to continue to grow both. 
PRI: Can you share your top strategic goals for the next 12 months?
Coalwell: My top 12-month strategic goals, in no particular order, are to help foster growth of entry numbers for both series, improve operational efficiencies and maintain the current high technical standards to ensure a level playing field for all teams.
PRI: Describe the need in road racing for these junior series.
Coalwell: Junior series are important as a steppingstone between entry-level club racing events and the top-level professional series. The junior series are operated by professional staff in such a way that teaches teams and drivers how to operate and be successful in a professional racing environment.
PRI: You remain technical director for the Trans Am series. How will serving in these dual roles help you?
Coalwell: As the technical director of all three series, I can more easily share successful practices between them. It will also allow me to better coordinate sharing of equipment and staff as needed to make all three series more efficient and successful by covering any operational gaps that may arise during our busy events.
PRI: What's your most gratifying professional accomplishment?
Coalwell: I often say that, as a tech official, you are only doing your job right if everybody is equally upset with you. My gratification comes from having really good, close racing, and then finding all the cars to be compliant afterward.
PRI: Who have been the biggest influences in either your professional or personal life and why?
Coalwell: Probably my first two managers in SCCA Club Racing, Sven Pruett and Patricia "Patc" Henry, and my first two managers in SCCA Pro Racing, Mitch Wright and Shawn Passen. They taught me how to operate professionally and fairly. Sven and Shawn were great teachers on how teams try to circumvent the rules and how to properly inspect cars for compliance.
PRI: If you could have a conversation with anyone past or present, who would it be and why?
Coalwell: Anyone who was very innovative in race car design and building. People like Smokey Yunick, Jim Hall and Colin Chapman, to name a few. 
PRI: What is one mistake you've learned from?
Coalwell: Not getting details of conversations in writing. I learned this years ago after too many conversations with teams, or customers, were misinterpreted. I prefer to communicate via email so that I have a written record.
PRI: Excluding your cellphone/tablet/computer, what's one thing you can't live without?
Coalwell: That would be my calculator. In Trans Am, the teams do not use a single brand of data system, except in TA2, so I am always using my calculator to compare the performance of various cars. All the FR and F4 cars use the same data system, and we have a series DAG (data acquisition engineer), so I will not need to use my calculator as much for those.
AARON COALWELL
–
Title:
Technical Director
Organization:
Formula 4 United States Championship, Formula Regional Americas Championship and Trans Am 
Hometown:
Charlotte, North Carolina
Fast Fact:
Coalwell loves riding motorcycles, and the curvier the road, the better. If driving to a race, he sometimes brings his 2003 BMW K1200 R or 2006 Suzuki GSX-R 750 with him to experience different parts of the country.