Industry Insights: Stephan Papadakis
Image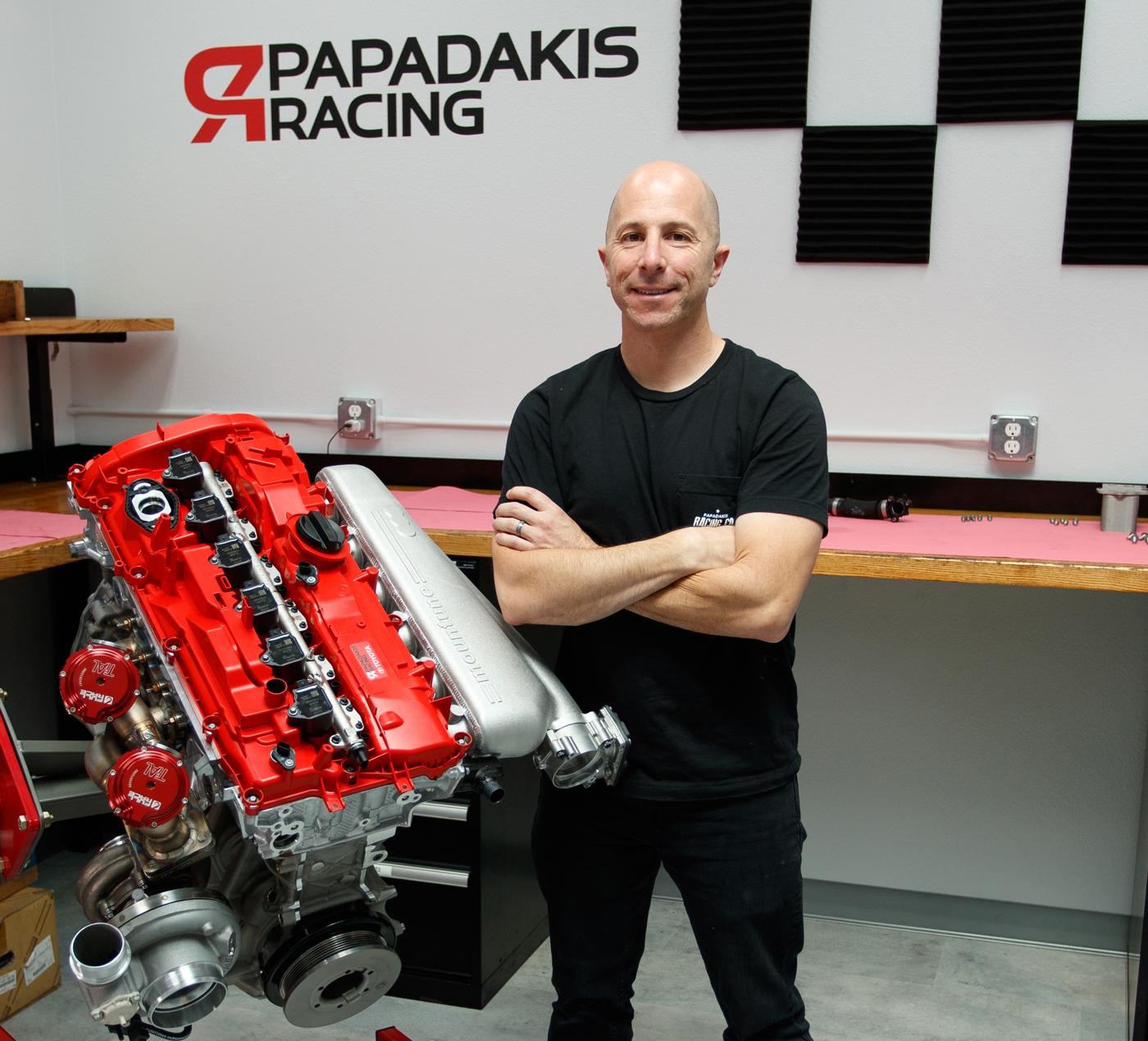 Photo courtesy of Toyota Racing/Larry Chen.
From drag racing to drifting to content generation, this driver-turned-owner of the winningest team in Formula Drift history describes what motivates him, how motorsports is changing, if he plans to return to the driver's seat someday, and what's left for him to achieve.
Stephan Papadakis is the founder and owner of Papadakis Racing, a professional drifting team based in Carson, California, which has been competing in the Formula Drift series since 2004. With four championship titles, Papadakis Racing is the winningest team in the history of the series. Fredric Aasbo, a Papadakis driver, is doing his best to earn a fifth title for the team as he stands second in points halfway through the 2022 season (when this issue went to press).
But there's much more to the Papadakis story than simply fielding drift cars. Papadakis has broken new ground in past efforts, including the first front-wheel-drive, tube-framed drag racing car in US competition. The Papadakis team earned multiple championships and records in drag racing before turning to drifting. Today, a big part of the team's public presentation is a YouTube channel with detailed tear-down and build-up videos, and the channel is backed up with a healthy social media effort, including more than 133,000 followers on Instagram.
Papadakis' success on track and online has led to desirable partner relationships with Rockstar Energy Drinks, Toyota Racing, Nitto Tires, AEM, and Motegi Racing, among many others. Toyota has even featured Papadakis cars in its commercials for the new GR Supra and GR86. We sat down with Papadakis to dig a little bit into his secrets for success.
PRI: How did you get started in this business?
Papadakis: I got into racing at 13, 14 years old. I was really into radio-controlled cars. Once I got my driver's license and realized I could modify and race real cars, I wanted to be a race car driver. But then I realized that was expensive! You have to go to the race track and do all these things that my family wasn't into. But I had a bunch of other friends who were all mutually interested in motorsports, and we learned how to work on our cars. We'd go to the local drag racing events, and I just kept learning and kept making friends and networking. After high school I worked at a place that built racing car engines, where I could learn how to work on cars better. Around 1999, I was really continuing to invest in my racing, and at that same time, the sport compact and import scene was really rising, and we were doing events like Battle of the Imports, Pomona, and different local drag racing events.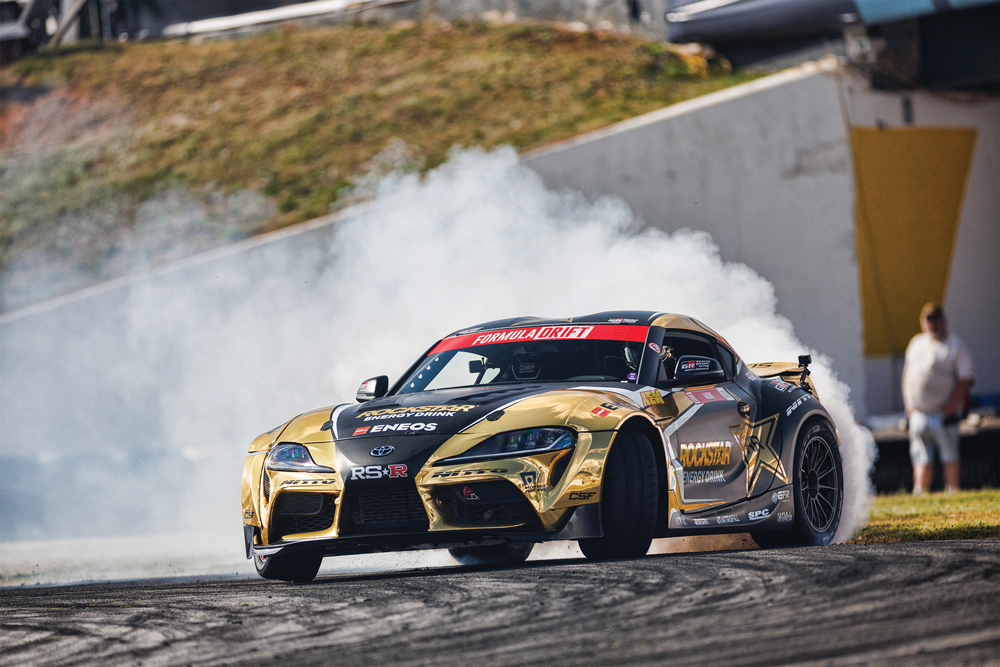 PRI: This is when you started having real success in drag racing?
Papadakis: At that time, I was running a front-wheel-drive Honda drag racing car. That scene was really blowing up all over the US around the time the Fast & Furious movie came out, and they started having all these import events. I had a really quick car that people were interested in watching, and I started going to the different import events across the country. I was getting into magazines and DVDs and things like that. I was able to get sponsorship and just built the team from there.
PRI: Getting those first sponsors is never easy. How did you bootstrap that process?
Papadakis: We'd do more events each year, get a little bit more sponsorship each year, continue to reinvest in making the car quicker, and make sure that we were promoting the sponsors well. It evolved over the past 20-plus years into what we're doing now. I went from drag racing into drifting, and we've always tried to build the most cutting-edge vehicles in our space and also to be on the front end of where people are getting their information. Like I said, it was magazines for a while, and websites, and now it's our own content.
PRI: Let's talk about that content. How do you figure out what to cover, and how do you produce the videos?
Papadakis: We work with Jen Horsey, and she's great with marketing and communications, but she's also great when we talk about content. For a YouTube video, I'll brainstorm with her about a concept and the story we're going to tell. Then we'll collaborate on editing and make sure that we always come out with something that's interesting and compelling for somebody to watch.
PRI: What does it take to operate at the top level in the Formula Drift championship?
Papadakis: It ties into the reason I like motorsports, which is that I like progression. I like having something that we're always trying to evolve and make faster. I mean, it's definitely a team effort. You have to have a driver who is quite good. You need a reliable race car that has good speed and handling and that the driver's comfortable with. You need to have a strong team as far as resources. We work with Toyota, Rockstar Energy Drink, and Nitto Tires, and several other companies within the industry that allow us to continue to invest in the race car and go testing. Whether it's making more horsepower or figuring out how to make the car handle better and have more speed and more angle, we work on a lot of different things that make a competition drift car competitive. Because of our team, we can continue to invest time and resources into that.
PRI: Do you have a management style or a secret to getting top performance and results out of your team?
Papadakis: Motorsports is typically filled with passionate people. They're there because they love to be there. Number one, we work with people who want to be at the track, and they want to win. Then, we're very analytical. We have goals of, let's say, winning an event, and then if we don't win or we don't do that well, we analyze what happened and we ask where we can improve. Then we focus on improving in those areas. It could be speed or could be reliability, or it could be spare parts if something goes wrong. We make sure that next time we go and compete, we've resolved those shortcomings, and it continues to evolve the program to where it's more competitive.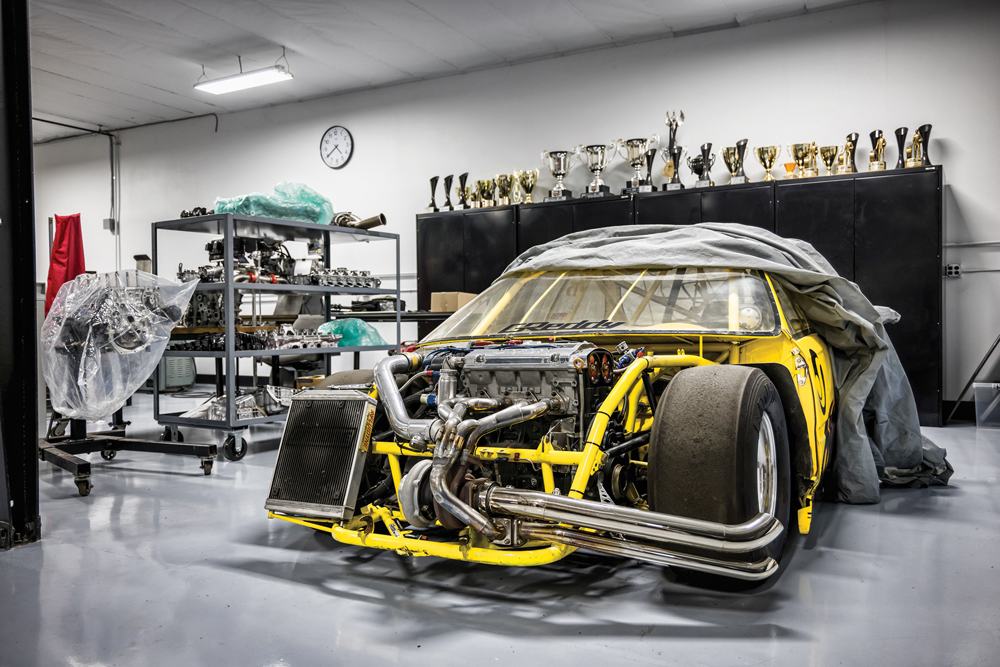 PRI: If I asked your employees about your management style, would they say, "Stephan gives me a goal and turns me loose," or "He's over my shoulder the whole way?"
Papadakis: I float in and out of micromanaging. I micromanage a bit to make sure that whoever's working on a project is on track, and then I let them go with it. If they do well, then I give them more. If they are challenged in some way, then we find out why and try to resolve that. I use a lot of communication, a lot of lists. I'm really into writing things down and having a set of goals. If we're maintaining the vehicle, what are the items that we're maintaining, and making sure that we are completing each one of those items. If we have some goals on performance, what specifically are those goals, and how are we going to get there? We write those down and then we work on accomplishing those goals. So, having a clear definition of where we are, where we're trying to get, and then the path to get there. That's the thing with motorsports that I like: Each time you go to another competition, you are basically getting graded on how well you achieved those goals.
PRI: How many people are employed at Papadakis Racing? Are your drivers employees or customers?
Papadakis: We have all of that. As far as employees go, we have Fredric Aasbo who drives, and I have two other full-time technicians at the shop. Then when we build a car that takes a certain skill set, we'll bring in experts in fabrication and vehicle building for the period of time that we need. If we have something like engineering, something that could be electronic or mechanical, I'll deal with some consultants specifically on those projects. But we don't build cars all year long, so we'll use those contractors for a period of time. Then when we go to the racing track, we go from a smaller team of three or four who are normally at the shop up to about 12. We have contractors and technicians and a truck driver on the event weekends, so there's more of us.
On the driver's end, we've got Fredric who drives the Rockstar Supra. He's in our program where we work with all the sponsors and manage all of that. Then we've got Ryan Tuerck and Jhonnattan Castro, who have their own sponsors, but we handle their vehicle builds and logistics. They're not employees; they're more of a partnership.
PRI: Is there something special that you look for when you're hiring somebody?
Papadakis: Experience will be number one, and it's because with racing and building these cars, they need to be done right the first time. We have to build cars on time and on budget. We can't be learning as we're doing it. Secondly, they need to be able to complete projects. There are a lot of great fabricators, but they're challenged with finishing their projects on time. I work with folks who have a reputation for completing projects on time and properly the first time.
PRI: Are there any leadership traits you've picked up over the years?
Papadakis: When I was younger, I was really interested in Robby Gordon, the off-road racer, but he did Indy cars, he did off-road, later he did NASCAR, Trans-Am, and he was quite successful at each of those. I was like, "Oh, my goodness. You can be a driver and also a team owner and cross over so many different ways!" I love that. I want to do that. I've always been attracted to sports that have a very thin rulebook where you can design outside the box because the rules allowed it. Import drag racing was like that, drifting is like that, and that's what keeps me motivated.
PRI: Who else has influenced or inspired you?
Papadakis: We subleased space from AEM Electronics for a dozen years. I was friends with the CEO, Greg Neuwirth, and some of the management and employees. I noticed how a proper manufacturing business was run. If I had a question about running my own business, they were accessible, and I could go upstairs and have a conversation about business and really have some good mentoring in that way.
PRI: You have your own CNC and your own 3D printer. How did you get into that? Because unless I missed something, you were not formally trained to be an engineer.
Papadakis: Each year or so, I try to learn a new skill. With skills like CAD design, I was around people who were already experts in it, like the engineers at AEM or different friends who were actual degreed engineers. I said, "Well, I want to do that," so I just got the software like SolidWorks, and I'd watch some tutorials on YouTube, and I'd also get books and read up on it, and then just start doing it. If I'd get stuck, I would do research or call a friend. I'd get a little bit of input and go back and figure it out.
PRI: You got your start in drag racing. Do you think you might go back to that sport, and also, will you ever be the driver again?
Papadakis: I'm happy as a team owner, and I spend so much time on managing the team and building the cars, which I think I'm really good at. I think that there are drivers out there who are better than me at driving. In order for what we're building to get driven at the highest level, it's not necessarily going to be driven by me. Everybody on the team wants to extract the most out of whatever we're building, so we want to work with a driver who has the ability to do that. I like winning more than I like driving!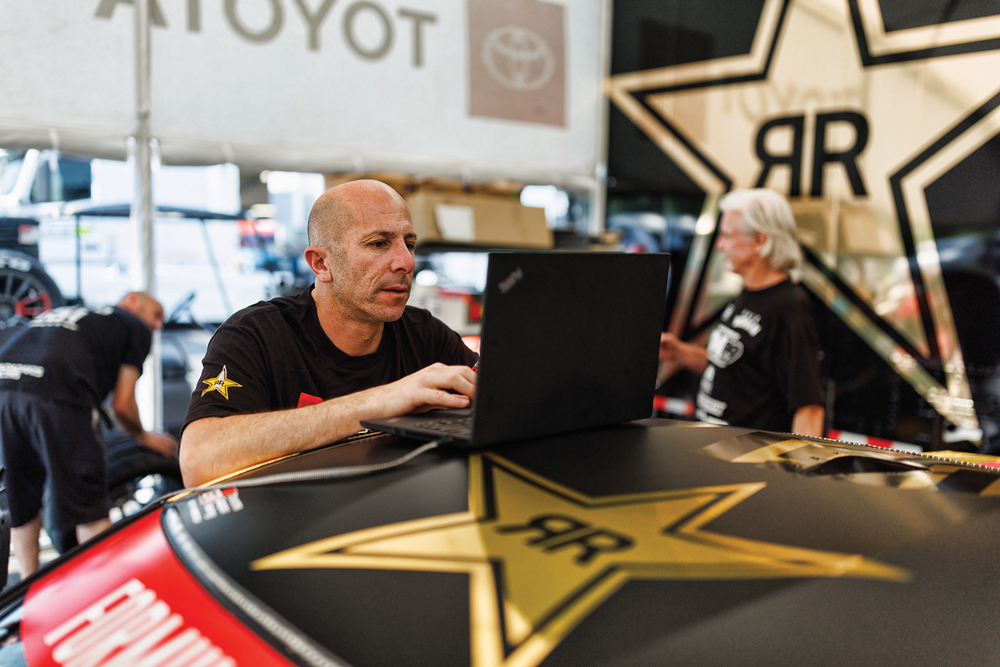 PRI: Where do you see motorsports changing in the next five to 10 years, whether that's in technology or in the business environment?
Papadakis: It's already happening, and some people are just realizing that it's happening. I think it's the interaction between the fans, the drivers, and the events. Where people would show up years ago and just buy a ticket and go in the grandstands and watch cars go around a track, now the fan is much more engaged. They're following the drivers on social media. There's much more content outside of just that weekend event that they can be in contact with and make comments and have discussions with other folks who are interested in the sport.
Because we create our own content, we answer our own fan comments. There's much more of a connection there, and I think that the fan now and into the future appreciates that connection with the sport, the teams, and the drivers. That's where we really pride ourselves in getting connected. We do it because we love it, and it shows through the content and our social media. We're just like the people that watch it; we all love what we're doing. I think that one of the reasons that drifting has increased in popularity is the accessibility of the teams, the drivers, and the whole sport.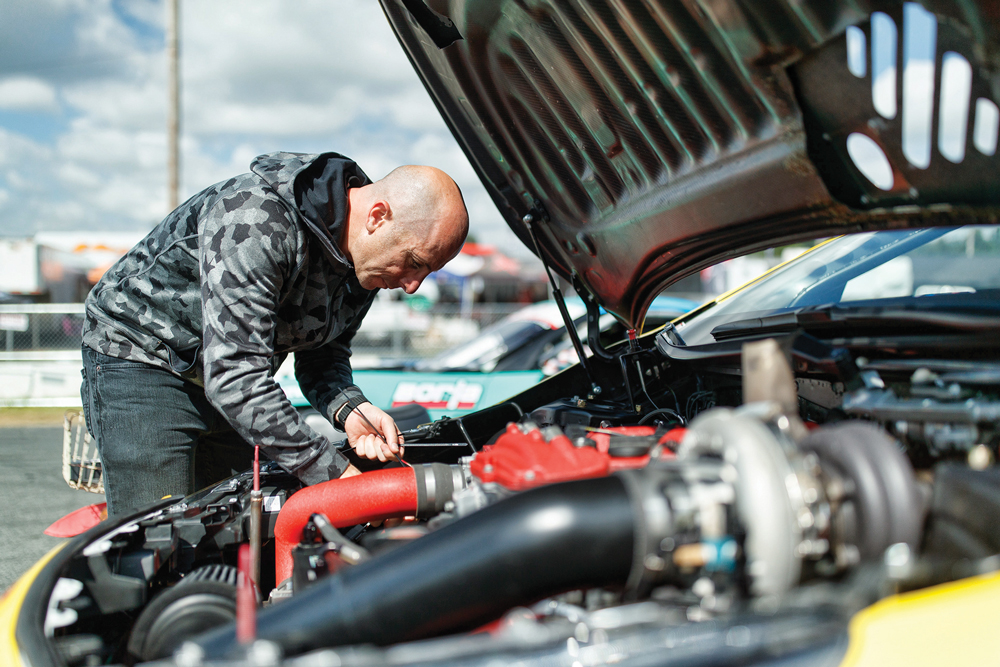 PRI: If someone's thinking they might want to form a team, whether in Formula Drift or anywhere else, what would be your advice to them? How can they be successful?
Papadakis: That's the million-dollar question. I think number one would be to take on what you can complete, so be realistic about what you're trying to achieve and whether you can do that with the resources you have. Then, networking and reputation are at least as important as performance on track, because at the end of the day, it's not just about winning, it's about people wanting to race with you. Most of the time is spent not racing. It's working on cars, it's communicating with people, it's traveling with the team. There are so many aspects to motorsports and so much time in motorsports that's not racing on the track, so make sure that you're enjoying those parts.
PRI: You're still young, so what's left for you to achieve?
Papadakis: I am 45 and we've achieved a lot, and I really don't have an answer! I think the real answer is I'm constantly working to be challenged in what we're doing, and once it becomes too easy, which rarely happens, I'll be looking around to see what else we can do that would be more challenging. I'm well past my performance trophy goals. I want to win a championship, but I chase enjoyment, and I enjoy being with friends and the people that I work with. If we can continue to do that, then that's success and I'm enjoying my life.