Industry Insights: Sage "Donkmaster" Thomas
Image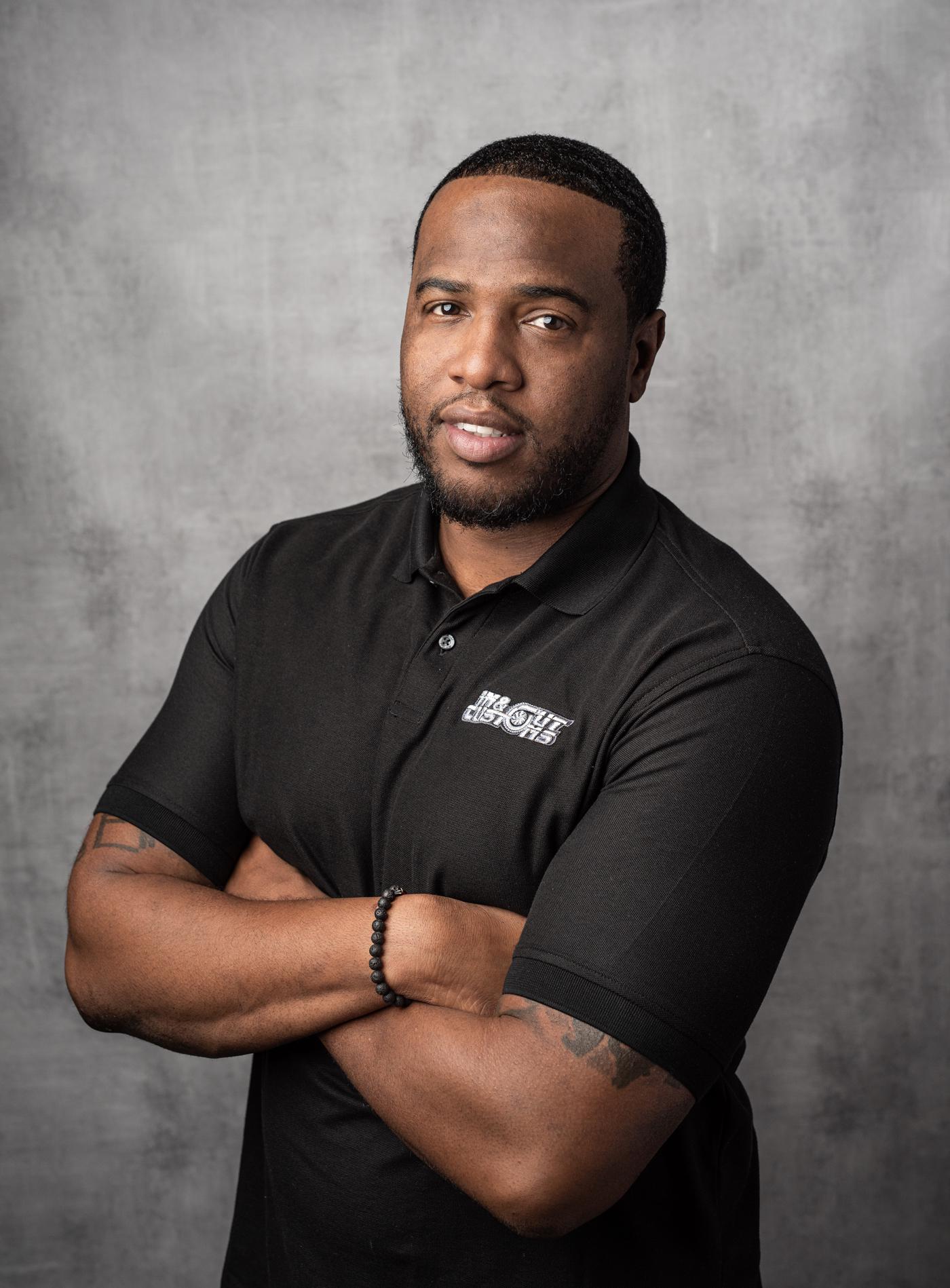 Drag racing on the quarter-mile in 8 seconds is impressive, but try doing it on 26-inch wheels. That's what the National Donk Racing Association is about, and its lead ambassador is taking the country by storm, one Donk at a time.
We've all seen Donks out on the road, but how much do you really know about these particularly unusual custom cars? If you've seen or heard of them, you know they have big wheels, 22 inches or greater in diameter. But what else? It turns out there's a lot that goes into these striking customs, and there's a racing series for them, too.
The man behind the racing series is Sage "Donkmaster" Thomas. Born in Georgia and raised in South Carolina, Thomas was exposed to the growing Donk scene as a teenager and never looked back. Thomas built his first Donk at age 16 and went straight into racing. He founded his shop, In & Out Customs of North Charleston, South Carolina, to advance the development of Donk performance. He has also starred in a successful series of YouTube videos documenting his work. Today, he's the foremost ambassador for the Donk style and Donk racing in America, delivering his trademark "gap sauce" to enthusiastic fans everywhere.
Thomas recently took some time to expound on the Donk phenomenon, introducing us to the National Donk Racing Association and illustrating how racing support businesses can best help Donk owners when they need parts or service.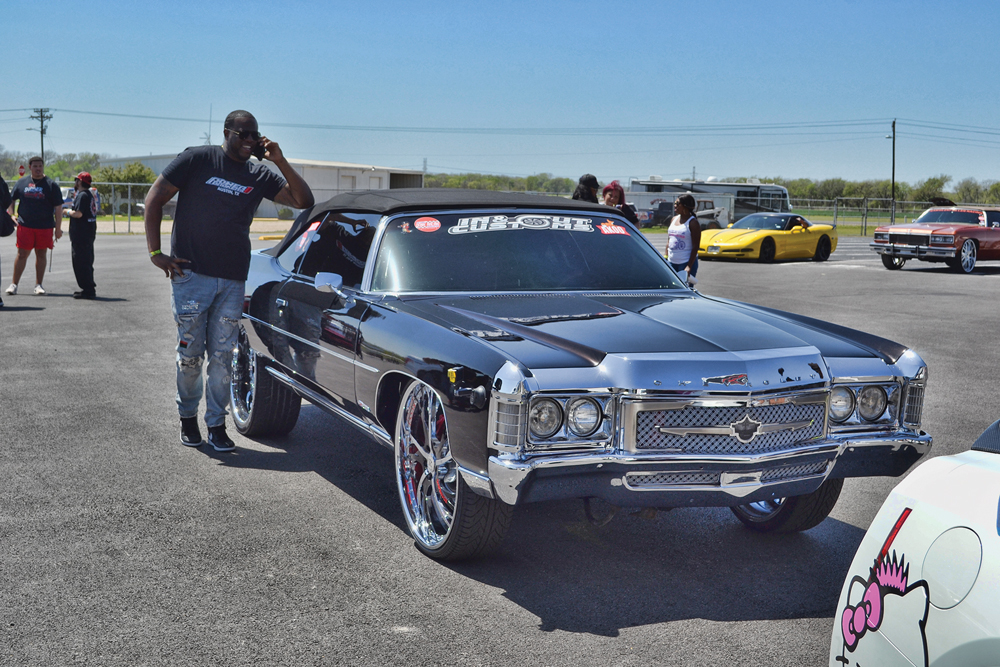 PRI: What makes a Donk? Is it just the big wheels or is there more to it? Tell me like I don't know anything, because I don't.
Thomas: Okay, a Donk is 1971 through 1976 Caprice or Impala. It has to be a Chevrolet Caprice or Impala, and the only years are from 1971 through 1976. It could be a convertible, a two-door, or a four-door. It doesn't matter what style it is, but just those years.
PRI: Where does the name Donk come from?
Thomas: The name came from everybody acting a Donkey in the cars. So like when you get a Donk and it's fresh and clean and you go out and party and hang out, you turn the music on, you just have a good time. You act a Donkey in it. That's just a street slang. It's what they use, and it stuck with the name of the vehicle.
PRI: Where did this style start? Is there a particular region or a city, and when did people start making those cars into Donks?
Thomas: It started in South Florida. They started doing the Donks, I want to say it was the early '90s. At first, they used to have 17-inch wire wheels on them. But as the trend started to change over the years, they started putting the bigger wheels on the car, because the car is so big, and you can put a large wheel on it without too many modifications.
PRI: How did you personally get started with Donks and then with Donk racing?
Thomas: I started getting into those because my father lived in Florida in the early 1990s, and I used to go down there in the summer to visit him. I started seeing all those cars when I was 9, 10, 12 years old. Then I started working at a car wash in Orangeburg, South Carolina, and all the big street boys would come through the car wash with the Donks. So I saw them when I was from 9 to about 15 years old. Once I got to about 15 years old, I started knowing what they were, and how much attention they got, and how the girls like them.
I always wanted a Donk because when them fellas pulled up and they had the golden jewelry on, they looked real good, you know what I mean? The females came and they always wanted to ride in the Donk.
PRI: The usual impression of Donks is that they are street cruisers, not racing cars. Were they always about racing, or did that come along later?
Thomas: They were always about showing out. There was a DVD called East Coast Ryders, which was owned by a fellow named Vido No Shake. I talk to Vido on a regular basis. He's the original historian of all the Donk stuff. He came out with some DVDs and VHS tapes in the early 2000s where they were showcasing all the stuff they did in South Florida with the Donks. They would leave the big wheels on the front, the 22s and 24s on the front, but they would put slicks on the back.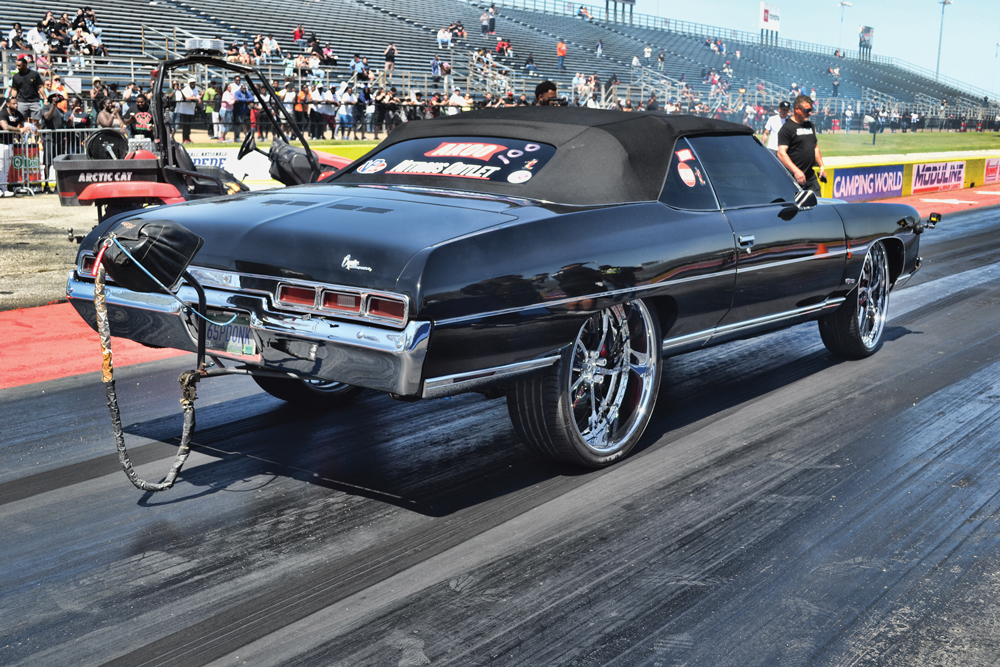 I came from a background of drag racing also, but whenever I break my Donk out, I'm fresh and clean. I don't want to get on the ground and change tires on the back. So I thought, well, if we can race it with the wheels on it, then I can make that a thing. That way, everybody would be racing with the wheels on it. Like we leave the club on Friday or Saturday night, we go down the street with the wheels on, everybody looking clean and then we race it with the big wheels on the car without having to change it. We called it "fast and flashy racing" with the big wheels on.
PRI: Now you have this National Donk Racing Association. It's drag racing, but do you have different classes for different years or different engines? How does NDRA work?
Thomas: As of now we have seven classes. We have a lightweight, a middleweight, and a heavyweight class for Donks, and that's only '71 through '76, Chevrolet Impala body style. And then we have another lightweight, middleweight. and heavyweight for G-bodies. That would be Monte Carlos, Cutlasses, Regals, any kind of G-body from '78 to '88, including the El Caminos. Then we have one class called the open class, and that is any kind of truck or car on 22-inch wheels or bigger. So if you've got a Suburban on 24s, or if you've got a Pinto on 22s, or a Mustang, they all race in that class.
PRI: What's the definition for lightweight, middleweight, and heavyweight?
Thomas: There are certain restrictions. A lightweight is an all-motor class. It doesn't matter if it's big block or small block. Then in middleweight you can have one power adder, so you can have a turbo or supercharger or nitrous. You have to have a full interior and you have to do a street cruise where it looks like a regular street car. Heavyweight is all-out, whatever, you can gut it and use any suspension, any motor. The only limitation is you have to have 26-inch wheels in all the Donk classes.
PRI: What are these cars doing in terms of ETs?
Thomas: Right now, some of these cars are running the quarter-mile in the eight-second range as a heavyweight car. We have cars out there all over the United States that are running mid- to bottom-8s with 26-inch wheels on right now.
PRI: I've seen videos of big-wheeled cars, and with the physics of those big wheels, they can snap the axle half shaft. How do you deal with that? Do you have special-made axles?
Thomas: We have been working closely with Moser Engineering. He started recommending that we put the 40-spline axles in there. We went from a 35- to a 40-spline in full spool. Then we also mandate 5/8-inch wheel studs and 1350 U-joints to participate in NDRA. The safety side of it is very important because we are going really fast with a lot of weight. Over the years, I have been working closely with Moser Engineering and also with Greg (Samuel) at FTI Performance for transmissions. They build and test a lot of the converters and transmissions for these high-horsepower, big-wheel cars. And now Mark Menscer of Menscer Motorsports has helped us a lot on moving the shock program forward. It's something to see!
PRI: If I go to an NDRA event, who am I going to find there? Who's competing? Are they Donk enthusiasts, or are we starting to get professionals in there now?
Thomas: Oh yeah, we have a lot of different professionals, like Alex Laughlin, who's a Top Fuel driver, pro driver for the NHRA. We taught him a lot. He wanted to come to a couple events. Clay Millican actually came to a couple events. We had talked to him about that also. We have been talking with Antron Brown and Lyle Barnett, who are also participating in NHRA. They're talking about building a car. So yeah, we have some of the big names in NHRA, plus a lot of the local guys who run Outlaw 10.5 and drag radial classes as well.
PRI: So in terms of the rules and the way it runs and everything else, it's pretty similar to what we would find at an NHRA event?
Thomas: Yeah, we do a points basis, so it is on points and it's on a class. Just like you said, if we have eight cars in the heavyweight class field, we're doing a $10,000 payout for the class. Then you can win for the round and actual points. Every time you win, it is based off the same thing as the NHRA point scale.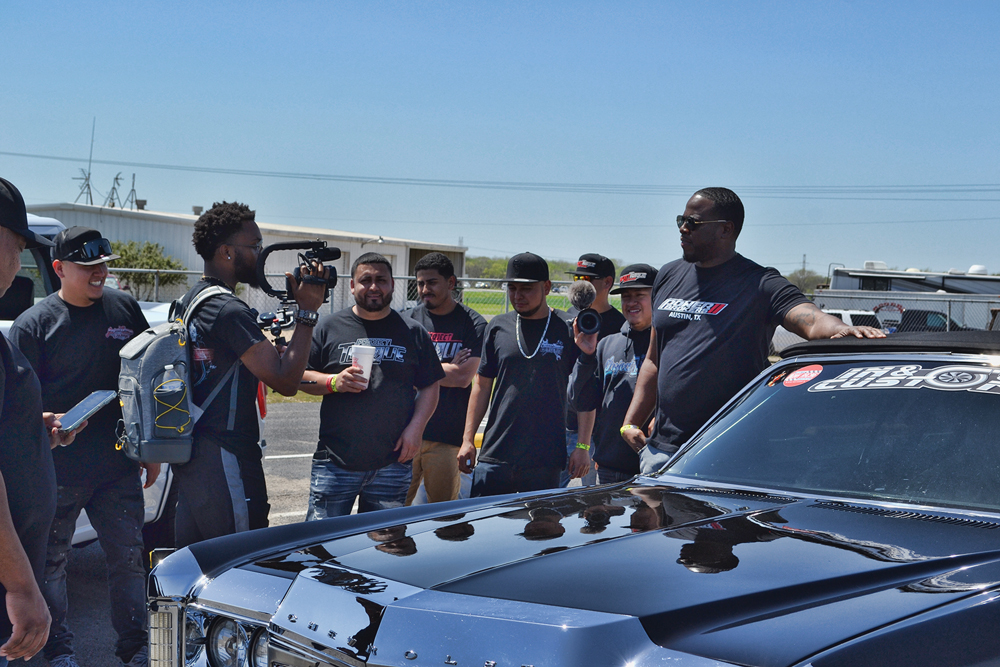 PRI: In terms of fans, who's your target market? Are you looking for people who are already Donk enthusiasts, or are you looking to reach out and show the cars to a broader audience?
Thomas: We're looking to show it to everybody all over the world! Right now, the market is the 18 to 49 demographic. Right now, a lot of the race tracks we go to, we might have about 5,000 to 8,000 people come to each show. It's starting to grow a lot because of my television show on MotorTrend, that's doing three or four million views every episode. So fans are starting to figure out that we're having events because they see it on TV for the first time, but then they're trying to find it. The schedule is on my website at ndrausa.com, and then it's all over the social media under @1_donkmaster on Instagram and Donkmaster on Facebook. Anybody who loves drag racing will love this because it's a challenge to get a car that weighs 5,000 pounds and makes 2,000 horsepower to go down the track on 26-inch wheels. It's very exciting to watch.
PRI: Is social media how you do outreach to young people? One of the things we always talk about at PRI is how to get the young people involved.
Thomas: Yeah. So matter of fact, this past weekend I was in Gulfport, Mississippi, and I had a group of 15-year-old boys pull up to a race we had there for the first time. They pulled up in a limousine they had for one kid's birthday. They wanted to check out the big-wheel racing to see what we had. For outreach, I have a lot of friends in the YouTube space, so we normally collaborate and partner up to get the word out to everybody. Right now, we have the 18 to 49 and it is getting younger. So we are down into the teens, the high school students, and they want to see it because like I said, it's something exciting to see. We're getting fans off of TikTok, and I'm also making a lot of different, funny videos, so they get entertained.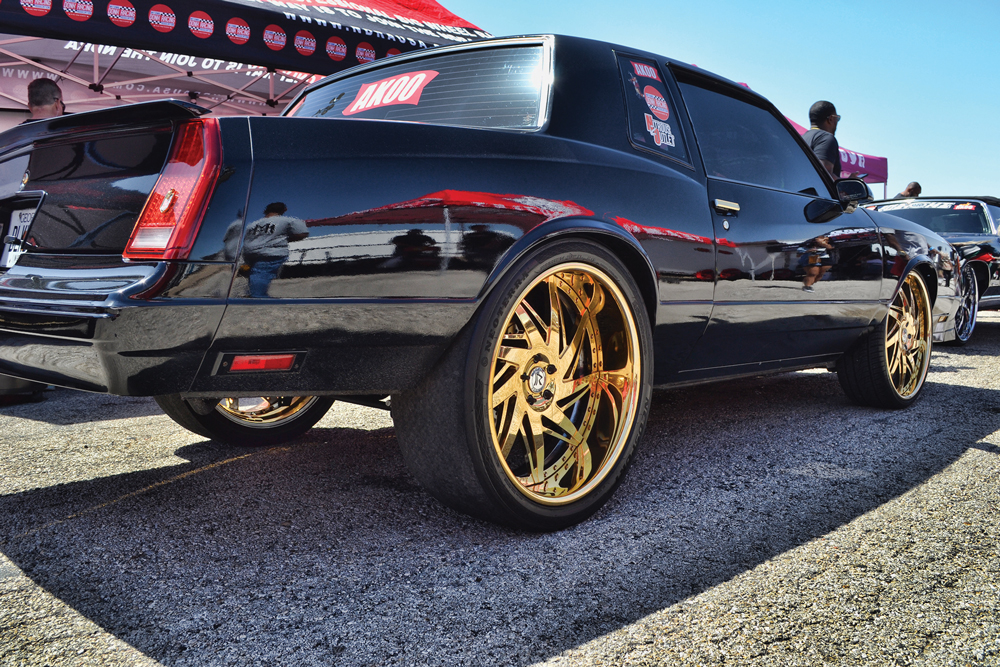 PRI: Our audience at PRI is racing businesses. When somebody comes in who's a Donk racer and they're looking for parts, or they're looking for modifications, what do those racing businesses need to know in order to meet their needs?
Thomas: It's very new, but I have the list of the main shops who have been building cars. On ndrausa.com we have certain shops now certified to build these kinds of vehicles. So I'm going to add some more shops to the list this year. There are shops that have been doing this for the last 10 years, and the work speaks for itself. We're going to keep adding to that and keep the people in the loop on who is good to work on it, because it's not the same concept to build a 2,500-pound race car as a 5,500-pound race car. That's two different things. It's like somebody who knows how to build muscle trucks, but they don't know how to build a '69 Camaro that runs four seconds in the 1/8th mile. It's totally different.
PRI: A business owner can go to ndrausa.com and get in contact with you to see about getting certified to be on your website?
Thomas: Yep. That way we'll keep everybody up on who has the knowledge to safely build a high-horsepower, big-wheel race car.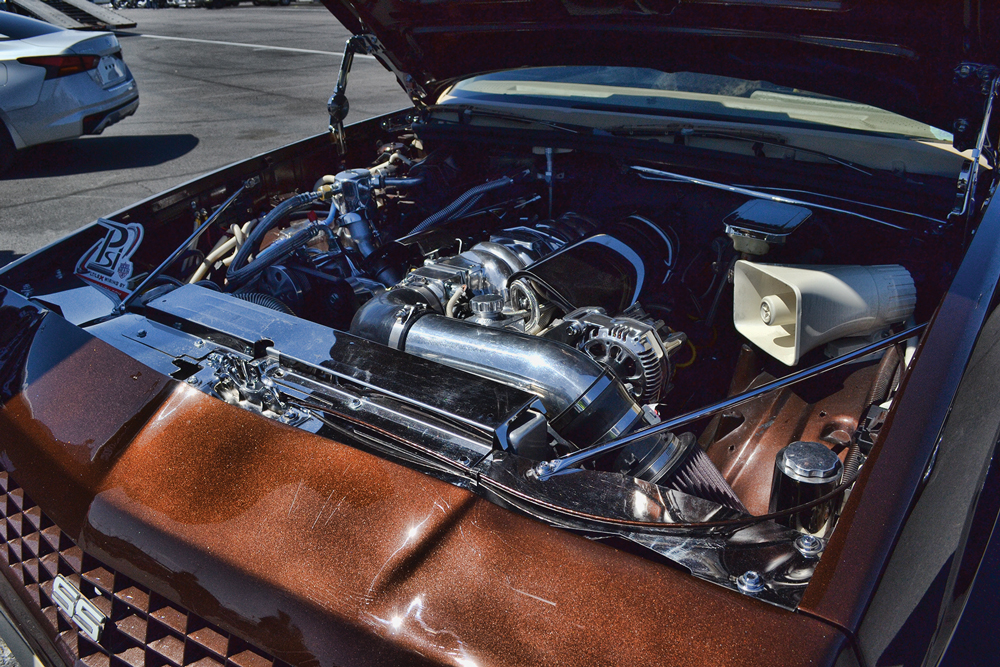 PRI: We already talked a bit about some of the purpose-built products you're using. Is there anything else that Donks need?
Thomas: There's also engine diapers, transmission blankets. We use fire suppression systems inside the heavyweight vehicles. Then we use the race harnesses. We're big on safety because drag racing is a dangerous sport. We want to try to beef up all that stuff, making sure the cars have roll cages if they're going a certain speed. They also need parachutes on the heavyweight cars. Safety is what we like to push.
PRI: What are your short-term and long-term plans for NDRA? Where do you see this all headed in five years' time?
Thomas: Right now, we have three events this year. We have Maryland on July 9th, we have Reynolds, Georgia, on August 13th, then we have Darlington drag race on September 10th. This is the second year of the NDRA, and I just want to showcase to everybody that you can race big-wheel cars. They can line up. They can all be in classes, and we can show everybody we can race. That's my short-term goal for this year.
My long-term goal is to show the world what big-wheel cars can do. I want to go racing in Japan and Dubai and Australia, and just travel the globe with it. Hopefully, we'll be on TV, just like NHRA. Just like NHRA has FOX on television. I can see a NDRA event on a major network. I'd like to see major sponsors and be selling out race tracks, a couple hundred thousand people at a time. I think the NDRA should be on the same level as that.
PRI: Is there anything you would want to say to the audience of racing professionals?
Thomas: Visit the website, ndrausa.com, and the other website is inandoutcustoms.com. And I guess you can put this quote in there: "If your dreams don't scare you, they're not big enough."