Newly Appointed: Jeff Striegle
Image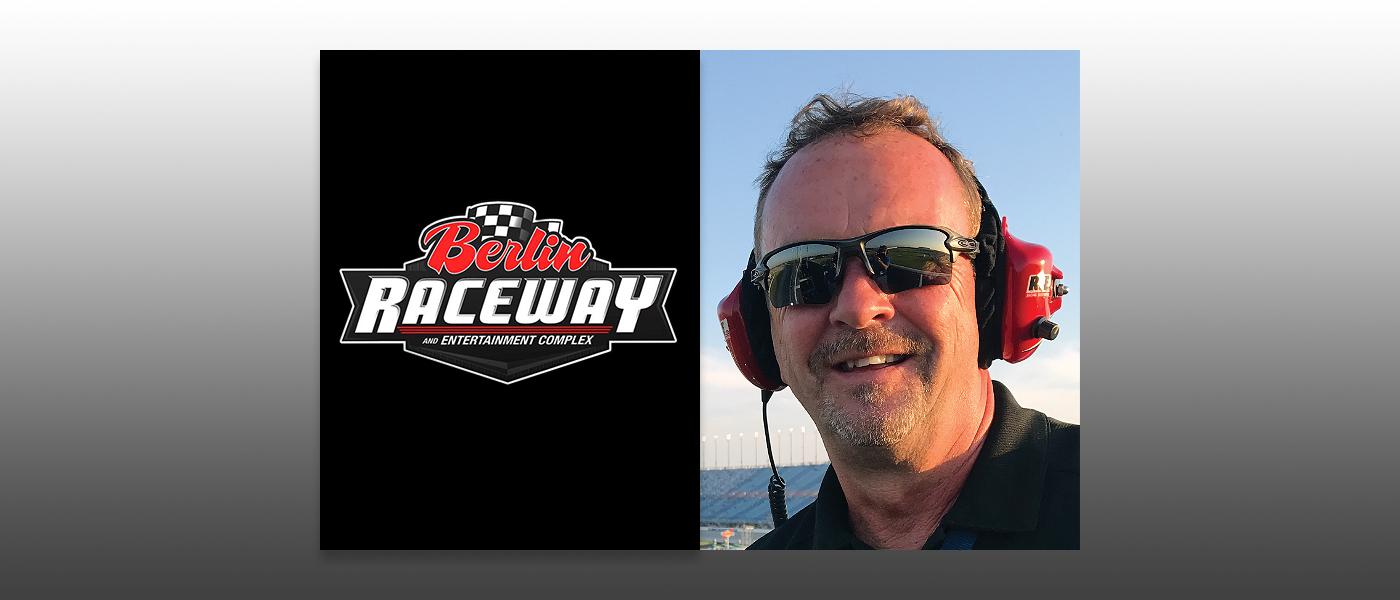 Building on successful stints in race team management and motorsports broadcasting, this industry veteran now oversees the track that sparked his passion for racing.
Berlin Raceway and Entertainment Complex in Marne, Michigan, opened its 71st season this year with a new general manager, Jeff Striegle. A NASCAR race announcer for Motor Racing Network (MRN) for the past 24 years, Striegle continues in that role as well.
Striegle witnessed his first auto race as a boy at this very track in the 1970s. That experience set him on a path to later running a race team that competed here for 12 years. It also led him to establish Racing Awareness, a non-profit organization that supports the Helen DeVos Children's Hospital in nearby Grand Rapids. From racing he moved to broadcasting, always keeping Berlin in his heart, though.
"My passion and love for the sport comes from all of that," Striegle told PRI.
And, as if a new leader wasn't reason enough to celebrate, the track recently pocketed $50,000 after taking top honors in the Advance Auto Parts-backed "Advance My Track Challenge," a community-based program where fan voting decides the winner among 22 NASCAR-sanctioned short tracks across the US and Canada.
Amid the activity, Striegle recently shared plans, some already unfolding, to transform Berlin Raceway into a full entertainment experience similar to that of NASCAR's premier venues.
PRI: What are you most looking forward to in this new role at Berlin? 
Striegle: Taking the track back to how it began. It should all be about the fan experience. Look at NASCAR tracks. Fifteen years ago, all they did was run a Cup race and an Xfinity race, and that was good enough. Today, the tracks boast 50 different things you can do on a given weekend besides watch a race. That gave me ideas to implement here. 
PRI: What do you see as the biggest challenges ahead of you?
Striegle: The sport is not at the same popularity peak as in 2006. Our challenge is to introduce racing to a younger generation and to people who have not experienced it. We have to do new and different things to attract new people to grow the fan base and the sport.
PRI: What are your top strategic goals for the next 12 months?
Striegle: By offering more experiences, we can raise revenue and profitability. We've already implemented some things with camping, and we've developed a new 2/10th-mile short track within our main track. This will let us add programs for younger racers, including mini cup cars, quarter midgets, mini wedges, Bandoleros, and Legends. We'll run those races on a different night. It's the same track, but a different experience.
PRI: How are you expanding on the "entertainment" component of the facility? 
Striegle: When a family leaves the raceway, they should feel like they got their money's worth and more. We moved up start times, so we finish racing at seven. In addition to usual concession stands, we've added an outdoor grilling station on the main concourse. We've got a gourmet cheese and chips and margarita cantina. Our new Brickyard Lounge holds up to 250 customers. It's modeled after the best outdoor lounge in Key West (Florida) with a huge bar, stand-up tables, lights, sound, outdoor heaters, and a fire pit. 
PRI: How are you marketing or promoting these changes at Berlin Raceway?
Striegle: We're using social media to announce the specials, the schedule, and updates. We're not doing conventional advertising—no TV, radio, or billboards. Instead, we are strengthening relationships with the local ABC, NBC, and Fox affiliates and their sports programming. Their sports anchors are coming out during the week, taking part in practice sessions, interviewing drivers, and talking about upcoming events. Seeing race results, track highlights, and features on the news every week is helping introduce racing to new people. 
PRI: What would you say makes Berlin Raceway such an important part of the community?
Striegle: People have grown up with this track. Many first dates and family reunions have been here. There's absolutely a community feeling about this place. We've done many things with the Helen DeVos Children's Hospital here for 15 years. We raise donations. We provide tickets and racing experiences for staff, families, and most importantly, the children. We've also done much to recognize our veterans and first responders.
PRI: What do you think is key to continuing the facility's momentum?
Striegle: Culture. The company I was with before, Gordon Foods Service in Grand Rapids, had a great culture. It taught me the importance of a team, working together, and always thinking about new ideas and clearing hurdles. 
PRI: How do you think your MRN broadcasting background will serve you in this role? 
Striegle: Working with MRN has given me the opportunity to visit NASCAR and short tracks, to see firsthand what they are doing. That helps us adopt new ideas that we are already working on. The audience is changing, the cost of the sport is escalating, and we must recognize that what we do from competitor and fan standpoints is ever changing.
PRI: What's your most gratifying professional accomplishment?
Striegle: I've had amazing opportunities, but running the charity for the children's hospital has been the most rewarding thing I have ever done. 
PRI: Who inspires you, and why?
Striegle: My father was my biggest inspiration. He passed five years ago. I still carry him with me. When I have a question, I think I know how he would answer it. I'm also inspired by families of children with cancer. I see the strength of the parents and the children. 
PRI: Excluding your cellphone/tablet/computer, what's one thing you can't live without? Why? 
Striegle: The support of my wife, Julie, because I am on the road a lot, traveling with NASCAR for MRN, and when not doing that, working at Berlin Raceway. That schedule can be hard. She knows what we are trying to accomplish. She is part of Berlin Raceway, too.
Jeff Striegle
–
Title:
General Manager
Organization:
Berlin Raceway and Entertainment Complex
Hometown:
Grand Rapids, Michigan
Fast Fact:
Berlin Raceway takes its name from the town's original name. After World War I, town leaders elected to change the name to Marne to honor soldiers who died in the Second Battle of Marne, France.