Ask The Experts: Roll Cages
Image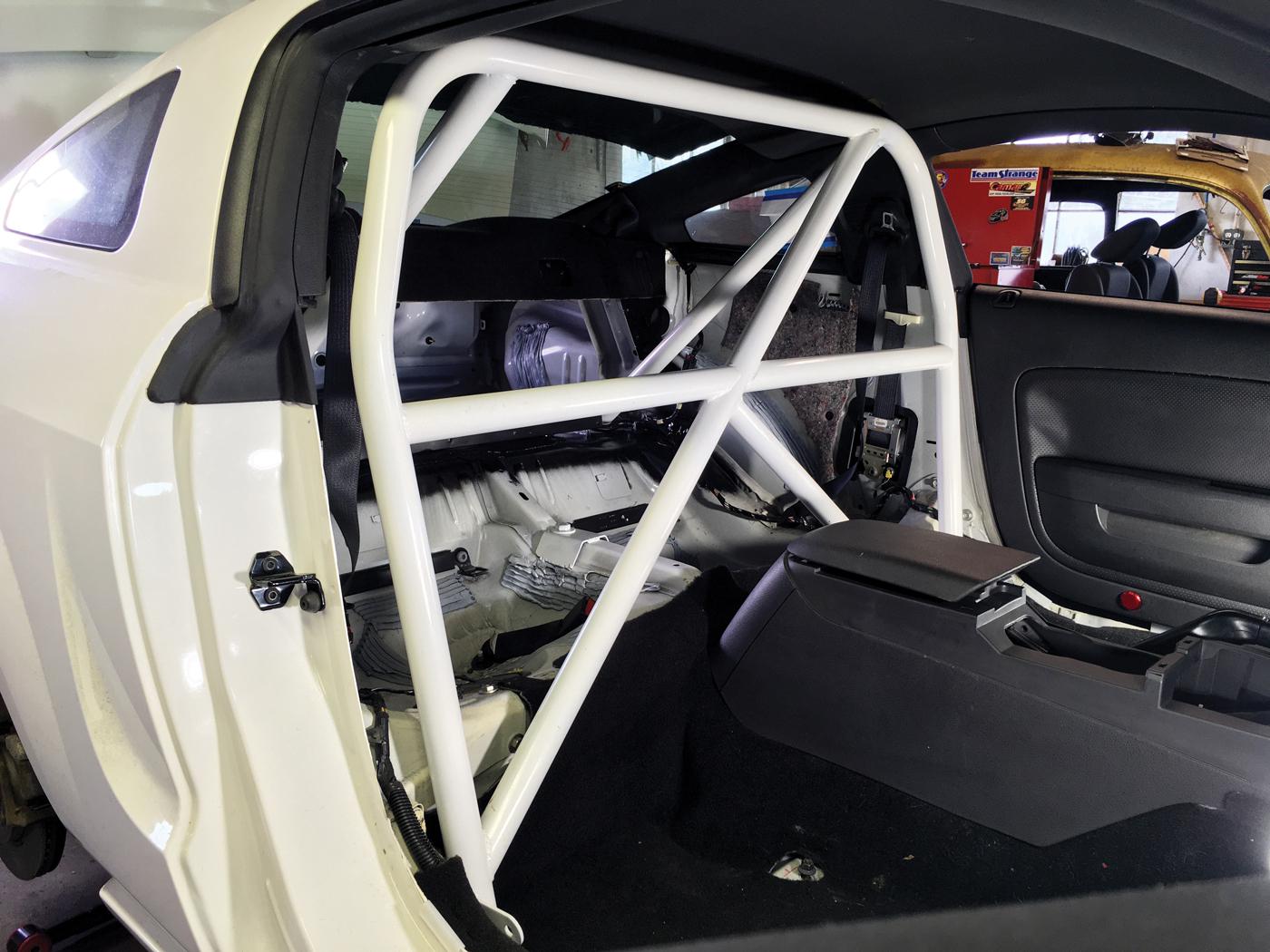 When choosing roll bars and cages, it's important to consider type of racing, naturally, as well as sanctioning body standards. Pictured here is a 4-Point Street–Track Day Bar with optional Main Hoop Diagonal by S&W Race Cars.
Consider material, application, and whether a kit or custom solution is optimal when choosing and prepping this critical piece of safety equipment.
While the type of racing—and/or the sanctioning body and its rulebook—will dictate the configuration and construction of a roll cage, there are variables to consider when fabricating this important piece of safety equipment. 
How Cages Differ
Thor Schroeder of Competition Engineering in Guilford, Connecticut, provided an apples-to-apples comparison of how cage requirements vary depending on racing type. His examples were for a hypothetical 1984 Camaro that was being turned into a race car. 
For drag racing, the type of cage varies depending on the car's ET. "Based on NHRA Sportsman rules, the Camaro would be required to have a roll bar if its quarter-mile ET was between 11.00 and 11.49 seconds," he said. "If it ran 10.99 or quicker, or exceeded 135 mph, it would need a roll cage."
For circle track racing, "the Camaro would be required to have a full roll cage that is tight to the roof, and, depending on the rules, could be tight to the door pillars on both sides or just the driver's side," Schroeder explained. Additional supports "could go through the firewall into the front suspension strut towers and integrate into the subframe connectors that go from the rear subframe to the front subframe." Driver and passenger door bars "extend into the area taken up by the door glass and door panels."
A full cage for road racing the Camaro would be similar: "Tight to the roof and door pillars on both sides, could go through the firewall into the front suspension strut towers, integrate into the subframe connectors that go from the rear subframe to the front subframe, and could require driver and passenger door bars that extend into the area taken up by the door glass and door panels. Open track or autocross events could require a road-race roll cage or just a roll bar that is mounted in four places," he added.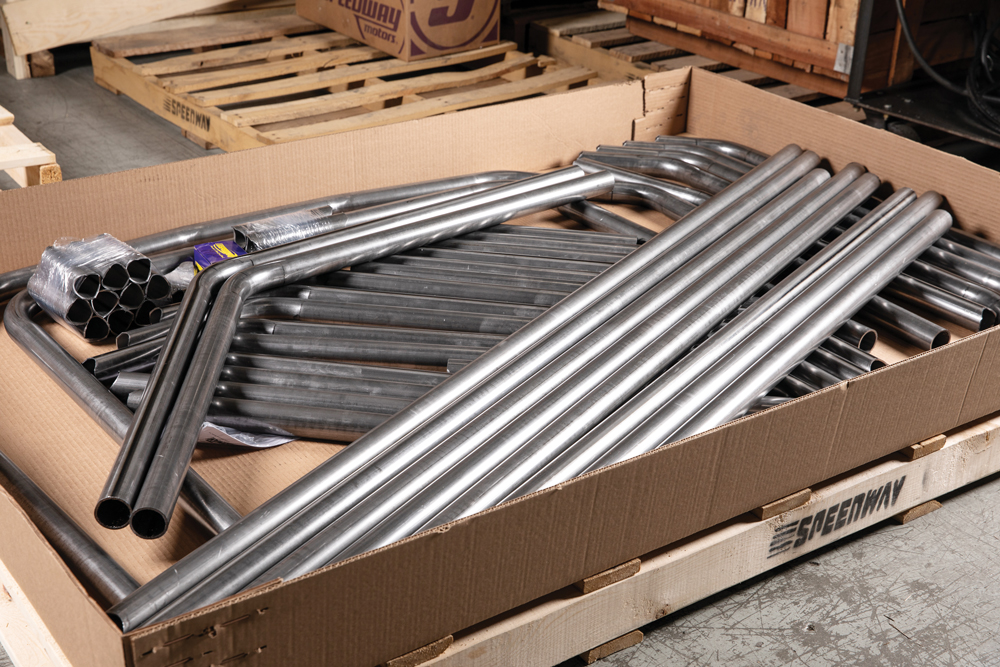 Racers who have any questions about cage requirements should turn to their sanctioning body's rulebook, advised Dave Wallace of Speedway Motors, Lincoln, Nebraska. "Almost any sanctioning body, whether it's World of Outlaws, ASCS sprint car racing, any of the Late Models, even local tracks, will give guidance on how they feel cages should be built," he said.
Wallace also recommended checking out the cages in the cars of local winners and talking to the racers or the cars' builders. "Any time you look at the top five or 10 people in any form of racing, they're doing things right. Or they did it wrong and have already been through the pitfalls. Doing research before you start the project might save you a lot of time, money, and headaches."
Cage Materials
The materials used for cage construction fall into two basic types: mild steel and chromoly. Within the mild steel family are EWS (electric welded seam), HREW (hot rolled electric welded), and DOM (drawn over mandrel) tubing. All are welded tubes; DOM is sometimes referred to as seamless because the seam is almost invisible after the mandrel drawing process. The DOM process gives the tube higher yield and tensile strength than EWS or HREW tube. 
Chromoly, made from steel that contains chromium and molybdenum, is often considered lighter than mild steel. But according to information from S&W Performance in Spring City, Pennsylvania, "chromoly steel and mild steel weigh exactly the same if the tube has the same wall thickness." Chromoly cages are generally lighter because of "the higher strength of moly tubing, which allows the use of a thinner wall thickness." S&W makes its roll bars and cages from 0.134-inch-wall mild steel and 0.083-inch-wall chromoly. "Since the wall thickness can be 38% thinner with no sacrifice in strength, it is therefore 38% lighter. In simpler terms, a roll bar that weighs 100 pounds in mild steel will weigh 62 pounds in chromoly."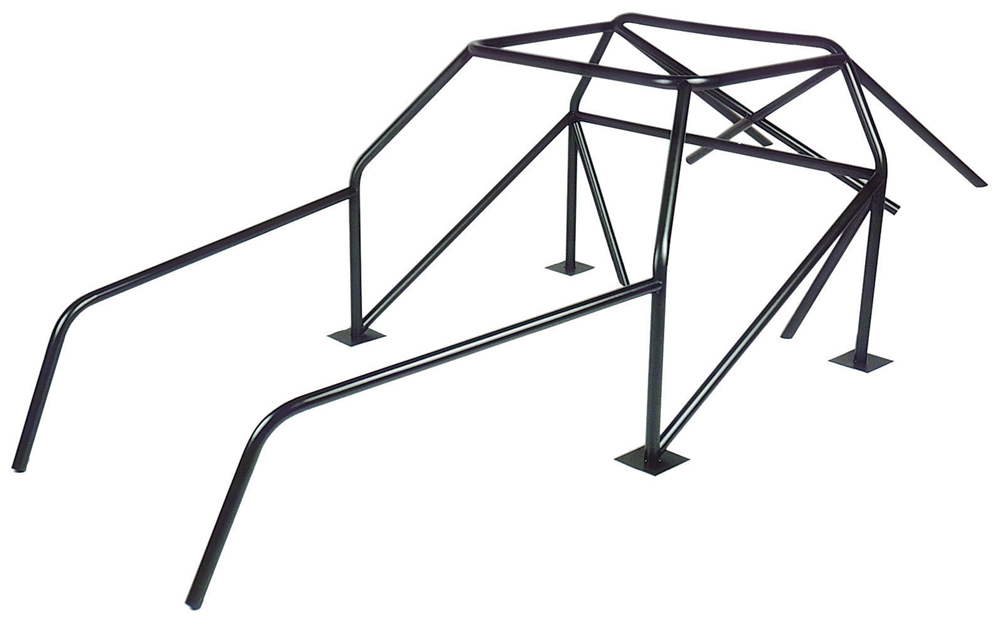 From a price standpoint, "HREW is going to be the cheapest per foot," said Wallace, with chromoly the most expensive of the three. "Any time your tensile and yield go up, your price goes up."
Also, chromoly must be TIG welded, whereas mild steel can be MIG welded. That makes the mild steel materials easier to weld. Plus, "there's greater emphasis on fit-up with chromoly," said Wallace. "The tubes have to have the least amount of gap where they fit because you're TIG welding. The root of the weld is smaller compared to MIG welding."
Kit or Custom?
All three of our source companies offer roll bar kits for racers or shops wanting to build their own. S&W, for example, lists more than 2,800 roll bars and cages in its catalog. 
The kit approach is certainly more cost-effective than having a fabricator custom-build a cage, "and they're a great option if a roll cage builder isn't local," said Schroeder. 
Roll cage kits aren't always turnkey, however. The tubes in a kit are pre-cut and notched, but some extra notching and trimming may be needed to suit a particular car's design. And the person attempting the job "needs to be honest with themselves about how good their fabrication and welding skills are," said Wallace. "Can they do the job up to the safety level it needs to be? Hopefully, you won't have to test the cage, and maybe you never will the whole time you race. But the one time you wreck, if the cage is sub-par, you're going to wish it were built to a higher standard."
SOURCES
–
Competition Engineering
moroso.com/c-e-shop-browse
S&W Performance Group
swracecars.com
Speedway Motors
speedwaymotors.com