Industry Insights: Doug Herbert
With deep roots in motorsports and performance, the championship drag racer and founder of teen driving program BRAKES reflects on a changing marketplace, lessons from his trailblazing father, and how the industry can capitalize on racing's eventual return to normalcy.
Few contemporary racers have the lineage of Doug Herbert, who can trace his roots in the performance industry to his birth. A championship drag racer for more than 25 years, Herbert boasts several historic connections. His father Chet Herbert was a pioneering cam builder during the industry's infancy, and his aunt Doris Herbert brought to prominence one of the first successful publications focusing on drag racing, Drag News.

Doug Herbert's racing career was pioneering in its own right, as he was the first to reach 300 mph during NHRA eliminations in 1993, and was recently inducted into the NHRA Southeast Division Hall of Fame. After winding down his on-track efforts in recent years, Herbert continues to lead Herbert Cams, the firm founded by his father in 1949. 
In 2008, Herbert's life was rocked when his two sons, Jon (17) and James (12) were killed in an automobile accident. The tragedy led Herbert to launch the BRAKES (Be Responsible And Keep Everyone Safe) program, a non-profit that teaches defensive driving techniques to teens.

PRI recently caught up with Herbert for a conversation about his career and his thoughts on the current state of the industry. Of note: At the time of this interview the COVID-19 crisis was just beginning, and the conversation naturally referenced the growing crisis and its potential impact on the industry.
PRI: Obviously, at this moment the world—including all of racing—is sharply focused on the COVID-19 pandemic. Clearly, we are looking at a very significant impact on our sport in the near term. What element of the current situation concerns you the most?

Herbert: I'm just worried about live sports in general. Racing is one thing, but they are canceling all sorts of live events. Concerts, ball games, everything. It seems that many of those types of events have declined over the years, so that really worries me. Because the virus certainly exacerbates that problem. I don't know the fix, but I believe that live sporting events are definitely going to be hit pretty hard in the short term for sure.

PRI: It's impossible to know at this moment how long motorsports will be on hold. Any advice on how suppliers and tracks and sanctioning bodies can weather the storm?

Herbert: People have to pull their horns in. Looking back over the past 30 years I've been in business, we've faced various challenges. The Gulf War came along, September 11 came along, the UPS strike of a few years ago came along, the 2008 economic crash, all of those things affected our business. What I've learned over the years is that you've got to react pretty fast. When you see something, you have to start thinking about what direction you need to go. If you don't do it quickly you might not be around for long.

PRI: Racing is filled with problem-solvers who always seem to figure out the solution to any challenge. But this is unique because it's a very different kind of challenge. Does that make it more difficult to overcome?

Herbert: Sure it does. I was listening to the President today, and he was saying this is an invisible enemy. That's true. In other situations, we've had an idea of who the enemy is, and how to deal with them. This is different. It obviously can affect people's health, but it also impacts the economy. This can seriously affect racing suppliers, teams, sponsors, everybody. I don't know that anybody has a full grasp on how big this is going to be or how long it will take us to recover. We won't know that until we're further along, I think.

PRI: On an optimistic note, it's a safe assumption that when we return to a sense of normalcy there very well could be a strong, pent-up appetite for all things racing. What do we need to do to capitalize on that?

Herbert: Man, I hope we can capitalize. The sport is much more focused on putting on a show today than we were some years ago. We are thinking of the entertainment aspect, and that's a good thing. That will help us, I think. The attention span of people is a lot shorter today and we have to take that into account. We're better at this, but we have to make sure we realize we're in the entertainment business. As long as we think about it like that, it's probably going to be okay.

PRI: Let's shift directions. On a day-to-day basis, you're involved in the operation of Herbert Cams and Doug Herbert Performance Parts. You reside in North Carolina, while the business operation is in Anaheim, California. What's the key to making that work?
Herbert: It's just a matter of having the right people there. The guy who runs the cam shop there began working for my dad, probably 40 years ago. He taught me how to run a cam grinder. His son is working with him, and they've done a great job.

PRI: Your father, Chet Herbert, was a pioneer in our sport, grinding the first Herbert cam in 1949. So you literally grew up in the industry. How much does that background influence you in your day-to-day business?

Herbert: Not much, to be honest. There's a lot of history in the cam business, with people like my dad, Ed Iskenderian, Harvey Crane, all those legendary guys who were involved in the 1950s and 1960s when they had what they called "cam wars" with the Top Fuel guys. That's pretty interesting to me and I'm proud to be involved in that, and I am very proud of my dad. When I was growing up, my dad wasn't involved with going to the races that much. I went to the races more with my aunt Doris, who owned Drag News.

But I'm not sure how much all that history influences me. I don't look back at that a lot, because times are different now.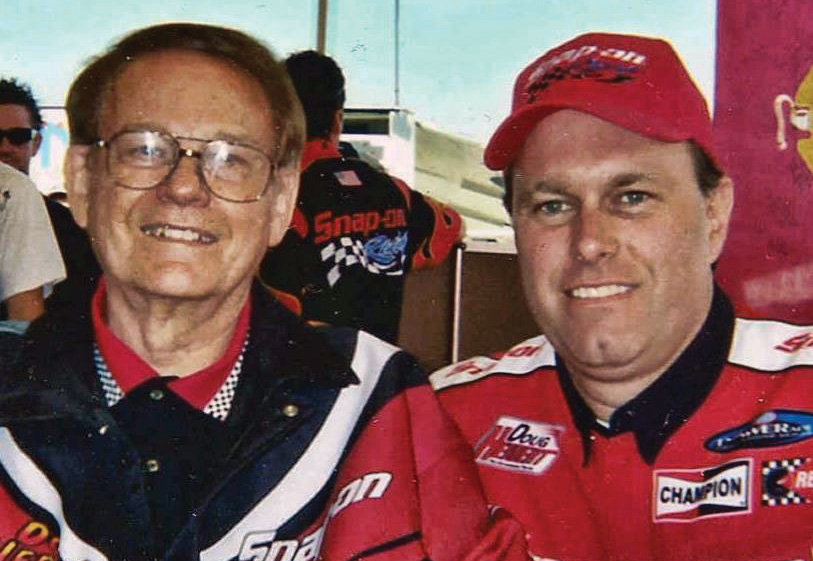 PRI: You make a great point. As much as we love history, the fact is that in the business world everything has changed today. The key, I'm guessing, is to appreciate our history but also stay focused on the relevant issues of the day.

Herbert: That's right. For example, I got my first job at a hot rod shop in Southern California in 1984, I think it was. Larry Dixon worked there, too, and we were just kids. At that time when a guy pulled up in a 1970s Camaro you might as well just run to the back and grab a set of headers, an intake manifold, a carburetor, and an air cleaner, because those were the hot goodies everybody wanted for their car. That's what was selling. But obviously things have changed through the years. Things are much more specialized. The guys who are really doing well in the performance business are the guys who specialize. Experts in one sector. In the earlier days you had to be able to offer parts and pieces for almost everything.

PRI: More than a few days have come and gone since you made your first pass down the track. You've seen a lot in that timeframe. What's the biggest change in drag racing over that span of time?

Herbert: I made my first pass in an outlaw dragster that I raced back in 1985 or 1986. Today I look at that car and think, "Man…that thing was dangerous!" And before that, the guys who ran the front-engine cars in the 1960s and ran 220 mph, that was really dangerous. I've been at many races where bad things happened, and danger was a common thing. So the biggest change is probably safety; it has increased tremendously since I started. NHRA has done a good job, SFI has done a good job, NASCAR…the world changed, and safety was much more on our mind. We can thank guys like Bill Simpson and Fred Crow and Jim Deist, all those guys who made such a difference in the sport.

It's sad that big changes came only after bad things happened. But the focus on safety is the biggest change and the absolute best thing that's happened for all of racing.

PRI: You had a successful and productive career as a racer. In those years when you were actively racing, did you envision eventually taking on the leadership role with Herbert Cams?

Herbert: When I was racing, I would come home Sunday night from the track and be (at our business) working the next day. My dad, the one thing he really taught me was working hard. My dad got polio when he was 20 years old and was in a wheelchair the rest of his life. All that did was fire him up; being in that wheelchair didn't slow him down one bit. It just didn't. Whatever he had to do to continue to work and build racing stuff, he did it.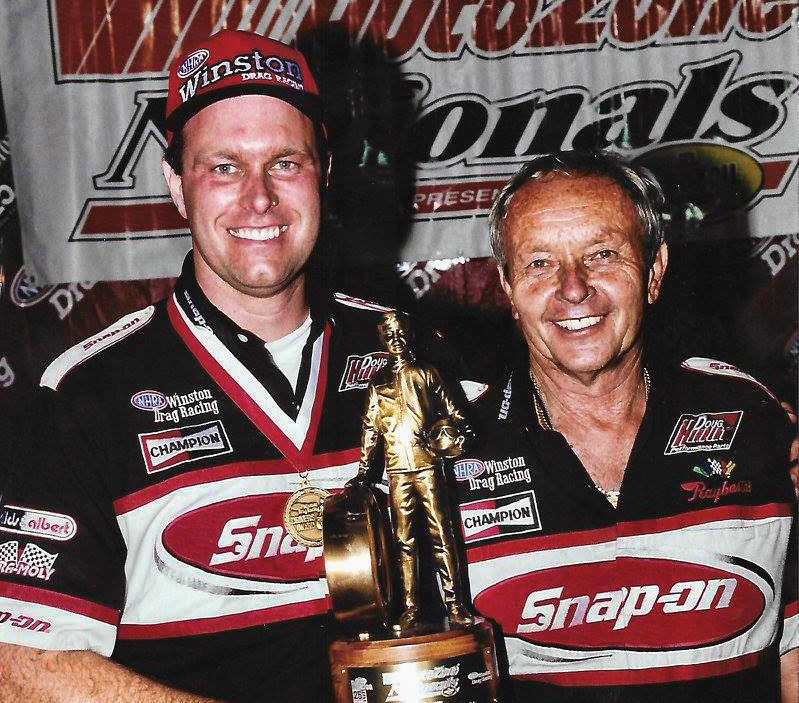 I remember one time when I was maybe 10 years old, and my dad sent me out with a small hatchet to cut down a little tree in our backyard. I chopped for a while and came back in the house and told him there was no way I could cut the tree down with that little hatchet. I need a chain saw! He looked at me and said, "You've got to be kidding me." He wheeled out to the backyard in his wheelchair and leaned down and went to work, and with just a few whacks was at it. He looked like a buzz saw! The tree fell over and he handed me the hatchet and said, "Don't ever tell me you can't do something, unless you really can't." I never forgot that. That was an important point in my life.

PRI: I'm guessing that's the kind of lesson that never leaves you.

Herbert: Absolutely. My dad, he was a very motivated guy who loved to do things. Growing up around that gave me a good sense of making sure I took something from the start to the finish. If it gets hard, you just work harder. Make sure you make it happen. That was instilled into me, to work hard and do a good job.

PRI: When the time came to step away from driving, was it tough? How did you know that the time was right?

Herbert: Back in 2008, Snap-On Tools had been my sponsor for 17 years. They were a great partner. But when (the economy) turned south in 2008 they wanted to cut back on what they were spending. Everybody's business was hurting at that point. So it wasn't hard to step back, because I had to step back. The costs of running a Top Fuel team, it wasn't feasible without a partner like Snap-On. So I just realized that, even though I still loved racing, I had to step away from running my team. Although I stayed involved and ended up racing for a few more years off and on, the days of running my own team had ended.

If I had a chance to race again, I'd be glad to get back into it, but only if I had an opportunity to win. I was able to accomplish what I wanted, and I don't feel like I have a lot of unfinished business. I'm satisfied with my career, and it doesn't bother me that I'm not driving every weekend. Trust me, there is nothing more fun in the world than firing up a Top Fuel car and hitting the gas and leaving the starting line, pulling the parachute at the other end. That's a really exciting thing. But I'm also smart enough to realize that this is a young man's game.

PRI: One of the pressing issues facing every form of motorsports today is attracting young fans and participants. Kids don't necessarily grow up with the same infatuation you and I had for cars when we were kids. What can we do to attract younger people to motorsports?

Herbert: You know, that's a really good question. I've been asking myself that question a lot. I had my 16th birthday at the DMV, because I needed my driver's license to be able to go see all my friends! Now, the communication modes (for kids) have changed. Getting together with your friends used to mean driving over to their house. Now it can mean Facetime, Snapchat, whatever. It's just different. When we were kids the car was part of our personality; you'd go out and shine your car as a point of pride. It was our deal. But kids now look at cars simply as a mode of transportation. Point A to point B. And the love for driving has gone away, which is kind of sad.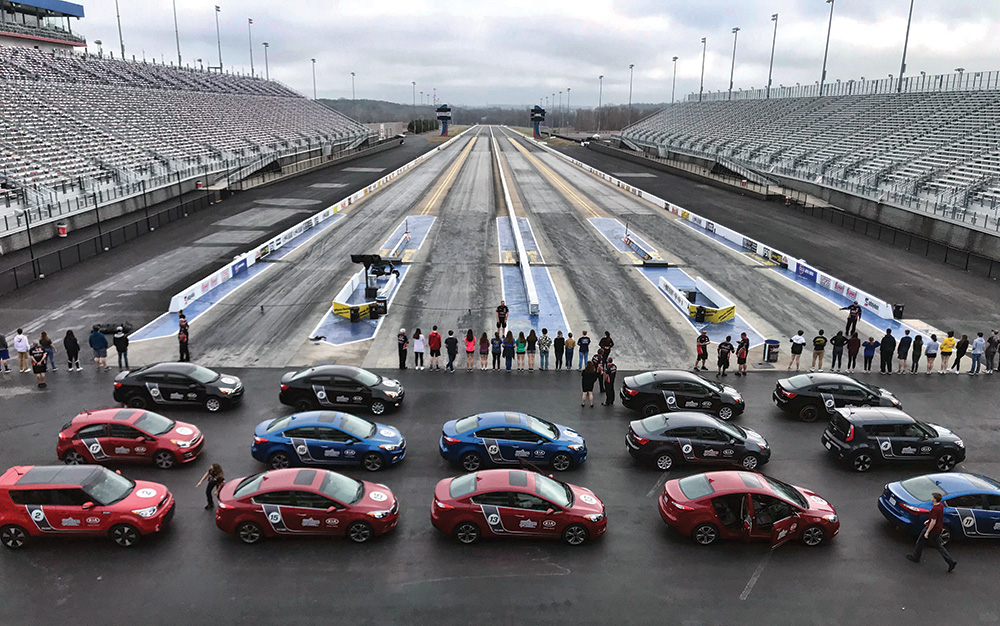 One of the elements of the charitable program we created, BRAKES, is teaching defensive driving to teenagers. We've taught over 45,000 families at this point. One of the things I see when teenagers come to the class is that, when they get there, they often aren't all that excited about being there. They look at driving kind of as a drag, something you have to do. So one of the things we teach the kids is how much fun driving can be. To be independent, to be in control of that machine, it's something they discover. That's an important thing we want to teach kids.

PRI: You led right to our next topic, your BRAKES program. The program was born from tragedy, and the loss of your two sons. Talk about the inspiration for such a powerful and helpful program.

Herbert: I was in Phoenix racing, and their mom called me and said Jon and James have been in an accident. It was early in the morning and I was packing up to go to the race track. Then I got another call that yes, both had been killed in the crash. Wow. So I packed up all my stuff and traveled home, and started doing some research. At that moment, I felt like the most unlucky guy in the world, losing two sons in a highway crash. But then I discovered that automobile crashes are the number one cause of death for teenagers. At that time—2008—more teenagers were killed in car crashes than the next four causes put together. That was shocking to me. It made me so sad…the thing I love so much—cars—are causing deaths and terrible injuries to these teenagers. I felt like I needed to teach my kids' friends how to be a better driver to try and keep them safe. That was where it all started. I knew I had to do something.

The kids who were friends of Jon and James came up with the name, BRAKES. That first year we trained 50 of their friends, and from there it grew. I did a little bit of research to find out the main cause of crashes. In the rural areas, it's dropping a wheel off the side of the road and over-recovering. In different areas it's different things. Tailgating, distractions, that's huge. 

Our program is about a half-day, and we teach kids about all the different causes of crashes. After we taught those first 50 teenagers, I had parents approaching me, asking about us doing another class. We did another, then another, and it started to snowball into something. 

I've had parents tell me that the class changed their child's life and changed the way they look at things. I didn't plan on all that, but learning safe driving puts a real value on the relationship between a parent and a teenager, and it helps kids see how fragile life can be. So many good things happened from that first class, it's been incredible. 

PRI: Obviously BRAKES is a labor of love, but I'm sure it still requires a lot of effort to keep it going. Do you still find inspiration in the kids who come to the classes?

Herbert: Absolutely. I try to come to every class. When teenagers and parents come in, it's early in the morning, and a lot of the teenagers are irritated that they are there. But when the class is finished, and seeing those kids smiling, totally engaged in the process, and leaving the class with their arm around their parent, saying, "Hey, thanks for bringing me to this! That was fun!" That's a great thing to see. It's really rewarding, and I think I'm making my boys proud. Hopefully we're preventing some other parent from getting that phone call.

PRI: You've made a successful transition to working in various media assignments over the last few years. What's the key to becoming comfortable on the other side of the microphone?

Herbert: When I started doing the radio show with Motor Racing Network (MRN), it came down to something Steve Evans told me many years ago. Steve was a great mentor and a neat guy. He told me at the very beginning when I started racing, "Doug, here's the deal. I'm going to ask you a question and you just answer the question like it's just you and me standing here talking. If you do that, you'll do fine." So that's what I always tried to do.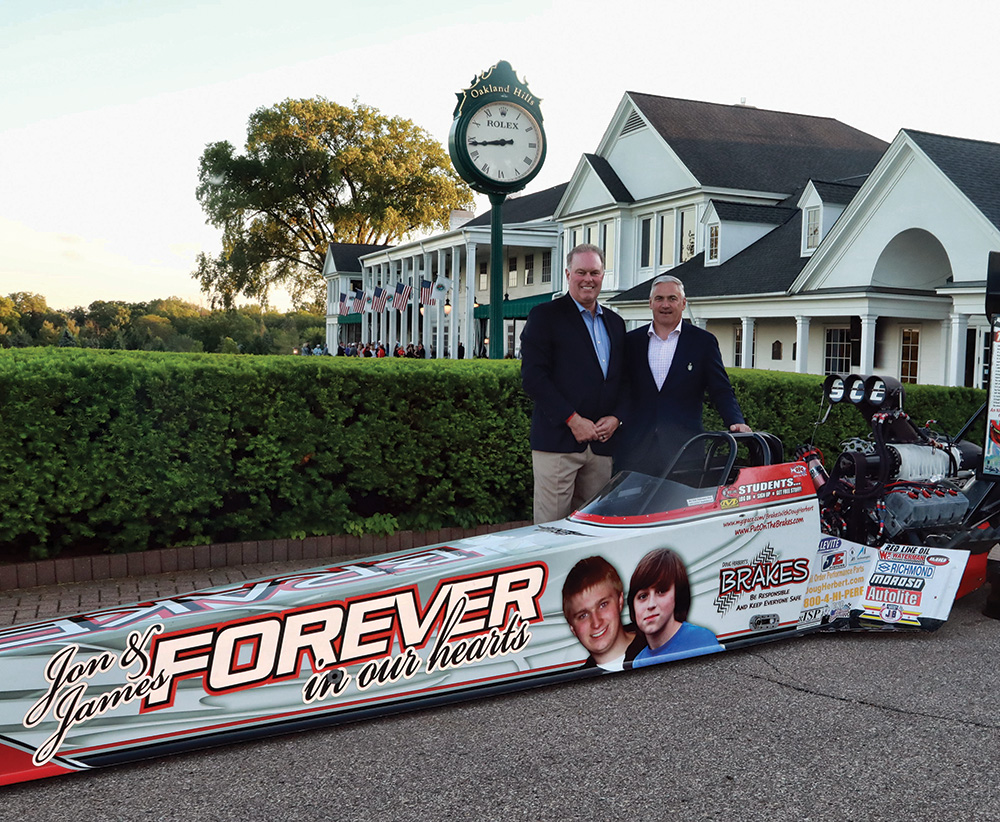 At the end of the day, (media work) is not that hard. We're in the entertainment business, so you've got to ask questions that would be entertaining to viewers and listeners. You just hope you'll get good answers and keep things interesting.

PRI: We'll finish with this. How can our readers learn more about the BRAKES program? And how can they attract a class to their area?

Herbert: We run classes all around the country, and this year we're probably going to run close to 200 classes. The best thing to do is go to our website: putonthebrakes.org. We have videos there, safe-driving tips, and lots of resources for teenagers and parents. The website is the best tool to reach us and learn about the program.

The number one thing you can do for your kid is to bring them to one of our classes. It's just a great experience. It's just half-a-day, and it's free. Through the work we've done with the University of North Carolina we've found that teenagers who attend our program are 64 percent less likely to be involved in a car crash. That's a really good thing. 

PRI: Doug, thank you for sharing some time with us during this difficult episode for our sport. We wish you the best in the coming months.

Herbert: Thank you, Dave. It was good to talk with you.