Member Check-In: Mickey Thompson Tires & Wheels
Image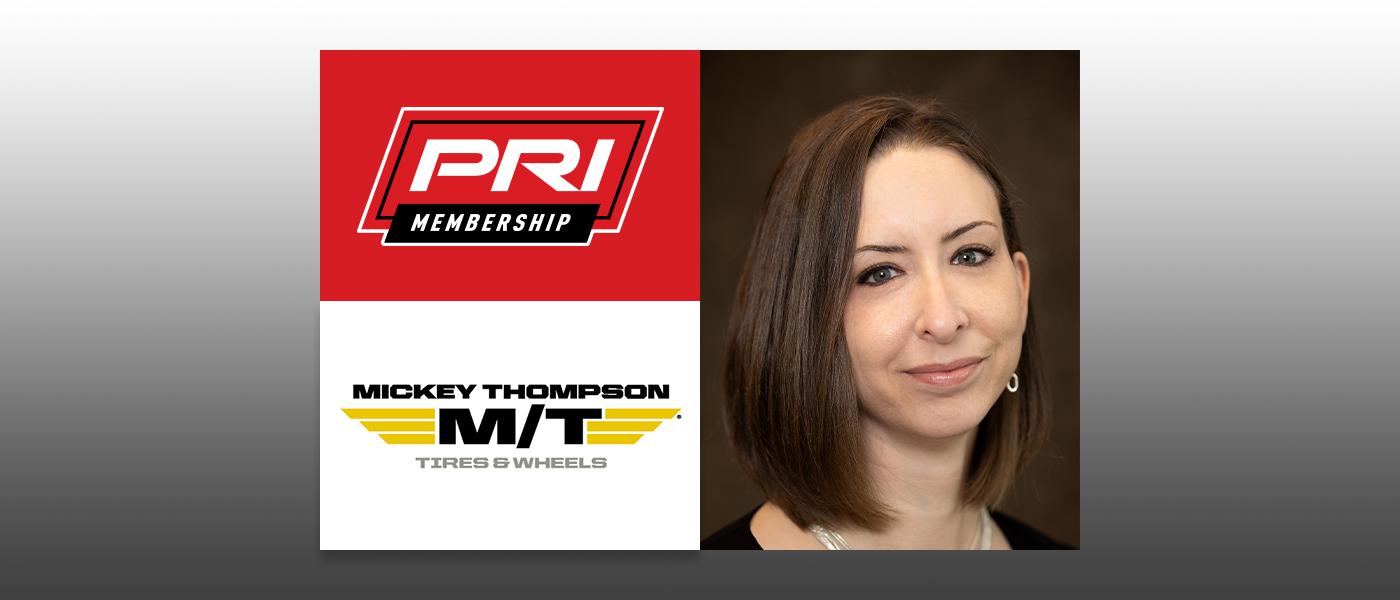 "At Mickey Thompson Tires & Wheels, we recognize the impact our founders and company have had at the roots of American racing," said Heather Tausch. "We recognize PRI as an important resource for this community and see it as our duty to support its efforts in improving the health of our industry." 
This legendary brand is fighting to keep innovation alive by denouncing overregulation while simultaneously continuing its long-standing partnerships throughout the racing community.
Stripped to its basics, the notion is that too many people outside the world of motorsports are trying to determine how the industry should be run, not always with the best level of knowledge. While expressing enthusiasm for the future of the racing business, very much in keeping with the company co-founder's undying optimism and unstoppable energy, Mickey Thompson Tires & Wheels in Stow, Ohio, believes the world of motorsports is better off when outsiders aren't trying to cramp it with overzealous regulation and oversight. 
"Overregulation of motorsports is a concern that affects our entire industry and has far-reaching consequences, even in tires and wheels," Senior Marketing Director Heather Tausch said. "Many innovations that automotive manufacturers rely on today began at the race track. Aluminum-alloy wheels found on most cars today was technology first deployed by Bugatti in its Type 35 race car in 1924. Even today, much of the technology found in Mickey Thompson's on-road tires was developed using insight from off-road racing, rock crawling, drag racing, and more. Limiting the ability for racers and enthusiasts to enter into motorsports through stricter regulations will ultimately stifle innovation within the entire automotive space."
One can almost hear the voice of the company's late co-founder, one of the true immortals in the universe of American speed. Mickey Thompson was a pioneering innovator in dragster design, the construction of land speed record cars, and the operation of drag strips when he and Goodyear chief designer Gene McMannis teamed up in 1963 to create Mickey Thompson Tires & Wheels, with the intention of developing highly specialized wheel-and-tire combinations for Thompson's constantly evolving racing needs. Thompson was already the first driver to exceed 400 mph in a wheel-driven vehicle when he branched out to establish SCORE, the off-road racing sanctioning organization, and to essentially invent the sport of stadium off-roading, a clear predecessor to today's global rallycross action.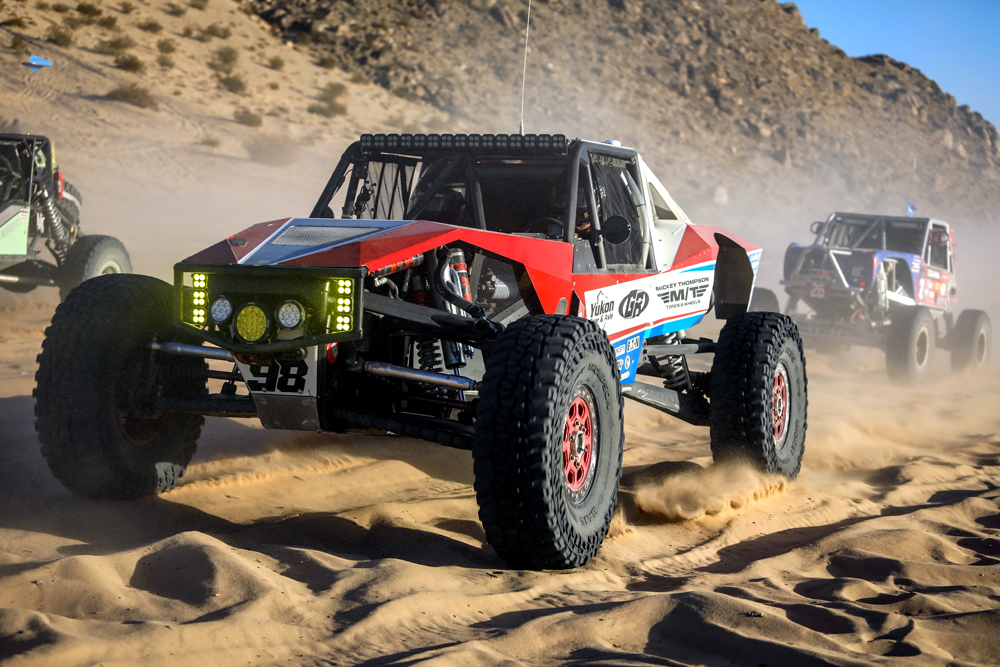 The new firm "allowed the rest of the racing community to also access the fruits of this partnership: the latest tire innovations developed through a partnership with highly skilled racers in demanding real-world environments," Tausch said, adding that this principle is "a core tenet of the company that continues to this day."
M/T, as it's commonly known for short, is in the business of producing specialty tires, largely for off-road applications, although M/T also produces and markets full lines of drag tires, tires for street performance vehicles, and an array of custom wheels. For all the company's recent fame in the off-road world, M/T has a broad product array and a thick catalog of offerings, which Tausch said must constantly be managed amid strong demand that's been a fixed part of M/T's recent history.
"As many performance companies will tell you, the past several years have been a time of increasing demand and growth within our industry," she said. "While we welcome the increased demand for our products, we have had to prioritize manufacturing differently and reorganize our catalog to meet the needs of our customers. We remain committed to delivering a superior product to meet these needs."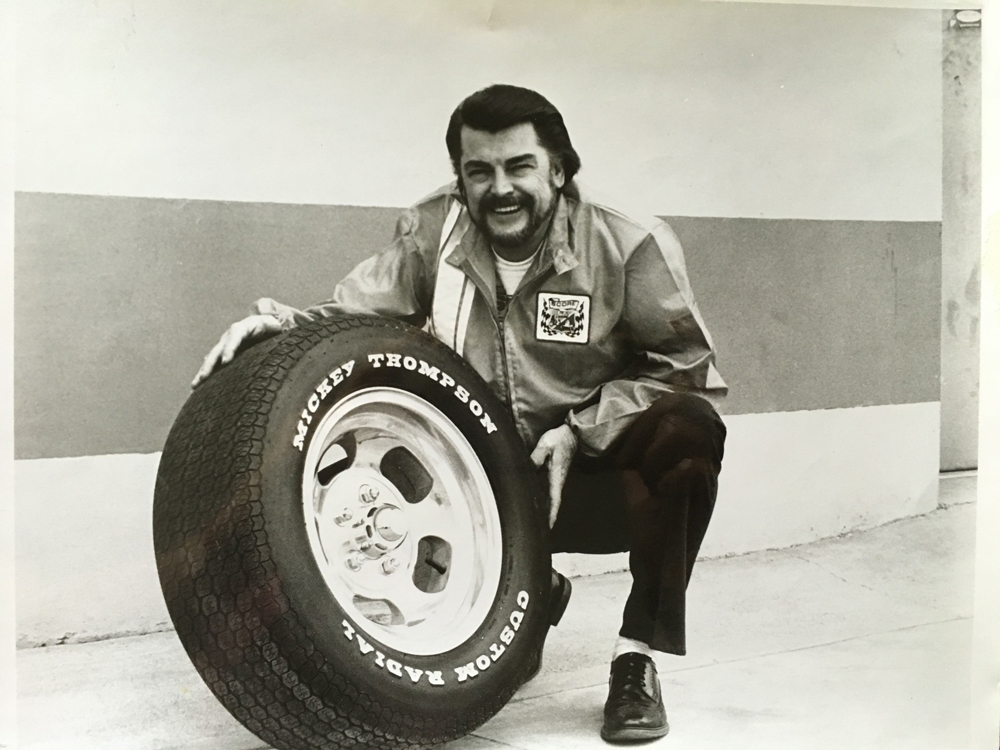 That initiative, going forward, focuses on new lines of products that M/T plans to bring online in the coming year. "Mickey Thompson works closely with racers and enthusiasts to innovate and develop technology based on extreme real-world situations," Tausch said. "One of our most exciting initiatives to come in 2023 will be the availability of our Baja Boss M/T tires in 42-inch sizes for 17-inch and 20-inch wheels, and a 44-inch tire for 20-inch wheels. This development came from working closely with an extensive network of off-road enthusiasts and race teams and was designed to allow them the additional ground clearance, sidewall flex, and traction needed to push the limits off-road.
"Additionally, with the increased cost of glue and other supply-chain issues leading to disruptions in track prep and maintenance throughout the drag race community, Mickey Thompson is excited to announce three new ET Drag tires based on our popular 28/10.5-15 size lineup, with compounds better suited to these variable track conditions," she continued. "These tires will allow racers to keep the traction performance they have come to expect from Mickey Thompson even in unpredictable track situations."
Ensuring that the motorsports industry remains vibrant, even in the face of ongoing regulatory efforts, is why Mickey Thompson enjoys its status as a PRI Founding Member. The advocacy that PRI represents to the racing parts industry is vital in today's environment, Tausch said. 
"At Mickey Thompson, we recognize the impact our founders and company have had at the roots of American racing," Tausch explained. "Even today, our innovation and reputation are derived from having a close relationship with the motorsports community. We recognize PRI as an important resource for this community and see it as our duty to support its efforts in improving the health of our industry. We believe our history and reputation mean something to our community and are proud to add our voice to supporting PRI."