Ask the Experts: Optimizing Social Media Reach
Image
Using social media for a business "is a fun, backdoor way of advertising," said PRI's Christen D'Alessandro, seen here at work in the field. "You don't want to put a typical ad like you'd see in a magazine on social. That's not very exciting. People want to see exciting stuff."
Effective strategies can make these digital networks a powerful marketing and promotional tool for your motorsports operation.
Since it's just a click or a tap away, social media can feel like an easy way to promote a brand, a shop, a driver, or just about anything else related to the racing and performance industry. Yet because social media "is perceived to some degree as sort of free marketing, people spend a lot of time chasing the shiny, acting because they think they have to," said Jennifer Cario of SugarSpun Marketing, Bentleyville, Pennsylvania. "Maybe they read about a new trend in an online article, or a friend of a friend said, 'You gotta be on this channel.' They're doing it because someone said to do it, not because when they really looked at building out a strategy, it was the thing that made sense.
"People don't treat social media as another business decision," Cario added. "It has to be treated as a business decision with a strategy behind it."
Which Platform?
Among the first steps in that strategy is determining which social media platforms will be right for a business. To answer that question, "the first thing they need to do is determine who their audience is," said Christen D'Alessandro, PRI's social media manager and senior editor. "What the business is and who their customer is will determine which social platform to use."
To do that, Barry Alt of Motorhead Digital in Palmyra, New York, recommended developing a customer profile. "Who is your customer? What are their ages, income level, hobbies, things like that to really understand them?" Getting that information "is an easy email or phone call away. Talk to your favorite customers, the ones you would want all your customers to be like."
Customer demographics are important because the various social media platforms "cater to different demographics," D'Alessandro said. "Facebook is still the biggest platform overall in terms of users, so I think it's a given you should be on Facebook." But since it was one of the first main social media platforms, "it tends to be used by an older generation. To hit a younger demographic, TikTok and Instagram are the top two."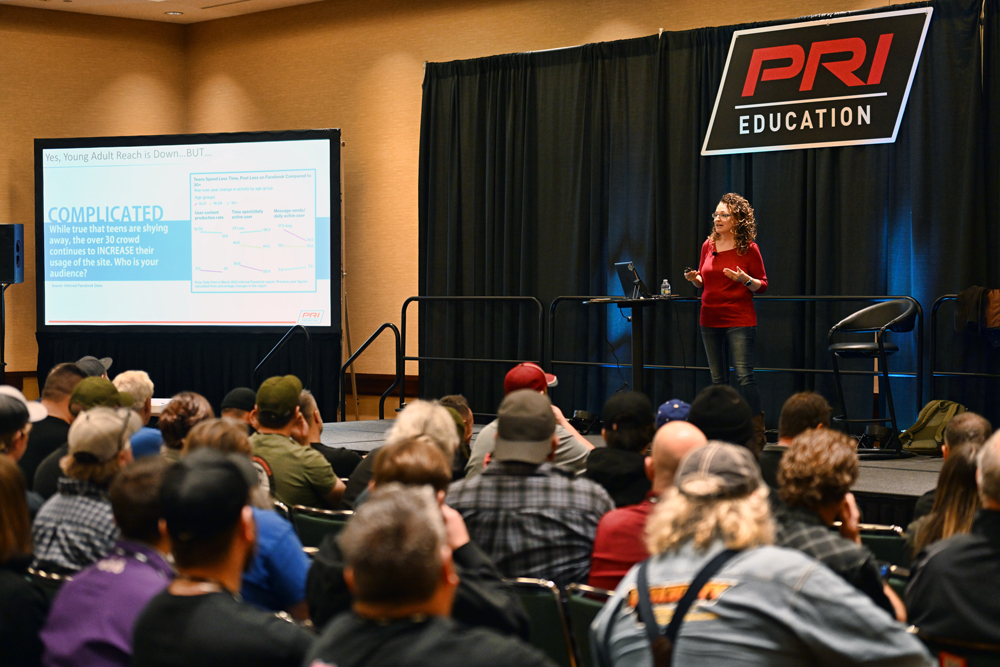 "We know that Twitter has among the highest usage rates for people of color and urban environments, as opposed to white Americans who live in rural America," Cario said. "If you are targeting older people that have a little bit more money and are doing something on a hobbyist basis, a channel like YouTube better fits that demographic."
"If you're a business building race cars or high-dollar engines, where do the people live online that have that kind of money? Who are they?" asked Alt. "Are they CEOs, CFOs, business owners? Are they even on Facebook, Instagram, or YouTube? They may only be on LinkedIn. LinkedIn is a social media platform as well, it's just more business oriented. We push our customers to set up LinkedIn business pages. Most of the time you can post the same things you're posting to Facebook, but you have to think differently about the post because the audience is different."
Brand Awareness or Product Sales?
While it's becoming easier to sell products through social media channels, "the need to build relationships on social media is more important than to sell stuff outright," Alt said. "Sales will come if you build those relationships. People do business with companies and people they know, like, and trust."
"Your brand needs to be out there for people to see your products," D'Alessandro said. "Even though you can sell through these platforms, it's important to have your name out there as much as possible and have people see your products on people's cars. People remember that, and that will help sell your products." 
While it may be possible to sell directly through a social media platform, Cario said it's important "to be aware of the nuances of the different channels. For example, Facebook has said if a post directly sells a product, it needs to go up through Facebook advertising, not as part of the Facebook news feed. Facebook will downgrade your visibility in the news feed if you try to do the hard sell there."
Quality Versus Quantity
"If social media is done right, it's not as easy as people think," Alt said. "If you are just posting something and don't post it correctly, don't add hashtags, don't add copy to it—you're wasting your time. If you're doing it right, there's a lot of thought that goes into it. What are we going to say, and will it resonate with our followers? What hashtags are we going to use? When are we going to post? How often are we going to post?"
The "how often" question is key. "With this market, a good average is three to five posts a week," said Alt. Figuring that out can take "some trial and error. You need to look at page data and determine the interactions and see how many views, likes, comments, and new followers you're getting." Also, "post when people are actually online," he said. "When scheduling a post, META Business Suite will tell you when your followers are most active online. You can look at that and determine when will be a good opportunity for people to see your post."
"Quality is more important than quantity," D'Alessandro said. "If your followers start seeing a bunch of crappy posts, they might unfollow you. But it's still important to post enough to keep the brand out there. Personally, I would try to post at least once a day. If that's not possible, four to five times a week would be a decent amount."
Cario believes a business should "post the amount it can produce that's high quality, and content its audience is willing to engage with," rather than aiming at a set number of posts. In fact, she has found most small businesses post too much. If a platform's algorithm determines a user is seeing posts but not interacting with them, "the algorithm says, 'I'll show you less from that company,'" Cario said. But when "someone is putting out content and not getting the interaction they want, their gut reaction is to put out more content. That's kind of like meeting someone, being interested in them, and going, 'Okay, they're not returning my call, so I'll call them 47 times a day.' Now you're going to scare them off."
When she presents this way of thinking at her PRI and SEMA Show seminars, Cario said "most people tell me, 'Are you kidding? I can do less stuff and actually get more response from it?' Yes, you're working too hard, and you're shooting yourself in the foot. I'm actually telling you to do less work and you will accomplish more."
Sources
Motorhead Digital
motorheaddigital.com
SugarSpun Marketing
sugarspunmarketing.com