Race Team Confidential: Don O'Neal, Evansville, Indiana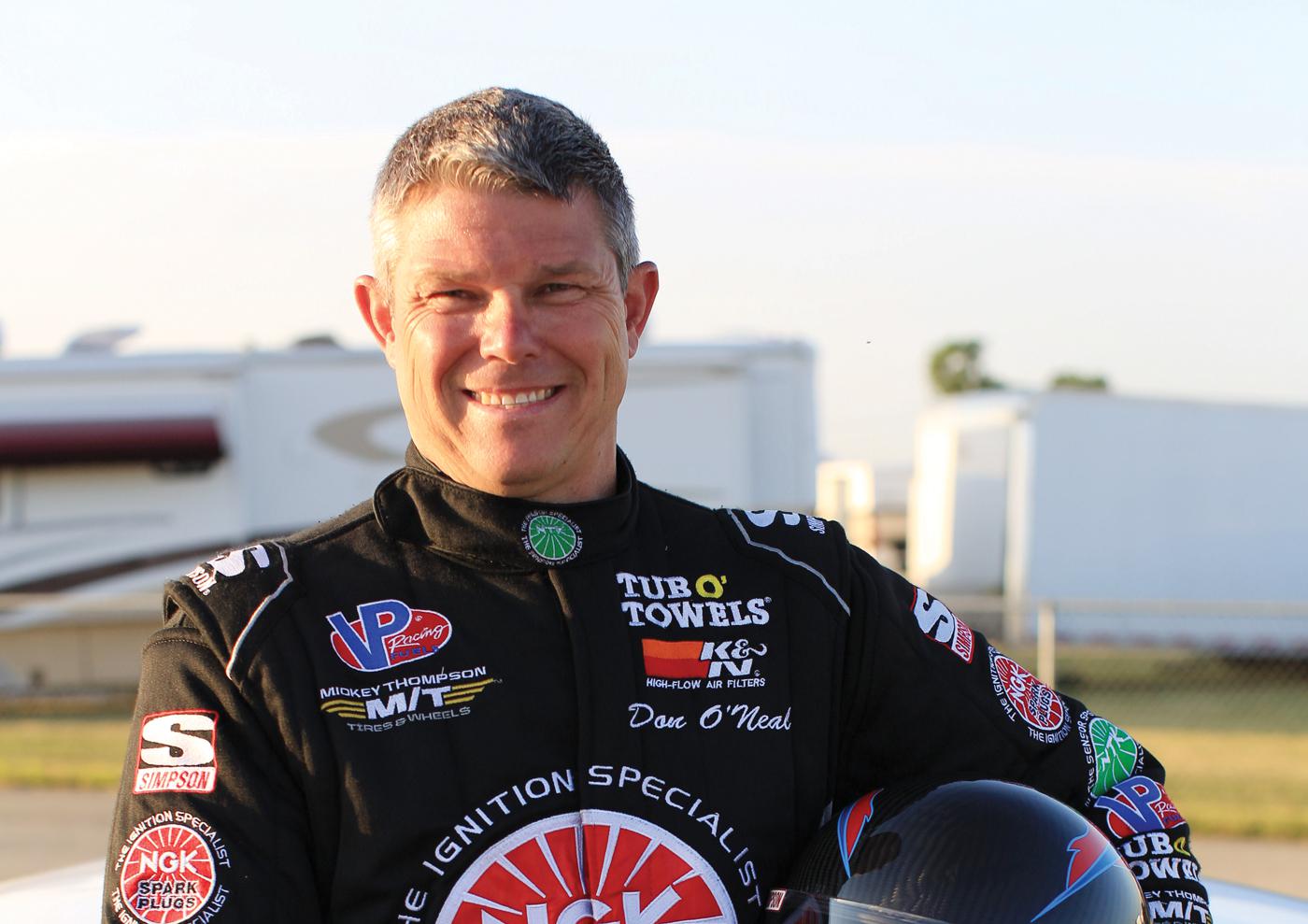 This triple threat drag race team focuses as much on preparation for the track as it does on how well it represents its marketing partners once they arrive. 
Streetway Marketing & Media includes three drivers—JB and Megan Strassweg, and myself—and race cars that compete around the country in Top Dragster, Super Comp, and Top Sportsman, respectively. Pairing the cars, drivers, and sponsors together to be successful on and off the track is a challenge that's rooted in executing sales for all partners involved.
Additionally, we produce a podcast and stream a weekly drag racing show. 
On the podcast we talk about marketing, business to business, the do's and don'ts of social media…the business side of things. My co-host is NHRA Top Fuel driver Cameron Ferre, and our guests are people who aren't afraid to share the right ways to be successful—as well as some wrong ways—when it comes to motorsports marketing, advertising, and sponsorship. 
We use the podcast as part of our marketing package, and we can also use it to develop an email database, expose new products—and we have the opportunity to tell backstories from different people. It's really to teach how to be better in the world of motorsports, regardless if it's going in a straight line or going left and right, or whatever the case may be. We're in our third year, and it's at around a million downloads.
To coincide with that, we've launched a new show called "This Week in Drag Racing" that's mainly about non-NHRA drag racers. Produced by Warren Evans, it features NMCA, NMRA, PDRA, etc. We're looking at the guys and gals who are out there grinding away to make it to the next level.  
For this race team, an offseason seems almost non-existent. We have engine freshens, race cars to wrap, crew shirts to design, and the list goes on. 
Usually I would take the car completely apart and check every item including shocks, struts, rearend, brakes…disassemble and reassemble. But this past offseason the car went to Jerry Haas Race Cars for repairs because I wrecked it. JB and I take care of the routine maintenance like running valves, oil changes, and general upkeep. We rely on the experts at AFCO to service our shocks and struts.
We typically don't start ramping up the racing until the end of March or beginning of April. We will have dyno sessions, hub dyno time, and on-track testing before we roll into our first competition. We don't like to show up to a race in test mode and spend time preparing before we get there.
Once the haulers leave for the first race of the season, our focus moves to maintenance, logistics, activation, and winning. We take a military approach for resupply on items that we need while we're doing back-to-back events, which may keep the haulers on the road for multiple weeks. We look at work schedules, commitments, etc. to understand what needs to be shipped, picked up, or in the haulers.
Due to COVID-19, when preparing for the 2021 season we looked at different regional series across the country that align with our regularly planned tour in case any events get canceled. We are an extension for each of our marketing partners. They need to sell product, so we need to be in front of people in different locations to impact those sales. We need to show off the products' performance and reliability in competition.
Value for our partners always starts with, "What's the strategy?" Then we can come up with execution points for whatever is valuable to the company, product, or brand. When it comes to value for us, that really depends on what the partner is looking for as part of their strategy. We can take somebody that has a product that they're trying to launch, and we can R&D it and help on the development side, but then also work them into distribution as well as the marketing side. 
Our engine program is maintained by the team at Oakley Engine Performance, and our inventory of engines covers large-cubic-inch big block Chevrolet nitrous engines, naturally aspirated engines for Super class and bracket racing, and LS engines with Magnuson Superchargers.
This season we are excited about our new Litens high-performance tensioner kit for the Magnuson supercharger program. We're always trying new converter combinations and transmission ratios. JB had a top-10 year in 2020 with his Top Dragster combination, so we aren't changing much with that program. But Megan is getting a new big-mph combo for Super Comp in 2021.