Ask the Experts: How to Maximize Contingency Programs
Image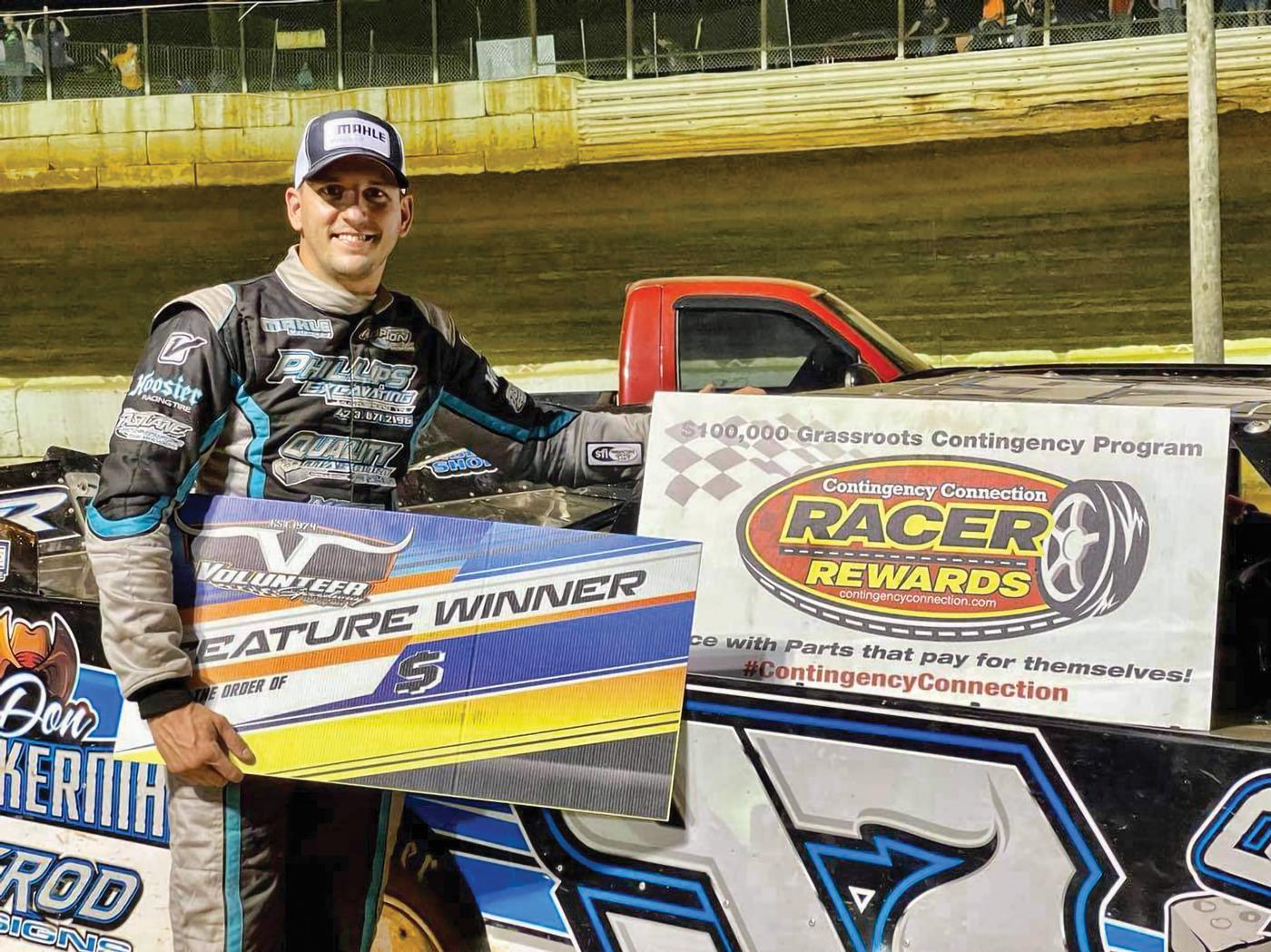 The Contingency Connection Racer Rewards program serves as "a middleman between sponsors and race tracks," said Jackie Ressa. It ensures sponsors' contingency awards reach grassroots racers, like Aaron Guinn, across the country.
Getting the most from these racer rewards goes far beyond placing a decal on the car.
On one level, a successful contingency program is about the racers, "keeping race cars at race tracks and putting on a high level of entertainment for the fans," said Carson Becker-Gramm of IMCA, Vinton, Iowa. From the program sponsor's point of view, "the whole point is to drive customers to their place of business and make sure those certificates are being redeemed. Then, hopefully, they can grow a longtime customer."
The benefit to a sponsor can go beyond sales. Contingency programs enable QA1 in Lakeville, Minnesota, "to go to the next step in building relationships with the racers," said Dave Kass. "Those relationships can give us opportunities for product improvement and give us real-world feedback from guys using our products in race cars. We are constantly looking for new problems to solve, but we can only do so much internally without putting parts on a race car. So we see great value in these programs."
How, then, can contingency sponsors optimize their programs to get the "great value" Kass described?
Not Too Contingent
"One thing we like to be very careful about is making sure these programs aren't too contingent for the racer," said Becker-Gramm.
For example, if a sponsor is "something like a parts warehouse, the racer can buy whatever they want" with the contingency award, he said. "One of our great marketing partners, Speedway Motors, has so many different products that they're almost universally allowed. Those certificates seem to have a higher redemption rate because there are so many different options for the driver to purchase."
A manufacturer with a more specific component line, however, should be aware of "all the different divisions" that a sanctioning body has "and the different rules in those divisions. Not all the products that XYZ Company may carry are allowed in that driver's division." Narrowing contingency choices too much "makes it more difficult" for the racer to redeem the award.
Compounding the difficulty are the terms sometimes set on the awards, Becker-Gramm added. If a product discount requires a minimum purchase, "say for example that a $100 certificate is off the purchase of $500 or more, a grassroots driver then has to weigh their budget, not just the racing budget but also their personal budget and anything that may affect their racing budget" in deciding to redeem the certificate. It would be better, he said, to structure the contingency award more like a gift card. "A $10 Starbucks gift card isn't contingent on you spending $100 at Starbucks to use it."
IMCA, Becker-Gramm explained, works to "make sure the sponsor does have a great redemption rate, so we're going to do all we can to put together a program with the sponsor to drive customers to their business."
Is Cash King?
Cash contingency awards give racers the ultimate flexibility to spend the award as they choose, but cash isn't always the best option for the sponsor. QA1 offers cash and award certificates in its programs, Kass said, depending on the racing series. With a cash award, though, "we don't know where the cash is going to be used. We have no direct line to correlate where the award is being redeemed." QA1's contingency certificates are serialized, "so we can see if they are being redeemed at a speed shop or through a direct purchase through QA1. That helps us to track the certificate and helps us understand those channels and what the certificate is being redeemed against."
Spread the Wealth
One way contingency sponsors can drive more racers to their businesses is to expand their awards beyond race winners. "We've done that in quite a few instances," Kass said, "granting awards for the fastest 60-foot time at a drag strip, or the fastest lap of the night at a circle track, or whoever passed the most cars that night. Everybody has a chance at something like that.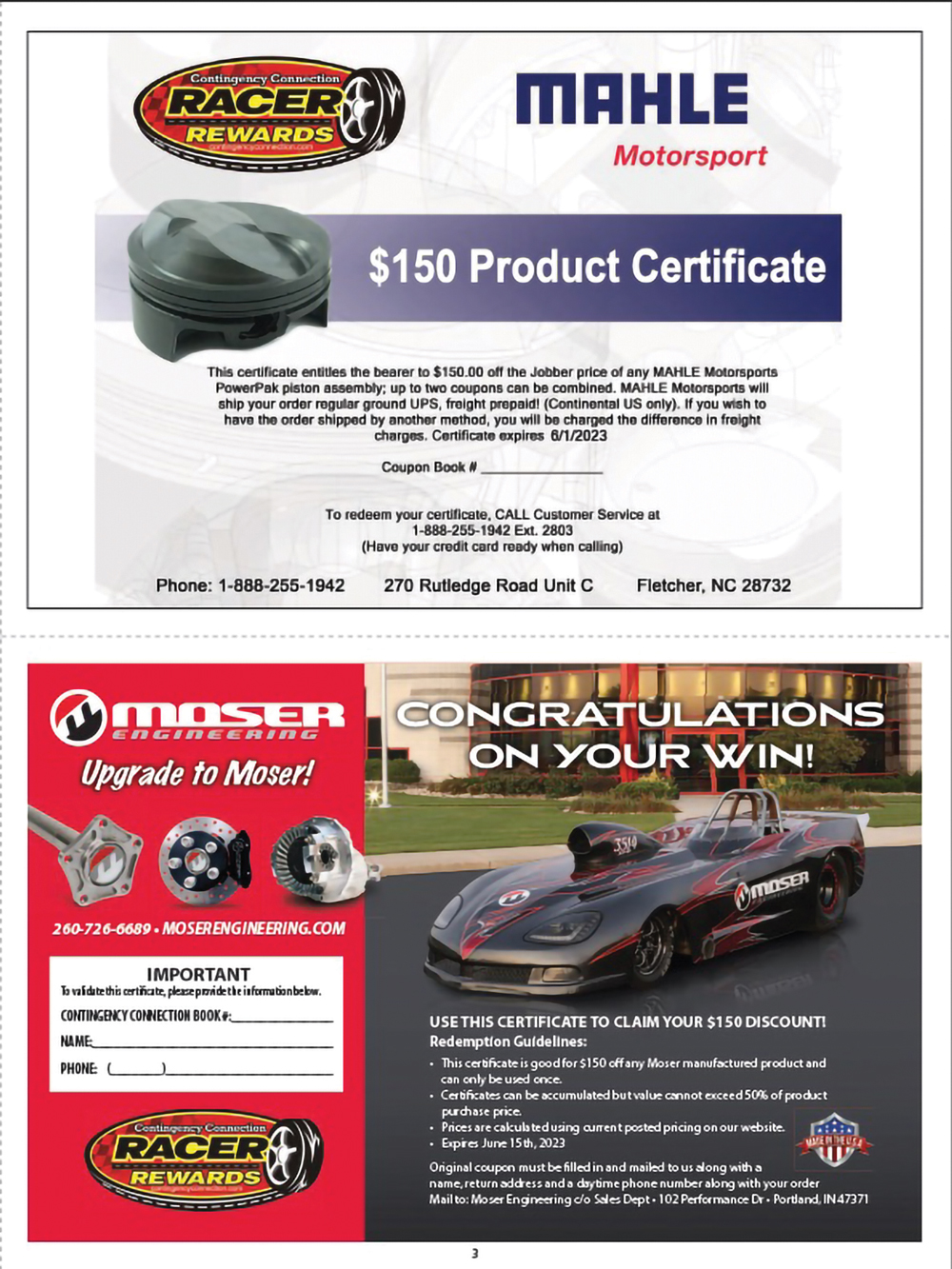 "Front-runners night-in and night-out can be more accustomed to seeing contingency payouts or other forms of sponsorship," Kass continued, "so someone new to the sport, or trying to navigate their way through the pack, may be just as, if not more, deserving of recognition."
"The Racer Rewards contingency book doesn't necessarily always go to the winner of an event because the track owners want to spread the wealth and pay as many racers as they can," observed Jackie Ressa of Contingency Connection, Kingsport, Tennessee. "They might give it to the number-five finisher or the number-10 finisher. Some tracks may present the Racer Rewards book as a hard-luck award to somebody who went out in the first round. The program is more effective when track owners allow the awards to trickle down through the ranks to as many racers as possible."
Becker-Gramm sees the "spread the wealth" concept as a shift in how some sponsors think about contingency awards. "It's gone from sponsors saying, 'I want it to go to the champion,' to, 'Hey, how can we support everybody?' What we see are a lot of very happy racers as you get further down the ranks. If they're handed a $50 certificate, it goes a long way to keeping them coming back to the track."
The Contingency Connection Model
For 30 years, Contingency Connection has served as "a middleman between sponsors and race tracks" delivering national contingency awards to local race tracks. "We're a marketing arm for manufacturers allowing them to be where they cannot always be—at local, grassroots race tracks nationwide."
Instead of individual award certificates, the Contingency Connection provides 50 Racer Rewards Books full of manufacturer product certificates—about $4,000 worth of discounts in each—to tracks enrolled in the program. Ressa said there are 40–50 tracks enrolled across the country, representing about 1,500 events annually and reaching some 18,000 racers weekly.
"We deliver a $100,000 contingency program to each member track," Ressa said. "Track operators love it because we connect them with national manufacturers. Manufacturers love it because it's an inexpensive way to reach the huge target market of grassroots end-users. Racers love it because we help them pay their racing expenses so they can race more often. It's a win-win-win for everybody involved."
SOURCES
Contingency Connection
contingencyconnection.com
IMCA
imca.com
QA1
qa1.net