Image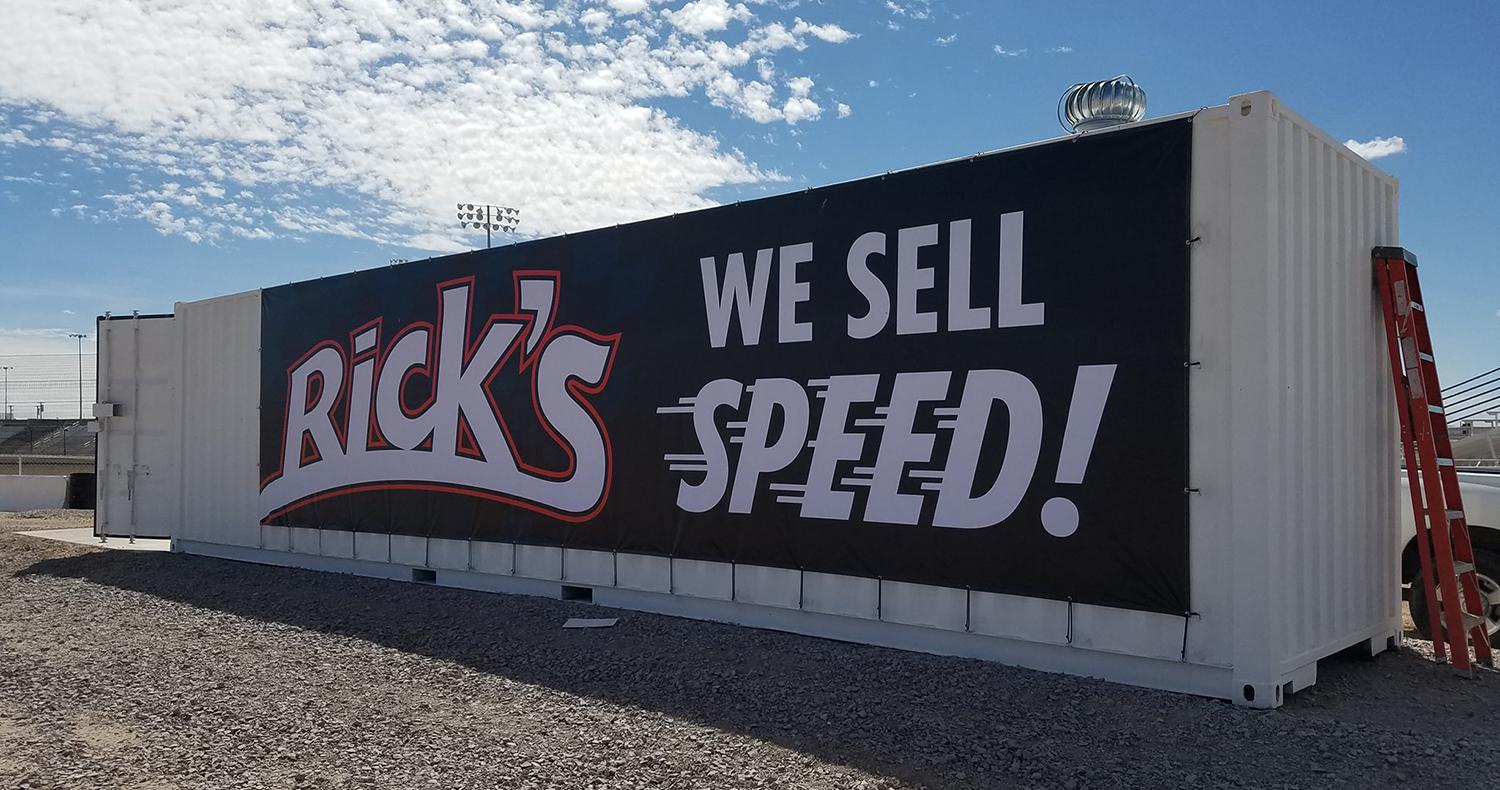 Rick Hall came up with a creative, affordable, yet still effective option to house his trackside sales operation.
The Problem: Setting up a secure, walk-in trackside store on a tight budget
The Solution: Build the store from a used shipping container
Speed shop owner Rick Hall of Las Cruces, New Mexico, came up with this innovative solution for setting up a trackside shop at nearby Vado Speedway Park. Instead of the trailer, truck, or tent setup typically used by trackside vendors, Hall built his store from a used shipping container. 
He started by shopping carefully for a container in good condition, to give his store the polish and longevity he wanted. "Some containers are rusted up and they look decrepit," said Hall. "And the prices are all over the place." He decided to pay the extra money for a 40-foot, one-use container that was in good shape. 
To provide a solid, level foundation for the container, Hall laid down a layer of base-course rock, then he had a concrete pad poured for the entryway. Once the container was delivered, an electrician ran lights inside and wired it for 110-volts, which Hall powers with a generator. For the walls, he wanted the versatility and clean finish of slatwall. But drilling mounting holes in the sides of the container could cause leaks or rusting. So Rick welded in 4-inch-wide by 1/8-inch-thick steel to attach it to. He also mounted a turbine vent to the roof to help combat the New Mexico heat. Even so, the interior still gets hot at times. For now, he runs fans inside, but he's planning to add an evaporative cooler.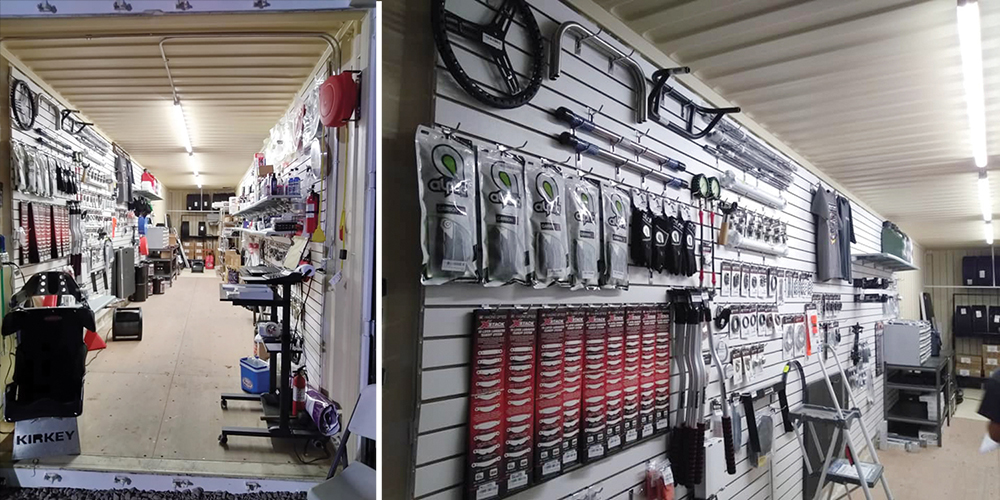 With most of his inventory remaining in the store between races, security was important. Hall supplemented the container's robust doors and latches by welding a bolt-cutter shield around the lock. To add luster to his store, he had the container's exterior painted white with an airless sprayer. The finishing touch is the "Rick's" banner on the side. Besides attracting racers to the store, it's also an effective billboard. "Interstate 10 runs right by the race track," said Hall. "We get comments all the time: 'Boy, that's the only sign we can see down there!'" 
Hall's whole store setup cost less than $10,000—a bargain when you consider that a 40-foot trailer could easily be twice that. Nonetheless, he said some vendors would still be better off using a trailer. "This is the only track within 200 miles," Hall noted. Vendors in denser areas, "could hit a lot of race tracks, so they'd need to be mobile." 
But Hall noted that a shipping container serves his store needs well, providing the security, solidity, and weather protection he demands, at a relatively low cost. And that's problem solving with style. 
Do you have a creative solution to a problem in your business, race car, or shop? We'd love to hear about it. If we like the idea, we may just publish it in an upcoming edition of Problem Solvers. Send your ideas, tips, or suggestions to editorial@performanceracing.com.
Shipping Container Basics
–
Containers are available new, used, and "one-trip"—used only once, making them almost brand-new. 
The most common lengths are 20 and 40 feet. There are two basic heights: 8' 6" standard and 9' 6" high cube.
Used prices start at about $1,500 for a 20-foot standard; better-condition one-use containers cost roughly twice that. 
Most companies will deliver within 250 miles, with fees based on distance. Expect to pay $300 or more. 
Containers can also be rented, with prices typically in the range of $130 per month for a 10-foot standard to $200 per month for a 40-foot-high cube.
Some companies also offer custom modifications. Installed roll-up doors start around $900, and glass windows go for about $500 each and up. 
Be sure to check your area's zoning restrictions before buying or renting a container. Many municipalities have ordinances that apply. —David Bellm