Member Check-In: Restorations By Sabra
Image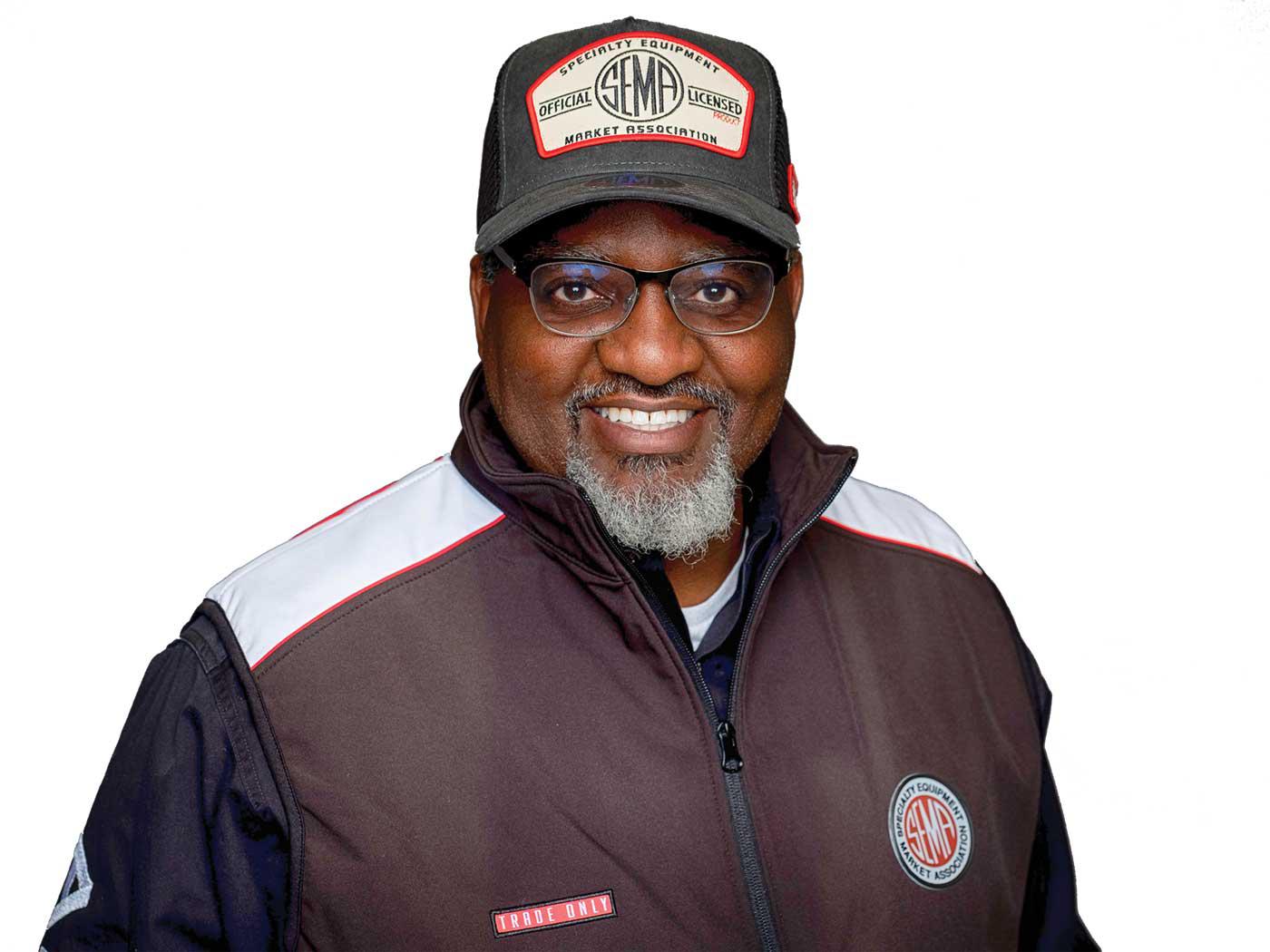 "Cowboy car builder" Sabra Johnson is a PRI Founding Member. "PRI and SEMA have been my institutions of higher learning," he said. "I've grown so much, because of this organization, so I feel a responsibility to play a role whenever there's a chance."
PRI Founding Member Sabra Johnson turns his passionate energy into a vast custom-car business while also striving for greater diversity in motorsports and the performance aftermarket.
The motorsports world thrives on big personalities, with tall visions and the boundless energy to make them happen. That perfectly describes rancher and self-described "cowboy car builder" Sabra Johnson and his business, Restorations By Sabra. With automotive facilities that cover approximately seven acres in the Houston, Texas, metro area, Johnson and some 30 employees build cars that combine the classic looks of vintage American muscle cars with the brutally capable performance of modern race cars.
Although Johnson enjoys just about any kind of car imaginable, it's clear that this blend of vintage sheetmetal and all-out performance underpinnings is what he relishes most. It's a preference that likely stems from his first taste of automotive work as a youth, when he began lending a hand to a relative dealing in high-priced vehicles from around the world. "My father died when I was two years of age," explained Johnson. "He had mentored my cousin, who was in the exotic-car business—Porsche, Mercedes, the early Lexus, things of that nature. Since my father wasn't there to mentor me, my cousin felt an obligation to me. That's how I really got my foothold in the business."
From that beginning as a teenager, Johnson continued to build experience in the gamut of automotive work, culminating with the 2012 launch of Restorations By Sabra, which specializes in custom performance-car fabrication. Johnson sees the shop's projects primarily as a chance to apply his skills to bring his customers' ideas to life, a philosophy he credits as the secret to his success. "We're vision-driven car builders," he explained, "and that vision starts with clients, not with me. I ask them, 'How fast do you want to go? What do you want it to look like?' Then it's my job to implement that vision. I'm like a painter, creating their vision on a canvas."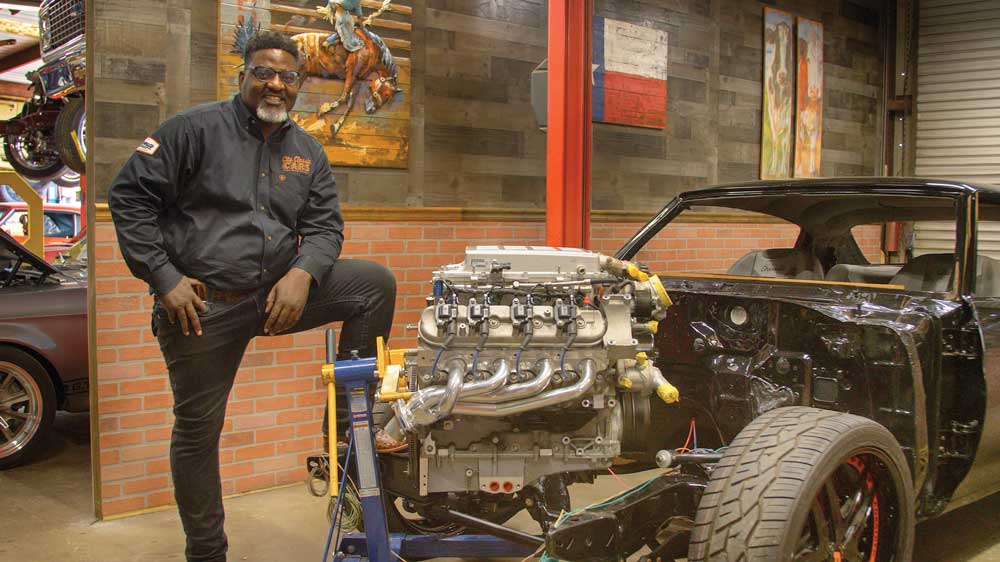 However, as is all-too-often the case nowadays, supply-chain challenges have reared their head in Johnson's business, slowing builds and impeding cashflow. This is forcing him to resort to alternative sources at times to keep production moving through his shop. "As a premium builder, I'm always looking to use the same products again and again and again," said Johnson. "But that's challenging if you're committed to one product provider, and that product provider has extreme brokenness in their supply chain. So then I have to build relationships with new vendors. That takes time. And customers don't always understand that. Sometimes they think it's an excuse.
"To overcome that, I have an inventory now of probably $250,000 of performance parts, whereas before I probably had an inventory of $15,000. Right now, I have six LS engines on order. They've been on order for almost six months. That never used to happen. Prior to this, I would have had zero on order."
To help deal with these and other challenges, Johnson often turns to PRI for insight and inspiration. A good friend of former PRI president Dr. Jamie Meyer, Johnson was quick to step up and become a PRI Founding Member when the opportunity was presented. "PRI and SEMA have been my institutions of higher learning—they've taught me a lot," said Johnson. "This industry has given me a great life that has impacted my family in so many positive ways. I've grown so much, because of this organization, so I feel a responsibility to play a role whenever there's a chance. Being a Founding Member is an opportunity to invest and pay it forward."
One of Johnson's proudest achievements as a PRI Founding Member is his work to foster greater inclusion and diversity in motorsports and the performance aftermarket. To that end, he has initiated a comprehensive diversity, equity, and inclusion (DEI) effort within the organization. "Change starts with awareness and understanding," said Johnson. "My focus has been a campaign of internal awareness designed to help others see, sensitize systems, and strategize for equitable participation. I believe that if PRI can get others to feel a new perspective, we could change the entire industry.
"One of the greatest myths is that if you're a pro-DEI person, then you're anti-majority," added Johnson. "But I'm pro everybody."
Through these and other challenges, Johnson is boundlessly optimistic, pressing forward with ambitious goals and high expectations for the year ahead. Restorations By Sabra is the largest performance-car builder in its market, according to Johnson, and he's forging ahead with plans to expand the business further. At the same time, he's in the process of opening a 4,000-square-foot retail store that will carry a wide selection of automobile-related merchandise, with the aim of allowing those who can't afford a full-on pro-touring car build a chance to get at least a small piece of the excitement.
Whatever business endeavor he's pursuing, Sabra Johnson embodies the competitive spirit and desire for success that characterize the best that PRI has to offer. "I don't want to just win," said Johnson. "I want to dominate. My motto is, 'Leave no doubt we are the best.' And that's what I'm always saying to my team: 'Leave no doubt.'"